Barnaby's Of Havertown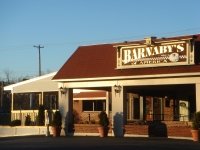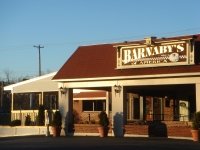 PLACE INFO
Type:
Bar, Eatery, Beer-to-go
1907 Old West Chester Pike
Havertown
,
Pennsylvania
, 19083-2711
United States
(610) 789-1885 |
map
barnabyshavertown.com
Notes:
No notes at this time.
Added by Dennycurr on 01-20-2012
Ratings: 3 | Reviews: 2
Reviews by Dennycurr:
2.09
/5
rDev
-16.1%
vibe: 4.5 | quality: 3 | service: 3.5 | selection: 2.25 | food: 3
This place has the greatest opportunity of all the sports bars in and around the Main Line area. Many, many, TV's linked to almost any sport you want, PLUS, an outdoor deck that is spectacular. Of course, many TV's out there also.
The food is average bar food. Not bad, not great....is in the middle and as far as food,
it is what it is. They have a bar side and a restaurant side, TV's everywhere. A nice fireplace in the restaurant area...and of course, that deck, that is a combo of the two. Tables surrounding an outdoor bar.
Here's the downside....
The beer selection bites. They have plenty of the ordinary Bud/Miller/Coors, stuff---& they have that in abundance. The servers don't even know the beers that aren't written on the never changing draft beer list on their dinner menu. That is the norm for the knowledge of the servers. That's really no big deal, because the bottle selection, (when asking the bartenders), is fairly, basic anyway. They have the usual, Heinekens, Guinness, Sam Adams, etc.... That is too bad, because, they could do a lot better, (by me and real beer people), with many more, or even at least a few, GOOD BEER choices. But----they pack 'em in all the time so I'm betting their thinking is there is no reason to advance their beer list.
I have had 2 bad incidents that took place
there.
One---In planning to take a baseball team there for an after game dinner, I told this unbelievably rude manager, over the phone, I was bringing 20 to 25 people to their place, one Fri night. I thought I was doing a favor giving them a heads up. His name was Paul and he couldn't have been more rude. "WE DON'T TAKE RESERVATIONS!". Which is not what I was looking for, anyway. When we arrived, they actually DID set aside a corner of the restaurant part for us. I was impressed. That didn't last long tho. Turns out, we only had 19 people and then this fat, stubbily chinned, balding guy in a greasy, dirty apron came out and told me..."Where are the 20 to 25 people?". I told him. "We only have 19". Then this smelly, balding manager starts in on me and my group of parents and 10 yr old kids, saying since we "reserved", for more people the servers could'nt get their due. Meaning---since they reserved for 25..(They set aside 30, actually, so there were plenty of empty seats in the area, AFTER our party was all there), they couldn't sit people in that section.
All this, btw----when our corner AND the entire restaurant wasn't even half filled!
Paul certainly projected the image I had from talking to him on the phone.
The 2nd incident was a bit more hairy.
My kid got a burger and in the burger was a 1 inch piece of thick plastic. We told the server, who in turn, told the manager, who came out to our table to explain, exactly what the piece of plastic was. Apparntly it was a plastic, temperature gauge. He was nice and apoligized and gave the kid a free burger...tho...I think that was too little. I'm not sure WHAT would have happened to my son if he actually swallowed that.
But....whatever...
They were my 2 bad incidents.
It is a steller bar for sports and has nice sporty ambiance.
Plenty more to work on tho...
From the beer selection...
To that unbelievably rude manager..(whom I think was let go)....
To the plastic in the food.
Den
___
UPDATE---2 years later.
They have a few craft beers these days...tho still light years away from getting Belgians.
The servers are still unknowlegable about what they have and what these beers are about.
However, at least---for people that know a little about beer they have a beer or two that aren't Bud, miller, Coors...etc.
I put the beer selection UP to a 2.25...from 1.75.
__________________________________________________________________________
UPDATE 4 yrs later....
VERY DISAPPOINTING!
For th 2nd time...a prob with the food.
This was today, Aug 24th, 2014.
Got my food. Was a French Dip sandwich and in the pickle was a human hair. I pulled it from my mouth.
Was disgusting and made me not want to eat, ANYTHING after that.
Not only that....I didn't get an apology or even an acknowledgement from the manager.
Totally unclassy and, this is the 2nd time something like this has happened...(read above)
The sandwich was taken off the bill....and that was it.
The beer part was still an improvement....but I'll never eat there again.
4,331 characters
More User Reviews:

2.63
/5
rDev
+5.6%
vibe: 4.5 | quality: 1.5 | service: 4 | selection: 1.5 | food: 3.5
I live 1 block from Barnaby's. I agree with what Den said about this place. It's a gold mine of a location and the business they do is amazing!
I love hanging outside on the deck when the weather is warm. The place is rocken! Few bars in the Philly area sell as much beer as they do.
I've always been greatly disappointed in the beer selection (one bartender told me that if they carry an expensive Belgian beer, staff would take it home with them)
Just recently they've been selling Yards Brawler and hop devil bottles. I've also had Brooklyn Chocolate Stout bottle.(hope they get more)
They don't advertise these bottles (except for a brief time when Devil was advertised). I ask the bartender to look for what they have.
My advise is to talk to the bartenders(managers too) like I did. They ran out of Hop Devil and I made it a point to let them know I want more of this great beer. I even had a Victory brewery VIP look into getting more delivered.
John
962 characters
Barnaby's Of Havertown in Havertown, PA
Place rating:
0
out of
100
with
3
ratings