Lynnhaven Pub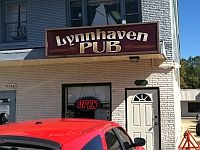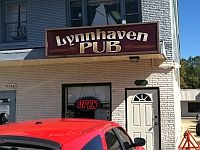 Bar
2236 W Great Neck Rd
Virginia Beach
,
Virginia
, 23451-1506
United States
(757) 481-9720 |
map
Notes:
Reviews: 8 | Ratings: 16
4.21
/5
rDev
-5%
vibe: 4.5 | quality: 4.25 | service: 4.25 | selection: 4
Lynnhaven Pub is a diamond in the rough, and a refreshing change from the glitz and glamour that is Virginia Beach! I'm only kidding, there's no glitz and glamour in Virginia Beach, but it is a refreshing change. It's also walking distance from Pleasure House Brewing, and not that far from my favorite Virginia Beach brewery, Commonwealth Brewing Co.
Inside the set up is simple, and it looks like so many old time bar and grills. You enter and the bar is on your left, and beyond that there's a few high top tables and seating in the back. There's also a pool table back there, and an outdoor area. It's a wood topped bar with backless cushioned stools in front, and a fair amount of bric-a-brac to give it some charm (yes, that is a signed photo of Ron Jeremy next to the Japanese carving). There are 3 cooler doors worth of bottles and 6 beers on tap, all of which are quite worthy. They like to do different events, including tap takeovers, and they occasionally have cask ales.
Food is basically BBQ items including pulled pork and brisket, and nachos. The prices are reasonable (3 BBQ Tacos for $7.95), and it's top notch.
The service is great, and the regulars are awesome, and I'd certainly recommend it - it's my favorite place in Virginia Beach!
1,260 characters
4.83
/5
rDev
+9%
vibe: 4.75 | quality: 5 | service: 5 | selection: 4.5
Dive bar nirvana: six taps of awesomeness and bottles galore. Crazy good pork BBQ nachos. Signed picture of Ron Jeremy. Laid back wait staff. Dingy bathroom. Patio with free tasting. No one gives a fuck. I love you, Lynnhaven Pub.
230 characters

4.4
/5
rDev
-0.7%
Was out with the wife and Dad sightseeing and wanted a quick lunch spot. Not sure how I stumbled on to Lynhaven, but checked it on BA and we went for it. Not much to look at from the outside, or the inside for that matter, but all three of us had a great lunch experience. They have a great bottle selection, and a bunch of craft drafts. The food was amazing, I highly recommend the house smoked pork. Bartender was friendly and the locals were all super friendly and gave us lots of great suggestions for the area. Also was sitting next to one of the owners of O'Connor brewing in Norfolk who gave us some more good Norfolk spots to try out. If you're looking for a good local dive spot with great beer, food and people, give Lynnhaven a shot.
751 characters

4.11
/5
rDev
-7.2%
vibe: 4 | quality: 4 | service: 4 | selection: 4.25 | food: 4.5
I would have never found this if someone hadn't told me about it. For me, it's a little out of the way, but I will make trips to here as the have great beers on tap and awesome beer nights. At first I was kind of skeptical due the crowd that was at the bar, but once they got hammered and left, then I could enjoy my beer(s) and awesome French dip. Great food and a personable bartender (the one I had was). They also allow our craft beer society to host events in the back. Highly recommend if you are in the area.
515 characters

3.96
/5
rDev
-10.6%
vibe: 4 | quality: 4 | service: 4.25 | selection: 4 | food: 3
Lived here six years and didn't know that I was right by/drove past this place until I heard about it through word of mouth and saw it on this website. This place perhaps surpasses Mekong in Richmond for beer bar that you would never think a beer bar would be. Also a hard place to review in terms of a beer bar b/c it could go either way. They only have 12 taps, and that includes the 757 line and the local beers here aren't amazing, but the other five or six are contstantly rotated and they get some great stuff for steal the pint nights and otherwise (to wit, I had a Green Flash Hop Odyssey and the only other reviews of that come from the west coast). And the bottle selection is a low number for a strong beer bar, I think 80, and I know it has Miller and Bud Light on it but then I found a couple of beers on it that either didn't make it in this town or sold quickly, like Sierra Nevada Hoptimum. In a nutshell, the quantity will not overwhlem you and probably most of their stock is standard fare but then they get a few beers that make you want to come back and see what they'll get next. As for the service, incredibly friendly and knowledegable and ready to assist you if you have questions. Prices are fair, although the bottle prices are a little steep but you are buying from a bar so that is expected, and this place truly is locals only so the vibe is very relaxed. My only knocks on the place would be it is somewhat small, although when the patio is open that expands the place and is a nice alternative to the bar, and the food. Food isn't bad or overly priced but it is just plain ol' bar food - don't come here expectiing to find some gastropub fare or anything.
1,686 characters

4.88
/5
rDev
+10.2%
vibe: 4 | quality: 5 | service: 5 | selection: 5
This is a dive bar tucked in the corner of a tiny strip mall. There's no curb appeal, no reason for you to think to visit, but my goodness! What an amazing place!
The beer selection here is undoubtedly the best in Virginia Beach. There are six taps which rotate regularly and always feature great seasonal craft selections. The bottle list is also impressive. There are probably 100 different offerings and all at outstanding value. This is the kind of place where you can bring $20 and hang out all day drinking amazing beer.
The staff is terrific. It can get busy, but be patient and you'll get great service. The regulars are, um, colorful. This is a locals' joint, and this is their bar. Be polite, fit in, and you're likely to hear some of the most entertaining stories of your life. Match that sort of fun vibe with fantastic beer and you've got a place you'll want to keep visiting.
They've got an off-license too. Because their selection and prices are so great, I often do my bottle shopping there. They'll also do growler fills, so bring your glassware to take advantage of some good bargains.
1,106 characters

4.45
/5
rDev
+0.5%
vibe: 3.75 | quality: 4.25 | service: 5 | selection: 4.5 | food: 4.25
Lynnhaven Pub was gracious enough to host my tasting groups event recently. I had never been to the place before but was pleasantly surprised. While you are not going to find a swanky, pinkies out kind of establishment, what you will find is great neighborhood bar with delicious and rotating beer on tap and lots of bottles to choose from and people who are friendly and welcoming.
Had their Brats and they were delicious and again their prices on everything were very inexpensive. We ordered a few pitchers of Lagunitas Sucks for $12 each which I thought was pretty awesome.
They do have TVs around the place, a jukebox and pool table available and outside a very large tented area with outdoor heaters. Overall if I lived closer I would go all the time. Great place to stop in for a bite to eat and a pint. Highly recommended.
831 characters

4.15
/5
rDev
-6.3%
vibe: 3 | quality: 4.5 | service: 5 | selection: 4 | food: 2.5
Arrived here on a Tuesday night around 9:00 pm. Located just off the main road(Hwy 60) in a building shared with another business. The establisment is long and skinny. The bar is in the front and theres some pool tables in the back.
There were six drafts; 60 min IPA, Beach Hoptomus, Weyerbacher Insanity, Shock Top and 2 others that I forgot. They recently had 120 mim IPA on tap, and still had bottles available. It sounded like they try to have a cask every Friday. The bottle selection was better than average, and they serve liquor.
They have a limited food selection, which will hopefully improve when they replace a broken cooler.
Overall this place was good for the area, prices and service were great, and selection was good. Will definitely visit again when in the area.
I think they also offer bottles to go.
820 characters
Lynnhaven Pub in Virginia Beach, VA
Place rating:
4.43
out of
5
with
16
ratings