Hey, Careful Man, There's A Beverage Here!

Pipeworks Brewing Company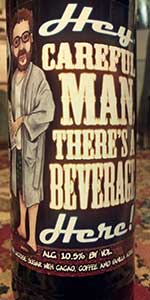 Write a Review
Beer Geek Stats:
| Print Shelf Talker
Style:

ABV:

10.5%

Score:

Avg:

3.79

| pDev: 10.82%

Reviews:

36

Ratings:

From:

Avail:

Rotating

Wants

Gots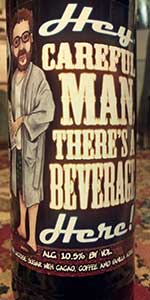 Notes: "Let me explain something to you. Um, I am not Mr. Regular Stout. You're Mr. Regular Stout. I'm the Dude. So that's what you call me. You know, that or, uh, White Stout, or uh, Milk Stout, or El White Russian Imperial Stouterino if you're not into the whole brevity thing." We aged this White Russian inspired white stout with cacao nibs, vanilla bean and cold pressed ipsento coffee. The beverage at the end of this process is beer that could turn anyone concerned with style categories into a nihilist. It is amber in color but has aromas and flavors of coffee, chocolate, vanilla, caramel and sweet malt. Delicious now or to cellar until Walter agrees to roll on shabbas (and that will be a while).
Reviews: 36 | Ratings: 339

4.2
/5
rDev
+10.8%
look: 4 | smell: 4 | taste: 4.5 | feel: 4 | overall: 4
22 oz. bottle, with Batch # 299 - 302 printed on the label. Another new beer to me from Pipeworks, this one proclaiming itself to be a "white stout", which will be another first for me. I have no idea what to expect, but I have great faith in Pipeworks' abilities.
Poured into a clear balloon snifter.
A - Appearance is definitely not that of a traditional stout, that's for sure. Almost more of a heavy DIPA / pumpkin ale type of appearance. About one finger of soapy doughy off-white head. I suppose you could argue that it has a thick, heavy appearance, thus earning it stout status.
S - Smell is strange and unique, but pleasant. Up front is some musty yeast funk, then followed by gourdy buttery diacetyl, some grain, cream, toffee, some nuttiness, & beautiful freshly ground coffee beans on the finish. Not really picking up any of the vanilla or the cacao nibs, but it smells nice.
T - Taste is spot on equivalent to that of one of Pipeworks' darker colored chocolate milk stouts. Smooth and creamy vanilla & cacao nibs blend together in perfect harmony with the sticky milky creamy lactose sugar. Caramel. A bit of nuttiness. Authentic freshly made cold coffee on the finish. Sweet and delicious.
M - Feel is smooth and creamy, with lots of stickiness from the lactose sugars stuck to my lips, but the mouthfeel is mostly clean. Full bodied with appropriate low carbonation.
Overall, I was uncertain as to how this would turn out, but I have to say I was impressed. There isn't a trace of the high 10.50% abv here at all. This thing is dangerously delicious and drinkable. Highly recommended.
Pipeworks Hey, Careful Man, There's A Beverage Here! ---4/5.
1,682 characters
4.05
/5
rDev
+6.9%
look: 3.75 | smell: 4.25 | taste: 4 | feel: 4 | overall: 4
Liking what this brewery is doing, having a fun time with the naming of the beers, but not just making it a gimic (like some other unnamed breweries), and they're making great beer to go with it. Just in time for a good New Years Eve beer. This one being an homage to one of my fav movies, a white Russian like clone. F*ck it dude, let's go bowling.
Batch 233-234. Thanks to oN3xM (Reddit).
Pours a small fizzy head with little lacing and some decent legs on the side of the glass, semi clear but a little hazy darker cranberry mahogany colored beer.
Nose is interesting, starting with tons of fresh coffee, freshly roasted and ground coffee grinds, fresh roasty coffee a little earthy and nutty coffee mostly. Then a chocolate aroma, light cocoa and dark chocolate, little lactose with the milk chocolate aroma, into plenty of vanilla, very vanilla like like the vanilla beans were aged in it for a while. Background aromas bring a little caramel and nutty malts, I think a bit of oats as well, little oatmeal smell. But mostly is the fresh roasted ground coffee beans.
Taste starts creamy with chocolate actually, cocoa nibs and baker's chocolate, but not a bitter dark chocolate, a little lactose flavor to go with it and a mik chocolate as well as chocolate milk. Then vanilla, lots of vanilla almost as if vanilla extract was poured directly into it. Coffee is plenty too but not quite as dominant as the nose had, again that freshly roasted and ground coffee grinds, cold extracted I believe since I don't get that acrid flavor or tannic notes from the coffee, and no burnt flavors at all but perhaps the coffee was a little over roasted. The coffee is a little nutty and earthy, and goes with the malt characters which bring a little nuttiness, and mild some creamy oat flavors and big chewy center. Mild warming booze comes through but not that much. All the flavors combine to a somewhat White Russian character, mostly the vanilla, lactose and cocoa nibs, as the coffee gets a little too earthy and roasty and strong, but still pretty tasty. Finish is a little creamy and that sticky dry lactose sugar feel as well, mild bitter coffee grinds lingering and more vanilla and creamy lactose.
Mouth is med to fuller bod, fairly creamy between the lactose and oats, mild warming booze, little sticky lactose, lighter carb but they probably wanted that for the whole White Russian drink feel.
Overall pretty good, all the flavors combine to a nice White Russian like flavor, although the coffee was a bit too strong but tasty, the oats and lactose made a nice creamy cream feel, coffee and cocoa nibs for the kahlua, and overall beer was a nice big flavorful drink that was enjoyable, and even the beer blended in nicely.
2,732 characters

3.5
/5
rDev
-7.7%
look: 3.5 | smell: 3.5 | taste: 3.5 | feel: 3.5 | overall: 3.5
Well, I had to suffer through many stupid quotes from that stupid movie over the years, so I'm hoping this Beverage makes me more kindly disposed towards the whole dumb thing. Oh, & thanks to incubuscience for this extra in a recent trade.
Pour is definitely not what you expect in a stout; I went back to double-check the style. Yup, milk stout. Huh. This looks like a sunburnt IPA, but thicker. Caramel & vanilla are the two things that come up nose-wise, & that's never a bad thing.
Hey, Careful Man, There's a Beverage Here! tastes like my twelve year old's room looks: a bloody damn mess. Huge notes of vanilla & caramel up front, perhaps the most caramel I've ever tasted in a beer; get Kraft's lawyers on the horn. Lactose & coffee do a light-brigade charge hard on their heels, & chaos ensues. No chocolate to be found, but I think the blender somehow spun it into the caramel I'm getting all the way to my back hairs. Creamy thickness is a strength, giving the beer a long chewiness that lingers.
A noble experiment that indeed has echoes of the infamous White Russian (which I was too poor to drink when I wanted to drink that kind of thing), but ultimately this is a scalding mess of a beer. Still, interesting, pretty good, & certainly worth sampling.
1,269 characters

3.4
/5
rDev
-10.3%
look: 3.25 | smell: 3.75 | taste: 3.25 | feel: 3.5 | overall: 3.25
[Insert obligatory Big Labowski reference here]
A: Well we're certainly starting off a bit differently here...Color is chestnut brown. Clear. Forms a smallish head that doesn't bother sticking around for long. Poor retention. No lacing. Appears flat.
S: Aroma is fairly pleasant. Moderately sweetness. Vanilla, caramel, milk chocolate and toffee. Turns alcoholic as it warms.
T: Taste is different as well. Again, there is a moderate sweetness. Somewhat nutty, with caramel-candy-like notes. Chocolate, vanilla, and some very light (almost nonexistent) coffee notes. Gets a bit more alcoholic as it warms.
M: Full bodied and incredibly smooth. Lower carbonation levels - practically flat. Very little bitterness.
O: Well if the bottle didn't explicitly say it, I'd say this beer doesn't know what it's trying to be. I have a hard time comprehending it as a milk stout and even harder time trying to comprehend it as anything approaching a White Russian. It's not that it's a bad beer, but I just don't feel like they've replicated, mimicked, or given tribute to the White Russian and I can say I wasn't overly impressed.
1,129 characters
3.52
/5
rDev
-7.1%
look: 3.75 | smell: 3.5 | taste: 3.5 | feel: 3.5 | overall: 3.5
22oz Bomber
$10.99
S&A Liquor - Crest Hill, IL
"The Dude abides" ... Too obvious?
Walter: You want a toe? I can get you a toe, believe me. There are ways, Dude. You don't wanna know about it, believe me.
The Dude: Yeah, but Walter...
Walter: Hell, I can get you a toe by 3 o'clock this afternoon... with nail polish. These fucking amateurs...
A White Russian Imperial Stout... Interesting. It's certainly a hell of a lot paler than a regular imperial stout, garnet to be more precise. The pour had a Guinness waterfall effect with a dirty white head that slowly gathered to a finger in height then abruptly fell to a skim coat and ring. Carbonation crawls up the glass and suggests this beer may be a little on the sweet side.
Hmm... Coffee and hazelnut creamer are the first things that jump to mind. The coffee grows with some warming and tendrils of smoke make themselves known. A touch of booze and is that...butterscotch? If it is butterscotch it's faint and unpredictable. The malt base is more deeply toasted than it is roasted. Sort of White Russian, I suppose. It is boozy like a White Russian but more drying than off putting.
This beer drinks nothing like I expected. It's basically a huge, heavily toasted, not roasted, red ale. Easy going coffee and sturdy but well integrated hazelnut creamer make up the middle. The toast runs throughout and there's a little greenness I'd rather not be involved. Some booziness lingers on the finish with some vapors.
The body isn't as sweet as I expected, which is nice. The weight is north of medium but never reaches heavy. There's not a lot of feel to the body, it's just sort of there. The finish is semi-dry with lingering boozy fumes.
Interesting concept and good marketing make me happy I've tried this beer. I would have rather drank an actual White Russian but I digress. It's an odd concoction, more of a heavily toasted red with coffee and creamer, stiff on the booze. After rereading that last sentence I suppose they hit their mark. Whatever you do, don't fuck with the Jesus!
"8 year olds, Dude"
2,068 characters
3.99
/5
rDev
+5.3%
look: 3.75 | smell: 4 | taste: 4 | feel: 4 | overall: 4
Deep amber/burgundy color with no head at all and minimal bubbles. You can pick up the vanilla, coffee, and booze on the nose. The taste is somewhere between a boozy stout and barleywine. Very different and interesting "blonde" stout. It certainly hits on the flavors present in a white russian and the booze is very upfront. Nice warming winter beer. Very inventive and interesting beer that's worth a try, but not quite something I need a lot more of.
453 characters
3.82
/5
rDev
+0.8%
look: 3.5 | smell: 4 | taste: 3.75 | feel: 3.5 | overall: 4
Cream soda colored body. Hazy. Not much head and what does exist is clumpy and looks like pond scum.
Nice smells of cream and coffee, chocolate mousse, root beer. Sweet aromas.
The taste is vanilla, fresh cut wood, white chocolate, and a strange musky cologne finish.
Mouthfeel is thin, decent carbonation.
Quite a perplexing beer to review. Nothing is conventional for the style but makes sense with what they're going for. The components are lackluster individually but a fun beer as a whole. This dude abides.
520 characters
4.46
/5
rDev
+17.7%
look: 4.25 | smell: 4.5 | taste: 4.5 | feel: 4.25 | overall: 4.5
Pours deep mahogany in color with light brown tints. Head is very thin and dissipate rather quickly.
Smell is great, deep aromas of fresh coffee, semi sweet dark chocolate and rich vanilla all mesh to give this a great rich roasted dessert like aroma.
Taste is great coffee and vanilla is forward and is lightly sweet off the bat but the sweetness fades into some rich cacao and a caramel and moderately roasted malt.
Mouthfeel is great. thick but not unbelievably thick like you would expect for a RIS. Carbonation is really light but the not overly thick body keeps this highly drinkable for a RIS.
Overall this was great. I had no idea what to expect from a white RIS. Super rich brew, but better then the dog series in my opinion. Extra kudos on creativity.
766 characters

4.27
/5
rDev
+12.7%
look: 4 | smell: 4.5 | taste: 4.25 | feel: 4 | overall: 4.25
Pipeworks is such a cool brewery; and I love anytime there's a Big Lebowski tie-in. This was a really interesting and very different type of beer, but strongly recommended.
For being a stout, it had a bit of an amber tint to it and didn't appear very dark.
There was a really cool marriage for vanilla and coffee flavors that gave it the creamy White Russian taste. I thought it was very smooth considering it's 10.5 ABV, and you got nice hints of toffee and caramel and chocolate along the way in addition to the vanilla/milk.
Just another great beer by P-dubs and one people should try if you're looking for these experimental stouts.
639 characters
4.03
/5
rDev
+6.3%
look: 3.25 | smell: 4 | taste: 4 | feel: 4.25 | overall: 4.25
Appearance: Pours with a light body. The color is definitely not what I was expecting from the description, as the beer is a light brown color with a muddy red hue. Carbonation is low on the pour and active in the glass while drinking. (On the bottle of the label it does describe itself as a white stout so I guess it checks out)
Smell: The coffee and vanilla jump out right away. The coffee comes off with a pleasant sweetness and the cacao nibs certainly add to the bright tones. Toffee, caramel, and lightly roasted malt are present as well. Bright sweetness through and through.
Taste: A lightly roasted caramel coffee hits the palate first. That yields to a huge body of medium bodied chocolate and creamy vanilla. Surprising amount of refreshing accents of coconut and bright malt. Has many of the heavier tones of a big stout while being light and complex as well.
Mouthfeel: The low carbonation creates an extremely drinkable brew which goes down too quickly.
Overall: Pipeworks seems to love these additive heavy stouts and this is one of the better ones so far. Every drink seems to bring out different accents of this brew. Love the coffee and cacao aspects with everything being a great supplementary player.
1,227 characters
3.69
/5
rDev
-2.6%
look: 3.75 | smell: 4 | taste: 3.5 | feel: 3.5 | overall: 3.75
Looks like a brown ale, described as a milk stout, smells of toffee and coffee. Very interesting brew to say the least. May be the first White Russian Imperial Milk Stout on the market. Very low carbonation but it doesn't need fizz. Definitely has an alcohol warmth to slight burn, also a hint of burnt vanilla.
Had to get this one not only due to Pipeworks genius and creativity, but I'm a huge Big Lebowski fan. Wish I could be bowling right now with Walter, Donnie and the Dude.
482 characters
Hey, Careful Man, There's A Beverage Here! from Pipeworks Brewing Company
Beer rating:
86
out of
100
with
339
ratings