Unicorn Hits Rock Bottom

Pipeworks Brewing Company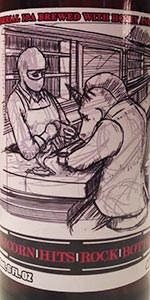 Write a Review
Beer Geek Stats:
| Print Shelf Talker
Style:

ABV:

9.5%

Score:

96

Avg:

4.45

| pDev:

7.87%

Reviews:

9

Ratings:

From:

Avail:

Retired (no longer brewed)

Wants

Gots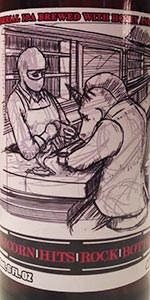 Notes: (Read to the tune of the "Cheers" theme song OR sing aloud on a bus to the tune of the "Cheers" theme song)
Makin' this beer in the world today takes all the Citra you've got...
Grainin' out with some buddies sure would help a lot...
Wouldn't PW like to collaborate
Sometimes the brewers at Rock Bottom want to go
where everyone knows their names
and pdubz is glad they came
You wanna brew where you can see
all our troubles are the same
---
As part 1 of a 2 part collab with Rock Bottom Brewery Chicago, we've made a single hopped Citra DIPA brewed with honey.
4.25
/5
rDev
-4.5%
Clear copper with good retention on the head. Spotty lacing.
Very aromatic. Citrus- mostly orange and grapefruit, with some pine for good measure.
Juicy orange and grapefruit. Resinous pine. Caramel sweetness. Fusel spice finish.
On the heavier side of medium bodied. Moderate carbonation. It drinks heavy.
Another fantastic Pdub DIPA. They just crank out great IPA after great IPA.
399 characters
4.47
/5
rDev
+0.4%
look: 4.25 | smell: 4 | taste: 4.75 | feel: 4.5 | overall: 4.5
22oz bomber from Batch 495/496, enjoyed from a teku
I think this is Pipeworks' best DIPA (caveat: haven't had Square Grouper). Unicorn Hits Rock Bottom pours a clear, light shade of bronzy orange with a soapy white head. On the nose are pungent mangoes, sweet oranges, and light pine. There's also a notable sweetness common to Citra-forward beers. Smells pretty good, but the flavors are where this beer shines. The initial taste is dominated by a dry, bitter sweetness. Then there's a good deal of pine, bitter citrus fruit, and more dry sweetness. So much flavor…my words aren't doing it justice. Overall, it's much bitterer than I expected from the nose. The mouthfeel is just right: rich and creamy, but not syrupy or too viscous. It also leaves a nice dry film on the tongue.
One of the best DIPAs around. Maybe there's a bit of palate fatigue after 1/2 the bomber, but in my mind that's just a testament to how good and intense this beer tastes.
957 characters

4.5
/5
rDev
+1.1%
Serving: Bomber poured into a tulip. Batch 495/496. Probably around 2 weeks old at this point.
A: Darker than expected. It's a nice golden-amber color. Very clear.
S: Peach, grapefruit, tangerine. Very nice.
T: Loads of tropical fruits up front. Grapefruit, tangerine, lemon. Having a hard time tasting or noticing the honey though. Wouldn't say it's overly sweet, just right.
M: Very smooth and full. Loads of bitterness up front and early in the finish, but ultimately finishes very clean. Alcohol hidden rather well.
O: So recently having had Citra Ninja, I vastly prefer this one. The honey isn't a noticeable difference in the flavor, but I think it does help to smooth the beer out. It's not as bitter, harsh or boozy as Citra Ninja, and I like that here with this one. I can appreciate the citrus flavors a lot more, and it's much more drinkable. It may sound silly to say this, but it reminds me a lot of Hopslam, really does. I like this beer a lot.
Recommendation: Easily a Top 10 DIPA for me, just doesn't reach that elite Top 3-5 status though. Appears to be a limited run, so snatch it up or trade for it while it's still fresh.
1,151 characters
4.5
/5
rDev
+1.1%
22oz bomber poured into a snifter.
A- Pours a cloudy amber/ orange with a finger worth of off-white head which leaves some nice froth along the sides of the glass.
S- Immediate citrus aroma upon popping the cap. The citrus dominates the smell for sure.
T- Nice citrus and pine notes dominate this one, I don't really get the honey mentioned on the label.
M- Medium bodied, nicely carbonated, hoppy with a very dry finish.
Great Pipeworks DIPA, as usual.
464 characters

4.5
/5
rDev
+1.1%
Copper sheen pour with a modest white head.
Aroma is hop buzzing with a tropical fruit medley. Not very pungent but enough to make you happy. Sweet dankness with piney undertones.
Taste of deep hoppy piney goodness. Malt carries the mild sweetness. Pithy grapefruit. Gotcha some guava, pineapple and mangoes if you dig deep enough. And you'll want to.
Medium body and this stuff sticks around. Hop and pine linger and the sweet fruit makes this chewy. Creamy indeed. Letting this sit will exponentially increase evidence of alcohol. I like this better cold.
This stuff is incredible. For me this is balanced par excellence. Well what else was I expecting. I'm funking out to Maceo Parker on Planet Groove and this brew is a perfect companion to an outstanding CD. This maybe edging out the recent Citra being put out. Tremendously tremendous!
863 characters
4.55
/5
rDev
+2.2%
Appearance: yellow bodied beer with white head.
Smell: Big citrus hops, bready malts, and a hint of honey.
Taste: Lots of citrus and tropical fruit hops. On the low end of moderate hop bitterness that is balanced nicely with the malt profile with a hint of honey.
Mouthfeel: medium bodied beer with moderate carbonation levels. Not a hint of booze.
Overall: This is definately the best hoppy beer brewed by Pipeworks. The only hoppy beer that is still in contention from dethroning Uricorn hits rock bottom is Squared grouper since I have yet to try that Pipeworks DIPA. I would also go a bit farther to say thatthis is also the best beer that is brewed by Pipeworks. Very impressive!
695 characters

4.31
/5
rDev
-3.1%
look: 4.25 | smell: 4.5 | taste: 4.25 | feel: 4.25 | overall: 4.25
Pours a dark golden honey brown with a plush two finger head.
Lots of honey, citrus, and tropical fruit are more than pleasant.
Citrusy, tropical, resiny hops are well balanced with the sweet and sticky honey.
Mouthfeel is sticky, resinous, and perfectly hides the booze.
Overall, this is probably a close second to my favorite IPA they've put out, Citra Ninja.
365 characters

4.5
/5
rDev
+1.1%
Clear copper in color. Forms a moderate sized, some-what off-white head. Excellent retention, though not a whole lot of lacing. Aroma is a strong, heady mix of citrus zest, pungent grapefruit, and alcoholic spice. Taste is more of the same: A very in-your-face dose of bitter citrus pith with notes of pine resin, orange zest, and spicy alcohol on the finish. There is a mild underlying sweetness to the beer. On the heavier side of medium in body. Medium carbonation. Strong bitterness.
Ah yes, this is where PW shines: beer brewed with ingredients found in beer. Put down the chamomile flowers and the Himalayan fuckberries and just brew beer the way it was meant to be brewed.
681 characters

4.45
/5
rDev 0%
22 oz. bottle, with Batch #495/496 printed on the label. The latest collaboration effort from Pipeworks; this one with Rock Bottom Brewery, brewed with honey and citra hops.
Poured into a Duvel tulip glass.
A - It pours a beautiful golden orange colored body with about a finger and a half of soapy creamy khaki foam. Leaves some nice sheets of spotty lacing slowly sliding down the glass. Looks very nice. 4.5
S - The aroma is fresh, fruity, and tropical. This thing literally smells like it was brewed with pounds of mangoes, blood oranges, and grapefruit. A light but apparent bready malt backbone is noticeable.
T - The taste follows the nose - a fresh, fruity, tropical beer. Juicy & bitter pine, grapefruit, mango, orange, pineapple. No real distinctive honey flavor, just tropical and fruity. 4.5
M - The feel is crisp, sticky, and lightly bitter / resinous on the finish. Juicy, delicious, and very easy drinking for the high 9.50% abv. 4
Overall, another delicious, fruity, fresh DIPA delivered from Pipeworks, in an already swelling portfolio of awesome beers. Very recommended.
Pipeworks Unicorn Hits Rock Bottom -----4.5/5
1,143 characters
Unicorn Hits Rock Bottom from Pipeworks Brewing Company
Beer rating:
96
out of
100
with
152
ratings