Jones Dog
| Pipeworks Brewing Company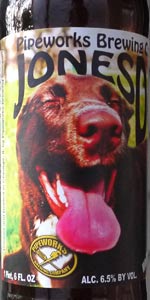 BEER INFO
Brewed by:
Pipeworks Brewing Company
Illinois
,
United States
pdubs.net
Style:
Milk / Sweet Stout
Alcohol by volume (ABV):
8.50%
Availability:
Rotating
Notes / Commercial Description:
Jones Dog pays homage to our very own brew dog Jonas. Our chocolate lab has been with us since the birth of Pipeworks and so we honor him with this chocolate milk stout. Brewed with cacao nibs and lactose milk sugar, we hope you'll find this brew as smooth and chocolately as the Jones Dog himself.
Initial batch was 6.5%.
Added by MasterSki on 03-14-2012
Reviews: 22 | Ratings: 133

3.8
/5
rDev
-0.5%
look: 4 | smell: 4 | taste: 3.5 | feel: 4 | overall: 4
Pour black, or very dark brown. Creamy burnt tan head erupts when poured, holds well, and then falls to a thin scattered film.
Aroma is big chocolate, mild roast, malted milk balls (you can actually smell the milky lactose dressed in chocolately sweetness).
Medium roasty malt flavor, mild coffee-like undertones, heavy sweet chocolate, with high residual sweetness. Bittersweet cacao and light hop bittered finish. Chocolate milk aftertaste.
Medium body with low carbonation. Lactose provides some additional depth to the body. Incredibly smooth, delicately creamy, and finishes moderately sticky.
Enjoyable milk stout. Intensely chocolate, yet very drinkable. Although it favored the sweeter side, the roast was prominent enough to make it very palatable. Captures the creamy milk aspect very well, as it actually made me think of chocolate milk and malted milk balls. Pipeworks is the real deal.
902 characters

3.77
/5
rDev
-1.3%
look: 3.5 | smell: 4 | taste: 3.5 | feel: 4 | overall: 4
Thanks to funkyaudio for this beer. Poured from bomber (Batch #004 brewed: 2/13/12 bottled: 3/10/12) into tulip glass. Pours deep brown hue with a fading fizzy tan head and spotty lace throughout. The aroma has notes of chocolate, vanilla, lactose and roasted cocoa nibs are quite profound here. The taste is more of the same, sweet chocolate and moderate malt notes supported by a slight lactic character and some fruity undertones. Very minimal hop presence. The mouthfeel is a tad oily and thin. I was a little disappointed with the flat taste at the backfinish. Overall, an interesting and good milk stout from Pipeworks.
625 characters

3.73
/5
rDev
-2.4%
look: 4.5 | smell: 4 | taste: 3.5 | feel: 4 | overall: 3.5
A- Nice carbonation on this bad boy. It had a huge pop as the cap was pried off. The head developed to a good finger full of lace but dissipated to a thin creamy collar and scum on the mohogony black body. Perfect lacing, sticks around to fight anything you throw at it.
S- Very roasty... unbelievably so for a milk stout. This bad boy smells like an oatmeal stout like noones business. Behind the roasted grain is a cocoa powder and mildly chocolate presence. Its definitely what you'd expect cocoa nibs to smell like, but not what they are described as these days. As you keep inhaling the delightfully stouty character, it starts to transition to a cheap grain nature... something lightly off. Like.. plastic grains.
T- Starts milk sweetness, you can really taste the lactose addditions here right off the bat. as it progresses theres a tad bit of resemblance to chocolate milk. This is like a genericly roasted chocolate milk beer. It has that rising plastic flavor that you picked up on in the nose.... leading you right into the finish which is simple lightly phenolic cream flavor and a half strength bitter acrid grain.
M- Smooth, creamy, light to medium bodied, crisp carbonation tingling you too harshly on the edge of the tongue. Sticky roasted grain flavors.
1,278 characters
3.72
/5
rDev
-2.6%
look: 3 | smell: 3.5 | taste: 4 | feel: 3.5 | overall: 3.75
This beer poured out into my tulip with an unmanageable amount of head - surprising to me, and forced me to split my bomber into 8 ounce pours. Head was light tan and faded to little or no lacing. Aroma is almost typical - chocolate, maltiness, but I also got a big hit of what I can only describe as apple. That aroma faded as the beer got consumed. I couldn't get a handle on the flavor until the beer warmed up - in part because of the temperature, but also because of what I found to be way too much carbonation. Once those factors are considered, though, it's a nice smooth chocolate, with a little bitterness and a hint of coffee on the finish. All in all, a good offering from Pipeworks, but there are better chocolate stouts out there. I'd like to give the barrel aged version a try - I imagine that some of my issues with the beer would be resolved by letting it sit for a while in oak.
895 characters
3.7
/5
rDev
-3.1%
look: 4 | smell: 4 | taste: 3.5 | feel: 4 | overall: 3.5
A - Black with a thin tan head leaving behind a ring of foam.
S - Cocoa nibs, vanilla, roasted malt, lactose sugar.
T - Smoky, roasted malt, black coffee, bittersweet cocoa nibs, milk chocolate.
M - Medium body, low carbonation, lactose creates almost a chalky feel.
D - Solid milk stout.
292 characters

3.67
/5
rDev
-3.9%
look: 3.5 | smell: 4 | taste: 3.5 | feel: 4 | overall: 3.5
Served in a Gale Sayers shaker pint glass.
I miss my pup... Oh well, this is no time for overly emotional displays of...emotion... ... This stuff pours a mostly opaque black-brown topped by a half-finger or so of wan sienna foam. The nose comprises toasted oats, cocoa powder, and a bit o' molasses. Simple, to the point, smells tasty. Hope. The taste holds notes of cocoa, chocolate milk (yeah, I can tell them apart...can't you!?), light roasted malts, very light molasses, and a touch of mild lactic sour cowering in the foreground. The body is a lithe medium, with a light moderate carbonation (bordering on lightly fizzy) and a generally smooth feel. Overall, a nice, sweet milk stout, nothing exceedingly exceptional, but something I can see enjoying a few pints of should some sort of tap room pop up sometime...
820 characters
3.64
/5
rDev
-4.7%
look: 2.75 | smell: 3.75 | taste: 3.5 | feel: 4.25 | overall: 3.75
22oz bomber split with a friend poured into a Duvel tulip
A: Pours a murky deep, dark brown with a 1" bubbly tan head. Not too much lacing on this one.
S: After letting it warm up a bit you get a good bit of bitter super dark chocolate. A little bit of a tootsie roll type chocolate as well. Hints of sweetness but just a barely. Also a good bit of alcohol in the nose.
T: Taste follows the nose a fair bit. Bitter, malty chocolate. Alcohol on the palate as well. At 8.5% its not hot, but there's a rather strong alcohol taste. Pleasant hop bitterness on the finish, though just a bit.
M: Super creamy and smooth without being heavy. Feels great going down.
O: Overall pretty happy with this beer. Perhaps could be a bit more balanced with more rich chocolate flavors and toned down alcohol presence. Not in a hurry to buy it again, but would like to try it on tap.
870 characters

3.62
/5
rDev
-5.2%
look: 3.5 | smell: 4 | taste: 3.5 | feel: 3.5 | overall: 3.5
Bottle from Binny's - Marcey St. Served in a Goose Island Black Friday taster pint.
A - Half-finger of light tan foam that settles to some wisps, a medium collar, and a few stray spots of lace. Very dark brown with a hint of transparency at the edges - vaguely cola-like.
S - Aroma is quite nice, with a hefty dose of cocoa nibs, roasted malts, and a vanilla flavor that I'm attributing to the lactose sugar. There's a biscuit malt flavor and perhaps a hint of coffee. Reminds me a little of Coffee Crisp. As it warms up the cocoa nibs take on a 'green' note.
T - The flavor is a tad disappointing, with a bit too much smoke and char for my liking. Roasted malts, mild bitterness, and only vague earthy cocoa nibs in the periphery. Wouldn't have guessed milk stout from the flavor.
M - Fairly dry, with a roasty and mildly chalky texture. Medium-low carbonation, lightly sticky finish. Not much in the way of alcohol presence.
D - It's a lot like Hyper Dog, but without the coffee. I like this a tiny bit less, although the cocoa nibs and lactose sugar are just as interesting aroma-wise. Still, it's a much more enjoyable beer than End of Days, and I had no problem polishing off the entire 22oz bottle over the course of an evening.
1,239 characters
3.58
/5
rDev
-6.3%
look: 4 | smell: 3.5 | taste: 3.5 | feel: 4 | overall: 3.5
22 oz. bottle served in a Founders snifter. Batch # 004 on the label.
A: Pours a dark black with a one finger khaki head forming on the pour. The head recedes to a thin film and ring. Some splotchy, soapy lace is left on the glass with some sticky residue as well.
S: Raw cocoa nib and lactose sugar are present on the nose. There is a nice light roasted flavor from the malts and backend chocolate sweetness.
T: The flavor follows the nose. Upfront is a nice roasted chocolate and raw cocoa flavor. The middle smooths out to a sweet lactose sugar flavor. The raw freshness of the cocoa nibs bounces back in the finish and combines with a chocolate milk like sweetness.
M: Medium bodied which is nice treat considering how thin and borderline watery End of Days was. Spot on carbonation and nice sweet flavors on the finish.
O: A very large improvement over End of Days. I had Hyper Dog at GI Stout Fest and like it a tad more, so I'm excited to try that out of the bottle as well. Way to bring it back guys. Excited to try Close Encounter soon.
1,050 characters
3.53
/5
rDev
-7.6%
look: 4 | smell: 3.5 | taste: 3.5 | feel: 3.5 | overall: 3.5
(Served in a Nonic)
Batch 004
A- This beer has an inky jet black body with a thick creamy tan head that slowly pops away.
S- The aroma of cocoa nibs comes through even during the pour but turns more to tootsie rolls as it opens and they start to dry out.
T- The chocolate malt and cocoa nibs blend with some roasted notes underneath that grow inky and linger in the aftertaste. There is some green hops support that takes on a spicy quality as it warms.
M- The medium mouthfeel has a slightly creamy texture that is scrubbed away by the carbonation in the finish.
O- There is a big nib character that is not my favorite when it overpowers the other malt flavors and they never seem to really come back. There is a cigar ash quality to the char in the finish but it stays pretty soft and the mellow roasted malt flavors stay hidden.
839 characters
3.46
/5
rDev
-9.4%
look: 3.5 | smell: 3.75 | taste: 3.5 | feel: 3 | overall: 3.25
another bottle from pipeworks that i picked up the last time i was in the chi-town. enjoyed from a pipeworks snifter. batch 101
a - brew pours a greyish black with a greyish tan head. the head was massive and filled at least half the snifter...definitely looks heavily carbonated. as the massive foam dissolved, it left chunky lacing clinging to the glass and seemed to never fully leave the beer.
s - milk chocolate with light roast and a porter like char.
t - milk chocolate malt. subtle roastiness. char.
m - wow, feels like a porter. very charry and zingy carb.
o - overall, not bad, not great.
604 characters
3.16
/5
rDev
-17.3%
look: 3.5 | smell: 3 | taste: 3.25 | feel: 3.25 | overall: 3
650 mL bottle poured into a snifter.
Appearance - Dark brown with brown edges. Some bubbles well up as I pour it. Medium collar and a thin layer of foam swirls around the surface.
Smell - Nutty and caramel malts. Chocolate and a deep roasted malt aroma.
Taste - The roasted malts are most prominent. A little bit of a cola character. Bitter chocolate. Some sweetness, a little bit of lactose. Burnt malt zing in the back end.
Mouthfeel - Medium body. Well carbonated, as always, from Pipeworks.
Overall - Run of the mill.
526 characters
Jones Dog from Pipeworks Brewing Company
3.82
out of
5
based on
133
ratings.