Poivre Noir
| Pipeworks Brewing Company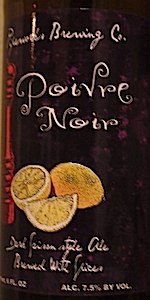 BEER INFO
Brewed by:
Pipeworks Brewing Company
Illinois
,
United States
pdubs.net
Style:
Saison / Farmhouse Ale
Alcohol by volume (ABV):
7.50%
Availability:
Limited (brewed once)
Notes / Commercial Description:
No notes at this time.
Added by TMoney2591 on 10-02-2012
This beer is retired; no longer brewed.
Reviews: 8 | Ratings: 29
4
/5
rDev
+21.6%
look: 4 | smell: 4 | taste: 4 | feel: 4 | overall: 4
A- pours a dark brown color with reddish maroon tints. A 2 finger light beige head formed with decent lacing.
S- you can smell the citrus right away. The pepper spice follow right behind. There's a boozy scent that just strikes me as odd for a Saison, but not in a bad way
T- lemon and peppercorn right away. The expected Saison funk balances it immediately. I'm getting an almost dark fruit taste. There's a boozy kick to it that I certainly didn't expect.
M- medium mouthfeel with wonderful carbonation. A medium and nicely dry finish
O- this is probably the oddest Saison I've ever had. But it was well balanced and much tastier than I expected .
654 characters
3.11
/5
rDev
-5.5%
look: 5 | smell: 4 | taste: 2.5 | feel: 2.5 | overall: 3
22oz. bomber into a Cantillon tulip. I'm really starting to like the saison style and I love lemon notes in beer but I can't stand pepper flavors so this should be interesting.
Pours a massive, foamy 3 finger brownish grey head with good retention. Beer is a dark, clear black. Lacing is stringy and stick with good stick. A great looking beer.
Nose is exactly as advertised. Notes of lemon peel, coriander, pepper and a dark fruit sweetness. Nice. Aromatic too.
Opens peppery with some acetone, coriander, lemon rind and plum sweetness. Boozy as heck. Ethanol hits me hard from the get-go and covers up the subtle spices that desperately try to fight their way to the front. Some lemon acidity at the finish. Sweet plum and some peppery notes in the aftertaste. Too much ethanol in this.
Medium bodied with moderate to high carbonation. Oily, slick and boozy in the mouth and goes down hot and abrasive. Boozy finish with a long, lingering alcoholic aftertaste. Too much for the style.
There's a lot of subtleties in this beer but I feel like the odd, overwhelming ethanol presence covers up everything else. The dark fruit and lemon flavors are apparent but as I go from sip to sip, I almost feel like I just had a lemon jello shot. Not my idea of what a beer in a very subtle, complex style should be. The potential is there but there's just waaay too much booziness.
1,379 characters

3.28
/5
rDev
-0.3%
look: 4 | smell: 3.5 | taste: 3 | feel: 4 | overall: 3
Bottle shared by Chris (spycow). Served in a Hill Farmstead tulip.
A - Generous tan foam settles to a thick collar, thin wispy cap, and minimal lacing. Dark brown body.
S - Lots of Sorachi Ace presence. There's a fairly intense lemon custard note, along with peppery Saison yeast, cocoa, and a mild vinous flavor. Perhaps a bit of lemon zest and butter tart in there as well.
T - The taste is significantly less sweet, with more aggressive peppery and spicy yeast presence and only a light dusted cocoa flavor. The hops show up more in a bittering capacity here, with the lemon tart flavor showing up largely in the aftertaste. Gets a tad sweeter as it warms up. While not as odd as the aroma, it's also perhaps a bit dull in comparison.
M - The texture is semi-dry; only mildly chewy and sticky mid-palate before finishing dry. Moderate carbonation and negligible alcohol presence.
D - A very strange beer. The flavor combination doesn't totally work for me, but I can imagine that there might be a minority of users that really dig it. Well-executed but perhaps flawed in concept. I wouldn't be disappointed if they didn't revisit this one.
1,147 characters
4
/5
rDev
+21.6%
look: 4 | smell: 4 | taste: 4 | feel: 4 | overall: 4
Black in the tulip glass, lighter mahogany edges where the light passes through. Fluffy head of foam several inches thick, sturdy meringue texture, and takes 15 minutes to subside. Ever present unbroken skim across the surface and random bits of lacing all around the glass. Looks pretty nice.
Lemony aroma with dry herbs and pepper, mild roastiness.
More lemony notes of Sorachi Ace hops at first, with some deeper earthy notes of blackened malt and peppery spice that emerge as it warms. Lingering lemon peel bitterness and roast in the dry aftertaste. Some perceptible alcohol distracts only slightly, but overall the combination of flavors mesh well. Medium bodied with creamy carbonation. Moderate bitterness. Overall a unique iteration of their Saison series, worth trying.
781 characters

3.25
/5
rDev
-1.2%
look: 3.5 | smell: 3.5 | taste: 3 | feel: 3 | overall: 3.5
Poured from a 22 oz bottle into a Lost Abbey chalice.
A- pours a dark brown with a huge 3" dark tan head. Big bubbles and some trails of lacing.
S- pepper, lime and lemon, and spices (tried to narrow it down from spice rack, closest I got was rosemary?)
T- definitely peppercorn, spices, citrus similar to nose. For some reason I get a slight metallic flavor or something similar.
M- light body and high carbonation. Very effervescent almost stingy feel to it.
O- definitely my least favorite of their saisons. Carbonation is to high, pepper is overpowering and just doesn't work for me.
592 characters

2.98
/5
rDev
-9.4%
look: 3.5 | smell: 3 | taste: 3 | feel: 2.5 | overall: 3
Batch #30--Poured from a 22 oz. bottle into a Pipeworks Brewing Company branded short stemmed tulip
Poured a very dark brown, almost black, capped with a beige two finger fluffy sea-foam-like head with fair retention, just a bit of lacing. The aroma of just a hint of farmhouse yeast, big spicy pepper, and lemony citrus on the nose. Opens with lemony citrus, alot of pepper midpalate which carries through the dry finish and is joined by a slight accent of farmhouse yeast. Fairly light bodied with a higher level of sharp carbonation. The pepper really dominated this brew and even overwhelmed the contributions of the yeast which is one of the most important qualities of a good saison. Also the sharpness of the carbonation really affected my enjoyment of this brew and detracted from the mouthfeel. Overall, not one of my favorites from Pipeworks.
853 characters
2.94
/5
rDev
-10.6%
look: 4.5 | smell: 3 | taste: 2.5 | feel: 3.5 | overall: 3
22 oz. bottle served in a FFF teku glass. Batch #30.
A: Pours a pretty dark black with a dirty white head forming on the pour. It recedes to a nice cap that leaves some sticky sheets of lace down the glass.
S: The waft is big sorachi ace hops. Lemony citrus and zesty peel. Some peppery, yeasty notes with a little sweet malt as well.
T: The sorachi really dominates this flavor profile. It's definitely zesty with a big sour lemon bite to it. As a little bit of a soapy flavor to it as well. The finish as some mild, peppery spice, but I'm missing some sweetness from the malts. As it warms the peppery notes come out a little bit more which helps counter balance the Sorachi.
M: Medium bodied with a medium carbonation level. A peppery, spicy finish.
O: I like the nose, but the sorachi ace hops really dominated the flavor profile. It almost turned to a puckering sour lemon bite to it. As always I appreciate the creativity, but I feel that the Sorachi should have been a little more restrained to really make a cohesive beer.
1,036 characters

2.9
/5
rDev
-11.9%
look: 3.5 | smell: 3.5 | taste: 2.5 | feel: 3.5 | overall: 2.5
Served in a Bruery snifter.
Described by the label as a dark saison brewed with tellicherry black peppercorns, lemon zest, and the infamous (to me) Sorachi Ace hop. It pours a surprisingly opaque black-brown topped by over a finger of sandy tan foam. The nose comprises dark wheat, black pepper, cardamom, light lemon peel, and a vague sense of Belgian yeast floating around in the background. The taste eschews most other options for a strong lemon flavor, beginning with a beastly cardamom blast, followed by some straight lemon peel, then into the sweaty-lemon that usually characterizes the Sorachi jabberwock. In the end, some black pepper and darkly-toasted wheat tries vainly to temper the harsh citrus-peel bitterness that malingers for a decent amount of time. The body is a light medium, with a light moderate carbonation, a slightly fluffy feel, and a fairly dry finish. Overall, this beer just didn't sit right with me. Had the yeast been more effective and the hops more understated, things might have turned out better. Alas...
1,044 characters
Poivre Noir from Pipeworks Brewing Company
3.29
out of
5
based on
29
ratings.