Unicorn's Revenge

Pipeworks Brewing Company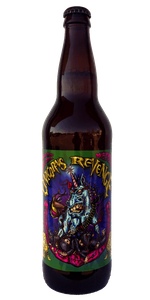 Write a Review
Beer Geek Stats:
| Print Shelf Talker
Style:

ABV:

10%

Score:

Avg:

4.2

| pDev:

9.05%

Reviews:

59

Ratings:

From:

Avail:

Rotating

Wants

Gots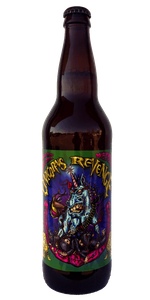 Notes: This epic battle is exhausting The Unicorn. He's been at it fighting all sorts of creatures, spirits, beings from other worlds and other dimensions. If there's one thing The Unicorn hates, it's sadness. If there's another one thing The Unicorn hates, it's exhaustion. It is time The Unicorn made all others regret the day, they began this epic battle! With an intense and unexpected juicy and floral combination that can only come with generous amounts of New Zealand hops.
Reviews: 59 | Ratings: 426

4.3
/5
rDev
+2.4%
look: 4 | smell: 4.5 | taste: 4.25 | feel: 4.25 | overall: 4.25
Bottle shared by nasty31
A - Dark orange color with a hazy, thick beer with a small white head
S - Orange, slight floral, pineapple, and pine to it. Great IPA nose on this one
T - Upfront, there is orange and pine with slight bitterness that lingers on the tongue in the finish. Light floral and earthy presence to it as well. Overall, I'd say the flavors are all soft as nothing is too big or standing out.
MF - Big carbonation in this as well with a creamy body with a slight thickness to it. It leaves a hop resin on the tongue in the finish
O - Solid beer that makes a good impression with the New Zealand hops. Has a good balance between citrus and pine to it. Good flavor throughout.
694 characters

4.61
/5
rDev
+9.8%
look: 4.75 | smell: 4.25 | taste: 4.75 | feel: 4.5 | overall: 4.75
Batch #96 poured into Ballast Point tulip
Pour: Ok-an over the top (literally) four fingers off white head. This head refused to let up as it lingered forever and left just an absurd amount of lacing that almost looks like it has been left over night to dry on the glass. It will not let go of the glass. It is an absolute beautiful clear amber-copper orange with an unbelievable clarity. Fine bubbles are visible rising to the surface.
Smell: Completely tropical forward. Lemon, orange, pineapple, mango, peach, grapefruit all smelling very juicy! This beer is very enticing in the smell and has me excited to dig in. I do not get any alcohol and a bit surprising in that this is 10%.
Taste: Actually sweet and malty with a biscuit like and caramel and honey sweetness. Then like the nose and very juicy tropical fruits. Big pineapple and some orange with a touch of pine bitterness but this is balanced wonderfully by the sweetness. In the taste I do get some of the alcohol way in the back but it sits there just perfect and doesn't detract from the overall awesomeness of the taste of this beer.
Mouthfeel: Medium and pushing the higher end of this, actually. It is somewhat sticky with its sweetness but so easy drinking for a 10% beer. Light carbonation that is perfect for this beer.
Overall: I have yet to be let down by Pipeworks and their hoppy goodness. They have these styles dialed in and obviously in their wheelhouse. This to me is a grand slam for Pipeworks because I just think everything about this beer works. It helps that this bottle is ultra fresh. Well done Pipeworks! Well done!
Edit: As I continued to drink I must note the lacing on this baby is a sight to behold. Man I like this beer.
1,719 characters
4.62
/5
rDev
+10%
look: 4.75 | smell: 4.5 | taste: 4.75 | feel: 4.5 | overall: 4.5
A- copper hued orange. small head but sticky, mostly small bubbles.
s- lemon grass, butter, tropical, mango, pineapple, very small hint of peach. some malt coming though, smells a lot like SN estate wet hop ale.
T- Grapefruit rind, really sweet peachy taste, coming from the malt. Very midwestish style. bitterness hits quick and hard them mellows fast, and lingers for sometime.
M- medium to medium heavy, plenty of carbonation, really easy to drink.
Must have for ipa fans, and more so if you live near pipeworks, pick up any of their ipa's and you will not be disappointed.
580 characters
4.04
/5
rDev
-3.8%
look: 4.25 | smell: 4 | taste: 4 | feel: 4.25 | overall: 4
Saturated dark orange color, copious foam and lace coating the opposite side of the glass. Clusters of bubbles raft on over to the sides of the glass.
Fruity aroma, candied orange peel and dried mango, some leafy green resin and pale malt under the surface.
Flavors follow suit, orange/mango/cantaloupe fruitiness, resiny green hop undercurrent, hint of pale malt again. A little bit of earthy mango in the aftertaste. Medium bodied and drinkable as all Pipeworks DIPA's have been, this one seems to be a variation on a theme, though not straying far into unique territory. Solid and flavorful, really enjoyed and would drink it again.
639 characters

4.44
/5
rDev
+5.7%
look: 4.25 | smell: 4.5 | taste: 4.5 | feel: 4 | overall: 4.5
Poured into Half Acre snifter. Appearance is a clear deep gold with a thin layer of head. The aroma is pungent with hops. Tons of tropical aromas with waves of resinous pine, notes of mango and citrus, a touch of caramel malt and a dry hoppy finish. The taste is just as hoppy as the nose implies with an emphasis on the fruity tropical notes up front and the more resiny pine notes at the finish. With all of the assertive IBU's that are at play here, the balance is actually quite nice. The malt backbone holds the hops up nicely but doesn't allow them to dominate the palate with bitterness. The mouthfeel is medium to heavy with moderate carbonation. Overall, a beautifully balanced DIPA with and absolute tons of hoppy notes oozing from all edges. Worth seeking out for any hophead.
787 characters
4.23
/5
rDev
+0.7%
look: 4.5 | smell: 4 | taste: 4.25 | feel: 4.5 | overall: 4.25
22 oz. bottle served in a Pipeworks snifter. Batch # 92.
A: Pours a copper-like amber color with a yellowish head forming on the pour. It recedes slowly to a frothy collar. Some sticky sheets of lace are left down the glass.
S: Lemony and grassy with a little bit of booze. Notes of tropical fruits, mainly mango and pineapple.
T: Same as the nose. Definitely a grassy undertone with a sweet malt body. Biscuit-like with a little caramel richness. Pineapple, light pine and with just the slightest hint of alcohol on the back end. It is hidden enough that it doesn't detract from the overall flavor profile.
M: Medium plus bodied with a soft carbonation. Still really drinkable for having such a big mouthfeel and alcohol level which is impressive.
O: Definitely good. Pipeworks has this style in their wheelhouse and the just keep cranking out gems. Well done and highly drinkable for such a big beer.
907 characters

4.23
/5
rDev
+0.7%
look: 4.25 | smell: 4.25 | taste: 4.25 | feel: 4 | overall: 4.25
Poured from a 22 oz. bottle marked batch #92 into a Pipeworks Brewing Company branded snifter/short-stemmed tulip
Pours an orange-accented glimmering copper topped by a bright off white head. Average retention with hints of lacing. Tons of tropical and floral notes on the nose, pineapple, mango, and hints of caramel and some clean alcohol. Opens with passionfruit and lots of it, my favorite contribution of some New Zealand hop varieties. Blood orange, pineapple, papaya, and mango as well with a touch of caramel. Finishes with really intense citrus rind bitterness quickly rounded out by some more caramel accented sweet fruit notes. Big, full bodied, smooth and silky. Moderate carbonation. Unicorn's Revenge is an excellent DIPA/IIPA. This offering will satisfy the biggest hophead's craving, however it also displays much more balance than the previous release, Galaxy Unicorn. The New Zealand hop profile used here is wonderful. An excellent addition to Pipeworks library of excellent DIPA/IIPA's, however this one is among the heads of the class.
1,057 characters

4.61
/5
rDev
+9.8%
look: 4.25 | smell: 4.5 | taste: 4.75 | feel: 4.75 | overall: 4.5
Poured from a 22 oz bottle into a Pipeworks snifter.
A- pours a bright golden with a 2 finger white head. Big botches and trails of lacing remain on the glass.
S- caramel, honey, huge floral notes, some citrus (mainly orange), and some spices.
T- sweet caramel, lightly toasted malts, bitter orange peel and citrus, some floral and grassy notes as well.
M- medium body and carbonation. This beer is so drinkable at 10%! Very light (in a good way) and crisp.
O- amazing beer from Pipeworks! The addition of the hops in the middle of the boil gives this beer some much aroma and floral notes and drinks like a 7% ipa. Pipeworks can do no wrong in the ipa department by me.
676 characters
4.49
/5
rDev
+6.9%
look: 3.75 | smell: 4.75 | taste: 4.5 | feel: 4.25 | overall: 4.5
Appearance: A wonderful copper color. Really looks like a powerful IPA. I would like some more carbonation out of this brew though. Decent head on the pour which died down and was not a major player while drinking.
Smell: Wow this is as good as it gets. The hops are wonderfully bright with accents of hoppy and syrup. Balance is amazing. Everything plays along perfectly here. The New Zealand hops in this brew are as advertised, fruity and floral. The high alcohol content is no where to be found.
Taste: The floral sweetness found in the aroma is very prevalent here. Different from the aroma though, the high alcohol content provides and spicy undertone to this beer. Provides more of an edge then a alcohol burn. The hops do not leave an offensive dryness on the palette, the sweetness brings itself back at the end of this brew. Awesomeness.
Mouthfeel: A syrup sticky feeling over an offensive hop dryness. The hops in this brew are perfect.
Overall: Pipeworks is the shit. Go out of your way for their products. These guys will be huge soon.
1,062 characters
Unicorn's Revenge from Pipeworks Brewing Company
Beer rating:
93
out of
100
with
426
ratings