Dismiss Notice
Dismiss Notice
Chipotle Smoked Porter
| Pipeworks Brewing Company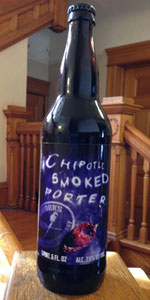 BEER INFO
Brewed by:
Pipeworks Brewing Company
Illinois
,
United States
|
website
Style:
Chile Beer
Alcohol by volume (ABV):
7.50%
Availability:
Rotating
Notes / Commercial Description:
Pipeworks batch # 544, bottled 2014-10-23.
Added by emerge077 on 03-02-2013
Reviews: 15 | Ratings: 63

3.48
/5
rDev
-11%
look: 4 | smell: 3.5 | taste: 3.5 | feel: 3 | overall: 3.5
22 oz. bottle, with Batch # 544 printed on the label. A new resurrected batch of the Pipeworks Chipotle Smoked Porter. I've never tried the original Pipeworks Smoked Porter, so I am unable to say how they compare. This one comes with a Warning: This Beer Is Spicy! printed on it, and it appears the abv has been amped up to 9.00% abv according to my label.
Poured into a Duvel tulip glass.
A - Pours a dark chocolate brown; opaque black in the glass with one finger of rich frothy tan head. Leaves good lacing behind on the glass. Looks very nice.
S - The aroma is pleasant enough - creamy, chocolatey, roasty, & malty. Smokey & leathery to be sure, with maybe just a slight hint of vegetal chile presence, but nothing that would suggest any type of heat.
T - The taste is hard to pinpoint; this beer might be just bit too spicy for my liking. Creamy chocolatey malt presence is definitely noted, but the long-lasting fiery chile afterburn is prominent. Smokey / leathery notes become more prominent as the beer warms.
M - The beer itself is smooth & creamy, medium-bodied with nice carbonation, but the long-lingering chile heat is borderline unpleasant.
Overall, definitely a nice representation of the style, especially if you are looking for a beer to bring the heat. I had my doubts that the warning would be unmerited, but this beer is probably one of the spiciest chile beers I've had yet. Recommended for fans of the style.
Pipeworks Chipotle Smoked Porter -----3.5/5
★
1,488 characters
3.7
/5
rDev
-5.4%
look: 3.5 | smell: 4 | taste: 3.5 | feel: 3.75 | overall: 3.75
Pours a dark shiny brown with lots of fizzy carbonation. It pours exactly like coca cola or pepsi. Brown fizzy with a momentary tan head.
Smell is a mixture of strong chipotle peppers and cocoa, roasted malts and chocolate from the porter base.
Taste is a very spicy, burning pepper flavor with mild undertones of chocolate malts, roasted malts and cocoa. Very strong spice and this bottle is already 2 months old. Great combination of mocked flavors and the pepper, but just a bit too heavy on the spicy chipotle for my liking. The burn was up front and throughout where'd Id rather the burn be complimentary and not cover the other flavors.
Feel was fizzy and pretty carbonated. Heavier than expected given it looked like cola.
Overall a nice beer for the style, I'll admit, I love this one for cooking but not as much for drinking.
★
841 characters
3.85
/5
rDev
-1.5%
look: 3.75 | smell: 3.75 | taste: 4 | feel: 3.75 | overall: 3.75
22oz, Batch 95
Riedel unmarked tulip
A: Pours a deep brown black color. Collar of light tan color even with an aggressive pour. Some alcohol feet and lacing bits.
S: Lots of smoked malt. Campfire roast. Dig in there you get some of that spice. Also some chocolate. Wish there was more pepper on the nose.
T: Up front, tickle of spice that lingers in tongue. Maybe the peppers. Then it's the roast campfire that you taste, co-mingling with the Chocolate and coffee flavors. Some what dry finish. Lingering spice notes. Tingle of pepper spice in the back of the throat.
M: Medium. Thought it would be thicker.
★
611 characters

3.89
/5
rDev
-0.5%
look: 4 | smell: 4.25 | taste: 3.75 | feel: 3.75 | overall: 3.75
Pours a jet black with brown head and quick dissapating head. Smell has a campfire smoke with hints of chipotle. Taste is a dark mole sauce, with dark chocolate, light smoked chipotle, roasty malt, with a lingering (but not overwhelming) heat that lingers to the palate. Like most smoke beers, it's best to pair with food. I paired this with carnitas and it worked perfectly. A solid brew
★
389 characters

3.93
/5
rDev
+0.5%
look: 3.75 | smell: 3.75 | taste: 4 | feel: 4 | overall: 4
A: Very dark brown, but still moderately translucent. Forms a rather modest, very bubbly tan colored head on an aggressive pour. Head doesn't bother sticking around for too long. No lacing.
S: Aroma is quite tame. Mostly roasted malts, lots of chocolate, and just a touch of smoke. Then there is a slight vegetal, raisiny earthiness that I would likely never identify as chipotle if it were not on the label.
T: Taste is very nice, though not at all what I was expecting. Lots of chocolate, with notes of coffee and even vanilla. There is a slight earthiness and a faint bit of smoke, but the chocolate dominates to the point where I would ask if this is a chocolate porter and not a chile porter. There is a very mild spiciness on the finish, but, in terms of chipotle, it is quite weak. Reminds me of a certain Vosges chocolate bar I once ate.
M: On the lighter side of full bodied. Smooth and creamy. Mild spiciness and mild bitterness. Lower carbonation level.
O: A friend warned me about the heat that this beer brings, but I got next to nothing in terms of fiery chile out of it, though in my experience, I feel these chile beers tend to have a lot of bottle variation. None-the-less, a good beer, just not the one I was expecting.
★
1,245 characters
3.98
/5
rDev
+1.8%
look: 4 | smell: 4 | taste: 4 | feel: 3.75 | overall: 4
Dark hazy opaque brown body with a small tan head.
The smell is chocolate, meaty smoke, and earthy tones.
The taste is predominantly chocolate, smoke, and vegetal. The pepper brings quite a bit of heat in the end that lingers in my throat.
Mouthfeel is a tad bit thin with moderate carbonation.
It's a fun beer. The pepper brings a nice little heat to it and the smoke works well with the chocolate.
★
406 characters
3.98
/5
rDev
+1.8%
look: 3.75 | smell: 4.5 | taste: 3.75 | feel: 3.75 | overall: 4
22 oz. bottle poured into a Founders snifter.
Appearance: Pours near-black with a very thin off-white head. Dissipates immediately, not much lacing.
Smell: Dark chocolate, smoke, and chipotle pepper. These are 3 aromas that work extremely well together. I love the smokiness - very apparent but not overwhelming at all, and works perfectly with the chiptole.
Taste: The chipotle/smoke combo is still there, and very well executed. However, the roasted malt/darkchocolate flavor that I was picking up in the smell isn't nearly as apparent. The flavor profile is all about the smoke and pepper, and it's very good, but I would really like some more chocolate/roast flavor. No alcohol is apparent, and the heat from the chipotle is minimal, leaving just a hint of lingering spice on the finish.
Mouthfeel: Medium to thin body. A tiny amount of lingering heat from the chipotle on the finish.
Overall: Really highlights the chipotle pepper, and does it very well without being overwhelming. With a little bitofadditional chocolate flavor, this could be really spectacular.
★
1,073 characters
4
/5
rDev
+2.3%
look: 3.5 | smell: 4 | taste: 4 | feel: 4.25 | overall: 4
Dark brown color, some larger bubbles result when the bottle is poured from a height, but there's not much foam that lasts. Thin ring around the edges with the barest amount of spotty sea spray lace.
Smoky aroma hits with some peaty iodine at first, becoming more woody and layered with malt toastiness as it warms.
Pleasant smooth feel with lower carb levels, earthy smoky chipotles linger into the dry aftertaste. Plenty of chile flavor without much heat really. End of Days is spicier. Some dry bakers chocolate notes come out mid-palate, and a slight tingle from the peppers as well. Overall a great variation on the standard Smoked Porter. Don't be scared off by the warning on the label that it's spicy...
★
719 characters

4
/5
rDev
+2.3%
look: 4 | smell: 4 | taste: 4 | feel: 4 | overall: 4
This was tough for me to rate fairly. I am not fond of Chile beers ... and smoked ones aren't my favorite either. This seemed to be well executed for the style. The Chile seemed more prominent than the smoke
★
209 characters

4
/5
rDev
+2.3%
look: 4 | smell: 4 | taste: 4 | feel: 4 | overall: 4
Poured from a 22 oz bottle into a Pipeworks snifter.
A- pours black with a 1 finger tan head. Minimal lacing.
S- chocolate, smoke, light pepper
T- roasted malts, chocolate, some smoke, there is pepper flavor but not much spice.
M- medium body and carbonation. Has a warming feeling from the peppers in the aftertaste.
O- nice porter, has some pepper and warming but I wish there was some more spice.
★
406 characters
4
/5
rDev
+2.3%
look: 4 | smell: 4 | taste: 4 | feel: 4 | overall: 4
22 oz. bottle served in a Pipeworks snifter. Batch #95.
A: Pours a dark black with a quick dissolving light khaki head. It recedes to a thin ring.
S: Hefty doses of smoke, charred wood and light chipotle peppers. The slight smoke is slightly meaty in nature with a nice roasted malt sweetness as well.
T: Very nice. There isn't any heat from the chipotle peppers, just great flavor. Raw and earthy in nature it really compliments the smokiness from the smoked malts. Subtle roast with a hint of charred wood. Little dark chocolate bitterness resides in the periphery.
M: Medium bodied, teetering on the thin side, with a medium low carbonation level. A smokiness lingers on the finish.
O: Everything is really understated which is nice because a lot of smoked beers are completely over the top. I could have used a little more chipotle pepper in the flavor, but overall this was a nice addition to the Smoked Porter lineup.
★
928 characters

4
/5
rDev
+2.3%
look: 4 | smell: 4 | taste: 4 | feel: 4 | overall: 4
Bottle from Lakeview Binny's. Served in a tulip during the Steampunk birthday shenanigans.
A - A finger of off-white foam settles to a near complete cap and minimal lacing. Very dark brown body.
S - Chipotles, smoke, roated malts, dark chocolate, light biscuit, toasted grains.
T - Taste is quite similar, with it's combination of chiles, dark chocolate, smoke, roasted malts and mild biscuit notes.
M - Medium body, lightly tannic, with lower carbonation, and a dry finish. Chile warmth is fairly mild but it grows a touch after a half glass.
D - Solid stuff - like this just as much as their standard smoked porter, although I could have gone for even more chiles and burn. I'm probably in the minority in wanting hotter beers, but the label promised 'hot' and I was a bit letdown.
★
788 characters

4
/5
rDev
+2.3%
look: 4 | smell: 4 | taste: 4 | feel: 4 | overall: 4
Lots of heat on the back end with this beer. If you age it, heat subsides (from experience). Good offering from Pipeworks (as usual). Not for everyone. If you are sensitive to peppers, don't bother, otherwise, dig in.
★
217 characters

4.08
/5
rDev
+4.3%
look: 3.75 | smell: 3.75 | taste: 4 | feel: 4.5 | overall: 4.5
Pepper sting immediate and continuous, with a chocolate sweetness to round off the edges. If you like chili stouts, and especially if you appreciate the heat-more-forward-than-the-sweet, you'll dig on this. Nice smoky chili sting in dark malts and roastiness. Feels a little heavier than it looked on the pour, a smooth, medium-plus body; the tingle of pepper heat overtakes any sense of carbonation or abv (7.75%). I really enjoyed it.
★
436 characters

4.16
/5
rDev
+6.4%
look: 3.75 | smell: 4.5 | taste: 4 | feel: 4 | overall: 4.25
Served in a Lagunitas mason jar.
I'm still steamed at my local Chipotle for not honoring my quesarito order... Anyway, this stuff pours a deep black-brown topped by a half-finger of off-tan foam. The nose comprises cherrywood smoke, chipotle peppers (the peppers' smoke is distinct from the surrounding cherry), mild molasses, and a touch of cocoa powder. Everything blends together so well, and the smoke is so easy-going and pleasant, that I honestly don't wanna stop sniffing. The taste brings in more of the same, with a lighter smoke contingent, some cinnamon, some extra cocoa, and a hint of hickory wood. The peppers come through with a hint of spiciness close to the finish, but they don't linger very long. The body is a lithe medium, with a light moderate carbonation and a fluid feel. Overall, a damn tasty smoked porter, one that doesn't over- or underdo it when it comes to both the smoke and the peppers (though the peppers come awfully close to underdone). Get some.
★
982 characters
Chipotle Smoked Porter from Pipeworks Brewing Company
86
out of
100
based on
15
ratings.