Cascade
| Pipeworks Brewing Company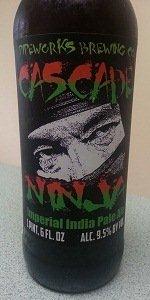 BEER INFO
Brewed by:
Pipeworks Brewing Company
Illinois
,
United States
pdubs.net
Style:
American Double / Imperial IPA
Alcohol by volume (ABV):
9.50%
Availability:
Rotating
Notes / Commercial Description:
Pipeworks Cascade has been growing and nurturing his infamous high alpha kick and aromatic abilities at Master Nunzino's Hop Head Farms. Hop Head Farms is where the strongest, most able hops go to enhance and punch up their Unicorn battling abilities. When you can snatch the ale from the shelves, you will be ready to drink, Grasshopper. Remember grasshopper, drink early, drink often, drink early, drink often, oh yeah, and wax on. And off.
Added by MasterSki on 04-19-2013
Reviews: 26 | Ratings: 211

3.4
/5
rDev
-19.4%
look: 3.5 | smell: 3.5 | taste: 3.25 | feel: 3.5 | overall: 3.5
9.5% ABV confirmed. 1 pint 6 fl oz brown glass bottle with orange branded pry-off pressure cap and uninteresting label art acquired from my long-time trade partner Duff27 and served into a Pinthouse Pizza conical pint glass in low altitude Austin, TX. Reviewed live. Expectations are high given its current 93 rating. Unfiltered. Reviewed as an imperial IPA since the label clearly identifies it as such. Batch #239 240 241.
Served cold - straight from the fridge. Side-poured with standard vigor as no carbonation issues are anticipated.
A: No bubble show forms as it's poured.
Pours a three finger wide head of pale khaki colour. Nice creaminess and thickness. Has a fairly soft complexion and a pretty even consistency. Some soapy lacing clings to the sides of the glass as the head recedes. Head retention is excellent for the high ABV - 10+ minutes - and longer than I can wait to try this beer. Digging the head.
Body colour is a clear translucent clean copper gold of above average vibrance. Appears well-carbonated. No floating yeast particles or sediment is visible. I'm a bit surprised at the beer's clarity given how emphatic the label's description of the beer is that it's unfiltered.
Overall, it's a pretty standard/predictable appearance for an imperial IPA. Not unique or special. There are no egregious flaws here. I'm optimistic.
Sm: Has a nice caramalt presence as well as ample amount of pale malts, which lend the beer a notable sweetness that counters the hoppy bitterness nicely (at least here on the aroma). It's spicier than anticipated - allspice I guess? Hopwise, I get some grapefruit character, plenty of floral hop character, and a kiss of resins. Overall, it's a bit more biscuity and malty than most good imperial IPAs I've had, so I am bit concerned. This hop profile doesn't really cater too closely to my personal tastes; I'm not finding heavy resins, oils, citrus, and nectary character. But the grapefruit seems nice enough.
No yeast character or alcohol is detectable. I don't find any off-notes.
An inoffensive aroma of mild strength.
T: Has a lovely subtle grapefruit punch. Some of my concerns were unfounded; the maltiness is nicely executed here and never quite feels too sweet. Pale malts, caramalt, maybe some biscuit and/or crystal malt. Has a good firm foundation, but the malty build does distract from what should be the highlight - the hops. There's plenty of floral hop character, a kiss of spiciness, some herbal hop character, and some mild resins. Unfortunately, it has just a hint of that stale orange juice note I despise in an IPA; it's pretty faint, so it's tolerable, but it does bother me - especially as the beer warms.
I do like the flavour profile in general, but I'm a bit surprised at its simplicity. There's some interesting subtlety here - especially where the grapefruit is concerned - but it lacks complexity and intricacy. Still, who knew a brewery could actually go for grapefruit carefully, rather than shoving it down your throat? Pipeworks could teach many a west coast brewery a lesson in imperial IPA brewing. That said, the balance isn't quite up to par. It's a cohesive build, but isn't gestalt.
Average depth, duration, and intensity of flavour.
I'm surprised the hopheads are flocking to this one as much as they are (or would be assumed given its current 93 rating) - the hops aren't as prominent as you'd expect in a beer of this style.
No yeast character or overt alcohol comes through. I don't pick up on any off-flavours.
Mf: Medium to full-bodied. Good thickness. Has a good weight on the palate. A bit overcarbonated. Fairly filling. Lightly sticky. It's got a pretty decent presence on the palate. The texture is well suited to the taste in a general sense, but there's definitely room to tinker with the mouthfeel in order to truly elevate the best flavours. For starters, it's slightly coarse - which doesn't suit it too well - and it's a bit too wet. The result is an unrefreshing mouthfeel which has too much edge for this relatively mellow flavour profile.
Not astringent, oily, creamy, gushed, hot, or boozy - though there is some alcohol warmth.
Dr: Absolutely a drinkable imperial IPA, but far from the best in its class. I'd get it again if I was in the right mood and came across it naturally, but I'm not convinced it's worth seeking out. More pretty good work from Pipeworks. Constructively, the ABV could be better disguised.
I'm really glad I got a chance to try this. Huge thanks to Duff27!
B-
4,517 characters
Cascade from Pipeworks Brewing Company
4.22
out of
5
based on
211
ratings.