Date Sugar Yeast Magik
| Pipeworks Brewing Company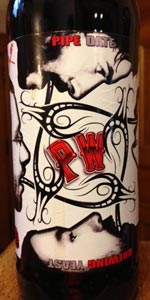 BEER INFO
Brewed by:
Pipeworks Brewing Company
Illinois
,
United States
pdubs.net
Style:
Dubbel
Alcohol by volume (ABV):
9.00%
Availability:
Limited (brewed once)
Notes / Commercial Description:
No notes at this time.
Added by KFBR392 on 07-31-2013
This beer is retired; no longer brewed.
Reviews: 11 | Ratings: 52

3.5
/5
rDev
-9.1%
look: 3.5 | smell: 3.5 | taste: 3.5 | feel: 3.5 | overall: 3.5
22 oz. bottle, with handwritten Batch #167 written on the label. Finally getting around to trying this offering from Pipeworks, this bottle is just over a year old now. I believe this is my first dubbel from Pipeworks, not a style I'm particularly fond of, but I have high expectations.
Poured into a Duvel tulip glass.
A - It pours a murky mahogany brown colored body, with just under a finger of tan bubbles for a head. Leaves behind some thin spotty lacing. Looks okay.
S - The smell is comprised of alcohol phenols, dried dark fruits imparted from the dates, a light cinnamon type smell, candied sugars, and notes of brown bread.
T - Taste follows the nose - lightly spicy, yeasty, dried dark fruitiness from the dates, figs, berries, & candi sugar. The Trappist ale yeast makes itself known. Again, I'm getting notes of cinnamon and brown bread, and other spice rack notes.
M - The feel is full-bodied with low lying carbonation. Slightly syrupy and boozy on the palate.
Overall, it was a well made and well preserved effort, but I will wait to see what they can do with this style next time. Recommended if it is still available to you.
Pipeworks Date Sugar Yeast Magik ---3.5/5
1,191 characters

3.73
/5
rDev
-3.1%
look: 3.75 | smell: 3.75 | taste: 3.75 | feel: 3.5 | overall: 3.75
Poured from a 22 oz. bottle into a Pipeworks Brewing Company branded snifter/short stemmed tulip
Pours a hazy mahogany capped by a one finger light beige head. Average retention; hints of lacing here and there. Brown sugar, candi sugar, dark fruit, sugar plums, and dried dates on the nose. Opens with caramel and candi sugar initially. Bold date, plum, hints of molasses and brown sugar join in. Finishes semi-dry with continued dates, candi sugar, and warming alcohol. Syrupy body, low carbonation. Nothing groundbreaking as far as the style goes, however a very solid brew which is nothing short of enjoyable.
613 characters
4.42
/5
rDev
+14.8%
look: 4 | smell: 4.5 | taste: 4.5 | feel: 4 | overall: 4.5
(Served in a chalice)
Batch 166
A- This beer pours a slightly dense brown body with a thin film of off-white head that is supported by a gentle carbonation.
S- The nice dark sugar notes blend with date syrup, circus peanuts and banana/plantain esters. There is a soft peppery phenol in the finish, but this is a very good sniffing beer.
T- The nice flavor of dates and classic dubble yeast character has some hints of nougat and pear esters with a gentle touch of sweetness in the finish. There is a slight cidery note that comes through as it warms but it adds a nice twist. There is a nice alcohol note with a mineral tang in the aftertaste.
M- The medium-full mouthfeel has a creamy fizz and a warming alcohol heat to it.
O- This is a nice dubble style beer with good support by raw sugar and dates and it seems like it adds layers to each sip as it opens up.
870 characters

3.67
/5
rDev
-4.7%
look: 3.25 | smell: 3.75 | taste: 3.75 | feel: 3.75 | overall: 3.5
A - Dirty or muddy brown color, nearly opaque with thick yeast cloud particulates in the beer. Very little head when poured into the glass, quickly falling into the beer and forming a ring of dark tan bubbles around the glass.
S - Dates, with allspice and belgian yeast phenols dominate the nose.
T - There's a lot of fruit forward tastes; dates of course, but plum follows. The medium tastes are of spice and phenols again. It finishes with a sweet dark sugar on the back of the tongue.
M - Spicy, peppery medium body with a hint of oily resin from the hops.
O - I liked it. This is a very good dubbel, paired very well with some ham and potato perogies.
663 characters

3.83
/5
rDev
-0.5%
look: 4 | smell: 4 | taste: 3.75 | feel: 3.75 | overall: 3.75
Poured from a 22 oz bottle into a snifter.
Pours a dark amber with a 1 finger beige head. Small bubbles and trails.
Toffee, big dark fruits, dough, spices, typical dubbel aroma.
Roasted malts, toffee, raisins and dark fruits, light spices.
Not a bad first try st a dubbel but has some heat to it.
300 characters

3.85
/5
rDev 0%
look: 3.75 | smell: 4.25 | taste: 3.75 | feel: 3.5 | overall: 3.75
A: Deep chestnut brown. Still fairly translucent in color. Forms a minimal fizzy off-white head that reduces fairly quickly, leaving just a faint swirl of foam on top of the beer. No lacing. Beer appears rather flat-looking after just a couple of minutes.
S: Aroma is bright and sweet, smelling like a farmer's market on an autumn day. Dates, figs, chocolate, and chestnuts.
T: Taste is similar to the aroma. Earthy, with a distinct sweetness to the beer. Light brown sugar and caramel notes, dates, sweet tea, cola, banana bread, and just a hint of chocolate. Finish is earthy, but it's a sweet earthiness. But this sweetness actually becomes somewhat grating as you drink the beer.
M: Medium bodied, but comes off feeling thin and slightly watery. Plus the carbonation on this one is very low. Not exactly flat, but not too far from it either.
O: I'll readily admit I'm not too big a fan of the style, but I liked this take on it. Rather sweet - too sweet for my tastes - but interesting and flavorful. I would say this beer begs to be paired with food and I believe I would have enjoyed it more if I had.
1,115 characters

4
/5
rDev
+3.9%
look: 4 | smell: 4 | taste: 4 | feel: 4 | overall: 4
The dubbel that drinks like a quad. My bottle didn't have carbonation issues, I got bubbles and a fizzy tang on the tongue, but this is supposed to be lightly carbonated I think. And it is. Makes it very creamy, very sweet, nothing really balances out the sweetness. But it tastes great, all the quad flavors of banana/clove/bubblegum I love. Appearance is a rich brown. I won't get another bottle, but I really enjoyed this one.
433 characters
4.17
/5
rDev
+8.3%
look: 4 | smell: 4.5 | taste: 4 | feel: 4 | overall: 4.25
Pours cloudy brown with a 1 finger tan head.
Dark fruit is very present in the nose, warm brown sugar aroma. Malt has a toffee like note to it. Yeast also add another fruity dynamic on top of big belgian motes with clove and soices intertwined to it.
Taste is good and follows the nose brown sugar and toffee like malt are forward. Sugar is much milder in the taste. Finishs with a yeasty toffee note with a slight alcoholic bite. Dark fruit on the after taste.
Mouthfeel has good carbonation and medium body.
512 characters
3.96
/5
rDev
+2.9%
look: 3.75 | smell: 4 | taste: 4 | feel: 3.75 | overall: 4
Opaque light brown with a rather flat appearance. The carbonation quickly rises to the top, forms a thin dish soap bubbly head, then dissipates without a trace in a matter of seconds. From there it looks like a glass of caramel.
Nice standard aromas from a dubble... phenols, cloves, sweet and sugary. Hint of caramel.
Banana flambe. Spices, cloves, nutty, and again, sweet.
Mounthfeel was a little flat, much like the appearance.
Overall, I really enjoyed the beer and if it would have had just a tad more carbonation would have scored much higher for me. The smell and taste were very good for the style.
613 characters
3.94
/5
rDev
+2.3%
look: 3.5 | smell: 3.75 | taste: 4 | feel: 4.25 | overall: 4
Deep chestnut brown color, opaque with low clarity, a thin layer of parchment-toned surface foam. Floating island veil of skim in the center, no lacing to be seen.
Phenolic Belgian yeast aromas, nutty, clove, nebulous spices, trace candi sugar sweetness.
Full bodied and syrupy smooth, light spiciness in the middle and lingering into the aftertaste. Some peppery alcohol heat counters the nutty sweetness. Rich flavors of dates and nuts, ripe banana, caramel, rich malt and yeast character. Overall a nice Dubbel that I enjoyed sipping on for an hour or so.
560 characters
3.98
/5
rDev
+3.4%
look: 3.25 | smell: 4 | taste: 4 | feel: 4.25 | overall: 4
Appearance: Murky medium brown color. No head on the pour or retained. Below average carbonation. Simple, interesting look.
Taste: Exotic spices and dark fruits hit the nose right away. A doughy fresh yeast aroma. A slightly spicy tone supplied by the dates. A bold aroma which is rounded and balanced.
Taste: The front is a blast of dark complex fruit. The body is filled with strong exotic spices and plenty of dates. These accents continue to dance on the palate long after drinking. The finish is medium sweetness with a malty dryness.
Mouthfeel: Lots of spicy tones linger with a very complex addition of dark fruits.
Overall: A really tasty beer. Pipeworks continues to show either quality with some many different and difficult styles of beer. I have been especially impressed with their belgian offerings like this one. A very easy drinking dubbel.
869 characters
Date Sugar Yeast Magik from Pipeworks Brewing Company
3.85
out of
5
based on
52
ratings.