Mill Street Portage Ale
| Mill Street Brew Pub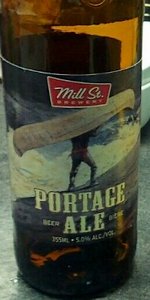 BEER INFO
Brewed by:
Mill Street Brew Pub
Ontario
,
Canada
millstreetbrewpub.ca
Style:
Cream Ale
Alcohol by volume (ABV):
5.00%
Availability:
Year-round
Notes / Commercial Description:
An "old school" Cream Ale brewed in the style of several beers made by breweries from the Lebreton Flats in the 1800 and 1900's. Made with Canadian pale malt and a blend of European and American hops, this beer is an easy-drinking, crisp and thirst-quenching ale with a deep golden colour and bright white head. It is fermented twice, once with ale yeast to produce a creamy, robust palate and then put through a secondary fermentation with lager yeast to develop a smooth and mellow character that is truly unique to this classic North American beer style. Cheers!
Added by bryehn on 01-26-2012
Reviews: 5 | Ratings: 20

3.4
/5
rDev
+2.7%
look: 3.25 | smell: 3.25 | taste: 3.25 | feel: 3.75 | overall: 3.75
355 mL bottle from their spring sampler; bottled on Jan. 24 2014 (assuming my code deciphering skills are up to snuff). Served well-chilled.
This one pours a crystal clear golden-yellow colour, generating just under one finger's worth of fizzy, bone-white head that turns out to be of rather fleeting permanence. Minimal remnants, and not much in the way of lace. At first glance one might easily mistake this for a pale lager, but the aroma tells a different tale - one of bready, biscuity malts, orchard fruit skins, wet hay and yeast. It's nothing fancy, of course, but then cream ales aren't exactly a very fancy style, are they?
So it really shouldn't come as a surprise that this is a very straightforward sort of ale. The backbone of pale grain and bready malts provides a certain sweetness, which manages to carry on throughout the profile. This is then supplanted by appleskin and a somewhat dry finish, with the malt sweetness gradually fading. There are some distinct yeasty qualities to this brew which become apparent in the aftertaste. Light-bodied in the mouth, with fairly aggressive carbonation that is appropriate for a light session ale. Like many of Mill Street's offerings, this is the sort of basic brew that I can enjoy and knock back with ease, without it demanding much of my attention or thought.
Final Grade: 3.4, a respectable B-. I've never really been blown away by cream ales in general, and Mill Street's Portage Ale didn't change much. This is a serviceable, uninteresting light session beer with no glaring flaws - or real strong suits, for that matter. I blitzed through the three bottles included in this sampler with no objections. Not bad, and the beer-drinking public in general would probably find it to be agreeable, but I can still see this one activating the yawn reflex of many craft beer aficionados.
★
1,848 characters

3.38
/5
rDev
+2.1%
look: 3.5 | smell: 3 | taste: 3.5 | feel: 3.5 | overall: 3.5
The flagship beer of the new Ottawa brewpub. Growler purchased from the retail store and opened on the same day. Served cold in an American pint glass.
Pours a slightly pale golden colour with a small white head that burns off quickly leaving a thread-like collar behind. There is almost no lacing, but there is a visible stream of carbonation.
Smells of sweet grains, wheat and yeast. There is a juice-like note that hovers between raspberry, cherry and grape, with just a hint of alcohol.
The taste is rather sweet as well, with grains making up the bulk of the body. There is a strong grassy tone, a certain grape or apple juice-like taste and very subtle milk chocolate and berry notes. The finish is very dry on the back of the tongue and throat.
The mouthfeel is medium-bodied with a medium carbonation level. The ale is quite creamy on the tongue with a distinct yeast character. The yeast sticks around in the aftertaste, along with a raw grain taste.
This is a decent, if not slightly too sweet ale that is very food-friendly and sessionable. It won't turn any heads in the craft beer community, but it won't turn casual beer drinkers away either. It's a safe choice by a brewery that knows its clientèle.
UPDATE: Tried this in a 750 mL snap-top bottle and it was a lot better. The head left a lot of lace, was very frothy and had better retention and the beer simply tasted fresher and more defined. Definitely go for the bottle or have it on tap if you get the chance.
★
1,486 characters
3.38
/5
rDev
+2.1%
look: 3.5 | smell: 3.5 | taste: 3.25 | feel: 3.25 | overall: 3.5
Bottle from a "spring seasonal" mixed pack poured into a mug. A light gold hue with a rich but quick-breaking white head that leaves little trace behind, this brew features a homogenized sweet perfumed aroma, a trace of floral spicy Euro hops dancing on top of a donut-like pale malt backbone. Palate reflects a standard well-constructed cream ale, a little bland but no obvious flaws. Grainy pale malts deliver most of the goods but there is a persistent and pervasive underlying vanilla creme sweetness along with a little lemon rind. Thinnish body and moderate to high carbonation as one might expect, finishes rather citric and dry although the vanilla-like sweet note does stay until the end. With the odd exception this is not a preferred style for me, and this one fails to break the mold. A tad grainy and rough around the edges.
★
837 characters

3.35
/5
rDev
+1.2%
look: 3 | smell: 3 | taste: 3.5 | feel: 3.5 | overall: 3.5
Draft at the Mill Street Pub Ottawa
Appearance - Clear yellow colour with a small size fizzy off-white coloured head. There is a low amount of carbonation showing and there is some faint lacing. The head lasted for only a minute or two.
Smell - Malts, breads/grains, hay/straw/herbal notes, corn
Taste & Mouth - There is a below average amount of carbonation and I can taste corn syrup mixed with light hops and herbal notes. There is also a some very faint fruit notes that seem to give it it's sweetness. It ends with a graint yet slightly sweet aftertaste.
Overall - While not spectacular, it's a step up from their stock ale etc. It's very drinkable and has just enough flavour to keep it interesting.
★
709 characters
3.08
/5
rDev
-6.9%
look: 3.5 | smell: 3 | taste: 3 | feel: 3.5 | overall: 3
A clear straw colored brew, an off-white head leaving good lacing but small curtains.
Sweet pear aroma, some hay.
Sweet taste as well, white bread, pears and some lime juice and peel.
Medium carbonation, small bubbles, a light dry finish.
Frisrt impression was "this is too sweet", after a while it got more nuanced.
★
320 characters
Mill Street Portage Ale from Mill Street Brew Pub
3.31
out of
5
based on
20
ratings.