Prostator
| Elevation Beer Co.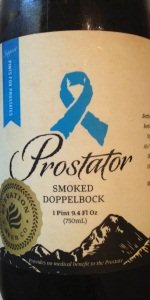 BEER INFO
Brewed by:
Elevation Beer Co.
Colorado
,
United States
elevationbeerco.com
Style:
Rauchbier
Alcohol by volume (ABV):
7.50%
Availability:
Limited (brewed once)
Notes / Commercial Description:
This beer is an extremely special edition release from Elevation in collaboration with The Rare Beer Club and Pints for Prostates, a 501c3 non-profit raising awareness of prostate cancer by reaching through the universal language of beer. A portion of the proceeds of every beer sold will go to help support the mission of Pints for Prostates. We hope that you share this special beer with friends and remind them that proper screening and early detection is the key to beating prostate cancer.
Added by TMoney2591 on 09-28-2012
This beer is retired; no longer brewed.
Reviews: 10 | Ratings: 29
2.63
/5
rDev
-30.2%
look: 4 | smell: 3.5 | taste: 2 | feel: 2.5 | overall: 2.5
A: Rose tan appearance. Nice retention
S: Leather and smoke. Nice aroma.
T: Disappointing. Smokey tones interfere reather than supplement.
M: Okay for type.
O: Not worth seeking out. Can tell that this would be interesting without smoke flavor or toned down smoke.
★
268 characters
3.63
/5
rDev
-3.7%
look: 3.5 | smell: 3.5 | taste: 3.75 | feel: 3.25 | overall: 3.75
Bottle pour for New Brew Thursday's 3rd Anniversary event held at Beachwood BBQ & Brewing in Long Beach, CA.
Pours a murky orange-brown with a foamy khaki head that settles to a film on top of the beer. Small dots of lace form around the glass on the drink down. Smell is of malt, caramel, and some smoke aromas. Taste is much the same with a smoke flavor that lingers on the finish. There is a mild amount of smoke bitterness on the palate with each sip. This beer has a lower level of carbonation with a slightly crisp and medium bodied mouthfeel. Overall, this is a pretty good beer with some nice smoke aromas and flavors.
★
627 characters

3.65
/5
rDev
-3.2%
look: 3.5 | smell: 3.5 | taste: 3.5 | feel: 4 | overall: 4
Poured from 750 mL bottle into shaker pint glass. Bottle # 01992. Brewed Summer 2012.
A: Pours a clear reddish amber hue with mild-moderate carbonation producing a 1/2 inch light tan head that quickly dissipates.
S: Wood smoke, caramel malts, raisins, and well-worn leather.
T: Wood and bacon smoke, spicy rye, and sweet caramel malts.
M: Light body (lighter than you'd expect from the ABV). Silky smooth and sweetly oily.
D: A deeply flavored beer and yet light bodied and clean tasting. The result is a decently complex and easily drinkable brew (highly drinkable when considering the style). Solid, but no need to seek it out. Nice cause though.
★
648 characters
3.87
/5
rDev
+2.7%
look: 4 | smell: 3.75 | taste: 4 | feel: 3.75 | overall: 3.75
750ml corked and caged bottle pours a clear copper to brownish color with a khaki head that holds well.
It smells meaty and sweet like caramel with slight phenolic plastic smoke character like its pete smoked and not "cleanly smoked."
The taste is sweet with caramel and toffee maltiness balanced by a bitterness like bark and smoke. The interplay of flavors here really works to form an enjoyable malty smoked beer.
This is medium to lighter bodied with modest carbonation. A decent brew with good mix of character without being too smokey.
★
544 characters
3.91
/5
rDev
+3.7%
look: 4.5 | smell: 3.5 | taste: 3.5 | feel: 4 | overall: 5
Pours a great looking beer. A dark mahogony color when held to the light and much darker when not. A cream colored head froths up on the pour and stays throughout the entire drink.
Smell has a lot of smoke going on within it. A bit of caramel but smoke dominates the nose.
Taste has more going on than the smell. Smoke is very prevalent, but it is a very tame smoke, very flavorful. Mixed with a good amount of caramel sweetness and good spiciness too.
Mouthfeel is very smooth and silky throughout.
Drinkability is great on this smoked doppelbock. I usually don't look forward to drinky smokey beers. However, this beer has a great bite, but then balances itself very nicely. One of the first smoke beers that I have thought the smoke enhances the taste of the beer, rather than turns off drinkers like myself. Glad I could get one of these bottles and greatly enjoyed it.
★
875 characters
3.94
/5
rDev
+4.5%
look: 4.25 | smell: 4 | taste: 4 | feel: 3.75 | overall: 3.75
A: The beer is very hazy amber in color. It poured with a quarter finger high tan head that has good retention properties and consistently left a thin head covering the surface.
S: Moderate aromas of smoked malts are present in the nose.
T: Like the smell, the taste is rather smoky and has hints of sweet malts, although it's not too smoky to the degree to which you can taste iodine-like flavors.
M: It feels medium-bodied on the palate and has a moderate amount of carbonation.
O: For a doppelbock, this beer is quite drinkable because it isn't as full-bodied compared to other beers in the style.
★
604 characters

3.97
/5
rDev
+5.3%
look: 4 | smell: 4.5 | taste: 4 | feel: 3.5 | overall: 3.5
A: cloudy cedar body, khaki floating head,
S: big smoked/bbq nose, malt, cinnamon.
T: sweet mesquite, smoked malt, nutty, roasted semi-dry finish
M: med/light body, smooth mouth
O: Enjoy this style, but wish the mouth was a little heavier/fuller
in body. would try again and recommend.
QUITE NICE, NOT MUST TRY!
★
318 characters
4.03
/5
rDev
+6.9%
look: 4.5 | smell: 4 | taste: 4 | feel: 4 | overall: 4
Reviewed 10/2/12
The deepest possible ruby color with nice lacing and white foam at the edges of the glass. Truly beautiful.
Roasty and bready malt mixed with hickory-smoked bacon. Christmas ham and bacon grease in a glass.
The smoke is a bit more subdued in the taste, or rather masked by other flavors. Though it has a pretty clean taste profile, it finishes fairly sweet and is more reminiscent of a doppelbock than the aroma; some dark fruit and alcohol notes. Still, it is not quite malty/sweet enough for a doppelbock.
Medium body and moderate carbonation; slick feel left on palate. More 'drinkable' than most doppelbocks.
An interesting and unusual beer to be sure. It was drinkable and the smoke character was not overwhelming (at least not enough to keep me from finishing the bottle). Still, this is a beer that is perhaps best served with food, and I would personally take a more 'traditional' doppelbock over this one in general.
★
961 characters

4.07
/5
rDev
+8%
look: 4 | smell: 4.5 | taste: 4 | feel: 3.5 | overall: 4
Served in a Bruery snifter.
Bottle #01167. Obtained through the Rare Beer Club, this smoked doppelbock was brewed in support of Pints for Prostates. It pours a rosy sienna, which, brought to the light, reveals a lovely hue reminiscent of a bit of topaz glimpsed through lenses made of amethyst. all topped by a finger or so of off-cream-tan foam. The nose comprises brown sugar, smoked maple bacon, cinnamon, light chocolate, honey, and a touch of light wood. The taste starts off like a normal d-bock, with some light molasses, some chocolate, some very light roasted malts, and a sense of breadiness. Then the smoke kicks in, leveling a good amount of the sweetness as it runs toward a dry, almost cherry-coated, bacon-y smokiness. The body is a light medium, with a light moderate carbonation, a fluid feel, and a sorta/kinda dry finish. Overall, a solid smoked doppelbock, though it comes off a bit thin for my liking. Still, a tasty li'l thing that supports a good cause.
★
979 characters

4.1
/5
rDev
+8.8%
look: 4 | smell: 4 | taste: 4 | feel: 4 | overall: 4.5
Nice mix of orange, brown and red in the pour, moderate cap of off-white to tan froth, good retention. Meaty smokiness up front, backed by sweet caramel and brown sugar malts, notes of coffee and chocolate and hints of some fruit and earth. taste follows scent. Smokiness is assertive but not overpowering, same with the sweetness - appreciated both. Chocolate and coffee notes bring balance. Medium bodied, lightly smooth and creamy. Really dug this one, nothing too flashy but doesn't overdo the smokiness of some beers or the sweetness of some doppels.
★
555 characters
Prostator from Elevation Beer Co.
3.77
out of
5
based on
29
ratings.