Buffalo Sunset
| Buffalo Bayou Brewing Co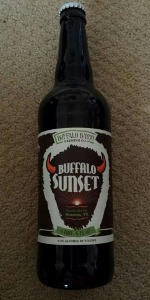 BEER INFO
Brewed by:
Buffalo Bayou Brewing Co
Texas
,
United States
buffbrew.com
Style:
American Black Ale
Alcohol by volume (ABV):
9.20%
Availability:
Year-round
Notes / Commercial Description:
No notes at this time.
Added by Ford on 02-09-2013
Reviews: 8 | Ratings: 47
1.66
/5
rDev
-57.5%
look: 4 | smell: 3 | taste: 1 | feel: 1 | overall: 1
Had this on tap at the Flying Saucer in Houston.
This is supposed to be a black IPA with coffee. If there's an IPA in there somewhere, I couldn't find it behind the overpowering taste of coffee grinds. If you love coffee, and especially coffee grinds, then this beer will be for you. If not, stay clear.
I like a good coffee porter or stout. Don't get me wrong. This doesn't taste like that at all. There's no coffee or chocolate notes. It's just massively overpowering coffee grinds.
This was a huge disappointment for me.
Your mileage may vary.
551 characters
2.64
/5
rDev
-32.5%
look: 3.75 | smell: 2.75 | taste: 2.75 | feel: 2.5 | overall: 2
On tap at Hay Merchant
A: Pours a dark black, with light ruby around the edges. A two finger beige head forms, and recedes after a minute. Light lace is left behind.
S: At first whiff, I had to take a step back. Bitter, acrid, burnt coffee is so over powering. Nothing else for balance at all. It is like bad day old coffee. Which makes the nose pretty unpleasant.
T: The taste is no different, maybe not as intense. Though still just unpleasant bitter, burnt, and acrid day old coffee. Is this suppose to be an IPA, or a crappy coffee porter? Either way, not good.
M/D: A medium body and thin carbonation. Thin and watery. Just all around week IMO. Not easy or enjoyable to drink in any way shape or form.
First off, what the hell is the point of calling this any kind of IPA? This is a coffee porter, no matter which way you slice it. Second, even as a coffee porter this is really sub par. Just to bitter, acrid, and burnt. Not good.
938 characters

3.02
/5
rDev
-22.8%
look: 3.25 | smell: 3 | taste: 3 | feel: 3 | overall: 3
Pours a dark brown with plenty of tan colored head. Some light pine, roasted coffee, roasted malt, and bread on the nose; follows onto the palate. Finishes with more roasted flavors, almost a burnt aftertaste.
209 characters

3.75
/5
rDev
-4.1%
Bottled Sept. 2013 (I guess Spec's in downtown Houston has a hoard of them)
A - Pours a black body with a lingering dark khaki head. Great retention and lacing.
S - Malty, hoppy, coffee and a bit of semi-sweet chocolate. The coffee is definitely dominate and I'm not complaining.
T - Coffee forward with dark malts. The piney hops are there, but not really in your face. I guess the coffee leads to a more stout profile with the roasted malts than a black IPA profile.
M - Light bodied and medium carbonation. It has a wet finish.
O - You go to Buffalo Bayou's website and it doesn't list a style. I was curious of what I was drinking and now I know it's a black IPA with coffee. I didn't know it was a year old when I picked it up, but I'm glad I got it. Even at over a year old the coffee is very abundant and melds so well with the dark malts and subdued hop profile.
875 characters

4.25
/5
rDev
+8.7%
look: 3 | smell: 4.25 | taste: 4.5 | feel: 4 | overall: 4.25
I had this a couple of months back and it was fantastic. The balance of hops and coffee was impeccable. It was dark in color, but the mouth feel was not dense. I am not a huge fan of dark IPAs but I enjoyed this because it was not too malty. I think the darkness came from the coffee rather than a lot of malt. The hops were fresh and punched me in my face. If you do not like coffee, then do not try this.
This was unique and I still crave it (although the Stone coffee IPA gave me my fix more recently). I hope these guys do this one again.
I'll have another.
567 characters
4.57
/5
rDev
+16.9%
look: 4.5 | smell: 5 | taste: 4.5 | feel: 4.5 | overall: 4.25
Had some on tap at the brewery. It is a big strong beer with a very roasty coffee bean taste. The hops are there but its pretty balanced. Has a nice warm alcohol finish. Not really a black IPA. Tastes more like an imperial coffee stout. If youre in Houston and you like big roasty beers this is a must have!
307 characters

4.87
/5
rDev
+24.6%
look: 4.5 | smell: 5 | taste: 5 | feel: 4.5 | overall: 4.75
This one is really different.. from the description it seems to be a double black IPA.. with coffee...
All I know is it doesn't really taste much like a double IPA to me.. but it is fantastic... this instantly became one of my favorite beers... it is almost black in color.. all sorts of great coffee smells.... just delicious.
I marked it as a double IPA.. but if that needs to change.. someone go for it... on another site it is listed as a black IPA/Cascadian Dark Ale...
All I know is it is really good.. and I hope I heard right.. it seems it is going to go year round..
586 characters
5
/5
rDev
+27.9%
look: 5 | smell: 5 | taste: 5 | feel: 5 | overall: 5
22 oz. bomber poured into nonic
Sept. 2013 born-on date
L: classic BIG stout pour: rich, thick black brew that bubbles up a massive tan head at least 2 inches -- and this head isn't going anywhere, it lingers, sticks and looks like it will be lacing. it also keeps the thickest collar I've seen on a brew with a full skin on top as I drink it. the brew itself looks black with no backlight, but up to the light it's got red highlights, almost dark orange, and it appears to be 100% clear (though it's impossible to tell because it's so dark)
S: coffee, sweet dark malt, chocolate, oak wood ... again, all the classic notes. it's super sweet
T: boy is it hoppy! again, the classic dark-malt coffee stout profile is all here with lots of good tasting coffee, chocolate and loads of sweetness, but the bitterness here isn't just from roasted/burnt malt -- you can *taste* the hop bite. it's not an American IPA/DIPA hop bite (citrus, mango, caramel) as much as it is just bitter, as if from noble or European hops -- more black pepper/earthy bitterness. super cool mix of stout notes with a true hop presence.
F: perfect ... at least perfect for me. it's big but not overbearing. plenty of carbonation lightens it up, and it drinks more or less like beer, not an oil slick like many higher ABV stouts.
O: man, is this good! it's dangerously so, too, because I'm wanting to suck it down but can already feel the 9.2% ABV all over me. so many stouts have big IBU numbers, but you never taste the hops -- here you can for-sure taste a big hop bite, and it is fully balanced by the coffee and sweet dark malt notes.
The half a year or so in the bottle has surely helped tame the alcohol because I'm not tasting anything remotely mediciny or vodka-like ... just beer.
I never want to over-rate anything, but honestly, I can't find a single thing wrong with this brew. It nails everything I want out of a big bad stout, so it's my first 5s across the board. A perfect beer.
(spec notes -- I sent in requests to change the style to American imperial stout and ABV to 9.2%; I'm not sure how it got labelled a DIPA, but this ain't a DIPA ... not even close)
2,154 characters
Buffalo Sunset from Buffalo Bayou Brewing Co
3.91
out of
5
based on
47
ratings.