Hop Sac 2012 - Kuchinski Hop Ranch
| Ruhstaller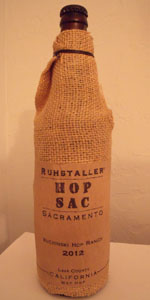 BEER INFO
Brewed by:
Ruhstaller
California
,
United States
ruhstallerbeer.com
Style:
American Pale Ale (APA)
Alcohol by volume (ABV):
6.00%
Availability:
Limited (brewed once)
Notes / Commercial Description:
No notes at this time.
Added by Offa on 09-21-2012
This beer is retired; no longer brewed.
Reviews: 7 | Ratings: 18

4.54
/5
rDev
+51.3%
look: 4.5 | smell: 4.25 | taste: 4.75 | feel: 4.5 | overall: 4.5
wow. I can't believe the reviews on this one, they must have really really botched the batch last year or completely improved this year. This is one of the best wet hopped beers I've ever had! I love wet hopped beers but it's so hard to come by the style of course because they can only be done after the hop harvest have finished. Its' even harder to come by a good one or even one worth buying again. The thing that really stumps me with this one is the bottle says it only has an i.b.u. of 42!? I can't believe this is lower than twice that! also the a.b.v. is quite low to, not that it tastes boozy at all but for as hoppy as this is, its somehow at the same time sooo drinkably sessionable! love it! wish the price was cheaper, and wish wet hopped beers stayed tasting this fresh for more than a month or two :( If you like wet hopped beers and can find this fresh try it!
877 characters
3.97
/5
rDev
+32.3%
look: 3.5 | smell: 4 | taste: 4 | feel: 4 | overall: 4
22oz'er poured into std conical pint glass.
I picked up a bomber of the 2013 vintage when I went up to my parents place for thanksgiving (Rocklin CA). This is my first "beer review" on this site, but I felt compelled to do one since the score on this one was so low.
A - Hazy pale amber, light carbonation, minimal head on pour and no head retention. Looks good, something I would want to drink even though I prefer more head on a beer.
S - Hops come through mildly piney and mildly citrusy, a small hint of hop resin. Somewhat sweet smell from the malts.
T - Definite hop forefront, not overly strong, not exactly sure how to explain since this is my first review. Has a good amount of hop flavor without being over the top. some hints of pepper, very well balanced, this is one of my favorite fresh hop beers to date. I might get someone to score me a case of this stuff next year.
M - Very smooth, light with a bit of hop resin lingering, very good. perfectly carbonated for a fresh hop beer.
O - I was stoked to score this without knowing anything about it. I am a HUGE fan of fresh hop beers and this definitely hit the spot. If I see this again down in SLO, CA I will buy again, it wasn't too expensive at ~6 at Total Wine and More in Rocklin for a 22oz.
1,266 characters

3.42
/5
rDev
+14%
look: 4.5 | smell: 3 | taste: 3.5 | feel: 3.75 | overall: 3.25
Poured a finger and half of head on a cloudy, medium straw colored body.
The aroma is unique. It's difficult to place but something like a musty citrus is close.
The taste is ripe orange, orange zest with mild pine bitterness.
The texture is crisp with soft edges and moderate carbonation.
I couldn't decide if I liked the aroma. It's in a class by itself.
356 characters
1.18
/5
rDev
-60.7%
look: 4 | smell: 1 | taste: 1 | feel: 1 | overall: 1
I bought this because of the interesting packaging--bottled wrapped in a burlap sack--and because of the claim that it was a fresh hop beer, which is a style I love.
Poured into British pint glass. The appearance was pleasant with a nice head, rusty/golden color, and fairly clear.
When I smelled it, I knew something was off. Smokey, pepper, meaty. It smelled like an overseasoned, overcooked $2 steak.
Taste was the exact same, like a poorly executed Rauchbier. Zero hop flavors.
Mouthfeel was overwhelming bad with the aggresive levels of smoke and pepper. I spit it out in the sink. My wife took one sip and did the same.
Overall: As my wife said, "This is the worst beer I've ever had." Two sips and the rest went down the drain. I saw two other reviewers that experienced the same as me, but one who enjoyed the beer and described a completely different flavor. I have to wonder if there is a bad batch of this stuff floating out there. Buyer beware.
961 characters
1.38
/5
rDev
-54%
look: 4 | smell: 1 | taste: 1 | feel: 3 | overall: 1
A little pretentious in the packaging but I bought it on the basis of it being a fresh hop beer using hops grown on a particular "hop ranch" in nearby Lake County, CA.
Poured into British pint glass, nice head, deep golden, clear.
There was absolutely no hop aroma on the nose. Medicinal, band-aids, metallic aromas dominated.
Taste was more of the same: metallic, harsh, unpleasant. No hop flavors.
Mouthfeel was rather thin ith aggressive carbonation and no richness or malt sweetness.
Overall? Terrible. Two sips and I tossed it. The label said "farm to pint." This one went "farm to pint to drain." More time on the brewing process and less on the "cool" packaging might be in order.
695 characters
1.71
/5
rDev
-43%
look: 2.5 | smell: 1.5 | taste: 1.5 | feel: 3 | overall: 1.5
A - Very cool packaging with the burlap wrapped tight around the bottle. This enticed me to buy it at $10, along with the fresh hop aspect as it is harvest season after all. Upon opening the bottle a soapy foam started to slowly gush out the top, as happens with some highly carbonated belgians. A sizzling two finger head formed, and rapidly collapsed to a flat surface.
S - Some grassy and pine aromas can be detected but are otherwise cloaked by smoky and medicinal odor. Very off-putting smell.
T - The taste is strikingly medicinal and a bit sweaty. Not hop-forward in any way whatsoever except for a firm and lasting bitterness which would make for a fine finish if the hop flavors were not erased by the medicinal quality.
M - A decent mouthfeel with just enough carbonation, but somewhat tingly and numbing.
D - Undrinkable, sadly. I wonder if this batch or a subset thereof got infected or chemically contaminated.
927 characters

4.2
/5
rDev
+40%
look: 4 | smell: 4 | taste: 4.5 | feel: 4 | overall: 4
This is an interesting, exceedingly enjoyable fresh wet-hop beer from a brewery I'd not heard of 'till now.
Deep gold, it has a very big off-white head steadily shrinking to a thin lasting top, only a few weak traces of lace.
Aroma is rich, but hard to pin down, perfumy flowery character with some fruity raisin and pineapple and green leaves. It is very nice and enjoyable.
Taste is overall excellent, full-bodied, very well rounded, and complex, but with elements that are hard to pin down. It has some juiciness, a lot of woody-herbaceous character, light sweetness balanced with spicy light bitterness. It is very engaging, balanced, and enjoyable, approachable and easy to drink, yet full of character. Feel is nice, firm but not oily, a bit zesty and lively.
774 characters
Hop Sac 2012 - Kuchinski Hop Ranch from Ruhstaller
3
out of
5
based on
18
ratings.