Bistro L'Autre Oeil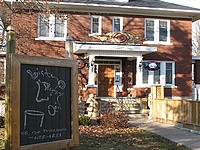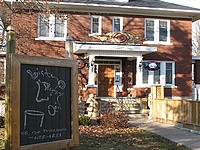 PLACE INFO
Type:
Bar, Eatery
55 Principale St
Gatineau
,
Quebec
, J9H 3L4
Canada
(819) 682-1221 |
map
lautreoeil.com
Notes:
No notes at this time.
Added by BeerAdvocate
PLACE STATS
Reviews:

10

Ratings:

pDev:

10.6%
HISTOGRAM
View: Place Reviews
Ratings: 14 | Reviews: 10
Reviews by berley31:
4.45
/5
rDev
+7.2%
vibe: 4 | quality: 4.5 | service: 4 | selection: 5 | food: 4.5
Showed up Saturday afternoon when they opened at 3:00. Interesting atmosphere... it's basically in a house, where one main room is the bar, and the other has some tables and booths.
Beer quality and selection is amazing... I haven't seen a beer menu like this since my trip to Belgium. There are over 500 beers now, probably 200 of them Belgium and I'd say about 100 or more Quebec beers, which is awesome. Lots of Dieu du Ciel and Unibroue, of course, but a whole wack of other great craft breweries from the province. Served in the brand glassware when available, but still served in the appropriate glass for the style, which is really what matters.
Service was extremely friendly, if lacking a little in beer knowledge. The guy that runs the show wasn't there... his father-in-law waited on us but explained that it was his son-in-law who did all the ordering and such. Still, the people were extremely accommodating.
We ordered the 2x2 plate of cheese and pate... I couldn't believe the serving size for the price. A big hunk of cheese, pate, and a large basket full of little cuts of bread. To be honest, I almost picked one $ for the value, because the prices of the beer were very, very good compared to a lot of other beer bars. We bought 14 beers b/w the three of us and a food plate, and the bill only came to a little over $100.
If you live in the area (we were visiting Ottawa), this place is a must-do.
1,422 characters
More User Reviews:

4.38
/5
rDev
+5.5%
vibe: 4.75 | quality: 4.5 | service: 4.25 | selection: 4.75 | food: 3
This is a great little spot in a really cool building. It feels like walking up to someone's house. There is a bar and lots of seating including a nice terrace. The beer selection is extensive and features a lot of things that simply cannot be found in Quebec outside of this and a couple other places. There was also a great selection of local beers on tap. I am not a fan of how people use the word all the time on the internet, but this place is definitely a gem. The only downside I see is the food situation. There is food, but it is pretty much snack food, hence my rating. It didn't seem bad, but that aspect could be improved upon. However, I see this mainly as an indicator of beer being their primary focus so I can't really complain. Great place! I look forward to going back.
798 characters
4.3
/5
rDev
+3.6%
vibe: 4 | quality: 4 | service: 4.5 | selection: 5 | food: 3.25


2.89
/5
rDev
-30.4%
vibe: 3.25 | quality: 3 | service: 1 | selection: 4.5
I'm going to start out by saying that I was very unimpressed with the staff and their knowledge. To the extent that their lack of training or knowledge could get someone food poisoning.
L'Autre Oeil came highly recommended and after much planning I made a trip based on recommendations by friends as well as other BA's.
The atmosphere in this place was a bit lackluster, the establishment feels a bit cold and it appears to be running solely based on it's popularity due to the beers offered by their menu. There is a bit of excitement in the place generated by those who are on site to try new beers.
Their selection is superb. That is unfortunately where my excitement ends.
I chose to have a Caracole which is a brew I haven't had the chance to have since I was in Belgium. The bottle I was served was far past expiry. While this is not necessarily bad it depends on how the bottle was stored. In this case the taste was sour and borderline rancid enough so to give me a stomach ache.
A friend ordered a sharing bottle for us and the wrong bottle was brought to us already opened without verification a costly 25$ plus mistake by the staff which we ended up having to drink. It was a great beer but one we both have available in our cellars.
The worst part of the night was the Straffe Hendrick quad that I highly recommended. It came served in the proper glassware but the brew itself was infected and full of globs of green and blue mold. When the staff was approached we were told all of their bottles are this way and this is the intended way to serve this beer.
At that point I lost any interest in patronizing this establishment.
Thankfully we knew better than to consume beer in this state but other customers may be persuaded to consume it after being assured by the staff that this is how the beer in intended to drink.
1,840 characters

4.21
/5
rDev
+1.4%
vibe: 3.75 | quality: 4.25 | service: 4.5 | selection: 4.75 | food: 2.5
Nestled in an old house close to the Ottawa river in Aylmer, L'Autre Oeil is a quaint little pub that is hiding a fantastic selection of beer.
The place is unassuming, only a small sign...if you are not looking for it you would miss it. And you would be missing something worthwhile.
The beer selection is second to none for the region. I don't think any pub or bar in the National Capital Region can hold a stick to them for selection. They boast over 500 labels, most of those in bottles though there are 25 taps.
The greatest selections are from Belgium and Quebec. This certainly does disappoint me, as I am quite happy to enjoy the fine products of either.
The prices are reasonable and fair compared to others in the area. I had a Westvleteren 12 and it was $28...the same would cost $49 at another Ottawa establishment. I also had a St. Bernardus 12 (330 ml) and that was $10. A friend had a Dominus Vobiscum Hibernus (750) and that was $18.
The food is the weak sister here. Quite frankly the menu is poor and limited. I think they would be better served by considering more cheeses or charcuterie.
Not at all crowded on a Friday afternoon of a long weekend, I think that after years of being open, this pub is still a hidden gem for the region. I will be returning with friends next weekend, and I am certain to try something new (to me) and exciting.
1,367 characters

4.13
/5
rDev
-0.5%
vibe: 4 | quality: 4.5 | service: 4 | selection: 4.5 | food: 2.5
I had some Ottawa locals reccomend this place to me last time I was in OT, so I decided to stop in here whilst on a business trip.
Atmosphere - this is basicly a large, old house on a residential street (athlough it is a main commerical road further up). There is however a large patio area on the front lawn (seats about 30-35 im guessing). The main bar inside is very small. not much seating besdies sitting directly at the bar. I didnt take a peak upstairs. 4.0 (+1 for being a house! -1 for no airconditioning on a 30+ degree day)
Service - Female barstaff very friendly and knowlegeable about beer. she actually took a trip to belgium and visited several breweries. (cantillon, chimay etc). I told her what type of beer I wanted, and she made several reccomendations. 4.0
Selection - 500 beers enough for you? 15 taps, and the rest bottles. some really intresting and rare stuff. I almost rated this a 5.0 but then I realized some of the choices are a little strange. why have tetley's on tap as your only british ale? 4.5
Food - I came hungry, and left dissapointed. To be fair I did only have one dish, a chicken nacho plate. but it was clearly just a bag of tostitos with some leftover chicken and cheeze. very salty and not seasoned/spiced at all. 2.5
Value - Like another reviewer said - I almost gave this a one "$". the beer is well priced. your sure to find somthing unique and exciting for $10-12/bottle, which is usually what I limit myself to. $
In conclusion - I'll be back! definitly better than anything on the Ottawa side of the river. I just wish the food was better.
1,595 characters

4.68
/5
rDev
+12.8%
vibe: 5 | quality: 4.5 | service: 5 | selection: 4.5 | food: 4.5
I have been here two times now, Traveled from Ottawa in a cab with a few friends and back in the cab.
Hoenstly, for beer drinkers, one of the funniest Nights I ever had. You can go online and look at their selection, a massive selection of Quebec and Belgian Beers. I went through many and looked at reviews on Beer Advocate, prepared my list and tried a few i never heard of.
The Belgian selection is unbelievable. I'd say over 100.
The QUebec Selection is equally amazing.
I highly recommend traveling to this place.
We ordered the 4x4 cheese and Pate plate with our beer. Just a suberb experience all around.
When we asked the waiter a question about a beer, he excused himself and brought back a young waitress who was ever so knowledgeable.
My new favorite bug in Canada.
789 characters
4.3
/5
rDev
+3.6%
vibe: 4.5 | quality: 4 | service: 5 | selection: 4 | food: 4
This place is excellent. Nice location, friendly staff and they're passionate about beer. For example, the entire staff traveled to Germany and Belgium last month to learn more about the breweries and their methods. I listened with some envy to a description of the Chimay tour and access to unreleased beer.
I wasn't counting but I'd estimate 15 taps. My beers were all poured properly. The food menu is limited but the cheese plate I had was great and the nachos I saw other customers eating on looked good as well.
If you're going to Marche Jovi to stock up, do yourself a favor and drive the extra 15 minutes. I'm already looking forward to my next visit.
661 characters
3.98
/5
rDev
-4.1%
vibe: 3.5 | quality: 4 | service: 4 | selection: 4.5 | food: 3
One of a kind little beer bar, in a compliated 20-30 minute drive from Ottawa. If you are staying awhile, well worth it in terms of incredible Europen bottle menu. Among others, caught up with Gordons Scotch, and two Fantome found just about nowhere else. The bottles and detailed scores are found on their menu, with new beers arriving all the time. The tap selection, mostly Quebec based, was also interested. Small and homey atmosphere, with english and French alongside each other, true to the character of this place.
522 characters
4.05
/5
rDev
-2.4%
vibe: 4 | quality: 4 | service: 4 | selection: 5 | food: 2
Best place to drink imported beer in the Ottawa region. Period. Selection is as good as, if not better than Pub Italia, but prices are WAY lower. Your 12$ Westmalle in Ottawa is 8$ at L'Autre Oeil. The tap selection is IMHO the only place they can improve: they got 15+ but nothing to write your mom about. Also, do not plan to eat a complete meal: they only offer nacho, cheese and sausages. It tastes good but the list is quite short.
Atmosphere is very cozy with separate bar and tasting room. The old house the pub built in helps a lot. As a matter of fact, the bar section has just been redone. Staff is friendly and bilingual. It's a bit far from downtown but worth the trip, beleive me.
694 characters
3.56
/5
rDev
-14.2%
vibe: 4 | quality: 3.5 | service: 3.5 | selection: 3.5
Situated in a cozy environment near the Aylmer marina, this is probably the best spot to drink imported beers in Gatineau. The relaxing environment is very enjoyable and staff is very good and somewhat knowledgeable. There is also a large patio were they sometime served grilled sausaghe on hot days. Selection is quite good for a place this size with most Belgian standards being available (Rochefort, Westmalle, Rodenbach, St-Feuillien) with a good selection of Quebec micro beers (Unibroue, Chaudron).Place is closed on Sunday.
530 characters
Bistro L'Autre Oeil in Gatineau, QC, Canada
Place rating:
4.15
out of
5
with
14
ratings