Full 90
| Kulshan Brewing Company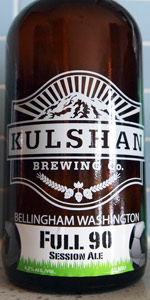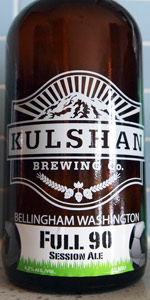 BEER INFO
Brewed by:
Kulshan Brewing Company
Washington
,
United States
kulshanbrewing.com
Style:
American IPA
Alcohol by volume (ABV):
5.60%
Availability:
Spring
Notes / Commercial Description:
No notes at this time.
Added by beertunes on 05-06-2012
HISTOGRAM
Ratings: 13 | Reviews: 5
Reviews by twelveinches:

3.75
/5
rDev
-2.6%
look: 3.75 | smell: 3.75 | taste: 3.75 | feel: 3.75 | overall: 3.75
More User Reviews:
3.86
/5
rDev
+0.3%
look: 3.5 | smell: 3.75 | taste: 4 | feel: 4 | overall: 3.75
ABV listed in BA is 5.6% but on the can is noted as a session ale and is 4.2%
Thanks Beertunes - I'm going to be writing that a lot.
Interesting mix in both the aroma and flavor. Initial shot of non-descript hops that moves to a mashing grain aroma that was nice, just not that hoppy.
Very to brilliantly clear. Smallish white head settled out quickly.
Old school American west hop flavor - pre citrus hops. However, plenty of pine. The flavor moves smoothly to a fine finishing bitterness that lingers a good long time. Nicely carbonated in a particularly smooth fashion. Initially caught the mashing grains taste but that seems to moved on.
I'm becoming a fan of the new breed of low abv beers and this fits that bill.
729 characters
3.36
/5
rDev
-12.7%
look: 3.75 | smell: 3.25 | taste: 3.25 | feel: 3.5 | overall: 3.5
3.44
/5
rDev
-10.6%
look: 3.5 | smell: 3.25 | taste: 3.5 | feel: 3.5 | overall: 3.5
3.47
/5
rDev
-9.9%
look: 3.75 | smell: 3 | taste: 3.75 | feel: 3.25 | overall: 3.5
4.82
/5
rDev
+25.2%
look: 4.5 | smell: 5 | taste: 5 | feel: 4.5 | overall: 4.5
I was very impressed with this one, perhaps even a bit more so than I was with Bastard Cat.
The appearance was nice, although not spectacular, and the nose was mostly citric hop forward, but the flavor was much more complex, soft, and subtle than I was expecting, with underpinnings of new mown hay, cookie dough, kumquats, and a very subtle undefinable spiciness, along with the expected grapefruit, mandarin orange, and tangerine. There was no starkness to this beer, it was very gentle and beguiling, particularly for an IPA, although there were plenty of hops to revel in. I could see drinking quite a few of these, happily, on a warm summer day.
651 characters

3.38
/5
rDev
-12.2%
look: 3.75 | smell: 3.75 | taste: 3.25 | feel: 3.5 | overall: 3
Pale golden color with an adequate foam in the Einbecker Pils glass. The flowery, piney aroma catches you right away. Plenty of spritz in the lightweight mouthfeel.
Light and crisp. The claimed 45 IBUs doesn't sound excessive, but this is more bitter than I'd like in such a thin brew. Hints of lemon with a resiny edge. A decent gulp until the hops bite back.
Powerful hops in a low-alcohol package for those who like the bitter edge. From the 32 oz growler purchased at the brewpub in Bellingham.
500 characters

3.98
/5
rDev
+3.4%
look: 4.25 | smell: 3.75 | taste: 4 | feel: 4.25 | overall: 4
It's kind of crazy that this beer has so few ratings after being around for (apparently) 3 years, and now being offered in 6-pack cans.
Though I've been in Bellingham longer than Kulshan's been around, I tasted this session ale for the first time last week. It has a 4.2% ABV, which normally I would shun; but when 4 cans of this end up in your fridge after a party, you can't really complain. So my wife and I have given this an honest try and it's really grown on us.
The taste has some very nice citrus peel, orange drink and pixie stix tang to it, and yet it is somehow impeccably balanced against the grape candy backbone of the pale malts. It presents with a lovely snow white, tight foam with good lacing, constant bubbles all the way down. It has the effervescence of a pilsner, the candy sweetness of a maibock, the balance and satisfaction of a pale ale, and the hoppy punch of an IPA.
This may be the best thing I've had from Kulshan, which includes their imperial stout, double IPA, Bastard Kat (IPA), Dude Man wheat ale and Kitten Mittens (though I'll admit I'm pretty stoked about getting a growler of that over the winter).
At least when it comes to drinkability AND top to bottom taste, this is a solid offering from Kulshan.
1,245 characters
3.8
/5
rDev
-1.3%
look: 3.5 | smell: 3.5 | taste: 4 | feel: 3.5 | overall: 4
Another in the series of beers brewed for Bellinghams new Hackey-ball team, the United. Available only at the brewery, The Copper Hog (home pub for the United) and in the beer garden at the Uniteds games.
Served in straight pint glass. Poured a medium gold color with about 1/4 inch of white head that had better than moderate retention and very good lacing. The aroma featured mostly pine and citrus hops, with some floral undertones, and just a bit of grains.
The flavors have the citrus tones dominating, with the pine pushed to the rear and the floral notes not really having a role. There is just a trace of the malts. The body is the fairly typical medium so common in the style. Drinkability is good, dependent on your attitudes towards hop-forward beers. Overall, a nice brew, one that is sure to satisfy the hop-heads at Uniteds games. Worth trying if you see it.
878 characters
Full 90 from Kulshan Brewing Company
Beer rating:
3.85
out of
5
with
13
ratings