Liefmans Fruitesse (Fruitbier)
| Brouwerij Liefmans
BA SCORE
77
okay
107
Reviews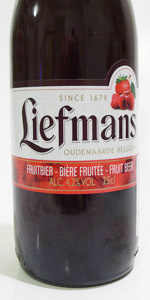 BEER INFO
Brewed by:
Brouwerij Liefmans
Belgium
liefmans.be
Style:
Fruit / Vegetable Beer
Alcohol by volume (ABV):
4.20%
Availability:
Year-round
Notes / Commercial Description:
No notes at this time.
Added by Nickls on 02-24-2010
Reviews: 107 | Ratings: 313
2.17
/5
rDev
-34.8%
look: 4 | smell: 2 | taste: 2 | feel: 1.5 | overall: 2.5
The nose is powerfully fruity red fruits which we feel also some aromas of berries. Very fruity beer which taste the beer and especially the lambic is very difficult to detect. However, unlike many "beers diabolos, it is not too cloying or too syrupy taste, but just barely. A little bitterness is noted but nonetheless, it remains a marketing doped with fruit syrup and clearly intended for a market of young neophytes throats.
428 characters
2.87
/5
rDev
-13.8%
look: 2.5 | smell: 3 | taste: 3 | feel: 2 | overall: 3
Noticed that this beer was named as having won a competition in Calgary that I can't quite recall, but it was intriguing enough to have me pick one up.
A: Pours with a pinkish hue from the bottle, to a more ruby-red like colour in the glass. Head would be somewhere between minimal and non-existant. A little bit of bubble around the edges, but nothing really forms at all.
S + T: Sweet berry fruitiness... especially the cherry and raspberry (though, admittedly, I don't think I could identify either bilberry nor elderberry accurately). The fruit scent dominates the nose, and pretty much carries over into flavour. No tartness on the palate, which was a little disappointing. It wasn't really marketed as a sour of any sort, so I don't know why I would be looking for it, but it seems that a beer this fruity and sweet would have a tart balance. Neither aroma or flavour is terrible, but both could certainly have more to them.
M + D: Unfortunately, the mouthfeel falls far short. There is basically no carbonation at all, which could have been hinted by the lack of head. It drinks almost like a slightly sticky fruit juice, with just a tiny dryness following it up - also a little disappointing. It's certainly refreshing and easy to drink, but I can't really discern between juice and a beer.
1,303 characters
4.37
/5
rDev
+31.2%
look: 4 | smell: 4.5 | taste: 4 | feel: 4.5 | overall: 5
This beer needs some lovin'!
This is definitely a very sweet, very light beer. But the fruit flavours are robust, natural, and fruit concentration is obviously very high.
Looks good.
On the nose is fleshy strawberries and cherries with an obvious syrupy sweetness.
The taste has a crispness to it, but the sweetness rides through. Again, strawberries, raspberries and cherries are present in very natural, but highly concentrated forms.
Mouthfeel is nice, carbonation is great for this style of beer.
I love drinking this beer. It's sweet, and the small serving size keeps you from being overwhelmed by the sweetness. Much better, and less expensive than Fruili. Not sure why everyone is hating on this special little Belgian cherry bomb from a great brewery.
765 characters
2.45
/5
rDev
-26.4%
look: 2.5 | smell: 2.5 | taste: 2.5 | feel: 3 | overall: 2
A- Gave this a hard pour and was met with a fizzy, one inch thick head that was pink. The color of the beer is a crystal clear and reminds me 100% of raspberry juice. Some carbonation is noticeable. Lacing is weak and it appears to be watery.
S- The aroma is quite sweet and syrupy...reminds me somewhat of Dimetapp cough syrup....sweet and slightly medicinal. It is quite difficult to get by the sweet smell but I tried very hard and can detect the berries used....primarily the cherries and raspberries.
T- This really does taste like a carbonated sweetened fruit juice....mainly that of raspberry juice. There are no hops detectable and doesn't have much of a profile here unfortunately...it doesn't have a bad flavor, just doesn't resemble a beer at all.
M- This is a light-medium bodied beer, due to the syrup and sugar used to thicken it up. The carbonation isn't over done, but in general this reminds me of a punch that was created for a party.
D- As stated above, this isn't a gross beer, but isn't my style....I wouldn't have another after I finish my first bottle. It would be suitable for the young crowd I suppose and is somewhat refreshing, so would due in hot weather. I'm sure I won't be getting this one again.
1,231 characters
1.96
/5
rDev
-41.1%
look: 3 | smell: 2 | taste: 2 | feel: 2 | overall: 1.5
The beer is clear strawberry red, the head is pink, very little lacing.
The smell is sweet, candy, jelly beans.
The taste is also very sweet, lots of fruits, almost a perfume sensation.
Rather high carbonation, a soda-like feeling.
Reminds more of a cough drop than a beer.
277 characters

2.06
/5
rDev
-38.1%
look: 3 | smell: 2 | taste: 2 | feel: 2 | overall: 2
250ml bottle poured in a chalice.
A: Dark red with a one to two fingers rose head. Lot of lacings
S: Raspberry syrup. I do not know how it's done but I guess it's not with fruits...
T: Raspberry syrup. Quite artificial... Well, first of all, it does not taste like beer
M: Like body and high carbonation
D: Low
Terrible beer. If you want a real fuity beer, please take a Cantillon.
383 characters
2.23
/5
rDev
-33%
look: 3.5 | smell: 3 | taste: 2 | feel: 3 | overall: 1
After quite a bit of hunting to make sure this was not already listed here on BA, this is indeed a different fruit beer by Liefmans. According to the label this is "matured on cherries" and there are a variety of other berries that are added....along with what I taste to be a boatload of sugar and sweeteners...which is actually also stated on the label (minus the boatload).
Anyway, it pours with a half-finger of pink tinged head that disappears rapidly; crystal clear ruby red color.
Smells of sweetened raspberries and strawberries in an almost cakey way; definitely sweet and fruity. No tartness to be detected in the aroma; and certainly straightforward. This trend continues on to the taste, which is really way too sweet, even for a fruit beer. No tartness to cut through the sweetener, and it's almost a faux berry taste overall. Thinner, syrupy, fizzy MF. Not coincidentally, it reminds me of a fruit soda...only if it were that easy to drink and refreshing. Bleh.
983 characters
Liefmans Fruitesse (Fruitbier) from Brouwerij Liefmans
3.33
out of
5
based on
313
ratings.