Paddler's Porter
| America's Brewpub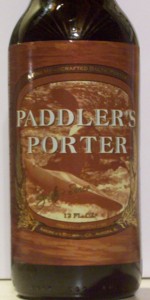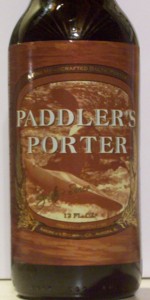 BEER INFO
Brewed by:
America's Brewpub
Illinois
,
United States
Style:
Baltic Porter
Alcohol by volume (ABV):
8.00%
Availability:
Year-round
Notes / Commercial Description:
No notes at this time.
Added by DavidEddie on 03-23-2008
This beer is retired; no longer brewed.
HISTOGRAM
Ratings: 11 | Reviews: 10
Reviews by tgbljb:
3.92
/5
rDev
+25.6%
look: 3.5 | smell: 4 | taste: 4 | feel: 3.5 | overall: 4
Poured a deep brown coclor with scant tannish head. Poor retention and no lacing.
Smell demonstartes a signicant amount of dark fruit (raisins and plums) combined with tart cherries.
Taste is a sweet-tart combination that is very pleasant.
The ending is too watery with poor taste retention.
East drinking. Alcohol content completely hidden.
345 characters
More User Reviews:
2.48
/5
rDev
-20.5%
look: 4 | smell: 3.5 | taste: 2 | feel: 2 | overall: 2
Pours jet black, a finger of tan foam pops up when pouring out the dregs. A little glint of dark reddish brown around the edge in the light. Head retention is ok, after a few minutes it settles down to a broken patch of tiny bubbles.
Syrupy sweet molasses and some anise notes. Weird Malta meets Dr. Pepper flavor. Sharp sourish tang in the first sips that never goes away. Slight cardboard note in a bigger sip, with sourness that actually puckers the mouth. Aftertaste of burnt toast. Thin and watery on top of that, making for an unimpressive attempt at a Baltic Porter.
I will avoid any bottles of this that I see, unless there's a current freshness date. There wasn't any dust on this bottle, so i'm inclined to think it was tainted in some way...all four bottles ($6.49).
780 characters
3.1
/5
rDev
-0.6%
look: 3.5 | smell: 3.5 | taste: 3 | feel: 2.5 | overall: 3
Pours a rich black with a nice head that is various shades of tan. Head remains as a thin layer and leaves sticky lacing.
Aroma is not pronounced but is pleasant. It features coffee and chocolate.
Flavor is coffee, chocolate, milk, anise, and dark fruit. It is mildly bitter. Unfortunately those flavors don't blend well here. The milk comes through as sour and that undermines what would be a nice porter.
Feel begins creamy but soon becomes too thin. This is not a top tier porter by any means.
501 characters
2.83
/5
rDev
-9.3%
look: 3 | smell: 2.5 | taste: 3 | feel: 2.5 | overall: 3
Poured from a 12oz bottle into a 20oz imperial pint.
A: Pours a dark black with slight brown highlights at the edges. Nice looking dark tan head that, sadly, evaporates instantly and leaves no trace of lace.
S: Roasted malt, tart grain, stale coffee, and an overpowering sour berry aroma. Meh.
T: Roasted malt, chocolate, and citrus-y hops. Tastes better than it smells but I can't get that sour berry thing out of my head. Roasted malt and black tea in the finish.
M: Roasty and thin. Quite a bit more watery than I expected for the style.
D: 1/2 way decent drinkability but why bother? I'm sorry, but they can do better than this.
638 characters
3.33
/5
rDev
+6.7%
look: 3.5 | smell: 3 | taste: 3.5 | feel: 3 | overall: 3.5
Poured from the bottle a deep dark black with quarter inch of creamy mocha-colored head.
The aroma is somewhat sweet and malty along with a hit of sour dark cherries.
The taste picks up on the sour cherries and sweet malts of the aroma. More sour than anything. Raisins and a bit of coffee and table salt also present.
Thinner bodied, crisp and tart, and moderately carbonated.
I've never experienced a sour porter before. It's interesting...but I'm not sure how much I like it. Hmm...
489 characters
3.03
/5
rDev
-2.9%
look: 3.5 | smell: 3 | taste: 3 | feel: 3 | overall: 3
12oz bottle.
Poured a dark brown, almost black, color with an averaged sized tan head. Aromas of roast, cocoa, and lightly earhty. Tastes of roast and cocoa with a light coffee finish. There was some tartness in the background too, akin to dark cherries.
Notes from 7/25/08
276 characters
3.48
/5
rDev
+11.5%
look: 4 | smell: 3.5 | taste: 3.5 | feel: 3 | overall: 3.5
Pours a dark black color. 3/4 inch head of a tan color. Good retention and good lacing. Smells of roasted malt, sweet malt, slight hops, some tart malt, and strong acidic yeast notes. Fits the style of a Baltic Porter. Mouth feel is of very coarse and over-carbonated. Tastes of some roasted malt, there is a strong acidic flavor, strong tart malt, and a dryness is associated with this brew. One of the more authentic Baltics' I've had, with the strong acidic flavors. Not really my kind of dark ale, but it's a nice change.
525 characters
3.72
/5
rDev
+19.2%
look: 3.5 | smell: 4 | taste: 3.5 | feel: 3.5 | overall: 4
Quite the black hole pour, no light passes through this bad boy. Frothy tan head is very inviting, just a bit of Brussel's lace in the ol' Corsendonk tulip.
Nice sour ale aroma, malty, with a touch of chocolate tossed into the mix. Very sour ale quaff, more than I have ever had - tasty and enjoyable but you have to be ready for it. Powdery mint chocolate really rounds out the finish.
8% alcohol is well hidden, IMO this is a fine Baltic brew.
Second beer from the American Brewing company up north, and another goody.
523 characters
2.72
/5
rDev
-12.8%
look: 2.5 | smell: 3 | taste: 2.5 | feel: 2.5 | overall: 3
Picked up a 4-pack at the Roundhouse.
Pours a bland black with chocolate water highlights. Only a flash in the pan head after a hard pour. But recedes to absolute nothing after only one minute. The aroma is a faint vinegary tart dark chocolate and kriek lambic cherries. Not dark enough and too tart smelling. The taste is tart and hard to distinguish. A touch of cheap coffee, a little malt vinegar and dark roasted malt with a touch of peet. Very tart, almost acidic palate. Lacking lots of smoothness on the palate. Glad I tried this beer, but fell pretty short of my expectations.
586 characters

2.75
/5
rDev
-11.9%
look: 2.5 | smell: 2.5 | taste: 3 | feel: 2 | overall: 3
Appearance - Black with some brownish red around the edges. Tan head falls quick. No lacing to speak of.
Smell - Milk chocolate, roasted malt, and coffee. Nothing overpowering. Kinda on the light side.
Taste - Nothing like it smells. Mellow roasty flavors followed by crisp citrusy hops.
Mouthfeel - Watery and thin. Low carbonation.
Drinkability - Not bad, but disappointing. I was expecting a lot more from this Baltic porter. Did not detect the 8% AVB whatsoever.
479 characters

Paddler's Porter from America's Brewpub
Beer rating:
3.12
out of
5
with
11
ratings