Top Hops Beer Shop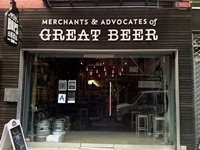 PLACE INFO
Type:
Bar, Store
94 Orchard St
New York
,
New York
, 10002-3173
United States
(212) 254-4677 |
map
tophops.com
Notes:
No notes at this time.
Added by DoubleSimcoe on 02-05-2012
Reviews: 29 | Ratings: 110

4.55
/5
rDev
+3.6%
vibe: 4.5 | quality: 5 | service: 5 | selection: 4 | food: 3.5
Overall, my favorite beer bar in NYC. I love how the feel is not so bar like that you feel odd coming in just to shop the bottles (weekends/evenings can be a bit crowded, but outside of special events it's still reasonable), but it's not so bottle shop like that you feel odd sitting at the bar and having a few pints.
Service has always been excellent. The owner Ted is a wealth of knowledge about the industry (he was a former AB employee for many years). I've had excellent experiences with all bartenders, but Eric and Scott stand out. Eric really helped me break into some styles I wasn't as familiar with, especially sours and the more obscure Belgian offerings. They do a good job handling the double duties of bartender/cashier for the bottle shop and always have a welcoming, fun attitude, without being snobbish when answering questions.
Food is not the main attraction here, but the free hard pretzels are great, and the small snacks have been good, if nothing remarkable.
Pricing is in line with NYC pricing for the most part. $6.50 a pour is very reasonable, they simply offer a smaller pour of the pricier beers. Bottle prices are some of the better ones for rare releases, and rarely get silly.
Bottle selection is always quite excellent. Tap selection is slightly less so, I keep an eye on their FB page for updates. Sometimes the tap list will be average. But overall that is a very slight issue in what overall is my favorite beer bar in NYC.
★
1,464 characters
4.28
/5
rDev
-2.5%
vibe: 4.5 | quality: 4.25 | service: 4.25 | selection: 4.25 | food: 4.25
Made my first visit in NYC last April (2013) with my wife. I was impressed with the interior design of that place and it gave that warm feeling for anyone who wants to shoot the breeze about craft beers. Nice tap listing but didn't see anything special. Solid beer selection in coolers and saw Alesmith Speedway Stout and Black OPS. However, they were $22 and above each. Bit too pricey but hey, it's New York City, right? Would definitely stop by this place again in the future.
★
479 characters
4.3
/5
rDev
-2.1%
vibe: 4 | quality: 4.5 | service: 4.5 | selection: 4
To could grab a few shortys before dinner with Witz, et al. Lower East Side, I so never play down here, and as such, struggled ever so slightly with the parking and where to, finally finding muni meter feed in that lot where that pickle event ran that time and probably other times since. Walking now which way where. Oh, Orchard is that way; recoil & return...
Storefront in a bit of a strip just south of Delancey. Glass front wall, concrete floors, & black slat ceilings with single filament bulbs alternating across. Logo piece walled on brick just inside the door, and wood post alt high shelving past there, running down to the end of the bar behind me on walls of pale blue, and adjacent to the bar up front. Bottles & books for the buy and display; yeah, Black Butte, no (sad face), Hill Farmstead, Westy 12, a Tired Hands growler (if only they knew), Pliny, New Glarus, Lawsons, Heady Topper; I suspect some of the display play stuff is from the bottle share events. And shirts, gift boxes, beer making kits, magnums, & all sorts of all sorts of glassware.
Off to the left, a double crescent shaped swirly brushed stainless steel panel topped bar with a wood trim & slat vertical base; seating for 15 on stools of the similar but not quite so. The barback holds a set of horizontal black boards spruce lined, one over the other, listing beer, brewery, origin, style, tapped date (like!), ABV, IBU, 32 & 64 oz growler pricing, and 'draft line cleaned date' (very much so like!) Eats listed on the end (cheese plate, evil olive bowls, mixed cheese & meat, soft pretzel, a bit of chocolate, and my old friend, jerky). Flight pricing (4 for $8.75) listed below the foodings.
Down past the bar, a small secret kitchen space behind beaded curtainness, and then a futuristic curved tunnel ceiling with cooler play to both sides; their sills lined above with house growlers. The cooler wares are sorted by country (It is a beer store first & foremost, after all). 3 high roundtop tables in the center of the room, and more display play on the wall to the rear.
4 towers of 5 along the bar, 17 beers currently up. Roughly 2/3 of it is American craft; the local (Rockaway Pale Ale, Blue Point Mother Pumpkin, Greenport Harbor Anti-Freeze), the regional (Stillwater Folklore, Victory Yakima Glory), the from beyond (Dark Horse Reserve Special Black Ale, Founders Breakfast Stout, Goose Island Matilda & Christmas Ale, Lagunitas Sucks Brown Sugar Substitute Ale, Rogue Double Dead Guy Ale, Bruery Mischief). The remainder a mix of imports (Het Anker Dentergems Wit, Kulmbacher Eisbock, Stella), the macro (Budweiser), and the mead (Rogue Farms 19 Original Colonies Mead). I drank Lagunitas Sucks Brown Sugar Substitute Ale, Goose Island Matilda, & Founders Breakfast Stout.
We may have returned for another or two post dinner. 'We', being me, and a different cast of characters as Ben bagged, but Denis & Moono were up for mischief. Beer was served in cool Goose Island glassware we wanted to guilt steal but didn't. The guy, we will call him 'Ted', seemed to know the coming & going of his Goose Island Cherry Rye & Cantillonables. Moono commented that he would have liked the Cascade Blueberry, so I asked on his behalf. Only one to be had; sadly, for he and not me. Solid store and the bar more. And they serve you hard pretzels of the awesome.
★
3,364 characters

4.16
/5
rDev
-5.2%
vibe: 4 | quality: 4.5 | service: 3.5 | selection: 4.5
In NYC for business, figured I would explore the beer scene. I went to Top Hops on a Tuesday evening. Really impressed by this place - more than a dozen quality draft beers and a huge selection of bottles you can drink on premise. Service was ok, prices for drafts are reasonable, some of the bottles were over priced.
★
318 characters

3.86
/5
rDev
-12.1%
vibe: 4 | quality: 4 | service: 3.5 | selection: 4
Top Hops- yet another bottle shop-growler station-bar-food joint in NYC. No better or worse than any other bottle shop-growler station-bar-food joint in NYC...
Clean and spacious, with a bar and some tables upfront and coolers on the back with all the bottles to take home. The coolers are all dark to prevent damage, believe it or not. This has got to be the ultimate in beer nerdism. Selection is quite right, with some rarities including Rogue Voodoo, Kill Devil, Dark Horse (new in NY), Bourbon County ($6.99 per bottle), Estrella Galicia (fuck yeah), craft Italians and a ton of Belgians.
A good amount of taps at the cool, chill bar: Stone Ruination and IRS, Victory Feistbier, Goose Matilda, Midnight Sun Panty Peeler. Pricy growlers! ($28 for Stone RIS).
Service alright, good ambience... but whatever. I've seen this before. I like Good Beer better.
★
864 characters

4.43
/5
rDev
+0.9%
vibe: 5 | quality: 4.5 | service: 4.5 | selection: 4
This is my only tiny complaint There is a spot along the curvy bar too tight to the wall. There were a lot of us there this night but this place deserves to always be as busy as we enjoyed.. It is beer geek centric to say the least, owner Ted consciously has made it a small slice of geek heaven.
Lots of their products are stacked in niches and pedestals, in refrigerators and backstage areas visible to patrons. Empty growlers line the walls. The talk at the bar is a lot of things, but tonight is a tasting party and the talk is the amazing amounts of fine beer flowing, both from bottles brought and the fine handles the place sports.
Not sure how representative this day of our BA meetup was, so let me just say this and get out of here. This is the happiest place for a fine beer lover in the ways that count. Ted and staff in every way provide an experience only a select few places in my experience have reached. All is wonderful here and I recommend a stop in for sure.
★
981 characters
4.7
/5
rDev
+7.1%
vibe: 5 | quality: 4.5 | service: 5 | selection: 4.5
Been here a few times, and I will continue to return whenever possible. Ted and his staff have earned my repeated business by offering an assortment of good beers at reasonable prices. Plus, everything is properly stored in coolers so there's no concern about spoilage. Draft lines are cleaned regularly. They even display when each line was last cleaned on the front chalkboard; all bars should be required to do this.
Come in for a pint from one of their 20 draft lines, take some home in a growler, or buy a bottle from the coolers in the back and enjoy it on the premises (might be a $2 corking fee for bigger bottles, not sure. Still reasonable IMO). Food selection is minimal with hard pretzels, mustard, and charcuterie. Not really my cup of tea, but great for those who like that stuff.
Ted cheerfully supports the local BA community, thus I am happy to support them.
★
877 characters
4.56
/5
rDev
+3.9%
vibe: 5 | quality: 4.5 | service: 4.5 | selection: 4.5
Loving the new trend of these coffee shop type bottle shops where you can consume on premises. Plenty of taps to enjoy pints and a pretty excellent bottle selection that you can buy to go or to consume on premises. TONS of cooler space to keep everything fresh.
Most impressively is the vibe. This spot has hosted a few BA tasting events and there is always a crowd, but a chill crowd. Was lucky enough to find a few bottles of Ruination 10th there the other night too!!! Will definitely be back as often as I'm in the city.
★
525 characters

4.4
/5
rDev
+0.2%
vibe: 4 | quality: 4.5 | service: 4.5 | selection: 4.5 | food: 4
Lower east side NYC. Just a few blocks from NY food and beer institutions, New Beer, Whole Foods Bowery, and Katz's Deli. This is a new place that has it all...multiple growler fill taps, 100's of bottles (kept in growler units w/o lights to preserve the integrity of the beer), artisinal foods available while you enjoy a tasty draft at the bar...1/2 bar, 1/2 growler fill station..is the this the new model for craft beer distribution spots? Not sure but this is a well worth checking out location...Craft is appreciated and celebrated, mid sized spot, with a sleek and comfortable arching bar, friendly, gracious and knowledgable owner adds to the experience...go check it out..places like this are the future and deserve to be supported
★
740 characters
Top Hops Beer Shop in New York, NY
4.39
out of
5
based on
110
ratings.