Only Void (Stainless)
| Tired Hands Brewing Company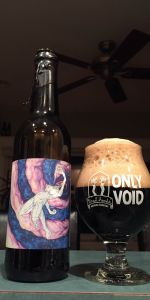 BEER INFO
Brewed by:
Tired Hands Brewing Company
Pennsylvania
,
United States
|
website
Style:
American Double / Imperial Stout
Alcohol by volume (ABV):
11.00%
Availability:
Limited (brewed once)
Notes / Commercial Description:
Spontaneously fermented, aged in stainless.
Added by Jason on 01-09-2013
This beer is retired; no longer brewed.
Reviews: 15 | Ratings: 99
3.75
/5
rDev
-4.6%
look: 3.75 | smell: 3.75 | taste: 3.75 | feel: 3.75 | overall: 3.75
So first off I think this tastes, looks, and smells more like an old ale.
Very flat with minimal lacing and head.
Alcohol hidden well. Pretty smooth.
Heavy raisiny smell and taste.
I think this could be very good with the removal of some of the dark fruit presence.
★
270 characters

4.16
/5
rDev
+5.9%
look: 3.75 | smell: 4 | taste: 4.25 | feel: 4.25 | overall: 4.25
32oz growler into a matching glass. HUGE thanks go to Stakem for hooking me up with these. Pours a jet black in the glass with a thin covering of frothy mocha head. This mostly retains with some thin ringing around the edges that leaves a moderate smattering of spotty lace and brown oily residue down the sides of the glass. The aroma smells of sweet chocolate, earth, green citrus, dark fruit, smoky char and a touch of anise. Alcohol gives this a bit of sizzle in the nostrils. I like the flavors here but they just aren't jumping out of the glass like I would have expected. The taste is a dense and complex mix of chocolate, earthy citric bitterness, tart dark fruit, licorice, smoke and roast. The high alcohol adds an extra forceful layer of sweetness and spice to this as well, which only emboldens the other flavors in the profile. The sweetness almost gets out of hand but never quite does. The finish is dry and bitter before giving way to some lingering sugars. The mouthfeel is full bodied with a firm chewy carbonation that spreads those flavors around nicely in the mouth. As mentioned, a formidable alcohol presence is here but it barely gives off any heat on the palate. You would never know that this is 12%. This was nice. Lots of rich flavors and complexity here that certainly comes on strong in several areas yet still manages to not over stay its welcome. And the overall smoothness of this is just ridiculous for the size. I'm looking forward to checking some of these barrel treatments out.
★
1,519 characters
3.68
/5
rDev
-6.4%
look: 4 | smell: 3.5 | taste: 3.75 | feel: 3.5 | overall: 3.75
First had: on tap at Tired Hands
Poured black as a void (I get it), with a moderately sized tan head that fizzled down to a thin layer, leaving spots of lacing on the glass. Aroma of roasty dark malts, toasted grains, lesser notes of anise and raw cacao. This followed through in the taste, pretty basic for a stout actually, dark malts, grains, slight bitterness reminiscent of unsweetened chocolate, anise, and some yeasty undertones. As with mostly every stout I've had from TH, my main beef was with the body: came in at about medium, and quite thin, especially for an imperial stout; fairly smooth and drinkable, but thin, with no real complexity. Sort of reminded me of Mikkeller Black Hole. But for a 12% beer, there was very little heat, and that aided the drinkability.
Not too impressed by this one. The red wine version had a lot more character to it, and I've yet to try the whiskey. So while a so-so base beer perhaps, it seems barrels bring out the best in it.
★
976 characters
4.15
/5
rDev
+5.6%
look: 4.75 | smell: 4 | taste: 4 | feel: 4.5 | overall: 4.25
1-liter growler into a matching Only Void snifter. While the beer is being poured down the center of the glass, it almost looks still with no bubble formation. Than about half-way full the carbonation errupts from solution. The brew is black with a rich mocha creamy brown froth sitting atop. A thick patchy pattern of lace sticks to the walls of the glass. Some lighter brown clarity is noted around the edges.
The aroma of this is a bit sulfuric initially when swirled with some alcohol and fruity tang like cherry mixed with a touch of mineral/metallic character. There is a solvent almost vodka alcohol impact before some notes of black licorice root and chocolate/roast come into play. A bit of herbal hops are the last things to cross the nose.
The taste is bitter and roasty like coffee/bakers chocolate. Some minerals, earth tobacco and more fruity aspect almost cherry is present that provides some tangy alcohol. A sweetness like milk chocolate is there at times and a slight medicinal feel comes together from a flavor of herbal hops mixing with the tart cherry notes. As it warms up, there is an anise aftertaste with a warming alcohol feel.
This is a rich medium to fuller bodied brew with a modest amount of carbonation. It is smooth and creamy with lots of character. The alcohol initially is dangerously hidden but take it to a second glass and as it warms up, you start to feel it. Imperial stout? Big black saison? Wild ale? Whatever this is, it is much better than I expected and I really liked it.
★
1,521 characters
3.67
/5
rDev
-6.6%
look: 3 | smell: 3.5 | taste: 3.75 | feel: 3.5 | overall: 4
32 oz. growler poured into a snifter.
Appearance - Pours without a head and a chunky collar. Big bubbles. Some wisps.
Smell - Chocolate. Sweet brown sugar. Dark malts with a bit of a burnt character.
Taste - Sweet, dark chocolate. Burnt malt gives it an acrid flavor. Still good.
Mouthfeel - Nearly flat. Not too boozy. Medium body.
Overall - Pretty good stout. Nothing exciting but well made.
★
400 characters
4.3
/5
rDev
+9.4%
look: 3.75 | smell: 4.25 | taste: 4.5 | feel: 4 | overall: 4.25
Thanks to Jeff for busting open all the Tired Hands stuff recently. The more I know about them, the more I like 'em. Only Void is oily and black, falling straight out of the octopus's ink sac. Almost no head on this sucker - perhaps a consequence of the growler? A tan-colored collar, the thinnest I've ever seen, outlines the black abyss before leaving the top completely bare only moments later.
This is the "Stainless (steel)" version, though I actually can smell a touch of wood immediately in the aroma. Then again, maybe it's just my psyche yearning for a barrel-aged version and playing dastardly tricks on me. Roasted malts and lightly burnt coffee beans mingle together nicely; cool, calm, and collective. I'm talking "George Clooney picking up a college chick at a frat party" kind of smooth, here.
The taste is roasty up front, but Only Void pulls an immediate bait and switch, pulling the roast from your tongue and launching a thousand ships of sweet, molten cocoa nibs into your senses like your palate was Paris and it had kidnapped Helen of Troy. I'm getting more wonderfully sweet flavor meshes here; cocoa, vanilla, faint coffee, and even a hint of maple.
Finishing residual sweetness lacquers the palate and keeps your sweet tooth in check, flirting with disaster but never actually reaching the point of no return. This is much more delectable of a stout than I figured it would be. Even after smelling it, I never thought the taste would be so sweet, yet so controlled and refined.
It's got a pretty big body, but is on the lighter side when only considering the spectrum of 10%+ ABV stouts. It's one of the skinnier chicks in the plus-size section of the Sears catalog, if you catch my drift. Low carbonation, as evidenced by the lack of head, and I'm still not sure if that was growler induced or intentional, but it didn't harm the mouth feel too much; still pretty silky, smooth, and sexy.
Wow, this one really did it for me. I really enjoyed this beer, probably more than I should have. I'm somewhat apprehensive when it comes to sweet stouts, but something about the sugar-y and sweet aspect of this beer didn't bother me whatsoever. So welcoming and easy to drink, I went back for a few more pours. Now I have to get the red wine barrel aged version, dammit.
★
2,292 characters

4.26
/5
rDev
+8.4%
look: 3 | smell: 4.5 | taste: 4.25 | feel: 4.5 | overall: 4.25
Growler pour courtesy of the kind bartender at Tørst a few weeks ago; thanks!. Reviewed from notes.
A: Black, still body with bright red-brown highlights. Ok.
S: Powerful molasses, chocolate, peppery spicy, and raisins. Fudge and smoke, too. Extremely complex.
T: Smooth, rich dark chocolate dominates, with coffee, raisin, almond, and smoke as well. Big, lingering, warming finish with a smoky aftertaste. Very nice.
M: The flat-looking body wakes up at least a little, with some light carbonation helping to soften the blow of the hugely thick, viscous body. Delectable.
O: This was excellent, and I can only imagine that the barrel-aged versions are better still. Can't wait to try more Tired Hands stuff.
Cheers!
★
723 characters
2.43
/5
rDev
-38.2%
look: 4.5 | smell: 2.75 | taste: 2 | feel: 2.5 | overall: 2.25
Black wax. 500ml bottle into a Brooklyn Brewery snifter.
This one's a huge gusher that basically exploded over my entire kitchen. Poured whatever was left into my glass. 5 finger light mocha colored head with extreme retention. Lacing is thick, stringy and layered with excellent stick. Beer is pitch black but pretty thin. Looks great.
Nose is tart red fruit, peat and smoked and roasted malt. Alarmingly tart.
Opens roasted malt, chocolate, Brett funk, plastic and light smatterings of tart red fruit. Coarse smoke throughout. Butter and cocoa powder and soil bitterness. End if dirt and more roast. Aftertaste is awkwardly bittersweet. Not good. And I'm pretty sure this is infected.
Medium bodied with ample carbonation. Weirdly prickly but at the same time buttery in the mouth. Pretty thin. Goes down oily with a coarse, accented finish and a sticky, filmy aftertaste that sticks around. Too thin and too carbonated.
Another shining example of why, when you get an imperial stout, DO NOT AGE IT! This one's clearly infected. Pretty poor all the way around but I think the worst part is the buttery but at the same time too carbonated feel. I really like Jean and Tired Hands in general but this is just a really bad beer.
★
1,235 characters
4.04
/5
rDev
+2.8%
look: 4 | smell: 3.75 | taste: 4.25 | feel: 4 | overall: 4
1L growler, Counter Pressure filled 6/2/13, Consumed 6/27/13
Founders Doom glass
A: Pours deep, dark black color. Deep tan thin head, which I was surprised that I got noting the time in the growler. Poured aggressively. Bigger bubbles than I've seen. Alcohol feet on the glass. Thicker than other TH offerings in the style, which I'm impressed by.
S: Deep bitter chocolate. Slightly roasty. Toasted marshmallow. Slight toffee character. Some booze on the nose.
T: Bitterness up front. Dark baker's chocolate. Maybe some ground coffee. Creamy notes. Almost marshmallow sweetness. Silky almost. Finish is long. I want to try the barrel versions of this, because it seems like a beer that would certainly lend well to that.
M: Full bodied. Creamy mouthfeel.
★
759 characters

3.23
/5
rDev
-17.8%
look: 4 | smell: 3.5 | taste: 3 | feel: 3.5 | overall: 3
Poured into my Lost Abbey stemware, this one is deep black, topped with an inch of fluffy cocoa-colored stuff.
Lots of pine and orange juice in the nose. A little woody, some toast, some cocoa. Sweet.
Sweet flavor too. A touch of grapefruit. Orange, pine, chocolate. Sugary throughout, very little bitterness, though there is some hop flavor.
Full body, fairly thick and syrupy. Mild tingly carbonation, just a bit of fizz. No alcohol at all, though.
Very sweet, almost hard to drink the whole bottle. Tasty, just a bit cloying.
An...imperial stout? It's not like any I've ever had. Very citrusy, very sweet, not at all roasty.
★
633 characters

4.39
/5
rDev
+11.7%
look: 4.25 | smell: 4 | taste: 4.5 | feel: 4.75 | overall: 4.5
32 oz growler poured into a teku
A- Black with a two finger light mocha head
S- Chocolate, some roasted coffee, some molasses, pepper spices, some citrus, hints of toasted marshmallow.
T- Rich fudge, slightly tart dark fruits, molasses, some bitter coffee in the finish, somewhat smoky, great, complex, balanced.
M- Smooth, creamy, medium body.
O- A very nicely done stout, alcohol is very well hidden. Very easy to drink, very happy I took the time to pick this up.
★
471 characters

4.19
/5
rDev
+6.6%
look: 4.25 | smell: 4 | taste: 4.25 | feel: 4.25 | overall: 4.25
On-tap at Tired Hands for their 1st Anniversary party. Served in a mini-nonic-pint glass.
A- Pours black with a thin mocha head that recedes to a collar, leaves some spotty lacing.
S- Sweet aroma of dark fruit, caramel, chocolate, roasted grain and anise. Smells nice but seems slightly more muted than I would expect.
T- Loads of chocolate, licorice, dark fruit and roasted grain. Mild smoke/char. Nice balance of roasty bitterness and fruit/sugary sweetness. Some lingering sweetness and boozy warmth in the finish. This tastes really nice, but I wouldn't want to drink more than 8 oz or so, since for me the anise flavors are a bit too strong, but I can see how that's a personal preference thing. Whatever.
M- Full-bodied, thick, sticky feel. Nice amount of alcohol warmth.
O- A tasty stout, Tired Hands' forte definitely seems to be in the saisons and lighter IPAs, but this is still very good and shows a lot of promise, even coming from someone who hates anise flavor (which, if they dialed back, would have me raving about this beer). I'm looking forward to the next big stouts that they brew.
★
1,106 characters

4.43
/5
rDev
+12.7%
look: 4.25 | smell: 4.25 | taste: 4.5 | feel: 4.5 | overall: 4.5
Poured from a 32 oz growler into a 12 oz glass.
Pours black with a thin tan head. Minimal lacing.
Dark chocolate, ash, some bitterness
Sweet dark chocolate, some dark fruits, coffee, and ash.
Very good imperial stout. Nice amount of roast and dark fruits.
★
259 characters

3.1
/5
rDev
-21.1%
look: 2.75 | smell: 4 | taste: 2.25 | feel: 4.25 | overall: 3.25
This review is from a 2013 black wax bottle, the non-barrel aged Only Void. This bottle was chilled for over 24 hours, though when I cracked the waxed cap, it did start gushing. I'm fairly confident that this is due to overcarbonation and NOT infection, because there is no sour vinegar-like accompanying smell, though I can't be 100% certain.
So, I poured this into my Only Void balloon glass, with a mountain of excitable tan head on top of a black body, showing hints of light brown on the edges. The head stays for a while, and leaves a sticky pattern of lacing behind. Way more head than expected, and unfortunately more than needed or desired.
The aroma is a blend of fruity, earthy and spicy. Notes of tart boysenberry, sour black cherry, licorice, charred marshmallow, and chocolate. It is certainly interesting, though I wonder about the tangy berry aromas being appropriate for the style, and if they are any indication of an infection.
The beer is full-bodied, chewy, and yet effervescent enough to not feel heavy or cloying. It starts with a sweet honey quality up front, with high acrid roasted grain flavors hitting the roof of the mouth and notes of berries in the finish. The flavors don't work very well together, and it does end up tasting like there was something that went wrong.
I had the chance to try this when it was on tap as well in 2013, and I remember not being entirely impressed with Only Void, though many others were saying something to a similar effect, and who know, maybe I was unfairly influenced. This time around, though this beer feels fairly flawed, I enjoyed the uniqueness of this stout. I would not pay another $12 for a bottle, but I finished the bottle I did pay $12 for. How's that?
★
1,736 characters

4.61
/5
rDev
+17.3%
look: 4.5 | smell: 4.75 | taste: 4.5 | feel: 5 | overall: 4.5
Got this in a trade. I have no idea what year it is, I just know I got it from a 16oz can. No date on it at all, just a 16oz aluminum can with some nice exotic artwork on it. Poured into a snifter.
Pour is a motor oil black. Thick and viscous, you can tell by the way it hits the glass. Very thin ring of head, but that's without a swirl. Let it settle, virtually no head at all. You can tell by looking at it, this is a very thick and hearty beer.
Smell is very interesting. Just when you think it's chocolate/coffee like your normal big stout, that's not the case at all. Initially it's spicy, earthy, dark fruits. Plastic? Wood, oak, smoke, more plastic, but this time burnt plastic. Almost like a fresh CD or video game straight out the package. I have no way of explaining, you'll have to smell it yourself.
After all this analyzing with the nose, it's warmed up a bit. Sweet fudge upfront, and you can't help but notice how thick this is. A lot of nuttiness comes through, I'm getting heavy almonds, pecans and peanuts. After taste is some slight bitter dark chocolate,'and pretty noticable mint flavor.
Mouthfeel is pretty thick and viscous just how it looks. I'm not getting much carbonation at all. Definitely chewy and syrupy.
Once again. I have no idea what year this is from, I got it in an extra with a trade. Came in an aluminum can, no date on it. But pretty impressed by this review "rating" and how this actually tastes, feels, and smells. Very complex and not to be passed up on by someone who isn't afraid of stepping out the box.
★
1,554 characters
Only Void (Stainless) from Tired Hands Brewing Company
3.93
out of
5
based on
99
ratings.