Tired Hands Brewing Company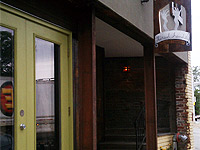 PLACE INFO
Type:
Brewery, Bar, Eatery
16 Ardmore Ave
Ardmore
,
Pennsylvania
, 19003-1302
United States
(610) 896-7621 |
map
tiredhands.com
Notes:
No notes at this time.
Added by Rifugium on 02-10-2012
Reviews: 94 | Ratings: 345

4.45
/5
rDev
+0.5%
vibe: 4.25 | quality: 4.5 | service: 4.5 | selection: 4.5 | food: 4.25
**Can't believe that it has been over a year since my first visit. I have got to be closing in on 50 now. Food, atmosphere and service all get a bump up.**
Even tho I live nearly two hours away, I have been here three times already. I think it is time to give this place a proper goings over. Here we go.
Downstairs is kinda small overall. Decent sized bar on the right with the "kitchen" right behind it. Chalk menu's let you know the menu and drafts. A few tables and the bathrooms on the left and the brewery at the rear of the building. Upstairs feels much bigger. Large bar at the back with quite a few tables in the front. Just as downstairs, menu's are located on the wall.
Atmosphere is pretty good. There is definitely a hipster feel to the place but I kinda like it. Its really laid back and the servers are all really nice and helpful. I have had to wait a few times but they have been when it was packed for events. The whole place feels top notch.
Lots of saison's and hoppy beers to choose from, it is what they do best after all. I have liked everything I have tried so far, and that is pretty much everything. The food is sparse but very good. If they add a few more options I will definitely bump this score up.
Overall a really great new brewery that I look forward to getting to know better over the future. I wish Jean and the guys nothing but the best.
1,379 characters

4.15
/5
rDev
-6.3%
vibe: 4 | quality: 4.5 | service: 4 | selection: 4 | food: 4
Corner rowhome, renovated, minimalist decor showcasing brick, plaster, wood and metal. Bar with seating for about a dozen, a few tables will seat a few more downstairs, upstairs also has seating. Bread oven, panini press and prep area immediately behind the bar. Back room exposes brewining equipment.
8 beers on tap, available in 4oz, 8oz or 12oz pours, as well as growlers. Brewery focuses mostly on saisons, which are executed very well and all have unique charachteristics. Hoppy alea their secondary specialty and are solid. A few other styles will make the rounds from time to time. A few local wines available as well as home made soda.
Menu is minimalist and offers homade bread, and a selection of 3-4 each of cheese, charcuterie, pickled vegtable options as well as 2-3 paninis and various items. Fresh, tasty. Only concern was most of the breads, cheeses and meats cut for serving well ahead of times and placed in large plastic bins.
Service was generally nice... all hands on deck approach by all, certain customers seemed to be prefered over others based on their knowledge of what was going on.
Lots of promise here, will be back for sure.
1,158 characters
4.41
/5
rDev
-0.5%
vibe: 4 | quality: 4.75 | service: 4.5 | selection: 4.25 | food: 4
Conveniently located just off Rt. 30, and not too far from where I live. Tired Hands' brewpub is a modestly small place, simple, and rustic, no flashy decor going on; it looks like a newly renovated rowhome on a smaller budget, and that's basically what it is, though they've done wonders turning it into a cogent brewpub. They've done extremely well with their setup, converting a simple space into a quaint, organic environment. Hmm...a little too much of a hipster vibe for my liking, but oh well, what can you do. It's the quality that matters after all; I can deal with the hipsters, and it doesn't stop me from visiting whenever possible. Plus it's the "main line," so what can you expect? On a quiet day when the crowd is a bit more subdued, you really can't beat the atmosphere.
There are two floors to the brewpub. Downstairs you have a pretty small bar that seats about 15 people, maybe 20 max if you really squeeze 'em in, and there are a few small tables against the adjacent wall. Brewing processes in clear site straight ahead as you walk in. Upstairs is a much larger seating area, with another smaller and somewhat darker bar.
Service is generally fine all over, and the bartenders are all well-educated in the house beers, and in the beer scene in general. Jean is a nice guy to talk to as well, if you can catch him when he's not busy. As a regular customer, I'm a bit biased to the service, but even during busy hours, the staff is typically on the ball.
There tends to be a very nice selection of 8 or so house brews on tap, and they're all consistently quite solid to excellent, and seem to be getting better and more diverse with time. Clunkers are rare. The focus is mainly on saisons and sessionable IPAs, often with a unique twist, however you will often also see variations on brown ales, stouts, or lagers. There is also a weekly cask-conditioned offering, putting an inventive twist on a brew from their current lineup. As usual, I love seeing pour options, and here they give you options of 4, 8, and full/16 oz. pours. Nice! Prices were about spot on, though if you're going to get a 4oz, you might as well just go for the 8 and get your money's worth. Also available are 1 & 2 liter growlers.
Food options have truly evolved since they opened. The "kitchen" is essentially right in front of you at the downstairs bar, and consists of a pair of panini toasters, a bread baker, and selections of local cheeses, meats, and veggies. Prices for these items can sometimes be a bit on the steep end for what you're given, but at least everything is tasty. I love fresh baked bread, and honestly I could probably just get a loaf of their bread and nosh on it at the bar all day and be a happy camper. Other things like the meat and cheese options...meh...I tend to avoid these, because they are considerably overpriced. But the key is the emphasis on local foodstuffs, with mostly everything coming from local farms. And their rare beer dinners really give you insight as to what innovations the chefs can produce with limited kitchen tools.
Quite possibly the best beer on the East Coast.
3,117 characters

4.8
/5
rDev
+8.4%
vibe: 4.5 | quality: 5 | service: 5 | selection: 4.5
Visited on Sunday with Amyliz4 and yourefragile. The ambiance is awesome. Laid back atmosphere with some tables and a large bar. Plenty of taps and friendly bartenders who know quite a bit about the beer. Jean himself was walking around and chatting. Selection consisted of 8 Tired Hands beers, which ranged from very good to extraordinary. Didn't have any of the food, though it smelled fantastic. Updated tap list is available on the website. Pours are available in 4oz, 8oz, and 12oz sizes. Very reasonably priced. If I lived in the area, I'd be here daily. As it is, I'll make it as often as I can from Northern Virginia.
631 characters
Tired Hands Brewing Company in Ardmore, PA
4.05
out of
5
based on
11,378
ratings.