Sapporo Fuyumonogatari - The Winter's Tale
| Sapporo Breweries Ltd.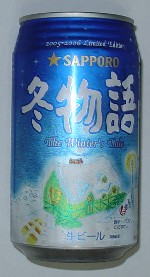 BEER INFO
Brewed by:
Sapporo Breweries Ltd.
Japan
sapporobeer.jp
Style:
Japanese Rice Lager
Alcohol by volume (ABV):
5.50%
Availability:
Winter
Notes / Commercial Description:
No notes at this time.
Added by Naerhu on 05-26-2002
Reviews: 9 | Ratings: 16
3.8
/5
rDev
+40.7%
look: 3.5 | smell: 3.5 | taste: 4 | feel: 3.5 | overall: 4
Appearance: Clear gold brew with a fizzy white head. Moderate carbonation.
Smell: Decent malt and even a little hop presence. Crisp.
Taste: Solid malt flavor accompanied by an herbal hop flavor. I can sense a bit of pine in the finish.
Mouthfeel: Medium body. A very clean finish.
Drinkablity: A good brew. It was refreshing and satisfying. I am still getting used to the Japanese winter brews. They do not seem to be too much of a departure from their regular brews.
473 characters
3.51
/5
rDev
+30%
look: 4 | smell: 3 | taste: 3.5 | feel: 3.5 | overall: 4
Note: 2006 release. This beer is miscategorized, as it no longer contains rice. I have submitted a request to change the beer's style, and I am reviewing it here as an American All-Malt Lager.
Appearance: Nice brassy-golden body, clear all the way through, with very large bubbles rising up throughout. Head is initially very big, fluffy, almost rocky, and retains fairly well.
Smell: Sweet, pale, pilsener-ish malts with notes of husk, honey, and a vaguely champagne-like undercurrent. Hops are a bit herbal and quite subdued, almost to the point of being undetectable, but the malts are nice as they are. To me, more reminiscent of fall than winter.
Taste: The malt base is nice and smooth and sweet, with a round hop bitterness that makes for a nice, dry, herbal finish. There's a touch of tang to it as well, but it's not the usual happoshu/rice lager adjunct tang. It's more like the tang of baker's yeast. Nice.
Mouthfeel: A bit overcarbonated, with so much air in each sip that it interferes with the taste. Even so, it's basically a good match for the flavor; light, crisp, and effervescent yet smooth.
Drinkability: This does get a bit sweet after a while, but it's pretty drinkable nonetheless. A welcome addition to the shelves of my local 7-Eleven.
1,275 characters

3.15
/5
rDev
+16.7%
look: 3.5 | smell: 3.5 | taste: 3 | feel: 3 | overall: 3
2011 "vintage" if you will of Suntory's winter seasonal offering Fuyumonogatari.
Pours a deep yellow, only marginally darker than Sapporo's standard Japanese-market offering, Black Label. Some nice sweet malt on the nose, with hints of grass and grain in the background that is quite typical of Japanese lagers. According to the label, though, this beer is all-malt, with no rice, corn, or starch in the mash bill.
The taste is a bit sweet, too, with some faint hints of spices reminiscent of more traditional winter warmers. Although this beer is all-malt, the overall impression is that of a Japanese rice lager (grassy, grainy nose; light malt and muted hop spice on the tongue) with a tad more pale malt and a small amount of some sort of spice.
Not much too get excited about here, even for a mass market Japanese beer. While the autumn seasonals at least attempt to mimic Oktoberfest beers, I have no idea what the inspiration for Fuyumonogatari is supposed to be, and it hardly distinguishes itself from the many other bland lagers available in Japan.
1,061 characters

2.98
/5
rDev
+10.4%
look: 3.5 | smell: 3 | taste: 3 | feel: 2.5 | overall: 3
2011-2012 edition Smuggled back in my sister in laws suitcase, thanks Terry!
Pours a crystal clear golden color with a bubbly white head that dissipates quickly despite the constant stream of carbonation bubbling up from the bottom of the glass. Pretty weak aroma, light grainy malt with a hint of toast and a mild sweetness. Taste is grainy toasty and sweet just like the aroma promised. Finish is fairly dry but leaves a lingering sweetness on the tongue. Spirited level of carbonation, light body with a lightly sweet bubbly mouthfeel. Really nothing special or objectionable. Its not bad, in fact I have had macros that are much worse. I could drink this if I had to.
671 characters
2.06
/5
rDev
-23.7%
look: 3 | smell: 2 | taste: 2 | feel: 2 | overall: 2
Sapporo Fuyu Monogatari,
Ingredients: Malt, Hops, rice, corn and starch
Alcohol: 5.5% 350 ml can
Great head, initially, but quickly fades. Absolutely no "aroma". Light body, no finish and extremely light flavor. What are they thinking by putting "More rich aroma and full-bodied flavor" on the bottle? Even among Japanese beers this is weak.
Brewed Oct. 2002
Consumed 26 Dec. 2002
Exp. June 2003
410 characters

2.05
/5
rDev
-24.1%
look: 2 | smell: 2 | taste: 2 | feel: 2.5 | overall: 2
Found a can of the "2011-2012 limited edition" at the Family Mart near my hostel. It's a blue can with snowflakes.
Very clear yellow with a small bright white head. Looks like any other Japanese macro lager.
Nose is metal, corn, barny malts. Taste is similar, with a bit more malt, and some odd turpentiney ethanol. These are just mild tastes; it's mostly another macro lager. Not sure what makes this the special winter's edition! Note to self: avoid all canned Japanese beers.
480 characters
2
/5
rDev
-25.9%
look: 2 | smell: 2 | taste: 2 | feel: 2 | overall: 2
Presentation: 633ml custom Sapporo bottle. No bottle date.
Appearance: Pours a cloudy orange/golden coloured beer with a thick. pillowy white head.
Smell: Musty, steel, touch of peach skin and faint band-aid.
Taste: Smooth, creamy, medium-bodied. Mouthfeel is rather dissapointing, extremely dry and riddled with husky tannins. Little sweetness, thin fruit, metallic, must and more dry grain tannin flavours that run into the finish.
Notes: Named for William Shakespeare's poem, this beer is nothing special, nor does it live up to Sapporo's other "stout draft" beers (not to be confused with the actual Stout style of beer). Not worth spending a whole lot of time talking about ... next beer.
705 characters
1.95
/5
rDev
-27.8%
look: 2 | smell: 2 | taste: 2 | feel: 1.5 | overall: 2
This beer is getting exceptionally low marks b/c I really think it's not so good. Japanese beer companies like to put out new Happoshu every once in a while, and this is their "winter brew". It's all image though: this beer really blows. It's a little crisp on the onset, but there's really nothing, NOTHING to this beer. It's even got a strange, processed taste, which musters up memories of nasty cheap beer available in the US. Anyone can tell it's a lousy brew, even Japanese people I've drunk it with. I'd rather drink natty anyday. The can is cool though, w a nice image of the Sapporo Beer factory in Sapporo, Japan. Like I said, all image.
647 characters
1.91
/5
rDev
-29.3%
look: 2.5 | smell: 1.5 | taste: 2 | feel: 2 | overall: 2
2006~2007 Limited Edition can. Nice looking can. Smells like basically nothing at all. Decent amber color, considering the style. Taste is a bit metally, bit of an unpleasantly bitter afterbite. Generally a step down from the usual Japanese Rice Lager. Nice can though.
269 characters
Sapporo Fuyumonogatari - The Winter's Tale from Sapporo Breweries Ltd.
2.7
out of
5
based on
16
ratings.