Yebisu Kohaku
| Sapporo Breweries Ltd.
BA SCORE
78
okay
13
Reviews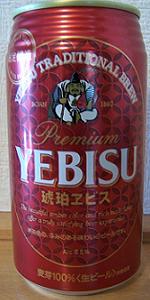 BEER INFO
Brewed by:
Sapporo Breweries Ltd.
Japan
sapporobeer.jp
Style:
American Amber / Red Ale
Alcohol by volume (ABV):
5.50%
Availability:
Year-round
Notes / Commercial Description:
No notes at this time.
Added by bobsy on 10-12-2008
Reviews: 13 | Ratings: 33
3.28
/5
rDev
+4.1%
look: 3.75 | smell: 2.5 | taste: 3.5 | feel: 3.5 | overall: 3.5
Poured from 16oz can with canning date of SEP16 into standard pint glass.
L: Lighter Amber color, finger width off white head recedes into thin layer. Good lacing.
S: Very subdued smell, mild malts and hops. Hard to identify hop character.
T: Smooth malt, eases into slight hoppy bitterness. Quite tasty.
F: Light-Medium Body, easy on the palate.
O: Not what I usually like in an Amber/Red but not too shabby.
427 characters

3.48
/5
rDev
+10.5%
look: 4 | smell: 3.5 | taste: 3.25 | feel: 4 | overall: 3.5
Poured from tap into pub glass. Has a thick head with an amber color. Has a thick head with excellent retention. Malty smell. Rich taste that's quite hoppy. I especially enjoy the feel, it's creamy with light carbonation - quite a pleasant experience.
251 characters

3.53
/5
rDev
+12.1%
The aroma initially gives off the sour, skunky quality typical of Japanese macrobrews; there is also some spiciness, caramel; a touch of woodsy hoppiness comes through over time. The off-white head diminishes to a film that sticks around; the body is a brilliantly clear copper/deep amber. The flavor is quite malty with a good amount of bitterness—tastes more like an English pale than an American amber; the hop flavor is extremely low but seems to have a fruity character; the very sweet caramel finish leaves an aftertaste like having eaten whole malted barley. Medium body; soft and somewhat frothy carbonation.
I don't mind Yebisu too much in general, but like other big Japanese brands, they seem to have an issue with that sour, skunky aroma. Thankfully in this case, however, it doesn't persist for long after pouring. Overall, this one is pleasantly smooth and drinkable, quite sweet with a bit of spiciness and bitterness to round it out. While the aroma is not especially impressive, nor the flavor especially complex, I must say that—all things considered—I'm fairly impressed.
1,098 characters

3.39
/5
rDev
+7.6%
look: 3.75 | smell: 3.5 | taste: 3.25 | feel: 3.25 | overall: 3.5
Had this at the brewery in Tokyo.
The beer pours out with a nitro like head with a light amber color with some brown and gold.
The aroma has lots of grain, bready and nutty malt, along with floral, grassy hops.
The flavor is bolder than other adjunct beers. There is a bright grassy hop note and spicy hops at first then there's lots of breadiness and grains like corn. There is that adjunct bitterness on the end with some more grass and a bit of mold.
456 characters
3.93
/5
rDev
+24.8%
look: 4 | smell: 3.5 | taste: 4.25 | feel: 3.5 | overall: 4
Had this on tap at the Yebisu Museum in Ebisu, Tokyo. Poured into a half-pint glass. Beautiful clear bronze-red brew with a thick creamy white head that retains. Roasted malt flavor with a bitter Chinese tea flavor. Smell a bit flat, even lacking the roasted notes. Bitter smell comes out a bit later in its life. Very thin spotted lacing around the glass. A bit gassy, but a pleasant slightly bitter aftertaste. Overall, a great red ale especially if served on tap.
466 characters
2.88
/5
rDev
-8.6%
look: 3 | smell: 2.5 | taste: 3 | feel: 3 | overall: 3
A: Pours a clear amber color with a creamy off-white head that fades to bits of lacing.
S: Mild aroma of fruit and some malt sweetness. Not a lot here.
T: Taste starts with a bit of a hops nip, then some caramel sweetness. Mild bitterness and a clean finish.
F: Fairly light body, quite smooth and a bit creamy.
Decent drinker, good for a couple. Fairly average run of the mill for the style.
396 characters

2.2
/5
rDev
-30.2%
look: 2.5 | smell: 2.5 | taste: 2 | feel: 2.5 | overall: 2
Found this in Kyoto and I'd never seen it before, so I bought it.
The newer version of the can clearly says "kohaku" in English, and looks a bit different from the one pictured but is still red and gold.
Clear amber color, very little white head that fades quickly.
Nose is corn, a bit of malt, and tin.
Taste is not very good - grainy, corn, metallic, some lingering funky hops. Tastes more like a bad lager.
Mouthfeel is just OK.
This one is a miss!
455 characters

2.82
/5
rDev
-10.5%
look: 4 | smell: 2 | taste: 3 | feel: 3 | overall: 3
Appearance: As the name of beer states, it pours a light amber body with a slight creamy head.
Smell: The same sour smell found in many happoshu (low malt beer) sold in Japan is present. Other than that, there isn't much to note.
Taste: There is a hint of hops upfront but then nothing. The beer finishes with the same slight sourness found in many macro lagers.
Mouthfeel: Smooth and creamy - no complaints here
Overall: It's not bad but it's not good either. If it's trying to be a Red Ale, it fails miserably. Thankfully, I don't think that's what they were going for. The beer can be summarized as a normal Sapporo lager but with a slight hop kiss up front. It's a good change of pace from most Japanese macro brews but at 320 yen plus a can, it sort of falls into no man's land. For a little more yen you can buy a premium Belgian brew; a little less will get you almost the same thing.
898 characters

3.4
/5
rDev
+7.9%
look: 4 | smell: 4 | taste: 3 | feel: 3 | overall: 3.5
A: Pours really nicely with a foaming white head atop a beautifully amber-hued beer (Kohaku 琥珀 is Japanese for "amber"). Medium carbonation with a steady stream of sparse bubbles rising from the bottom. Would score this higher if it weren't for the poor head retention.
S: Fairly sweet...some caramel-like malt in there with a bit of grass/straw and some faint Saaz-like hop spice.
T: The malt dominates here, though not quite as much as I'd like. Then again this is a mass-produced Japanese ale (lager?). Even less hop presence than the nose (which is to say very little), and a bit thin in mouthfeel.
Not quite what I was hoping for, but a refreshing change among the usual supermarket selection of Japanese lagers. Ebisu Kohaku is categorized as an American Amber/Red Ale but it seems to be a lager and perhaps should classified as an Amber/Red Lager instead.
According to a blurb on Sapporo's Japanese webiste: "This is an 'Amber beer'-type Ebisu that has realized the taste of amber color by adding crystal malt to the original Ebisu beer and increasing the total amount of malt used." (http://www.sapporobeer.jp/yebisu/kohaku/index.html)
In other words, it sounds like an Ebisu, a lager, brewed with more malt and including crystal malt in the mash bill.
1,270 characters
3.11
/5
rDev
-1.3%
look: 3.5 | smell: 2.5 | taste: 3.5 | feel: 3 | overall: 3
A- 1 finger of head, slight retention, minimal lacing. Light amber color.
S- Light, simple hop aroma.
Hop; 'The Hop'?
Singular Japanese crop?
T- Lasting Hop Flavor, initial to mid- to after- taste. No yeast flavor, not much maltiness worthy of mention.
M- Light-medium body, above average carbonation balances The Hop Zing bitterness nicely.
D- While not memorable or particularly pronounced, The Enjoyable Hop (The One Hop refered to in The Prophecy?) flavor is the theme of this beer. A good beer to assist a BBQ, but not complex enough to merit drinking it alone.
570 characters
2.69
/5
rDev
-14.6%
look: 3.5 | smell: 2 | taste: 3 | feel: 3 | overall: 2.5
A - Comes in a plain red yebisu style can. There is one finger of head, and only the tiniest amount of lacing. Good carbonation that lingers even after a few min. Kohaku means 'amber' but the color of this beer is less amber-like and more like strong apple juice.
S - A bit of linseed oil. The hoppy sourness that you find in almost every single beer Sapporo makes. I'm seriously beginning to think that Sapporo only buys one type of hop for everything. The smell is mild, not really inviting, not really foretelling. No noticeable yeast smells.
T - The smell is mild which leaves you unprepared for the strong initial hop smack in the face you get on the first sip. The contrast is huge. No transition. There is a mild lingering hoppy aftertaste with a bit of pool water in it that sticks around for about 2 min. Very basic. Hop at the beginning; hop at the end. No yeast flavor at all.
M - Fizzy low viscosity, however there is a nice smooth creaminess that penetrates despite the hoppyness.
D - This is overall boring. There is no smell and a strong single hop flavor. This to me tastes less like an ale and more like a dry lager. It's not a complex flavor at all. This would not be a good beer to drink by itself. Pair this with some kind of food. Anything.
1,265 characters
3.25
/5
rDev
+3.2%
look: 3.5 | smell: 3.5 | taste: 3 | feel: 3 | overall: 3.5
Appearance: Light amber brew with a thick golden head. Rustic appearance.
Smell: Clean with hints of hops. Slight malt aroma.
Taste: Very subdued flavor. Hints of smoky malt. This is less flavorful than regular all-malt Yebisu.
Mouthfeel: Light-medium body. Semi dry.
Drinkablity: Tasty, but a bit of a disappointment. I expected more from the Yebisu line and was excited to see an amber in the lineup. It was not as good as the other Yebisu varieties I have had, but it was still a serviceable brew.
506 characters
2.52
/5
rDev
-20%
look: 2.5 | smell: 3 | taste: 2 | feel: 2.5 | overall: 3
Light amber colour with a thin off-white head. Mild fruity aroma is a touch on the bland side. A bit of nut, some fruit and a light dose of hops are encompassed in a bit of a boring flavour profile. Thin body and over-carbonated. Just as bad as any other macro amber / red ale I've ever had.
291 characters
Yebisu Kohaku from Sapporo Breweries Ltd.
3.15
out of
5
based on
33
ratings.