Gary's Wine & Marketplace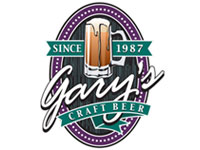 PLACE INFO
Type:
Store
100 Morristown Rd
Bernardsville
,
New Jersey
, 07924-2338
United States
(908) 766-6699 |
map
garyswine.com
Notes:
No notes at this time.
Added by BeerAdvocate
Ratings: 13 | Reviews: 8
Reviews by Jimmys:
3.43
/5
rDev
-8.3%
vibe: 4 | quality: 3.5 | service: 3 | selection: 3.5
being from this area, i usually make my way over to Gary's every time I visit NJ to see my family. Gary's is a known wine spot, but also sports a reasonable beer section as well. the store is clean and well put together, with the good stuff (beer) being in a back corner of the store.
as for the important stuff (selection) it is pretty decent. breweries from the north east are best represented and are usually the reason i go. especially for the specialty releases. expect hard finds from allagash, weyerbacher, df, and some other breweries not necessarily from the east coast (i recently found an old rasp. XI). german, english, and especially belgian beers are well represented as well with a lot of common brews, but some hard to finds as well.
prices are pretty reasonable and service is there, but you usually need to ask for help. i do dislike that i cant build my own 6, except from the bombers/limited bottles that are on their own shelf. overall, worth a visit to try and find that rare bottle you have been meaning to try!
1,038 characters
More User Reviews:

5
/5
rDev
+33.7%
vibe: 5 | quality: 5 | service: 5 | selection: 5
4.21
/5
rDev
+12.6%
vibe: 3.5 | quality: 4 | service: 5 | selection: 4
4.41
/5
rDev
+17.9%
vibe: 4 | quality: 4 | service: 5 | selection: 4.5
Most of the reviews of this establishment are from a while ago. I have been going to Gary's in Bernardsville for 2 years. When I started going, it was 100% a wine and specialty food store that had some decent beer tucked in the corner. The selection was not great but the prices kept me coming back. I was able to save a few dollars on beers at this place. Again, the selection was nothing to write home about and the presentation was pretty disorganized.
Fast forward a bit. Around a year ago (Spring of 2013) the focus on beer changed here. A place that previously gave little attention to beer was bringing in new, hard to find brands at the time (SlumBrew, Clown Shoes, tons of Maine stuff). The beer area slowly expanded and became more organized. As someone who primarily looks for rare/novelty single bottles (750mL), they started giving me more and more reasons to come back. I came to rely on Gary's to have new releases as soon as they hit the area (Stone EnjoyBy's, Goose Island BCBS).
When I first started going to Gary's, customer service (for beer-goers) was average to poor. Walking in this wine store as a beer fanatic made me feel like a Yankees fan at Fenway. The staff did not seem to know much about the growing craft beer scene, as my request for imperial stouts only garnered Guinness and some Sam Smith stuff (not terrible, but not what I wanted).
Today, I am comfortable walking into Gary's looking for beer. They have a few knowledgable guys on staff, most notably "Doug" who runs a free tasting every Thursday. They ask me and other customers if I'm looking for a certain style and then are able to give multiple suggestions depending on varying tastes. They even send e-mails to customers to give them updates on new beers that arrive (some really good, rare stuff).
The transformation in the beer area at Gary's over 2 years has been ridiculous. I'm always happy to go and I feel like I have found a secret gold mine (who goes into a wine store looking for beer?). I recommend this for anyone in the area…just make sure you ask for the beer manager and you'll take home some great new brews.
2,125 characters



2.98
/5
rDev
-20.3%
vibe: 4.5 | quality: 4 | service: 1 | selection: 2.5 | food: 4.5
By the name of the place, I went with in moderate to low expectations. My expectations were met and exceeded.
The store is in an up-scale strip mall (nice cigar shop a few doors down).
It is neat, impeccably clean, and well lit. It is a very large store that is divided almost equally between wines, more wine, than some wine. (Hence the name) After that, gourmet food and hard liquor come next. Beer is a serious after thought as is the gift items/barware section.
All the usual suspects here. BMC, Sam Adams, Harpoon, and the everyday imports. This is the same selection that you can find in every liquor store in NJ. Not one bottle of anything remotely unique.
Staff, yup, they walked by me and never said a word.
Don't go out of your way (across the street) for this one.
785 characters
4.22
/5
rDev
+12.8%
vibe: 4.5 | quality: 4 | service: 4.5 | selection: 4 | food: 4.5
Atmosphere -- The Gary's in Bernardsville is a rather large store that is divided almost equally between beer, wine, gourmet food, and booze. There is a small area of gift items and accessories as well.
Quality -- This place sells good beer. There is a large refrigerator with most brands already chilled. They also have plenty of unrefrigerated beer too. They have plenty of high end beer and wine.
Service -- You never have to wait to check out. They have knowledgeable staff who can answer your questions about all of the products they have. I have been told that they would order certain varieties of beer for me, but they never followed through which is the only thing that keeps me from giving them a perfect score.
Selection -- They have all varieties of beer here. Obscure Belgians, Koelsch, Lamboise, domestic micro brews, whatever. They also sell British crisps and biscuits and teas, etc.
Food -- Ordered an antipasta for a party. It was unbelievable. They have all the cheeses and crackers you could want.
Value -- They are not discount, but the store across the street charges almost a dollar more for a six-pack of Anchor Steam if that is any indication.
1,173 characters

4.2
/5
rDev
+12.3%
I must say that Gary's in Madison is my go-to beer store in my area, so I was always really curious to venture further south to check out their other location down in Bernardsville...
Located in a strip mall in a rural town, I was really impressed by the overall cleanliness of the place... Everything was spotless and very clean... Secondly, the minute I arrived in, I was greeted by an employee who gladly walked me over to the beer section in the far right corner of the store...
I was surprised to see that this location carried quite a few products that Gary's in Madison didn't...
Among the best, they carried a few Jolly Pumpkin beers, a full line of Unibroue, Samuel Smith, many Scottish imports, Beer Geek Breakfast, Boulder beer, St. Bernardus, Achel, and others... There was a solid selection Belgians, English beers, a few Germans, and a real nice craft selection...
Overall, the place is pretty out of the way for me, but if you're in the area, it's worth a go...
976 characters
3.65
/5
rDev
-2.4%
I had always known Gary's as a wine shop, but my father in law informed me that they had made great strides in their beer selection so I figured I would check them out.
The store is very clean with a nice gourmet cheese section. The vast majority of the store is wine.
Definitely own of the better beer shops west of 287 and north of 78. No singles to speak of and only a few beers that caught my eye. CLB Nor'easter, Stone Double Bastard, and a nice Unibrue selection.
I was greated almost immediately after entering the store and was asked if I needed help twice. The sales staff was attentive without being pushy.
Overall, this is a decent store to stop in at if you are passing by, but I wouldn't go out of my way to get there.
736 characters
3.85
/5
rDev
+2.9%
I've been shopping at the various Gary's outlets for some time. When this one opened up, I went to take a look.
Quality: I would say that the selection is about the same as the store in Madison, although singles are not on offer. Unfortunately, this is not uncommon in NJ (in my experience). Few stores offer singles, other than for the larger bottles. Obviously, as a new store, things are much cleaner and better laid out than in the Madison store.
Service: In-store service is very good to excellent. They always seem helpful in finding things for me and answering questions. I would guess that they might consider breaking up sixers if you wanted to buy singles, but I didn't ask about this. They are also pretty good about ordering things that you are interested in. It is also a much more convenient store to shop than the other outlet.
Selection: For those of you who seem to have access to great beer stores, this will not impress you. However, other than making pretty long drives to Somerville Supersaver and Oaktree (both almost as far as going to Shangy's for me), this store and the one in Madison have become my main sources as Bottle King becomes worse and worse.
Backwash: Probably not a "destination" store, but one that is better than average for Northern New Jersey.
1,336 characters
3.2
/5
rDev
-14.4%
Of the three Gary's, this one has the smallest selection. I don't remember ever really buying anything here that I couldn't get somewhere else. I think I bought something just to make me feel like I didn't go all that way for nothing. If you are local it is a good place to pick up some beer, but you are not going to get too many beers that you couldn't get by going to one of the other fine liquor stores that are not too far away. This has the most emphasis on wine of the three Gary's. I guess I'm jaded because I've been to Oak Tree Buy Rite and Somerville Supersaver.
573 characters
Gary's Wine & Marketplace in Bernardsville, NJ
3.74
out of
5
based on
13
ratings.