Insurgente Brown
| Cerveceria Insurgente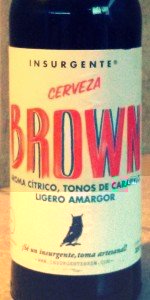 BEER INFO
Brewed by:
Cerveceria Insurgente
Mexico
insurgentebrew.com
Style:
American Brown Ale
Alcohol by volume (ABV):
5.30%
Availability:
Year-round
Notes / Commercial Description:
No notes at this time.
Added by DeanMoriarty on 02-20-2012
Reviews: 9 | Ratings: 20

3.53
/5
rDev
-8.5%
look: 4 | smell: 3.5 | taste: 3.5 | feel: 4 | overall: 3.25
Quite handsome stuff, with clouds of foam on the golden brown brew. Very fizzy in the mouth but it's the way I like it, especially with these brown concoctions. Faint aroma of roasted barley.
Dry and malty at the same time. A slight dose of caramel. Some herbal tasting hops. Rather bitter aftertaste. Thin and leafy green flavors as you sip.
Not something I want to drink again, but I'm glad to taste a nouveau Baja brew From the 22 oz bottle purchased at Bottleworks in North Park.
485 characters

3.56
/5
rDev
-7.8%
look: 4.5 | smell: 3.5 | taste: 3.5 | feel: 3.5 | overall: 3.5
Quite a dark brown, initial pour is super-foamy (as was the other Insurgente beer I had - a witbier that is not on BA but I did not take notes to review. It's not very good). A cap of a solid inch lasts all the way down. Very lacy with good legs. A spectacular brown ale appearance in general.
Light aromas of toasted barley with a sweet caramel edge and a surprisingly hoppy note as well. Slightly roasted as well, goes nicely with the dark look.
Flavor is even more hoppy than the nose and completely uncharacteristic for a Mexican beer. Earthy hops with a note of pine; "darker" hop flavors. Backed up by an insistent coffee flavor - this is an interesting way to make brown; I suppose that green hops and black espresso make brown ale! Caramel malt is back there as well, but surprisingly heavy on the bitter notes. I love it, but your mileage may vary.
Body is right about medium, maybe a little light with that load of hops and astringent roasted notes. Good aftertaste and very long lasting on the tongue. This is basically a really unusual brown ale, English in a certain sense but hoppy enough for the West Coast palate - and really strange for a Mexican brewery. Got this bomber at the Beer Box Condesa in DF, and if you live in the City and love some hops, you'll need to try this one as well.
1,310 characters

3.66
/5
rDev
-5.2%
look: 4 | smell: 3.5 | taste: 3.75 | feel: 3.25 | overall: 3.75
Almost opaque dark mahogany with a thick beige head.
A little roasty. A little toasty. Some cocoa caramel. Hint of pine.
Lighter than medium crisp mouthfeel. Nice dry bitter finish.
Could have used more of a creamier body but I do like the aroma and flavor.
257 characters
3.69
/5
rDev
-4.4%
look: 3.75 | smell: 3.5 | taste: 3.75 | feel: 3.75 | overall: 3.75
Bottled on: 7/10/15.
Pours an opaque super dark brown with a foamy dark khaki head that settles to a partial film on top of the beer. Foamy rings of lace line the glass on the drink down. Smell is of toasted malt, roasted nut, earth, pine needle, and slight burnt rubber aromas. Taste is much the same with burnt toast, roasted nut, and earthy hop flavors on the finish. There is a mild amount of toast and hop bitterness on the palate with each sip. This beer has a lower level of carbonation with a slightly crisp mouthfeel. Overall, this is a pretty good beer that is tasty, but the slight burnt rubber aroma is a bit unpleasant.
Serving type: bottle.
657 characters
3.87
/5
rDev
+0.3%
look: 4.5 | smell: 3.75 | taste: 3.75 | feel: 4 | overall: 4
A - Deep brown hue, with a thick bone-colored head that has good retention and nice lacing. All in all a very good look for a brown ale.
S - Smell is very light, but matches the style: toasted barley, caramel, malt, a bit of coffee and, as some other have noted with surprise, a hoppy note's in there as well.
T - Matches the smell, but it's much stronger. The hops come out to the front as you drink it, but of course the predominant taste is the malt and the roasted flavors.
M - Medium, with appropiate carbonation and a crisp finish. Good aftertaste.
O - It's a good beer, both in general terms and for its style, but I admit I'm more of a hops guy than part of the roasted flavors crowd, so this isn't my favorite.
723 characters
3.94
/5
rDev
+2.1%
look: 3.5 | smell: 3.75 | taste: 4 | feel: 4.25 | overall: 4
Light brown color with a thick beige head with good retention and leaving some laces.
Aroma with notes of creamy chocolate, piney and citrusy hops, cocoa and nuts.
Nice hoppy flavor with notes of piney and peppery hops, roasted, grainy and toasted malts, "jabuticaba", cocoa, tea bags, nuts, earth, chalk, American yeast and its spices and some coffee. Not really sweet. Quite dry aftertaste with a roasted and hop bitterness.
Light body with appropriate carbonation.
Very nice American Brown Ale (bordering Brown IPA under the new classification?), it is sure a native speaker although Mexican born. Clear hoppy forward and still with a preponderant roasted malt base. I could drink this any day. Well done.
712 characters

3.94
/5
rDev
+2.1%
look: 4 | smell: 3.75 | taste: 4 | feel: 4 | overall: 4
Served vigorously in a nonic pint, it pours a dark copper with a red hue, clear, with a two-finger light brown head, sudsy, with excellent retention that gradually deflates until it becomes a one-finger head, permanent. The lacing is beautiful.
The bouquet is an interesting mix of citric, piney notes and roasted malts. Toffee, caramel and coffee are very present too. It's a shame that it lacks assertiveness.
The flavor follows the nose. Upfront you get a high carbonation, and a flavor containing the hoppy citric, earthy notes, roastiness and some malty sweetness. A herbaceous note, slight chocolate and brown sugar are present too. The caramel and coffee then enter the frame, with a growing bitterness that becomes strong when it reaches the aftertaste, which is long.
Medium to light body, smooth, nice carbonation.
A very nice and complex beer.
859 characters
4.02
/5
rDev
+4.1%
look: 4 | smell: 3.75 | taste: 4.25 | feel: 3.75 | overall: 4
L- Dark brown with a creamy head. Great lacing.
S- Burnt caramel and slight grains.
T- Toasted caramel with coffee notes. Hoppy aftertaste.
F- Smooth, a bit watery.
O- Very nice beer, would be better with a rich feel.
217 characters

4.21
/5
rDev
+9.1%
look: 4.5 | smell: 3.5 | taste: 4.5 | feel: 4 | overall: 4.5
Purchased a 22oz bomber for $5. from the Beer Box in Tijuana and poured it into a pint glass.
A: Pours a deep mahogany unfiltered hue with a one inch tan head that sticks around for a few sips, leaving a ring of foamy bubbles around the edge for the entires glass, tons of lacing from start to finish.
S: Smell is light - bready, toasted grains, carmel malt, espresso, with a bit of mellow earthy hop to round it out.
T: Similar to the nose but flavors are bold - the hop is also much more in the mix - mossy and chlorophilic, with fresh cut grain, big time roasted coffee that is balanced damn near perfect with the sweet carmel malt. Super tasty!
M: Medium bodied, carbonated well for the style, finish is crisp and clean with a nice lingering bitterness from good amount of hops used in this one.
Real good job with this one fellas - damn tasty English style brown with a noticeable nod to the West Coast preference of flavor with all that wonderful hoppiness.
969 characters
Insurgente Brown from Cerveceria Insurgente
3.86
out of
5
based on
20
ratings.