Hop Met De Gijt
| Brouwerij De Natte Gijt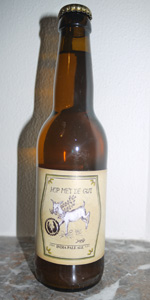 BEER INFO
Brewed by:
Brouwerij De Natte Gijt
Netherlands
|
website
Style:
American IPA
Alcohol by volume (ABV):
6.50%
Availability:
Year-round
Notes / Commercial Description:
No notes at this time.
Added by Jeffo on 03-23-2013
Reviews: 7 | Ratings: 14
Reviews by supermeniscus:
3.83
/5
rDev
+4.4%
look: 3.75 | smell: 3.75 | taste: 3.75 | feel: 4 | overall: 4
Bottle from ABC beers in The Hague. This is the version brewed with Tomohawk. hazy orange colour which leaves a ring of lace. Lingering bitterness with a good mouthfeel. No alcohol detected in the taste.
One of the better Dutch IPA offerings. Reccommended...
★
259 characters
More User Reviews:

3.96
/5
rDev
+7.9%
look: 3.75 | smell: 4 | taste: 4 | feel: 3.75 | overall: 4
330 ml bottle, Firmabier - Pours cloudy amber with a large white foamy head. Medium carbonation. Nice lacing. Smell- citrus - orange, light yeasty background. Taste - Citrus - grapefruit, slight grassy elements, dry bitter finish. Solid IPA.
★
241 characters
4.28
/5
rDev
+16.6%
look: 3.75 | smell: 4.5 | taste: 4.25 | feel: 4.25 | overall: 4.25
Brewery from my home country I've not encountered yet. Very curious.
Small bottle of beer.
Smell is great of pine and citric hops, very powerfull. Nice.
Golden beer with a good creamy, strong, beige head. Powerfull carbonation.
Taste is bitterness all over, as it should be. Melon, citrus grapefruit, pine.
Refreshing with alcohol well covered.
In short, it's a good drink, the style done justice.
★
399 characters
3.61
/5
rDev
-1.6%
look: 4.25 | smell: 3.75 | taste: 3.5 | feel: 3.5 | overall: 3.5

2.61
/5
rDev
-28.9%
look: 2 | smell: 3.5 | taste: 2.5 | feel: 1.5 | overall: 2.5
New Dutch brewery making some noise here. Glad to give them a try. This one was brewed at Brouweruj Anders! in Halen, Belgium.
From a bottle into a snifter
IBU: 60
Amarillo hops
APPEARANCE: This one slowly foamed out upon opening. The pour yeids a huge, loose, thin, fizzy, foamy off-white head with decent retention. Head pops and swiss cheeses down to a foamy cap. Hazy gamboge or orange peel in color with piles of crazy carbonation all over the place. Loose, foamy and fizzy head eventually fades to a foamy cap and leaves lots of chunky lacing down the glass. Lots of carbonation all over the place. This is an ugly beer.
SMELL: Quite nice here. Plenty of floral hops, lemon, citrus grapefruit and grassy touches. Lots of flowers and citrus on the nose, and bold enough as well.
TASTE: Melon notes and some grassy flavors up front, then lots of nice floral hops, lemon and citrus notes at the swallow. A bold and lingering finish of floral and grapefruit bitterness and freshly cut grass. Decent bitterness lingers with some nice hop flavors as well. This is rather nice; too bad the feel sucks so hard.
PALATE: LIght and airy on the palate, and fizzy going down. Not creamy at all, airy at the swallow and finishes lightly mouth coating. Way too light, airy and fizzy for the style. This part sucks and really holds the beer back. It settles a bit as it sits, but it still is a big distraction.
OVERALL: The nose and taste are actually quite nice, but the overly airy and fizzy palate make this a difficult one to enjoy. A shame really. Future batches might show improvement, but as it is now, this is a poorly executed brew. I know how passionate these guys are, so I hope this works out.
★
1,707 characters
3.52
/5
rDev
-4.1%
look: 3.25 | smell: 3.75 | taste: 3.5 | feel: 3.25 | overall: 3.5
3.68
/5
rDev
+0.3%
look: 3.5 | smell: 3.5 | taste: 3.75 | feel: 3.75 | overall: 3.75
Light orange haze with a small head, though it retains quite well. Nice amarillo smell of flowers and citric, but this gets weak pretty fast. The taste has lots of resin flavour, with fruit like figs and oranges joining the party as the beer warms up. The yeast gives it wuit a smooth mouth feel. A nice IPA, but it could have been a little hoppier.
★
349 characters

3.5
/5
rDev
-4.6%
look: 3.5 | smell: 3.5 | taste: 3.5 | feel: 3.5 | overall: 3.5
This is a nice IPA.
It looks and smells the part. The taste is good, not to much bitterness and not to many floral notes. And the mouthfeel is okay. Overal defnitely a decent beer.There is nothing wrong with it, but it's also not very memorabe. So overall, okay.
★
262 characters

3.68
/5
rDev
+0.3%
look: 3 | smell: 3.75 | taste: 3.75 | feel: 3.5 | overall: 3.75
Orange, amber color with a decent white head.
Superfruity aromas, with hints of lemon peel, honey and fresh cut grass.
Has a mild beginning, due to soft, bready malts, with an uprising bitterness, defined by ripe fruits, mango and grapefruit. Lemony impression gets pointed out very well by the lively carbonation, leading to a fizzy, almost lemonade-like character. After that, sweeter malts get detectable and act as the counterpart of the lemony bitterness, creating an exellent balance. Results in a pleasantly bitter, coppery finish.
★
542 characters
Hop Met De Gijt from Brouwerij De Natte Gijt
-
out of
100
based on
7
ratings.