Dismiss Notice
Dismiss Notice
Samichlaus Bier Helles
| Brauerei Schloss Eggenberg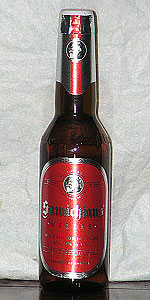 BEER INFO
Brewed by:
Brauerei Schloss Eggenberg
Austria
|
website
Style:
Doppelbock
Alcohol by volume (ABV):
14.00%
Availability:
Rotating
Notes / Commercial Description:
No notes at this time.
Added by mikesgroove on 11-25-2007
Reviews: 228 | Ratings: 397
3.98
/5
rDev
+6.1%
look: 4.5 | smell: 4 | taste: 4 | feel: 3.5 | overall: 4
I will preface this by saying that i dont believe that "doppelbock" is the appropriate style for this beer to be lumped into...yeah though it is a very (very, very, very) high-alcohol lager, and is produced under the Mark that is notorious for a particular high-alcohol doppelbock, i tend to think that the simple fact that they put the word "helles" in the name of the beer dictates that the beer be concidered an Helles lager; I have therefore reviewed this beer with my understanding of "helles" in mind...
from a forum post that i made before this beer had been added to the dbase:
"we just got this into the bar (2 cases), and I have just cracked one open to sit down and write a review, and alas there is no listing for it in the dbase (and i have not been diligent enough in my reviewing to have the ability to add it)...so i will just go ahead and write a review here:
11.2 fl oz brown glass bottle with red and silver label, stating the standard for samichlaus: brewed on the 6th of December, aged for 10 months, with the addendum that the 2007 bottling of the Helles was the first since 1986. Poured (in a 14oz englished pilsner glass) a crystal-clear dark-straw / light-amber color; with very minimal head and less lacing than a Coca-Cola.
Smell is of day-bread: slightly yeasty, slightly sweet, slightly wheaty, slightly malty; all very evenly balanced.
Taste leans towards sweet, but maintains much of the bright, easy-going-helles-lager flavours of raw grain and crispness from the carbonation as well as the drying hops;
On the other hand, the mouthfeel betrays these tastes with significant linger on the tongue, as well as a heaviness/thickness that tends to be way too much on the tongue for what i expect a "helles" to posess. There is quite a bit of stick-to-your-tongue action here, and not as much bubble on the tongue as I would have wanted, and (go figure) the 14% ABV is blatantly obvious on the back of the throat.
Drinkability: well, i would be hard pressed to drink more than three of these...if only for the fact that walking would be slightly difficult afterwords...I am currently half-way through one and the feeling in my throat is starting to remind of the days when i drank scotch on a regular basis. I will say that this is a prime example of a Helles on steroids, it is much boozier, and certainly a bit sweeter than i would expect of an Helles, but other than that it does remain true-to-form (so well as I know the style) and if half of one didn't make me as tipsy as this one has, i would really be in the mindset of drinking a few of these...."
★
2,586 characters
4.63
/5
rDev
+23.5%
look: 4.5 | smell: 4 | taste: 5 | feel: 4 | overall: 5
Just came in stock.
Pours a golden straw color, still decent carbination for a 14%er.
Poured into a Cantillon glass for the nose. A noticable chocolate and blueberry came up, plus the candy sugar.
The first taste was of upfront candy sugar and slight hints of tangerine. This beer is big. Contained large mouth feel, not a big aftertaste. Light hop bitterness as the beer warmed, hints of champagne throughout.
The easiest way to describe this beer is as "extremely enjoyable."
Last brewed in 1986, I hope they keep release this beer yearly from now on.
★
557 characters
3.88
/5
rDev
+3.5%
look: 4 | smell: 3.5 | taste: 4 | feel: 4 | overall: 4
330 ml bottle poured into a snifter
Ok so I saw this one on the shelf and was a little curious. At first I by passed it as it looked the same as a regular but then noticed it was a special edition so I had to pick one up. It poured a nice pale golden yellow with a smallish head that faded quickly. The aroma was full of malt and grass like smells with a touch of alcohol, but that is to be expected. The flavor was much sweeter then I thought it would be with a nice rounded caramel tone a good amount of brandy like alcohol thrown in. Some bready and cereal like malt base making up the rest with a sweet sugary finish that was sprikled with a touch of floralness. Overall this was a good bit different then the normal, seemed to be a bit sweeter, defintly lighter looking and a touch hotter with the alcohol. Very intresting find and will have to go back to the store and grab a couple more.
★
897 characters
Samichlaus Bier Helles from Brauerei Schloss Eggenberg
85
out of
100
based on
228
ratings.