Silent Shroud
| Relic Brewing Co.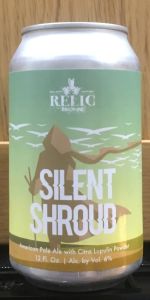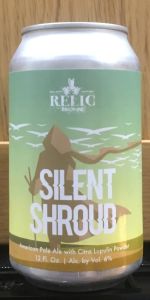 BEER INFO
Brewed by:
Relic Brewing Co.
Connecticut
,
United States
relicbeer.com
Style:
American Pale Ale (APA)
Alcohol by volume (ABV):
6.00%
Availability:
Limited (brewed once)
Notes / Commercial Description:
American Pale Ale brewed with Citra Lupulin Powder
Added by ichorNet on 08-11-2017
HISTOGRAM
Ratings: 10 | Reviews: 4
Reviews by agreenman19:
4.35
/5
rDev
+6.6%
look: 4.25 | smell: 4.25 | taste: 4.5 | feel: 4.25 | overall: 4.25
L - let the haze craze continue. Dark orange glow with a big head that quickly dies down.
S - smells like a lighter version of their other recent IPAs. Tangerine and nectarine galore with hints of lemon and some paint-like booziness.
T - crisp and toasty. Raw hop juice yields a sweet and candied tangerine orangina.. ness. Grain sweetness and dry, freeze-died papaya chunks. Sucks the moisture right out of the mouth.
F - subtle at first, but blows up big time. Commanding presence. Easy-drinking and full.
O - seems like a Relic IPA Lite. Not a bad thing at all. Juicy and restrained, this makes for a great session when all you're doing is drinking 8% DIPAs.
669 characters
More User Reviews:

4
/5
rDev
-2%
look: 4 | smell: 4 | taste: 4 | feel: 4 | overall: 4

4.3
/5
rDev
+5.4%
look: 4 | smell: 4.5 | taste: 4.25 | feel: 4.25 | overall: 4.25
12oz can. Pours a turbid pale orange with an inch plus of frothy white head. Very little lacing. Tons of lemon and lime in the nose. Sweet grapefruit, tangerine, peach and mango. The taste is mostly of the citrus and tropical fruits. Lime, lemon, pineapple, mango, tangerine and peach. Toasted malts show at the end with more Citra hops and some light dank notes. Dry mouthfeel with lots of carbonation. Mild alcohol heat. This is a Pale Ale that packs a great hoppy, fruity punch. Worth seeking out.
500 characters
3.48
/5
rDev
-14.7%
look: 3.75 | smell: 3.75 | taste: 3.25 | feel: 3.5 | overall: 3.5

4.47
/5
rDev
+9.6%
look: 4 | smell: 4.5 | taste: 4.5 | feel: 4.5 | overall: 4.5
Relic has been massively hit-or-miss for me, but this new release from them really piqued my interest as it will be the first beer I've ever had that uses "Cryo Hops," which in this case refers to the powder separated from the whole-leaf hop during cryogenic separation. Cryo Hops were developed by YCH earlier this year and have recently become available for homebrewers, meaning I have an intense desire to try using them in the next hoppy beer I work on with my buddy. This is a review for research, folks!
Pour is a massively-hazy golden yellow-orange with an impenetrable, frothy ring of white foam that sinks from several fingers down to about a half-finger after several minutes in my glass. The retention is not incredible here, but the lace this displays seems pretty good and the surface has a really nice, moderately-dense haze to it as well. Pretty much looks like most Trillium (et al.) beers I've had lately. Take that as you will; I think it presents pretty solidly.
Nose is straight-up tropical fruit juice with pineapple, mango and papaya backed up by lighter notes of tangerine, fresh-squeezed orange juice and even-lighter elements of pine sap and resin. This brew utilizes Citra lupulin powder (aka LupuLN2), which I think really displays the best aspects of Citra without getting into the catty and overly-bitter aspects it can sometimes give off. Since this seems to be the entire stated purpose for LupuLN2, I'd say YCH nailed their stated goal. Relic utilizes it quite well here, as this has a wonderful aroma that doesn't come across too punchy, but instead rather creamy and nuanced. Great smelling brew!
Flavor is super-juicy as well, probably on a level that, pound for pound, I haven't really tasted since the first time I had something like DDH Fort Point... especially taking ABV into account here, this is truly an excellent-tasting underdog in the NEIPA/hazy APA realm. The green and dank qualities fade quickly from the palate as strong mango, orange and pineapple flavors mingle with slightly-bitter grapefruit rind and ripe tangerine in the mid-palate. A deft and mostly-unobtrusive malt backbone helps provide some structure to the proceedings right before a pine-y bitterness and more juicy tropical flavors coalesce in a long, satisfying finish. Incredible flavor here. One of my favorite pale ales in recent memory.
Feel is soft, smooth and only moderately carbonated, with a lightly-bubbly push that makes itself felt just enough to push the complex fruity hop flavors on the palate. Like most NEIPAs, this has a somewhat-heavier body than a usual hoppy pale beer clocking in at 6%, so keep that in mind when approaching this one.
I honestly love finding beers like this from small, no-hype breweries doing fantastic work here and there. Relic really knocked this one out of the park even though their overall success rate has been, to me, rather unfortunate. However, I will take this as a sign they are improving and look forward to more of their brews from here on out. I'm extremely impressed with this!
Note: the only thing I dislike about this beer is that there's no canned-on date on it at all. I am of the mind that the consumer should know when their beer was packaged in order to ensure freshness. I know this is fresh as it was just released recently and is only one batch so far, but many others may skip this due to that fact. I'll overlook it just this once but I really wish Relic would work on this in the future.
3,477 characters
3.79
/5
rDev
-7.1%
look: 3.75 | smell: 4 | taste: 3.75 | feel: 3.5 | overall: 3.75
Pours a bright yellow color - mostly opaque and somewhat cloudy. One finger white bubbly head dissipates steadily leaving a partial slick of white foam on top of the beer.
Aroma has notes of lemon, tangerine, orange, and some nectarine.
Taste follows the nose with some fruity flavors coming through - notes of lemon, tangerine, peach, orange, and nectarine. Strong crackery malt backbone is noted underlying the fruity flavors. There is a strong hop flavor on the finish that leaves a bit of a burning sensation on the tongue.
Feel is light, slightly fizzy, bit of a burn on the finish.
Overall a solid above average pale ale.
636 characters
4
/5
rDev
-2%
look: 4 | smell: 4 | taste: 4 | feel: 4 | overall: 4

3.77
/5
rDev
-7.6%
look: 4 | smell: 3.75 | taste: 3.75 | feel: 3.75 | overall: 3.75
4.38
/5
rDev
+7.4%
look: 4.25 | smell: 4.25 | taste: 4.5 | feel: 4.5 | overall: 4.25
4.21
/5
rDev
+3.2%
look: 4 | smell: 4.25 | taste: 4.25 | feel: 4 | overall: 4.25
Silent Shroud from Relic Brewing Co.
Beer rating:
4.08
out of
5
with
10
ratings