Queen Anne's Revenge Porter
| Relic Brewing Co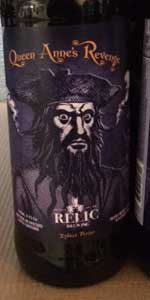 BEER INFO
Brewed by:
Relic Brewing Co
Connecticut
,
United States
relicbeer.com
Style:
English Porter
Alcohol by volume (ABV):
7.75%
Availability:
Limited (brewed once)
Notes / Commercial Description:
No notes at this time.
Added by nebula1999 on 10-03-2012
This beer is retired; no longer brewed.
Reviews: 7 | Ratings: 30
4.25
/5
rDev
+1.9%
look: 4.25 | smell: 4.25 | taste: 4.25 | feel: 4.25 | overall: 4.25
22 oz bottle. Pours a thick black with very little head. What little head there is quickly disappears. Aroma strong roasted malt , coffee, chocolate, and black licorice. This is most definitely a high end porter, with tastes of chocolate, tobacco, butter scotch, and coffee. Very creamy and smooth mouth feel with very mild carbonation. Bitter hop notes at the end that dissipate with a pleasant butter scotch after taste. Overall a well done porter.
450 characters

3.75
/5
rDev
-10.1%
look: 3.75 | smell: 3.75 | taste: 3.75 | feel: 3.75 | overall: 3.75
22oz bottle. Pours a pitch black color with an inch of frothy medium brown head. Some lacing. The aroma is earthy with chocolate, tobacco, caramel and roasted malts. The taste is chocolate and roasted malts upfront followed by earthy tobacco. Hints of smoke and dark fruits. Black coffee notes. Creamy, velvety mouthfeel. Lots of carbonation. Lots of earth, tobacco and dark fruit flavor in this one. Floral hop notes towards the end. Not a big alcohol presence. Overall, a decent Porter I'd grab again.
503 characters
4.49
/5
rDev
+7.7%
look: 4.25 | smell: 4.5 | taste: 4.5 | feel: 4.5 | overall: 4.5
Bottle was aged for about 4 months in fridge
Smell was amazing, roasted malts, coffee and chocolate, thick mouthfeel but not too thick, smooth and drinkable and just a real rich an amazing porter. According to brewery fact sheet, beer uses a large amount of brown malt, which must give it this unique and pleasant flavor profile, not too much coffee, not too much chocolate, somewhere in between, wish I had another.
417 characters
4.47
/5
rDev
+7.2%
look: 4 | smell: 4.5 | taste: 4.5 | feel: 4.5 | overall: 4.5
A deep, dark black colored porter, not much brown here except for the big bubbled tan head and filmy lacing. The aroma is a pretty intense and very unique malt lavender blend that suggests subdued rhubarb and floral sweetness. Very enviting! The flavor brings on an eye popping blast of grassy malt and floral-vegetable medley. Wow! Grabs your palate and says pay attention! And it works for me. Turnip and brussel sprout teaming up with some prune malt and lavender. Reading the other reviews I'm not sure why i don't pick up the more conventional assessment, but we all agree that this stuff is awesome. This will not be for everybody but I love the things Relic dreams up to enjoy like this. The body is near full and the feel is a bit heavy and dusty velvet. There's some dry charcoal in the finish. Relic is fun stuff though I exoect that this won't put a smile on everyone's face. But I'm ear to ear!
906 characters

4.42
/5
rDev
+6%
look: 4 | smell: 4.5 | taste: 4.5 | feel: 4 | overall: 4.5
Poured from a 32-ounce medicine bottle growler into a plain, tumbler pint glass.
A: Poured a very dark brown, near-black color with a two-finger head of tan foam which leaves a nice ring of lacing on the glass.
S: Very aromatic with hints of freshly ground tree nuts, molasses and some hickory with a wet tobacco leaf and chocolate syrup scent. Some herbal hops creep forward throwing some musky, earthy notes into the mix.
T: Robust, malty and earthy, the chocolate malts and almost smoky, earthy resins hit hard from the get-go. Rich, resinous hazelnut and cocoa nibs combine with velvety, earthy peat flavors before washing back with a bittersweet, somewhat boozy, roasted coffee freshness.
M: Full-bodied, rich, sweet and smooth with a nutty, herbal bitterness that adds enough astringency to keep it from being cloyingly sweet. Drinks as easily as it sips, which is a good problem to have.
O: This big-time English porter has plenty of rich, sweet malt character to go around at nearly 8% ABV, and its dangerously drinkable to boot. You might have to throw in the towel after a couple of 10-oz. snifters, though, because of its potency and palate-coating nature. That said, it's easily one of my favorite Relic beers to date.
1,235 characters
4.38
/5
rDev
+5%
look: 4.5 | smell: 4 | taste: 4.5 | feel: 4.5 | overall: 4.5
On tap last night at Eli's. This is the finest effort thus far from Relic. Creamy pillowy mocha head in my mug with a heafty aroma of chocolate with some burnt coffee. Creamy, chewy mouthfeel with loads of chocolate and very mild bitterness in the finish. Strong flavor, strong nose, and an excellent effort by my new favorite CT brewery.
338 characters

4.05
/5
rDev
-2.9%
look: 3.5 | smell: 3.5 | taste: 4.5 | feel: 4 | overall: 4
Described by the brewer as a "..roasty, hoppy, strong flavored black porter ".
Pours into Relic snifter nearly pitch black with thin tan head. No lacing.
Aroma is rich and roasty. Cocoa notes. Light hop overtones. Hint of smoke. Potent.
Taste is deep, broad and layered with nutty cocoa, very mild caramel, deep roasted malt, faint smoke and cleansed with mild hop finish that leaves a nice drying effect.
Mouthfeel is creamy and filling at first, then drying. Slightly chalky, which seems to be the hallmark of several Relic beers that I have sampled. Does not detract from enjoyment of the beer. Beer was in the growler unopened for nearly 10 weeks in the fridge. No sign of oxidation. Held up well.
705 characters
Queen Anne's Revenge Porter from Relic Brewing Co
4.17
out of
5
based on
30
ratings.