Blonde Golden Ale
| Village Brewery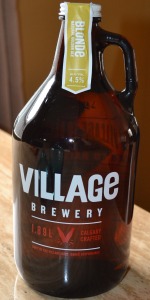 BEER INFO
Brewed by:
Village Brewery
Alberta
,
Canada
villagebrewery.com
Style:
American Blonde Ale
Alcohol by volume (ABV):
4.50%
Availability:
Year-round
Notes / Commercial Description:
No notes at this time.
Added by biboergosum on 04-06-2012
Reviews: 6 | Ratings: 25
3.88
/5
rDev
+9.9%
look: 4 | smell: 3.5 | taste: 4 | feel: 4 | overall: 4
A Yankee pint at the Craft Beer Market.
This beer appears a clear, glassy medium golden hue, with one finger of creamy off-white head, which settles rather quickly, leaving an array of pocked mesa lace around the glass.
It smells lightly of grainy malt, and burgeoning grassy, leafy hops. The taste is bready, crackery malt, some warm lemon juice, and sassy, grassy hops.
The bubbles are a bit zingy at first, but settle soon enough to play nice with the dry hoppiness, the body an unassuming middleweight, and agreeably smooth. It finishes with no discernible drop-off - malty and hoppy as ever was.
Welcome to Calgary's (and Alberta's, I hope) beer scene, Village Brewery. As I normally find Blonde ales bland and uninspiring, it is a pleasure to run into this offering, which is anything but. Sturdy malt, and appropriate hops (and a bit more, but who's counting). Session-worthy, if anything.
900 characters

3.3
/5
rDev
-6.5%
look: 3 | smell: 3 | taste: 3.5 | feel: 3 | overall: 3.5
341ml bottle poured into pint glass 3/10/12
A clear pale golden yellow with big bubbles and just a short lived pinky finger of foam that leaves no lace
S honey and perfume with some cereal and not skunk but some foot perhaps? some hay and faint citrus but has a faint weird, not quite off but not quite right thing going for it
T less of something strange and some lemon and floral notes added to what I smell, netter then the nose but still basic
M not quite watery but thin and the big bubbles don't cream it up but not foam either, sweet grains on the finish
O Ok but there's room for improvement, smells not inviting, tastes basic and pretty simple in general
Stoked to have a new brewery in my City but I've yet to be impressed. There's nothing wrong with this beer but I can't see myself ordering another with all my options in this breweries home town
866 characters

3.75
/5
rDev
+6.2%
look: 3.75 | smell: 3.75 | taste: 3.75 | feel: 3.75 | overall: 3.75
Draft pint at Craft Beer Market, Calgary. I'm happy to support another local brewery.
This beer is clear, golden yellow color. Short but tight off-white head, creamy foam leaves a sheet of lace, while taking its time fading away.
It smells of light grain malt, and a thin aroma of grassy hops.
The taste is a nice blend of bready malt, the same grassy hops as in the smell, a bit of lemony finish.
The carbonation gives a nice mouth feel, the body is light to medium, smooth and easy to drink.
Most blonde ales are pretty plain, and dare I say boring, but this one defies the stereotype. Big thumbs up!
606 characters
4.08
/5
rDev
+15.6%
look: 4 | smell: 3.5 | taste: 4.5 | feel: 4 | overall: 4
Appearance - Pours a clear, pale golden straw with a 1/2 finger width of white foamy head.
Smell - Grassy notes, grains and malts, hint of citrus fruit.
Taste - Nice grassy flavour and malty notes. Toasted grain and rice flavours are picked up in the finish. Very light bitterness factor.
Mouthfeel - Light-to-medium bodied with moderate carbonation. Good tingle and a nice crisp quality.
Overall - Another solid offering from Village Brewery. This brew has some nice crisp, light, and refreshing qualities. I agree with the previous review that this would be an excellent session beer. I'm excited with the creations that Village is concocting and I look forward to seeing what they come up with next.
706 characters
3.38
/5
rDev
-4.2%
look: 3.25 | smell: 3.25 | taste: 3.5 | feel: 3.5 | overall: 3.25
Pours a very pale yellow with a moderate amount of white head. Aroma non-descript, maybe a little fresh cut grass or hay, sweetish. Taste was pleasantly surprising after the mellow aroma, a sweet buttery underlay with mild spice, grass, cereal, cashew and custard notes. Finish sweetish but balanced by a crisp dryness. Rather decent session option and well-executed example of the style. Less hoppy than some American craft blondes. A touch of metallic copper in the finish but not enough to ruin the overall effect.
517 characters

3.18
/5
rDev
-9.9%
look: 3.75 | smell: 3.25 | taste: 3 | feel: 3.25 | overall: 3.25
This one pours like a fizzy, yellow and overcarbonated homebrew. It smells of fresh cut grass with a touch of honey. Mouthfeel is light and head doesn't really stick around all that long. It tastes pretty decent and it's an approchable beer that is going to appeal to a large audience of macro drinkers. The fact that The Village is treading lightly is easily understood as a handful of Alberta start-ups have come and gone over the year. Hope to see some bolder flavours in the future from these guys!
502 characters
Blonde Golden Ale from Village Brewery
3.53
out of
5
based on
25
ratings.