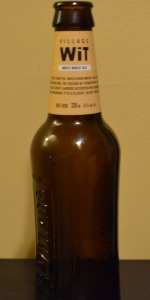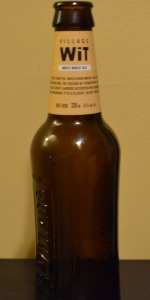 BEER INFO
Brewed by:
Village Brewery
Alberta
,
Canada
villagebrewery.com
Style:
Witbier
Alcohol by volume (ABV):
4.50%
Availability:
Year-round
Notes / Commercial Description:
No notes at this time.
Added by wordemupg on 10-05-2012
HISTOGRAM
Ratings: 39 | Reviews: 10

3.35
/5
rDev
+1.2%
look: 3.25 | smell: 3.25 | taste: 3.5 | feel: 3.25 | overall: 3.25
A light golden yellow offering with some haze but actually quite sparkling and bubbly for an unfiltered wheat beer. Aroma is sweet nutty malt, fruity bitter hops, there's citrus there but its in the background. A bit odd for a wit to have subdued citrus. The requisite coriander orange-lemon spice is on the palate but again, the main effect is a dry bitter hoppiness that masks more subtle peach, apricot, and apple fruity notes unless you go looking. I do not taste much orange per se. Less yeasty and sweet than many other wits, the dry bitter finish and fruit notes almost recall a Belgian pale ale. Its interesting but not essential.
638 characters



2.77
/5
rDev
-16.3%
look: 3 | smell: 2.75 | taste: 2.5 | feel: 3.25 | overall: 3
A little to bitter for my tastes. Oranges are naturally sweet, to include this taste then have the beer on the to me, overly bitter side undermines the purpose of the citrus flavoring. I would also have liked more carbonation in this beer, it was underwhelming for mouthfeel, which I was surprised at considering it poured with a lot of head. Seemed to be to clear for wit beer.
This beer probably is pretty thirst quenching though served cold on a hot day, I will give it another chance come summer.
501 characters

3.46
/5
rDev
+4.5%
look: 3.25 | smell: 3.5 | taste: 3.5 | feel: 3.25 | overall: 3.5
This is a pretty nice example of the Belgian wit style, and something that is much better than the macro equivalent, but overall I think it just lacks structure. It pours a hazy off-white/yellow and smells of light orange and coriander. I've only ever drunk it during down time indoors, but I could see this shining bright on a sunny Alberta summer patio with a nice sandwich and yam fries. My girlfriend's favourite beer, so I'm not allowed to speak too poorly of it. I feel it lacks some of the mouthfeel that the traditional Belgians and even some of the Quebec brews encompass.
581 characters
3.2
/5
rDev
-3.3%
look: 3.5 | smell: 3.5 | taste: 3 | feel: 3.5 | overall: 3
330ml bottle, grabbed at the rather well stocked, newish Co-op liquor store in my (no longer so small) hometown south of Calgary.
This beer pours a hazy pale golden straw hue, with one skinny finger of bubbly, loosely foamy dirty white head, which leaves a few streaks of arching lace around the glass as it quickly bleeds away.
It smells of grainy breakfast cereal - toasted Cheerios, chiefly - some middling pithy citrus, subtly earthy coriander, and a simmering funky mustiness. The taste is soft, grainy wheat malt, a touch sweet, with somewhat spicy coriander, fairly aged, fleshy orange, and a still wafting weedy mustiness.
The carbonation is pretty laid-back, though still structurally sound, the body medium-light in weight, and generally smooth, just a wee tug from the lingering spices, it seems. It finishes off-dry, the combined sweetness of the grain, fruit, and spice enough to tilt it accordingly, though the mustiness never quite abates.
Not a bad witbier, really, the proclaimed flavours are all there, and mostly overshadow the hiccup that is the morphing mustiness. I'll have a go at the other 3 in this 4 pack, no question.
1,148 characters

3.25
/5
rDev
-1.8%
look: 3.25 | smell: 3.25 | taste: 3.25 | feel: 3.25 | overall: 3.25
330 ml brown bottle. Label is only on the neck, while the body of the bottle is embossed with "Village Brewery, 330 ml, Calgary Crafted & It Takes A Village".
This beer pours slightly hazy, shimmery pale gold color. Short, loose head, leaves a thin trail of lace, fade fades quickly but evenly.
It smells of toasted grains, light spice like coriander, some citrus, and a bit of yeast.
The taste is mild yet refreshing. Wheat, slightly sweet malt, coriander, orange and lemon, and some yeast at the end along with leafy, earthy hop.
The body and carbonation are light and smooth.
A good interpretation of the style for my money.
631 characters
3.03
/5
rDev
-8.5%
look: 3.5 | smell: 3 | taste: 3 | feel: 3 | overall: 3
A - bubbly straw golden that doesn't have the unfiltered cloudiness expected, finger of head retained very nicely
S - sour citrus and some graininess and adjunct
T - much like the nose, its somewhat bready but fairly bland and basic, nothing about it stands out
M - light, decent carbonation, on the thin side, finishes light
O - an average brew plain and simple
362 characters
2.61
/5
rDev
-21.1%
look: 3.5 | smell: 2.5 | taste: 2.5 | feel: 3 | overall: 2.5
Appearance- Pours a slightly hazy straw with a finger width of foamy white head. Lots of tiny bubbles.
Smell- wheat, orange, hint of coriander, corn
Taste- Main flavours are wheat and corn with a slight hint of orange and coriander. I am really thrown off by the corn flavours. Very "un-wit like".
Mouthfeel- Light to medium bodied with moderate carbonation. A bit of a dry finish.
Overall- An underwhelming witbier by Village. The sample I tried at Calgary Beerfest 2012 was a lot more promising than what I am finding in the bottle. Perhaps the recipe changed along the way, or it was part of an off batch. I will revisit this in the future but the taste needs to return to its "Belgian" roots.
700 characters

2.68
/5
rDev
-19%
look: 2.5 | smell: 2 | taste: 3 | feel: 3.5 | overall: 2.5
341ml bottle poured into pint glass 4/10/12
A straw yellow with enough clarity to easily read these words through the glass, just a couple big bubbles but little for head or lace, not very Wit like
S faint cereal and citrus with just a little spice, not a whole lot going on pretty average, as it warms I get some gym socks, brewery and wet dishcloth
t more grains then I could smell, tastes a little weak it could be much stronger, I blow my nose thinking I'm stuffed up but I think its just bland, at least it doesn't have the wet rags and socks I could smell
M light bodied and more bubbles then I could see in the glass, aftertaste is fairly clean with just some faint spice
O I wasn't feeling this one as soon as I poured it into the glass, light color light flavor and smells a little off, needs some work
I wasn't in much of a rush to try the new brewery in town and after trying their line up I could've waited longer. this was by far the worst of the three but the others were pretty average.
1,023 characters
Wit from Village Brewery
Beer rating:
3.31
out of
5
with
39
ratings