Flensburger Frühlingsbock

Flensburger Brauerei GmbH Und Co. KG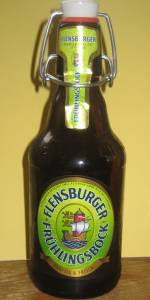 Write a Review
Beer Geek Stats:
| Print Shelf Talker
Style:

ABV:

6.9%

Score:

Avg:

3.28

| pDev:

13.11%

Reviews:

11

Ratings:

From:

Avail:

Spring

Wants

Gots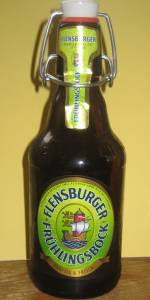 Notes:
Reviews: 11 | Ratings: 23

3.34
/5
rDev
+1.8%
look: 3.5 | smell: 3.25 | taste: 3.25 | feel: 3.5 | overall: 3.5
Pours a crystal clear, light golden coloration with a medium, foamy head. Smell is sweet, doughy, malt and grassy, herbal hops. Taste follows the nose, with a good balance of doughy, biscuity malt and grassy, herbal hops. Light notes of citrus, grains and spice. Finishes bittersweet with a light herbaceous note in the aftertaste. Smooth mouthfeel with a medium body and carbonation. While this is not a great example of the style, it's not that bad either. Nice malty highlights balanced by herbal, grassy hops that never let this become too sweet.
550 characters

3.44
/5
rDev
+4.9%
look: 3.5 | smell: 3.25 | taste: 3.5 | feel: 3.5 | overall: 3.5
yeah this is a Maibock, not an exemplary good one and in the aroma it is a bit unpleasant, but it delivered what I wanted a pale high abv lager nothing more nothing less
169 characters

3.28
/5
rDev 0%
look: 3.25 | smell: 3.25 | taste: 3.25 | feel: 3.5 | overall: 3.25
A 330ml bottle with a BB of Jan 2018. Purchased just the other day from Trembling Madness in York. A 'springbock' for winter.
A: Poured into a tulip. A clear golden-amber colour with moderate carbonation. Forms a decent head of creamy white foam that lasts for a moment before subsiding and dissipating.
S: Aroma of grainy malt with hints of barley sugar, subtle husks, stewed hops and vague earthy yeast. Decent but a tad bland.
T: Tastes of sweet, grainy malt with notes of barley sugar, mild fruitiness, husks, stewed hops and subtle earthy yeast. Somewhat sweet, followed by a subdued leafy bitterness upon swallowing.
M: Mouthfeel is smooth and tingly, with soft carbonation and good body. Pretty smooth. Aftertaste of sweet malt, stewed hops, faint husks and yeast.
O: Pleasant enough, though this bottle is a bit old. Looks alright, while the aroma and flavour are decidedly malty. Sparse hop character. Nice body. Drinkable but doesn't hold your attention. Grab a fresh one to try.
994 characters
3.49
/5
rDev
+6.4%
look: 3.75 | smell: 3.5 | taste: 3.5 | feel: 3.25 | overall: 3.5
L: Pours a clear golden color with a small top of white head that disolves radpily.
A: malts, bread,honey,herbal and grassy hops,
T: The flavour sweet with light malts inn the back, then finishes off with herbal hops .Sweetness is not overwhelming. Moderate bitterness inn the finish, and really not that much off a aftertaste there.
M: Medium carbonation with medium body. clean mouthfeel but a little flat.
O: All inn all this is a decent enough helles bock, but not to exiting i must say.
497 characters
3.2
/5
rDev
-2.4%
look: 3.25 | smell: 3.25 | taste: 3 | feel: 3.75 | overall: 3.25
Light yellow colour with a big head of foam that sinks quite fast however. Smell of pilsener malt and pilsener hops. It also tastes like a buffed up pilsener. The intensity is nice, but the entity gets boring quite fast. Taste is also too sweet for my liking. Pretty refreshing though, I'll give them that. This category has more interesting stuff though.
355 characters
3.69
/5
rDev
+12.5%
look: 3.75 | smell: 3.5 | taste: 3.75 | feel: 3.75 | overall: 3.75
330ml, shorty swing-top bottle - yeaaaahhh - bock beer in October! And could a product have a more stereotypically German-sounding name?
This beer pours a clear, pale golden yellow colour, with four fingers of puffy, densely foamy, and somewhat creamy off-white head, which leaves a bit of sudsy reaching tree branch lace around the glass as things duly recede.
It smells of biscuity and crackery pale malt, a warmed applesauce and pear fruitiness, some none-too-subtle petrol-esque booziness, dead yeast, and a spicy, leafy, and grassy hoppiness. The taste is bready, slightly doughy pale malt, wet saltine crackers, muddled white stone fruit, a still heady gasohol astringency, some free-range nougaty sugars, and more attractive in their fecundity leafy, weedy, and spicy hop bitters.
The bubbles are adequate in their palate covering frothiness, the body a solid medium weight, and mostly smooth, just a bit of alcohol acridity nosing about, looking for a place to happen. It finishes trending sweet, the base malt not about to start negotiating with France about the price of fruit, or whatever, and nicely warming.
Wow, another bock of late that doesn't suck high-test heat ass - the last one was Czech in origin, aping the Teutonic greats, and this one likewise does not let down its own actual countrymen. Malty, fruity, and boozy, all in just the right amounts and order - ja, ich mag!
1,402 characters
2.76
/5
rDev
-15.9%
look: 4.5 | smell: 2.75 | taste: 2.5 | feel: 3.25 | overall: 2.5
L:
-pours a clear golden with amedium,foamy,white head
-high carbonation visible
S:
-apples,honey,biscuity malt,grainy,spicy
T:
Follows the nose plus a slight sourness
F:
-light to medium body
-medium carbonation
-slight alcohol warmth
O:
Mediocre Maibock
255 characters
3.36
/5
rDev
+2.4%
look: 4 | smell: 3 | taste: 3.5 | feel: 4 | overall: 3
Purchased at the Jasons supermarket in Taipei City, Taiwan; coming in the same swing-top brown bottle as illustrated above, BB 14/09/2012, served lightly-chilled in a slim pilsner glass.
A: pours a dark yellow gold to amber hue, coming with moderate flows of tiny bubbles and a very good clarity, topped with a slowly-retreating white foamy head.
S: sweetness upfront is mixed of malts, melted malt candy, and hot/warm cane sugar juice, on top of lightly grassy notes not far from that of a Saaz hop-dominated malty pilsner. Quite straight forward.
T: a refreshing swallow as of liquid malt candy leads towards to a grassy-hoppy&grainy middle which then leaves an expanding flow of mildly herbal and dryish hop bitterness to (effectively) cleanse the palate, while esters as of yum & corn's undertones linger in the long finish balanced by very mild sour edges. This experience repeats in every sip, showing a rather good integrity, I guess.
M&D: the mouthfeel is generally very soothing and "gently refreshing", due to the soft carbonation, while the body remains medium thanks to the un-sweet malty & lightly dry flavor profile. All in all, this is to me a friendly, albeit somewhat "quiet", pale Bock that perhaps could be more charming if lager's sourness was more pronounced.
1,293 characters

2.56
/5
rDev
-22%
look: 3.5 | smell: 2.5 | taste: 2.5 | feel: 2.5 | overall: 2.5
33cl bottle poured into UK pint sleeve
BBE 4 Feb 2011
A- Golden body with excellent clarity. 3 finger rocky soapy head sits atop which reduces quickly. Lacing is good.
S- Distinct aroma of pear drops, hint of dms and pepper.
T- Applelike sweetness meets a faint toasted malt note with a hint of hop in gloopy sticky finish.
M- Medium carbonation, thick sticky body and finish.
D- Its really too sweet and messy on the palate/nose. Lacks the lager cleanliness and toasted malt richness of the better examples of the style.
527 characters
4
/5
rDev
+22%
look: 4 | smell: 4 | taste: 4 | feel: 4 | overall: 4
Stacks of pure white froth that webs over a pale brass body. Flowers, honey and country white bread nose.
Lean fresh grain and table water cracker with lemongrass husk hops.
Yellow pear finish and lingering bitterness. Light, round and crisp.
Very much more a Marzen or even an Imperial Pils than a Bock of any sort - significant Noble hops bite with no real malty sweetness. Not to style, but a nicely assertive lager. Best of the mostly mediocre Flensburger range.
469 characters

3.51
/5
rDev
+7%
look: 4 | smell: 3 | taste: 4 | feel: 3.5 | overall: 3
.33cl swing-top, best before 2/4/12. 'Plop!
Pours a clear, vibrant gold with a thick, eggshell head. Good retention and lacing.
The aroma is lager-like and slightly sulfuric. Some malts, but there could be more.
Flavor is sweet, bready and malty, but well-balanced by some floral hops and a sturdy alcohol flavor. There's good depth to the malt flavor, with notes of fresh dough, cookies and brioche. Clean, with a swift finish. The mouthfeel has fluffy carbonation, but is a touch drying and/or abrasive.
In the end, this is a bit hot for a good Maibock. Maybe it needs another month or two to condition and round out. Still solid though, and a welcome new beer to the Flens lineup.
687 characters
Flensburger Frühlingsbock from Flensburger Brauerei GmbH Und Co. KG
Beer rating:
80
out of
100
with
23
ratings