Barrel Series No. 1 - J. Marie Aged In Whiskey Barrels
| River North Brewery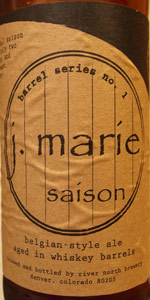 BEER INFO
Brewed by:
River North Brewery
Colorado
,
United States
rivernorthbrewery.com
Style:
Saison / Farmhouse Ale
Alcohol by volume (ABV):
7.50%
Availability:
Limited (brewed once)
Notes / Commercial Description:
No notes at this time.
Added by RuckusDu on 07-16-2012
This beer is retired; no longer brewed.
Reviews: 9 | Ratings: 42
4.55
/5
rDev
+13.8%
look: 4 | smell: 4 | taste: 5 | feel: 4.5 | overall: 4.5
Bottle #75.
Tried it on a whim. Exceeded expectations.
Medium gold in color, light on the nose.
Packs a burst of flavor which surprised after the light aromas given off.
Drank like a lighter, hoppier quad-trippel hybrid. Slightly sweet with a smooth finish.
The barrel notes of vanilla seem to tone down what seems like a sweet beer.
Smooth is the best way to describe it. Pleasantly surprised. Very easy drinker. River North is doing it right.
453 characters

4.53
/5
rDev
+13.3%
look: 4 | smell: 4.75 | taste: 4.5 | feel: 4 | overall: 4.75
2013 Vintage - Bottle # 969/1092
APPEARANCE: Bright orange in color with a nice, white head that adds a good finger and a half to the top of the beer. It looks more like a Double IPA than a Saison. There is pretty decent head retention that eventually fades into a thin cap covering the whole surface of the beer.
SMELL: My first impression is orange peel with vanilla. But upon closer inspection, there is a ton of wood in the nose here. There is also just a tiny hint of funk as well. All of the smells here blend together perfectly. It doesn't get much better than this.
TASTE: There is so much going on in here. Plenty of sweet fruit flavors hit the palate right off the bat. The orange from the nose leads the way, but a lot of other citrus and tropical fruits dance around the tongue as well. Spicy and bitter hop flavors help to provide a balance to this beer as a touch of vanilla and oak round it out.
MOUTHFEEL: Wow, this beer really goes everywhere. It start off sweet and then finishes with a dry, sparkling finish slightly tart finish that causes a very slight pucker.
OVERALL: This beer really has everything I need in a beer. Fruit flavors from both the yeast and the hops, just enough malt to balance, a little spice and a nice dose of vanilla and oak from the barrel. Nearly perfect in it's complexity. One of my new all-time favorites.
1,380 characters
4.1
/5
rDev
+2.5%
look: 3.75 | smell: 4.25 | taste: 4 | feel: 4 | overall: 4.25
From BeerAdvocate magazine Issue #68 (Spetember 2012):
LOOK: Hazy straw amber, tiny bubbled lacing
SMELL: Wood, spice, fruity, peppery, yeast, faint booze, ripe pears, nectarines, light marmalade
TASTE: Mild smoothness, slick, lightly creamy, dry, wood, almond skin, enjoyable tartness, level alcohol, spicy, herbal, earthy, yeast, faint vanilla, ghost-like barrel juice, salty, long lasting finish
It really took us more than a few sips to fall into the depths of this brew but when we did it pulled us in hard. Perhaps the only thing that left us waiting was the slight lack of crispness most Saisons have, that is where the barrel aging element come in and provides such a deep character, we almost got lost in it.
STYLE: Saison
ABV: 7.5%
AVAILABILITY: Year-round
772 characters

4.03
/5
rDev
+0.8%
look: 4 | smell: 4 | taste: 4 | feel: 4.25 | overall: 4
Bottle 896 out of 1092 courtesy of jdiddy via jedwards. Served in a tulip. Pours a dull, burnt orange with a slightly hazy clarity and a loose, bright white head that quickly dissipates into a tight band around the shoulders and an oily slick across the surface. nose expresses buttery notes and a hint of oak. Taste follows nose - there's a nice toasted quality to this beer. Mouthfeel is light-medium in body (closer to light) with an even carbonation and a trace of astringency at the finish. All said, a tasty brew - the whiskey barrel is unassuming an complements the style nicely. Well worth your time if the opportunity presents.
636 characters
4
/5
rDev 0%
look: 4 | smell: 4 | taste: 4 | feel: 4 | overall: 4
thanks to daniloknezic for trading me the bottle! Thanks Don!
poured into tulip glass.
bottle 68/251.
reviewed from notes taken 8/14/12.
Appearance: orange bodied beer with small white head. drops to small ring.
Smell: oranges and lemons, vanilla, woody, earthy, and hay. has a lactic note that almost makes the beer smell like an orange creamsickle!
Taste: Hay, lemons, oranges, mild pepper and mild funk. A touch of vanilla and oak. Finishes sweet and mild whiskey note.
Mouthfeel: light bodied beer with moderate carbonation. Almost has a syrupy mouthfeel to it. Just has enough carbonation to keep it from being overly syrupy.
Overall: Its an interesting beer for sure. Whiskey has a minor role in this beer, but it stands out in the crowd of an inventive and a unique craft beer.
792 characters

3.85
/5
rDev
-3.8%
look: 3.5 | smell: 3.5 | taste: 4 | feel: 4 | overall: 4
It says to share. I'll put it in two glasses. This is the whiskey barrel aged version of their traditional saison. Bottle 71/251 into Duvel tulip.
A - an aggressive pour revealed about a finger of off white head which quickly falls. Body is clear and a light amber or orange/wheat color.
S - aroma is very much like a saison. Floral. You really have to dig deep to get some whiskey. Definitely a stronger scented saison.
T - very interesting combo. Slight vanilla and caramel. Strong oak. Not as much field flavors as the aroma. Easy drinking but I don't know abv. Light orange cream.
M - some good carbonation and medium body. Nicely done.
O - it is a weird combo and quite good. Still trying to figure it out. Easy to drink.
743 characters
3.8
/5
rDev
-5%
look: 4 | smell: 4 | taste: 4 | feel: 3 | overall: 3.5
Bottle 68 of 251
Short white head on a golden orange body. Leaves a collar. Some lacing left.
Barrel notes with a hint of tartness. Diggin the aroma.
Sweet, alcoholic whiskey finish. Get a little funkiness from the saison base. Would guess this at about an 8.2%abv
Thicker mouthfeel than most saisons, lower carbonation as well.
Pretty different yet somewhat unremarkable. The mouthfeel kind of kills it for me. Thanks 4DAloveofSTOUT. Worth a try if it gets in your way.
475 characters
3.76
/5
rDev
-6%
look: 3.5 | smell: 3.75 | taste: 3.75 | feel: 4 | overall: 3.75
Thanks to jmgrub for sharing this one at his tasting.
2013 vintage. Bottle # 473/1092.
Pours a murky orange with a foamy off-white head that settles to wisps of film on top of the beer. Small streaks of lace form around the glass on the drink down. Smell is of malt, grain, fruit, yeast, and slight whiskey aromas. Taste is much the same with fruit and whiskey flavors on the finish. There is a mild amount of woody bitterness and an alcohol kick on the palate with each sip. This beer has a good level of carbonation with a crisp mouthfeel. Overall, this is a pretty good beer with an interesting barrel aging idea having a saison done in whiskey barrels.
658 characters

3.72
/5
rDev
-7%
look: 3 | smell: 3.5 | taste: 4 | feel: 3 | overall: 4
The standard golden amber with a quickly dissipating head. Some decent carbonation on the tongue, however. A small pour at a time seems to work well.
Woody and fruity. Tastes like fruit leather, if they made it out of oranges. The whiskey flavor shows up quite nicely in the aftertaste. Put the glass down for a few minutes, and when you come back-- it's barrel time. Quite rich and tangy. The Belgian yeasty taste is quite nice. Very drinkable and flavorful.
They call this "barrel series no. 1" so it will be interesting to see what they do next. From the 22 oz bottle bought at Grapevine Liquor on Monaco.
610 characters
Barrel Series No. 1 - J. Marie Aged In Whiskey Barrels from River North Brewery
4
out of
5
based on
42
ratings.