Cranium

Triple Digit Brewing Company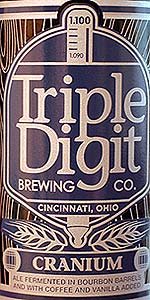 Write a Review
Beer Geek Stats:
| Print Shelf Talker
Style:

ABV:

11.5%

Score:

Avg:

4.37

| pDev:

6.18%

Reviews:

14

Ratings:

From:

Avail:

Rotating/Seasonal

Wants

Gots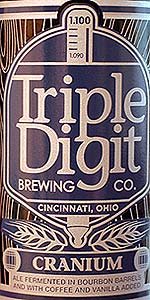 Notes:
GuyFawkes from Illinois
4.39
/5
rDev
+0.5%
look: 4.25 | smell: 4.5 | taste: 4.25 | feel: 4.5 | overall: 4.5
Unknown vintage; drank on tap 4/24/19 @ Fischman's.
Flavorful, but balanced for a "pastry stout". Vanilla & coffee were present, but it still tasted like a stout & had a nice heft.
I had two glasses & can't wait to have another!
Apr 25, 2019
spacecake9 from Illinois
4.25
/5
rDev
-2.7%
look: 4.25 | smell: 4.25 | taste: 4.25 | feel: 4.25 | overall: 4.25
My first beer from Triple Digit!
A - Pours black with a tan head that fades to a ring.
S - A lot of vanilla on the nose.
T - Flavor is vanilla and a lot of maple. Very sweet.
M - Beer is very creamy.
O - If you like maple, and I do, then you will like this one. Very nice desert beer.
Jan 15, 2018

bluejacket74 from Ohio
4.43
/5
rDev
+1.4%
look: 4.25 | smell: 4.25 | taste: 4.5 | feel: 4.5 | overall: 4.5
12 ounce bottle, no dating on it that I noticed. Served in a DFH snifter, the beer pours dark brown/black with about an inch tan head. Head retention and lacing are both good. Aroma is nice and sweet, the brew smells like chocolate, vanilla, bourbon, roasted malt and coffee. For the most part I think the taste is similar to the aroma, but there's also some caramel and dark fruity flavors noticeable too. Mouthfeel/body is medium/full, it's creamy and coating with a good amout of carbonation. I think it's a good sweeter tasting imperial stout, certainly worth picking up a bottle or 2 if you come across some! $6.99 a bottle.
Oct 07, 2017

drdiesel9483 from Ohio
4.52
/5
rDev
+3.4%
look: 4.25 | smell: 4.75 | taste: 4.5 | feel: 4.25 | overall: 4.5
Look - dark with a medium looking body and good skimming
Smell - caramel coffee toasty sweet vanilla
Taste - chocolate caramel slight coffee toasty with a little vanilla drizzle
Feel - medium light body and light carbonation
Overall - wonderful!
Jun 29, 2017

Sabtos from Ohio
4.06
/5
rDev
-7.1%
look: 3.75 | smell: 4.5 | taste: 4 | feel: 3.5 | overall: 4
Muddy dark brown with a large brown head. This actually has some clear legs that contribute a rinsing effect--I think this may be harder than listed.
At first whiff this is really delicious smelling with chocolate and vanilla both coming in big. Sweet vanilla syrup, marzipan and amaretto follow, then caramel and mini-marsamallows. As it warms, a little wet wood and maple emerges.
Wow. Tastes like brownies up front. Then brownies with marshmallow fluff on top. Then the charred edge of a just baked brownie. Throughout, it is chocolate and vanilla, with an acceptable amount of bourbon cutting through. A little Raisinette and woody walnut come in as it warms. One downside is that the aftertaste is a bit waxy, and unusually nutty and woody.
Cranium has a nice froth, while not too heavy. Tangy, not nearly as sweet as it may sound, finishing semi-dry .
Dec 21, 2016

neurobot01 from California
4.37
/5
rDev 0%
look: 4 | smell: 4.5 | taste: 4.5 | feel: 4 | overall: 4.25
12oz bottle into a globe wine glass at cellar temp.
Look: dark brown, little carb evident, no head.
Smell: dark fruits, cocoa, vanilla.
Taste: strong raisin; toffee, chocolate. Not any oak or char. Red grape, dark cherry.
Feel: medium body, low to moderate carb, barely dry.
Overall: really good. Not quite top tier, but very good.
Jul 20, 2016

zimm421 from Ohio
4.43
/5
rDev
+1.4%
look: 4.25 | smell: 4.25 | taste: 4.5 | feel: 4.5 | overall: 4.5
Pours a nearly perfect black with touches of light seeping through around the edges. The head is brown with hints of red. The nose is sweet chocolate, bourbon and scarce touch of roast. The first sip yields a hint of dark fruit, quickly followed by oak, bourbon and vanilla. Then the chocolate rushes through and takes over. The mouthfeel is thick and creamy. This is an excellent dessert beer. Very sweet, with overwhelming chocolate and bourbon. Well done.
Mar 05, 2016
Ohiovania from Ohio
4.54
/5
rDev
+3.9%
look: 4.5 | smell: 4.75 | taste: 4.5 | feel: 4.25 | overall: 4.5
Looks great. Pitch black with a medium dark tan head. Smells of caramel vanilla Bourbon, butterscotch, toffee, molasses, and dark chocolate. Chocolate fudge bourbon brownies on taste with almost a sweet cappuccino aftertaste. Mouth feel could be better but who cares with the beer this good.
Mar 03, 2016

IMFletcher from Kentucky
4.56
/5
rDev
+4.3%
look: 4.25 | smell: 4.5 | taste: 4.75 | feel: 4.25 | overall: 4.5
2016 (?) bottle pour into a snifter; not much head, but enough. The nose sucks you in, booze and vanilla, all the good stuff. The coffee comes across ore chocolatey, combined with the vanilla and barrel notes, you're going into liquid brownie batter territory. The mouthfeel is slightly thin, but not detrimental. Excellent stuff.
Feb 10, 2016

Ri0 from Wisconsin
4.65
/5
rDev
+6.4%
look: 4.75 | smell: 4.75 | taste: 4.75 | feel: 4.25 | overall: 4.5
poured 12oz bottle into chalice.
A - Very dark murky brown with a 1 finger brown head. Fades quickly into a very thin ring and leaves behind small spotty lacing.
S - Notes of roasted coffee, espresso, vanilla and bourbon with some chocolate stout aroma.
T - Starts out with a big vanilla and bourbon flavor. Soft coffee, espresso, and caramel layered on top of a delicious dark chocolate stout. Very full of flavor and low on alcohol.
M - Nice carbonation with a think body and smooth finish. Quite decedent.
O - Outstanding coffee vanilla stout with the right amount of barrel notes.
May 17, 2015

barczar from Kentucky
4.41
/5
rDev
+0.9%
look: 3.75 | smell: 4.5 | taste: 4.5 | feel: 4 | overall: 4.5
Big caramel, dark chocolate, coffee, and dark cherry aroma. Smells extremely decadent.
Flavor reveals underpinnings of that tart cherry character, with luscious cocoa notes, vanilla, toffee, and a touch of coffee at the finish. It's a tad hot from the alcohol, but would mellow nicely, over time.
This beer has improved significantly in the past year, from a brewing standpoint. Not sure what has changed, but it's great to see.
Apr 25, 2015

pants678 from California
4.5
/5
rDev
+3%
look: 4 | smell: 4.5 | taste: 4.5 | feel: 4.75 | overall: 4.5
Black with a brown head.
Bourbon.
The knock's that I didn't taste the coffee. And whether or not I got the vanilla's hard as it's hard to pick apart from bourbon. As a bourbon barrel stout, there's nothing wrong here. Rich and fairly warm but not harsh.
Viscosity's just right.
Apr 09, 2015

deadonhisfeet from Kentucky
4.36
/5
rDev
-0.2%
look: 4.5 | smell: 4.75 | taste: 4.25 | feel: 4 | overall: 4.25
Stout? Strong ale? Brown Ale? The bottle doesn't say. Whatever it is, this is a big honkin' beer, proudly brewed close to my house, and aged in bourbon barrels with coffee and vanilla. Poured from a bottle into a Lost Abbey Teku. The pour is very dark (nearly black) and sports about a finger-and-a-half of brown head that hisses angrily at you as it dissipates. On the nose I smell bourbon. I smell vanilla. I smell oak. I smell Jungle Jim's Cuppa'lombian coffee. I smell toasted malt. I could keep digging, but do I really WANT to smell anything else?
Full body, oily feel, and wonderfully strong flavor. Lots of bourbon, toasted oak, a touch of almond, and thick bready malt, as well as the coffee and vanilla. Not getting much roastiness, so I'm wondering if this is really a stout or another one of their massive brown ales (like Chickow!). A little booziness on the finish, but nothing too serious to detract from the flavor. I really dig the coffee flavor in this. It's not bitter. Rather, it's one of those rich-tasting coffee beers, like KBS (I'm not comparing this to KBS, merely pointing out that the coffee components are both rich and delicious instead of bitter and acidic). If you ``chew'' on this a bit before swallowing, you can almost feel the coffee grounds in your mouth. A little bit of dark fruit creeps in on the finish which I don't much care for.
I tried a small sample of this at a recent bottle share, loved it, was sad to discover that I had missed the release, and was stunned by my good fortune in coming across some bottles at Jungle Jim's. Of the four I purchased, one was shared with the fellows at my local bottle shop (Party Town), one is earmarked for one of my trading partners, one is now in my belly, and the last one will sit for a while to see how it develops. I hope Triple Digit brews this again. Perhaps they can somehow work just a bit more roastiness into the flavor. It might help to mask some of the booziness and improve the flavor a bit when this stuff is consumed fresh.
Mar 04, 2015

screamking from Ohio
4.67
/5
rDev
+6.9%
look: 4 | smell: 4.5 | taste: 4.75 | feel: 5 | overall: 4.75
750ml bottle poured into snifter.
Pours black as night with only the faintest sign of a dark khaki head. The aroma is filled with vanillia, oak, cocoanut, plums, fig, and espresso just to name a few. You really get a strong bourbon profile here. Right up front the taste kicks in with vanillia, both from the barrel and the extra added afterword. Dark fruits come out directly after, then at the back of the palate chocolate and hints of espresso lead toward a bittersweet finish.
The mouthfeel is extremely soft and rounded for such a big beer. You really don't get that this is 11.5% ABV until after a few minutes. This is a killer brew that has everything you would want in a barrel aged stout.
Nov 19, 2013
Cranium from Triple Digit Brewing Company
Beer rating:
95
out of
100
with
76
ratings