Rivet

Tin Man Brewing Company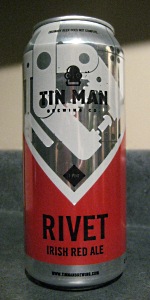 Write a Review
Beer Geek Stats:
| Print Shelf Talker
Style:

ABV:

5.1%

Score:

Avg:

3.39

| pDev:

15.93%

Reviews:

14

Ratings:

From:

Avail:

Year-round

Wants

Gots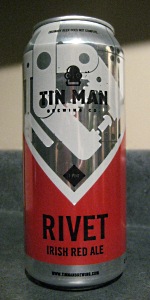 Notes:

3.94
/5
rDev
+16.2%
look: 4 | smell: 3.75 | taste: 4 | feel: 4 | overall: 4
From the tall boy can in a snifter via a friend from work---Thanks Justin!
This nice brew pours a lightly murky reddish brown color with a nice off
white head of foam that settles to a thick ring, nice layer, and nice light lacing.
Nose of light sweet malts, light breaded malts, and subtle peach notes. Flavors
exceed the nose with dark breaded malts touched lightly by sweet caramel malts
on the front and sides while the peach and herbal hops bring up the rear of the taste
culminating in a very nice and balanced ale. Great mouth feel, lightly carbonated, lightly
slick, and medium mouth feel making for a perfect ale for the summer months or a
solid session brew. Excellent
Cheers
689 characters
3.49
/5
rDev
+2.9%
look: 4.25 | smell: 3.25 | taste: 3.5 | feel: 3.5 | overall: 3.5
On tap into a "can" glass (glass put out specifically by Tin Man for their beer that is in the shape of a can of beer)
A - Beer arrives at the table with a 2 finger off white head that is a heavy foam in appearance that dissipates slowly to a 1/4 finger height. Beer itself is clear and reddish amber with light carbonation visible in the form of small bubbles rising lazily towards the surface. 4.25/5
S - The aroma is somewhat subdued but pleasant. Notes of rye bread, light cereal grains, and unsalted barley are present. Dark stone fruit also comes out a bit as well as a light earthiness. 3.25/5
T - Malty and sweet throughout the entire profile with light caramel and light cereal grains dominating. A bit of earthiness reminiscent of unmalted barley and wheat. Light grassy and herbal hops on the back end along with green apple make for a slightly bitter finish that does not linger on the palate. 3.5/5
M - Moderate carbonation burn that lasts surprisingly long. Light to medium bodied with a light drying on the back end and swallow that does not linger for long at all. 3.5/5
O - Very simple and straightforward beer that is sessionable and pleasant. Well balanced but not crazy flavorful or full of aroma either. Typical of the Irish Red Ale style. 3.5/5
1,284 characters

3.11
/5
rDev
-8.3%
look: 3.5 | smell: 3 | taste: 3 | feel: 3.25 | overall: 3.25
While this beer is promising in appearance, it really falls short everywhere else. There really isn't much flavor, and no nose or mouthfeel to speak of. While very drinkable, it really lacked character.
202 characters
3.77
/5
rDev
+11.2%
look: 4 | smell: 3.75 | taste: 3.75 | feel: 3.75 | overall: 3.75
It's nice to know that the classics aren't quite dead yet. In the capable hands of Tin Man, a return to the traditional Irish Red Ale is a much needed get-back-to-basics moment.
Amber brown and with a ruddish and rusty quality, the ale pours with a modest haze, a sterling carbonated bounce and a creamy ecru foam stance. Mild aromatics of bread crust, toasted peanut, caramelized grain and a light floral action rounds out the scent while its initial taste is creamy, semi-sweet caramel, supple savory toast, and light cola-nut robustness.
As the palate acclimates, the masculine malt base levels out and its more robust hints of cocoa and coffee emerge from the resilient toasted grains. Creamy, smooth but trending dry, a late charge of pepper, slight char and starchy breadiness round out the somber balance to close.
Medium-bodied and trailing with a creamy-dry texture, the beer's friendly creaminess and toastiness makes for a highly forgiving option for a wide array of food pairing options, but also carrying enough culinary art on its own to suffice for a stand-along session all to itself.
1,103 characters
3.49
/5
rDev
+2.9%
look: 3.75 | smell: 3.5 | taste: 3.5 | feel: 3.25 | overall: 3.5
Poured from a can, which isn't as good as the draft version, this delivers a deep roasted grain flavor. I get some chocolate malt, which seems unusual, nutty pecan, molasses, barley, toast, light bitterness and tea leaves.
222 characters
3.75
/5
rDev
+10.6%
Tall can poured into a mug. Looks like moderately strong tea, orange-brown with a small amount of off-white head. Aroma is massive butterscotch toffee, raisins, nougat, vague ephemeral brown spice, and a tinge of earthy tea-like hops ... Decent amount of diacetyl going on here and the palate follows suit. Butterscotch pudding, dry pecans, and weak black tea plus another whiff of the aforementioned brown spice. Some citrus notes emerge over time, perhaps the Willamette hops? I appreciate the flavors here, I do. The body of the beer seems off, however ... Like its too light for such sweet malt flavors and I am left with this curious empty sensation after a sip. Quite fizzy as well. Finish is nothing special, some tea-like hops that fail to completely cut the sweet malts. Although I am not wild about the mouthfeel, this brew seems to garner worse ratings here than I'd condone.
886 characters

3.24
/5
rDev
-4.4%
look: 3 | smell: 3.25 | taste: 3.25 | feel: 3.25 | overall: 3.25
16 oz. can poured into a tumbler.
A- Amber with some light orange highlights. Light tan head retains at a ring.
S- Sweet caramel. Some nutty aromas and a hint of booze.
T- Sweet and toasty malt. Some dry bitter hop to balance.
M- Medium body. Just a bit of a drying finish.
O- Rather malty. I like the nutty characters.
329 characters

3.17
/5
rDev
-6.5%
look: 4.5 | smell: 3 | taste: 3 | feel: 3.75 | overall: 3
473ml can poured into tulip 27/7/13
A slight haze in a dark maroon body, large 3 finger foam has great retention just sitting there for ages, 4 thick distinct rings before it falls to an island, looks very sexy
S herbal hops and grainy malt, lots of butterscotch and I've found it in the other Tin Man brews I've had and would guess its diacetyl, very faint nutty aspect and wet tea bag
T some leafy hops added to all the herbal notes, still lots of butterscotch and caramel malt, again it seems flawed but not offensive
M leaning towards full and fairly creamy, herbal finish lingers perhaps a highlight in a rather basic brew
O has similar flavors and smell to the other brews I had from these guys and considering how different the styles were they shouldn't taste that similar, nothing special and perhaps some minor flaws
this brewery didn't make the best first impression on me, nothing all that bad but nothing to write home about
948 characters
3.72
/5
rDev
+9.7%
look: 4 | smell: 3.75 | taste: 3.75 | feel: 3.75 | overall: 3.5
16oz single can, round 2 of this northern half-breed American's trip through his American import collection. I continue to like the spaced-out Bender Rodriguez robot in this brewery's logo.
This beer pours a mostly clear, medium bronzed amber hue, with two fat fingers of puffy, densely foamy pale beige head, which leaves a near-solid array of bleeding high-altitude cloud lace around the glass as things slip away.
It smells of biscuity, grainy caramel malt, with a touch of crystallized toffee, mushed apples, a hint of generic citrus, and peppy earthy, leafy, and somewhat grassy hops - very ESB-esque, actually. The taste is sweet caramel malt, with enough sassy biscuit and toffee notes to avoid that certain ennui, muddled, understated orchard fruit, and fairly AWOL (relative to the nose, anyway) earthy, kind of weedy, grassy hops.
The bubbles are very much on the down-low, with just the basest of support fulfillment, the body a sturdy medium weight, and generally quite smooth. It finishes well off-dry, the caramel malt standing up through it all, idiosyncrasies intact, while the soft earthy, leafy hops keep their heads down in their seeming drudgery.
Tin Man seems mostly capable of making beers that lean towards the mean, and this offering is the bulls-eye on that particular metaphoric board. Easy to drink, the hops nothing less than what was promised, and worthy of a few rounds, I would imagine.
1,421 characters

3.25
/5
rDev
-4.1%
look: 3.25 | smell: 3.25 | taste: 3.25 | feel: 3.25 | overall: 3.25
16 oz. single can, first time seeing cans from this brewery around our parts.
This beer pours red bronze, with a beige head. Above average foam retention and lace.
It smells of caramel malt, a bit grainy, and peppy earthy, grassy hops.
The taste starts with low sweetness of caramel malt, slightly fruity, and weedy, wet grass like hops.
Low level of carbonation, medium body and mouth feel, fairly smooth.
Easy to drink.
422 characters
2.31
/5
rDev
-31.9%
look: 3 | smell: 2 | taste: 2.5 | feel: 2 | overall: 2.25
This is probably the best of the Tin Man lineup, but it still leaves much to be desired.
Appearance: Ruby red and clear, not much of a head though.
Smell: Roasted and sweet, pleasant
Taste: It had some flavor, not enough. Kind of watery, but with a nice hoppy bitterness. For the style, it really lacked the body and malt support to be a good Irish red.
Mouthfeel: Dry and watery, not much to go on.
Overall: I seriously disliked every other beer at this brewery, this one was OK, but at $4 a pint I could be drinking much better beers. This was probably the best they had to offer. I could see myself enjoying it ice-cold on a hot day, but really, I can say that about any beer.
687 characters

3.37
/5
rDev
-0.6%
look: 4 | smell: 3.25 | taste: 3.5 | feel: 3 | overall: 3.25
Pours from the pint can an attractive ruby-amber, with a fine head of off-white suds. Superb and thick spider-web lacing. Nice!
Nose is caramel malts, biscuity, and toffee-like. Not bad.
Taste is chewy toffee maltiness, with a little toasty caramel in there. This one is easy to drink, and probably my favorite of Tin Man's initial 3 canned offerings.
353 characters
1.64
/5
rDev
-51.6%
look: 2.5 | smell: 2.25 | taste: 1 | feel: 1 | overall: 2.25
What a disappointment. I really want to like this new brewery in my town, but they are undershooting hard.
Looked like a Killians smelled like a killians taste like a killians. The mouthfeel of an irish red was just as watered down as a killians. i think malt i think some mouthfeel and this was lighter than water.
317 characters
2.8
/5
rDev
-17.4%
look: 3.5 | smell: 2.75 | taste: 2.75 | feel: 2.75 | overall: 2.75
A - Distinctive color giving the appearance of a promising "Red"
S - The promise of the appearance was not met with the scent. Lacked depth.
T - Average at best. The caramel was faint.
F - Thin. Not watery, but not complete.
O - The spark that you expect from successful Micro Brews was lacking. Rivet is worth a second chance, but there are better options. That being said, the atmosphere at the brewery / eatery is inviting.
438 characters
Rivet from Tin Man Brewing Company
Beer rating:
78
out of
100
with
77
ratings