Killdozer 12 Point Buck
| Burnt Hickory Brewery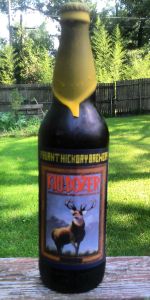 BEER INFO
Brewed by:
Burnt Hickory Brewery
Georgia
,
United States
burnthickorybrewery.com
Style:
American Barleywine
Alcohol by volume (ABV):
13.00%
Availability:
Rotating
Notes / Commercial Description:
No notes at this time.
Added by ChainGangGuy on 04-22-2012
Reviews: 10 | Ratings: 53
5
/5
rDev
+17.1%
look: 5 | smell: 5 | taste: 5 | feel: 5 | overall: 5
Pours deep, syrupy Amber, thick with quickly dissipating head, likely from alcohol content. Nose is fairly sweet, with restrained hop character and light phenols. Perfect for a barley wine. Taste is incredible- rich and complex, and far too easy to drink for a beer conservatively rated 12.5% abv. Of course the only complaints are from my liver- my mouth is in love with this beer. Initial caramel malt sweetness gives way to a solid backbone of earthy hops and grain body, finishing with a dry, well attenuated tail end. Carbonation is medium-low, as expected, leaving a decidedly smooth mouthfeel that lets the flavors shine through. Incredible.
★
648 characters
5
/5
rDev
+17.1%
look: 5 | smell: 5 | taste: 5 | feel: 5 | overall: 5
Boozy. yellow wax version picked up a month ago at brewery. split it with two pals and we all felt the alochol in it. i don't know what a deer has to do with bulldozer!
★
169 characters
4.85
/5
rDev
+13.6%
look: 5 | smell: 5 | taste: 4.75 | feel: 4.5 | overall: 5
Had this at Thanksgiving dinner with friends. I've had this beer several times and it keeps getting better with age. Hey BHB! put this beer in a can?
★
151 characters
4.75
/5
rDev
+11.2%
look: 4.75 | smell: 4.75 | taste: 4.75 | feel: 4.75 | overall: 4.75
2015 is a really great beer . Tasts of Carmel vanilla are great it's sweet and and has a full bodied feel has a nice feel. Smells of a ok and raisins when poured into a glass this is a very good barleywine it's a must have if u can get your hands on it. I belive there was a limited supply.
★
290 characters
4.48
/5
rDev
+4.9%
look: 4.5 | smell: 4.5 | taste: 4.5 | feel: 4.25 | overall: 4.5
Appearance: Deep tea amber, tan head, good lacing.
Aroma/Flavor: Nose has malt forward notes of honey, caramel, and some citrus fruitiness which may be the American hops. Pencil shavings and vanilla from the oak are also prominent. On the palate it is more of the same with a light hop bitterness jab and a touch of booze.
Mouthfeel: Full bodied, thick, light lingering hop bitterness and a kiss of warming, drying booze.
Overall: A fantastic example of the American Barleywine. More intense than any others made in GA. Good to go fresh, or with time.
★
556 characters
4.25
/5
rDev
-0.5%
look: 4 | smell: 4 | taste: 4.5 | feel: 4 | overall: 4.25
look: Dark orange-amber. Pretty full light tan head.Messy lacing that recedes pretty quick.
smell: Some dark citrusy fruit on a bed of malt. Some booze in the nose.
taste: much more mellow than expected. Little hint of the high abv. Some light caramel up front and some hoppy bitterness asserts itself in the finish. Damn civilized for a 13+%. As it drops to room temp the bourbon and oaky vanilla crank up the taste fest.
★
422 characters

4.22
/5
rDev
-1.2%
look: 4.25 | smell: 4 | taste: 4.25 | feel: 4.5 | overall: 4.25
2015 vintage
L - Pours a dark rusty copper body with a light tan one finger head. Good retention on the head, although no noticeable lacing.
S - Sweet malts and caramel with a citrus tone midway through and a bourbon, vanilla and light oak on ending.
T - Rich caramel and malts abound. Bourbon and vanilla backs it up. The oak and bourbon flavors really come out as the beer warms. It also gets a little more bitter on the ending. Not an in your face beer, but all the flavors come together as very tasty.
F - Full bodied and low carbonation. Really rich mouthfeel, so smooth and velvety.
O - This is a great example of a well done BA Barleywine.
★
657 characters
4.1
/5
rDev
-4%
look: 4.25 | smell: 4.25 | taste: 4 | feel: 4.25 | overall: 4
Appearance: Nice head retention from the one inch ecru cap; stringy lacing lingers over the clear copper colored liquid
Smell: Caramel, raisin, fig and brown sugar, with pine and citrus pith; modest notes of Bourbon, vanilla and oak
Taste: The sweet flavors of caramel, brown sugar, raisin and fig jut forward, with the pine and citrus pith tones building through the middle; there is just a hint of Bourbon, vanilla and oak that develop
Mouthfeel: Full bodied with moderate carbonation
Overall: A very nice barleywine; the beer would have benefited, however, from greater exposure to the Bourbon barrel
Thanks, factory, for the opportunity
★
650 characters
4.07
/5
rDev
-4.7%
look: 4 | smell: 4.5 | taste: 3.5 | feel: 4.5 | overall: 4.5
Appearance: Moderately hazed body, the color of dark sandalwood capped by a scant, fine, off-white head. Hey, check out those legs!
Smell: Heavy, sweet-scented aroma of salted caramel sauce over toasted grains with hints of orange peels (both sweet and bitter), pureed sultanas, light-colored brown sugar, and American oak with some cutting, jutting traces of alcohol.
Taste: Caramel, brown sugar, and the crusty tops of crème brûlée. Richly sweet, seductively sweet. Golden raisins, sweet morningtime marmalade, and a faint fluttering of florals. There's a firm creepy uncle-like pinch of hop bitterness, but also a noted kick of alcohol. Mild oaky tannins, touch of vanilla-flavored sugar, and a lightly toasted coconut shreds. Sweet, malty finish with plenty of warming alcohol.
Mouthfeel: Medium-full body. Medium carbonation.
Overall: A considerably potent beverage! It's not quite hot, but it's definitely got some heat to it, but it's substantial body and dessert-like qualities make it a fine, slow-sipper.
★
1,021 characters
3.72
/5
rDev
-12.9%
look: 4 | smell: 3.75 | taste: 3.75 | feel: 3.75 | overall: 3.5
A: Caramel Brown.
S: Breadiness, hops, some sweetness.
T: Hops, but not overly bitter. Breadiness. Some slight sweetness in the way back. A fairly basic flavor profile.
F: very average
O: Had the same night as FFF Behrmoth. This tasted like Behemoth Lite.
★
259 characters
Killdozer 12 Point Buck from Burnt Hickory Brewery
4.27
out of
5
based on
53
ratings.