JoJo
| Night Shift Brewing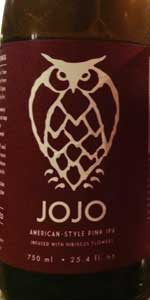 BEER INFO
Brewed by:
Night Shift Brewing
Massachusetts
,
United States
nightshiftbrewing.com
Style:
American IPA
Alcohol by volume (ABV):
6.40%
Availability:
Rotating
Notes / Commercial Description:
American style PINK IPA (yes, fermented with American yeast too!) brewed with Amarillo, Chinook, Cascade and for a tropical kick hibiscus flowers. Dry hopped with Sorachi Ace, Cascade & Legacy for extra enjoyment. Batch 2 will be bottled!
Added by CheapBeerBuzz on 12-23-2013
This beer is retired; no longer brewed.
Reviews: 9 | Ratings: 151

3.65
/5
rDev
-3.7%
look: 4.5 | smell: 3.75 | taste: 3.5 | feel: 3.75 | overall: 3.5
On-tap at Night Shift Brewing in Everett, Massachusetts.
A- Striking lighter red body with a substantial one finger pink-hued head with great retention, sticky lacing. Not something I see from beers of any style unless its a fruit lambic.
S- Floral nose mixed in with some citrus and bready malt. Even a slight bit of tartness. Smells refreshing.
F- Falls back a little bit; some citrus and biscuits mixed in together. Balanced. Some raw onions. Floral finish is bitter, not too bitter but it seems to clash a bit with the other components of the beer.
M- Medium body, a bit thin but well carbonated and creamy. The hibiscus seems to be a sort of slightly off-flavour, but not enough to get in the way of my enjoyment.
O- Maybe I just don't like hibiscus that much, but I think its particular aspects interfered slightly with the base IPA, which already had some onion character to it.
891 characters

4.3
/5
rDev
+13.5%
look: 4 | smell: 4.5 | taste: 4.25 | feel: 4.25 | overall: 4.25
Poured from a 750ml bottle (bottled on 2-27-14) into a 17oz Rastal balloon glass.
A- As soon as it leaves the glass, the visual contribution from the hibiscus is immediate. Although it is pink as it leaves the bottle, the resulted collection in the glass reveals a hazy (yet attractive) blood-orange with a 1-1/2 finger, creamy white head. Streams of carbonation make their way up the sides of the glass. (4.25)
S- Absolutely bright and refreshing. I am immediately hit with notes of tropical fruit (passionfruit, guava, mango), citrus flesh (orange, grapefruit, lemon). (4.5)
T- Although dominated by citrus hops, it is not abrasive. As a matter of fact, the flavor is that of sweet citrus flesh/pulp (dominated by grapefruit) as opposed to the rind. Although brewed with Chinook, there is nary a presence of resiny pine. After the palate is done from drying out and recovers from the hop bitterness, a slight herbal quality from the hibiscus can be detected. (4.25)
M- a malt bill that sports a modest 5.9% ABV, it should come as no surprise that this is a light-bodied offering. Along with substantial carbonation, JoJo is a light and refreshing. Coupled with the citrus zing from the hops, this is one highly drinkable beer. (4.25)
O- This is an ideal beer for the warmer weather. Additionally, for an IPA that is just over 3-months old (I like to consume mine within 90days of bottling), the aromas and flavors are still quite pungent and 'pop' with life. Thus far, I have been impressed with everything I have sampled from Night Shift and JoJo is no exception. If you can get it, and acquire it fresh, do yourself a favor and this out. (4.25)
1,653 characters
3.66
/5
rDev
-3.4%
look: 4 | smell: 3.5 | taste: 3.75 | feel: 3.75 | overall: 3.5
Bottle poured into a NS bell tulip. Not really pink in color, more of a darker amber-fuscia color, though there was an inch or so of pink-white head on top; good retention and cottony dabs of lacing. In the nose, toasted grains and floral notes, the hibiscus wasn't as distinct as I've gotten in other beers brewed with the bloom. Taste was grassy and floral, some drying citrus pith, with a light and crisp bitterness, grainy malt base. Seemed like there might have been some wheat in the grain bill. Light-medium body, crisp and sessionable. Decent overall.
559 characters
4
/5
rDev
+5.5%
look: 4 | smell: 4 | taste: 4 | feel: 4 | overall: 4
4 ounce pour directly at the brewery.
A pinkish body in the glass which is kinda reflected in tasting. Has a very dry tea like feel; flavor is strong citrus and tropical fruits, very refreshing. An enjoyable IPA for sure that is more floral and nuanced than your typical hop bomb.
281 characters

3.96
/5
rDev
+4.5%
look: 4.75 | smell: 3.75 | taste: 4 | feel: 4.25 | overall: 3.75
A-Pours a dark pink! I think that looks really neat. Night Shift's Ever Weisse is probably the coolest looking beer I have ever seen. This one is also very cool. The body is a hearty pink with orange undertones. Ever the frothy head has a pink hue to it. Frothy lacing.
S-The hibiscus flowers are very noticeable. I even get a sort of hop-hibiscus watermelon scent which is unique. Floral and also sweet in the nose. Noticeable citrus hops as well.
T-The flavor brings forth sharp hibiscus notes. Then the bitter pine and grassiness from the hops sets in. I still get some watermelon. Very, very floral. Citrus hops. Crisp grain.
M-Pretty bitter. Quite bubbly. Crisp and sharp. Body is relatively light. The bubbles add an airy feel.
O/D-Very pretty. Flavor has its own unique intricacies. Night Shift is hellbent on making some crazy beers. They succeeded here in my book. I'm a sucker for wacky colored beer.
914 characters
4.37
/5
rDev
+15.3%
look: 4.25 | smell: 4.75 | taste: 4.25 | feel: 4.75 | overall: 4
Very nice floral and citrus aroma. Sweet.
Grapefruit taste, some grassy hops. Sweet and flowery.
This beer is hoppy but not overly hoppy. A very drinkable IPA, i think those who aren't big IPA fans would also enjoy it.
Serving type: growler
Glass type: Tulip.
262 characters
3.51
/5
rDev
-7.4%
look: 4 | smell: 3.5 | taste: 3.5 | feel: 3.25 | overall: 3.5
Growler fresh from the brewery poured into a Sam Adams Perfect pint glass. Not really a "pink" IPA, but I can see why they would try to label it as one. It's really more of an orange/amber color with a watered down and filtered grapefruit juice tinge to it. Glows a little brighter when held up to the light, with some very good clarity. White head with medium sized bubbles, good lacing.
Smell is pretty good. Decent citrus and floral hop aromas coming through here. Followed by a nice doughy sweet bread. I can't really pick up any hibiscus (apparently that's the flower that makes it pink), but there are some floral aromas. It's all meshed in there pretty nice, but nothing about the smell is very strong.
Taste is on par with the aroma. Grapefruit citrus comes out the most, my guess is of all the hops, cascade might have been the hop used the most. Still Amarillo hops are very detectable based on the gentle and easy transition to bitterness. Some doughy bready tones in the flavor profile as well.
Mouthfeel is a little bit better than ok. Body is fairly light but at the same time oily and piney. Not that it has to be, but nothing about this beer is strong. Has a slight sweetness in the beginning with a easy transition to bitterness, and even though it's not strong, it's equally balanced. While being piney and oily it still maintains a level of cleanliness, you can tell it's well crafted. Moderate carbonation put together with a nice light flavor still makes it pretty drinkable. This beer is good but not great, if the recipe doesn't really changed I don't know for sure I'd get it again this time of year, more of a light summer IPA for me. Still glad I tried it, I just think Night Shift can do better.
1,726 characters
3.59
/5
rDev
-5.3%
look: 4.5 | smell: 3.5 | taste: 3.5 | feel: 3.75 | overall: 3.5
Pours a really sharp pink with a bright white head. The scent is a bit fruity and fairly piney. You can tell it is an ale despite the color. Taste is a fairly generic bitter APA. I'm not getting much in lines of the advertised hops. It's a tad floral but the hop bill doesn't play into the hibiscus like say Revolution's Rosa does. This was just too bitter for what I expected and it missed the mark on being interesting as well.
429 characters

4.02
/5
rDev
+6.1%
look: 4.25 | smell: 4 | taste: 4 | feel: 4 | overall: 4
This was a visually appealing beer. Poured into a teku glass, the beer was a pink/orange color. There was a medium-sized white head with a little bit of lace.
A nice floral and citrus aroma. Sweet.
Grapefruit taste, some grassy hops. Sweet and flowery.
This beer was well-hopped. A very drinkable IPA, and pretty to look at, to boot.
336 characters
JoJo from Night Shift Brewing
3.79
out of
5
based on
151
ratings.