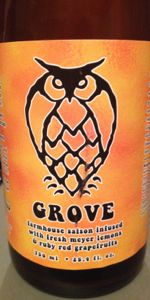 Write a Review
Beer Geek Stats:
| Print Shelf Talker
Style:

ABV:

6.9%

Score:

82

Avg:

3.58

| pDev:

18.44%

Reviews:

15

Ratings:

From:

Avail:

Retired (no longer brewed)

Wants

Gots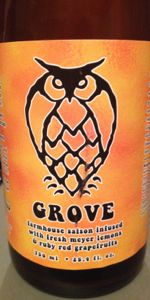 Notes: Our tart saison fermented w/ grapefruit & myer lemons!

3.36
/5
rDev
-6.1%
look: 3.75 | smell: 3.25 | taste: 3.25 | feel: 3.5 | overall: 3.5
The slightly tart citrus qualities of the meyer lemon and pink grapefruit are apparent. This beer is definitely a thirst quencher, but I wouldn't call it refreshing.
166 characters

2.54
/5
rDev
-29.1%
look: 3 | smell: 3.25 | taste: 2 | feel: 2.25 | overall: 2.75
Bottle dated 6/11/2014. Nose was very citrusy with some funk. Flavor follows this up front but is immediately followed by a chemically-driven chlorine bleach taste. An unfortunate drain pour.
194 characters

3.48
/5
rDev
-2.8%
look: 4.25 | smell: 3.75 | taste: 3 | feel: 4.25 | overall: 3.5
Bottled 6/12/14, consumed 12/1/14. The odd interplay between the bitterness of the grapefruit and earthy yeast bi-products lead to wasabi like flavor characteristics toward the finish. Very little tartness, perhaps because of the age. Some lemon, some pear characteristics. Medium high carbonation and light bodied.
316 characters

3.4
/5
rDev
-5%
A-Cloudy yellow, nice carbonation and a three finger fluffy head
S-Wheat and grass than an odd mix of artificial lemon, not much grapefruit.
T-No balance. Starts wit the artificial lemon then has some wheat and grass. THe grapefruit isn't really there.
M-Medium bodied, with nice carbonation.
O-Poor balance, slightly artificial, a definite miss.
352 characters

3.9
/5
rDev
+8.9%
Beautiful with a golden color and a big white head. Wonderful citrus in the aroma. Nice grapefruit in the taste. I liked it more and more as the glass emptied. What a way to get your vitamin C.
196 characters
1
/5
rDev
-72.1%
While I undoubtedly had a bad bottle and some might argue that it's unfair / unrepresentative to rate and review an off bottle, I do so in this case simply because I find Night Shift beers so unpredictable and prone to variation. I've had some things I've enjoyed a lot but far more that were either off but bearable or completely attrocious. This falls in the attrocious camp. The appearance was nice though the carbonation had a plasticy foam appearance. An ominous sign. The first aroma I got was soap - lemony dishsoap. Perhaps, I thought, this was the meyer lemon coming through and it would dissipate and change into something more pleasant. Dissipate it did ... but not to something more pleasant. Band aid and empty dishsoap bottle were what remained. Taste followed with the citrus fading to leave me with a mouthful of plastic. Perhaps this was just sense perversion from the off flavor, but the body / mouthfeel seemed to carry a bit of slickness.
959 characters

1.42
/5
rDev
-60.3%
look: 4 | smell: 2 | taste: 1 | feel: 1 | overall: 1
Only typically rate beers, but felt the need to justify the rating with a review on this one. Visually it looked awesome, and conceptually it sounded mouthwatering, but when the wife and I took our glasses to our noses, we could immediately tell something was off. The peppery hints of a saison were there, along with tart notes, but there was also a funky, metallic like smell that carried over into the taste and was more than unbearable. Unfortunate end to this bottle that was picked up and toted home from a recent visit to MA. Would definitely give it another go if the opportunity presents itself, however, as this one sounds tasty!
639 characters

3.84
/5
rDev
+7.3%
look: 4.25 | smell: 4 | taste: 3.75 | feel: 3.75 | overall: 3.75
Bottled 6/11/14 (almost a month old). 7.1% ABV.
A: One of the cloudiest golden pours I've ever seen. It's so cloudy that it's basically white (witbier anyone?). Enormous, frothy and effervescent off-white head. Head finally settles down, leaving only a smidge of lacing.
S: Sweet, candied citrus. Lemons and sweet grapefruit. Light funk.
T: Yup, citrus. Shocking, right? Huge lemons and grapefruits. Acidic and sweet at the same time. Quite a bit of bitterness and a little funk. Funky, bready finish reminds you that this is a saison. Light wave of citric bitterness lingers in the aftertaste with a bunch of earthy black pepper (yay belgian yeast!).
M: Medium bodied, acidic and bitter.
O: Pretty much what you'd expect. Lots of sweet and sour citrus action with some mild saison elements to remind you that this is actually beer. I liked it, it's just a bit over the top with the funkyness but they really needed to compete with the big citric bitterness so I can see it.
981 characters

3.49
/5
rDev
-2.5%
look: 4.75 | smell: 3.75 | taste: 3.25 | feel: 3.5 | overall: 3.25
A-Pours a milky, cloudy, pale yellow color. Even my initial, small pour births a large, agitated head. Head is very frothy. Not much lacing. It looks the part.
S-The infusion of grapefruit and lemon is clear and present. Both the lemon and grapefruit hit the nose quickly, which other aspects of the beer left to catch up. I also get some phenolic yeast.
T-The grapefruit and lemon is dulled down noticeably. The spices and phenols overwhelm me and almost begin to taste like plastic. With some warmth and after a few sips, the citrus additions also come back around. However, that yeastiness is pretty overpowering.
M-Softer carbonation. Finishes semi-dry. Light alcohol. Lingering flavor. It's a sipper for me.
O-I liked the nose. I was not a fan of the flavor. It has potential; not a fan of the pseudo-plastic flavor. Might take a while to complete this 750ml. To its credit, IPAs it warms it becomes more dominated by the lemon and grapefruit.
952 characters
3.62
/5
rDev
+1.1%
look: 4.25 | smell: 3.5 | taste: 3.5 | feel: 3.75 | overall: 3.75
Ridiculously super hot day, humid, severe thunderstorms on the way, this is the time I was waiting for this beer. Hoefully the citrus hasn't died off too much. Bottled 4/30/14
Pours a nice large 2 finger creamy fluffy thicker but a bit frothy head that fades at a slower pace, nice soapy lacing, mostly clear golden honey colored with some streaming bubbles.
Nose big grainy saisin out front, husky doughy wheat, hay, grassy, little yeasty and toasted, mild farmhouse funk and phenolic spice notes, touches of esters. Then lemon rind comes through, lots of lemon, mostly rind though, some citrus juice, not really any grapefruit though.
Taste is much different, this time a big citrus at first, a weird citrus mix... strange flavors, almost like pickling spices and a hint of vinegar with lots of citrus rind and citric acid. This time lots of ruby red grapefruit and a little blood orange flavors come through, with some lemon zest and tangy lemon juice. Then background brings some fluffy wheat malt, grainy toasted malts, little straw and husk like notes, into mild yeasty farmhouse funk, not a ton though, and little phenols and some mild esters. Eventually the lemon juice, citrus and tangy flavors wash over, citric acid as well. Finish is drier but a little sticky, tons of citrus lingering, a little ruby red grapefruit and some lemon juice, tangy bitter zest, and little grainy malt and farmhouse yeast flavors lingering.
Mouth is med to a bit lighter bod, decent carbonation.
Overall not bad, I assume the citrus faded a bit in the nose, but nice flavors in the taste, almost all citrus in the taste it actually overpowers the saison a bit, and perhaps would have been too much when super fresh. That initial flavor where all the mixed flavors flashed onto my tongue was a bit unnerving, it was weird, but eventually all the flavors came through on their own and it was pretty good. Still pretty enjoyable on a hot summer day.
1,942 characters

3.73
/5
rDev
+4.2%
look: 4 | smell: 4 | taste: 3.5 | feel: 3.75 | overall: 3.75
This is a great beer to have on a warm summer day.
A hazy yellow color, it has a small white head that left a bit of lace.
Nice aroma of grapefruit and lemon. Some sweet malt, a little bit of spice.
Not quite as tasty as I expected from the aroma. Lemon and grapefruit, but muted. Bready.
Some peppery spice late.
A very drinkable beer. I would have liked a little more out of the taste.
390 characters

3.51
/5
rDev
-2%
look: 2.75 | smell: 4.25 | taste: 3 | feel: 4.25 | overall: 3.5
Poured into a tulip, this one pours a very pasty orange with a thin film of head. Seems far too cloudy for the style.
In the nose there's a sharp nip of mandarin oranges and peach atop a chalky and peppery yeast. Sour currants fill this on out.
I'm a little on the fence with the flavor here. On the one hand, there's a bright and fruity orange juice backed by an earthy, peppery dryness. But on the other, there's a confusing bitter dryness in ether finish that seems to be a cacophonous blend of hops and grapefruit. I want to like this, or to at least get it, but it's really asking a lot of my palate's sensibilities.
Feels clean and juicy with a dry pucker in the finish. The carbonation is understated, which seems to work well here.
I wanted to like this one a lot more than I did. I'll give it points for novelty though. I guess I've never wanted to put black pepper on my grapefruit.
897 characters

4.39
/5
rDev
+22.6%
look: 4.25 | smell: 4.5 | taste: 4.5 | feel: 4 | overall: 4.25
750 mL bottle purchased at the original location. Served at 50F in a HF wine glass.
A: Sightly hazy golden-orange body with a creamy whit 1.5" ead thst folds on for 2-3 minutes leaving thick lacing in the glass. Medium swirlinh revives the head. Medium size bubbles in the carbonation.
S: Stong scent of lemon and citrus over an earthy/bready base. No hop presence and malts are jst above background levels. Hints pf pepper and lactic acidity.
T: Citrusy lemon balanced against the sweetness and bitterness of grapefruit. That sounds counterintuitive, but it's a fresh, bright grapefruit flavor...alomst fresh squeezed. Hints of barnyard and classic earthy saison round out the flavor. Lingering touches of grapefruit nd a slight residual (non hop) bitterness associated with citrus peel. I like that, but some may not. Finishes dry.
M: Light bodied, this is a great summer beer for beach, post lawn-cutting or just sipping all aftenon with good friends. Medium carbonation (slightly low with respect to Belgian styles). Not cloying or slick, this beer leaves you wanting more.
O: A nice Amercan twist on a classc Belgian style. NS has done very well with their fruited beers and this is not exception. I'm told this will be a year round offering. Es, please.
1,264 characters

3.75
/5
rDev
+4.7%
look: 3.75 | smell: 3.75 | taste: 3.75 | feel: 3.75 | overall: 3.75
The beer pours a bubbly white head that dissipates quickly and leaves some lacing afterwards. The beer itself is a very clear gold color with some brown notes. The smell has a nice tart smell to it. The grapefruit smell and lemons have a strong presence that clash with the saison peppery and earthy hop smell. The taste is somewhat similar to the smell but with a much stronger lemon adn grapefruit taste. The bitter hops and earthy tones come out later in the taste towards the end. The mouthfeel is very smooth with biting carbonation. Medium bodied but on the lighter side. Overall, a decent beer and worth getting.
619 characters
3.63
/5
rDev
+1.4%
look: 4.25 | smell: 3.75 | taste: 3.5 | feel: 3.75 | overall: 3.5
This beer pours a light golden color with a big foamy head. The scent is fairly nice with flowery esters, loads of Belgian yeast, and hints of citrus. The taste is pretty similar but the yeast really takes over. This is certainly not a dry saison. Big belgian flavors like almost hefeweizen-esque. The hint of banana and heavy flowery notes really drown out most other flavors. As the beer gets much warmer, I am now getting the distinct meyer lemon juice/peel flavor on the finish, which is nice. Maybe the grapefruit helps make the meyer lemon distinct rather than a generic lemon taste. If this beer was drier and the citrus peel was more of a highlight, this could work. I was expecting a fresh take on Sofie and maybe even something comparable to Sofie Paradisi. It was not similar to that beer at all.
807 characters
Grove from Night Shift Brewing
Beer rating:
82
out of
100
with
162
ratings