Snow
| Night Shift Brewing
BA SCORE
82
good
11
Reviews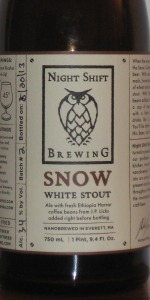 BEER INFO
Brewed by:
Night Shift Brewing
Massachusetts
,
United States
nightshiftbrewing.com
Style:
American Stout
Alcohol by volume (ABV):
4.50%
Availability:
Limited (brewed once)
Notes / Commercial Description:
White Stout.
Added by BeerAdvocate on 01-11-2013
This beer is retired; no longer brewed.
Reviews: 11 | Ratings: 81
4.14
/5
rDev
+18.3%
look: 3 | smell: 4.5 | taste: 4.25 | feel: 3.75 | overall: 4
Poured from a bottle labeled batch #2 bottled 5/20/13 into a Baxter can-glass. Bought at the brewery.
A - Cream/white-orange color, hazy with a watery but firm head.
S - Nice coffee aroma smells like a bag of ground coffee. Earthy.
T - Sweet oatmeal with a cream and coffee taste. The head has a lighter flavor and provides depth to the beer. Blueberry, toffee, lime, and cranberry notes.
M - An aerated version of a stout. Not sticky which balances out nicely with the creamy texture.
O - A worthy idea to make a white stout. Low alcohol allows this beer to have lots of little flavors along with a big coffee overtone.
628 characters
3.99
/5
rDev
+14%
look: 4 | smell: 4.25 | taste: 3.75 | feel: 4.25 | overall: 4
This beer is too unique to not review. Fresh 750ml bottle poured into Night Shift snifter.
A: Body is golden and gueuze-like, and it is very (assuming intentionally) murky and thick looking. Head is very white - you could even call it snow colored! Lacing decent. If I blindly looked at this beer, with the head I'd assume a tripel.
S: Here is where the senses go off the track. Coffee. Close my eyes and it smells like a coffee oatmeal stout. Some wheat lies underneath.
T: Coffee is the immediate and dominant flavor here, but the body holds strong with wheat and oatmeal. Very low alcohol, and thus a watery flavor mixed in. A bit of bitter astringency on the backend, and then the coffee aftertaste lingers in the mouth.
M: I wouldn't call it full bodied, but it's shockingly medium bodied for a 3.5% beer. Carb is spot on.
O: If you like coffee beers, this is well worth seeking out, especially if you are local.
Others may be interested in the novelty, as this is definitely something a bit different. At $10, it's hard to call this a session beer, but otherwise I could drink a few glasses of this in a night.
1,122 characters
3.82
/5
rDev
+9.1%
look: 3.5 | smell: 4 | taste: 3.75 | feel: 4 | overall: 3.75
I really liked this beer
Pours hazy yellow with a thick white head.
Smells like coffee. It was bizarre to get such a coffee taste from a beer that wasn't really a stout.
Taste- Coffee but with a hint of wheat. I was expecting more bitterness but the beer is really balanced.
MF-Carbonated and smooth at the same time. Loved the mouthfeel of this beer.
Overall- I have had 4-5 beers from this brewery and this has been my favorite by far. I would be nice if the ABV was a little higher but a great beer.
508 characters
3.73
/5
rDev
+6.6%
look: 4 | smell: 4 | taste: 3.5 | feel: 4.25 | overall: 3.5
Picked this up at Julio's. Poured into my Duvel tulip. Less than a month old.
A - Pours a nice slightly cloudy golden hue with a nice two finger white head that fades to leave a thin wispy blanket and nice light lacing.
S - Heh, this is fun. I was expecting, and wanting more coffee. What I get though is deep fresh grounds. Not too roasted smelling, just fresh, almost bright green coffee grinds. Fun
T - Lots of wheat in this, almost unpleasantly so. I can understand the watery aspects of this. I do not have an issue with that, coffee seems a bit on the old side, and the wheat and it kinda clash on my pallet.
M- Mouthfeel is solid, given its low ABV. Spot on carbonation for a stout.
O - Overall, this was a weird beer, to be expected. I want to like it, I want to REALLY like it, but the wheat just throws me for a loop.
833 characters

3.68
/5
rDev
+5.1%
look: 4 | smell: 4 | taste: 3.5 | feel: 3.75 | overall: 3.5
Batch 2, bottled 5-20-13, 3.4% ABV. Lowest ABV stout on the list?
A: Pours a completely cloudy pale golden orange. Almost exactly like a witbier. Big fluffy white head. Head fades away slowly, with just the lightest specks of lacing left behind. Good head retention.
S: Coffee beans and oatmeal. Wheaty, like a witbier. Unique is an understatement.
T: Coffee beans, wheat and oatmeal. It's like a coffee oatmeal witbier. A breakfast witbier? A little caramel in the middle, briefly. Sharp bitterness in the aftertaste from the coffee and maybe some hops? Hard to tell, just kind of an indistinct bitterness. Kinda metallic in fact.
M: Surprisingly medium bodied for 3.4% but still fairly light.
O: Another unique beer from night shift. I wonder where they dream this stuff up? Nice strength of flavors in this one for such a low ABV (again, only 3.4%, it's like bud light light). Only thing I didn't like was the strong acrid bitterness in the finish. Obviously there isn't much malt balancing it out so it's not surprising I guess. It would be really good without that odd bitterness though, I think.
1,108 characters

3.65
/5
rDev
+4.3%
look: 4 | smell: 4 | taste: 3.5 | feel: 3.5 | overall: 3.5
Poured from the bottle into a snifter
A - this pours a hazy, golden orange like a pale or IPA. Pours with about 2 fingers of head that dissipates quickly. Quite a bit of carbonation to this one.
S - the smell is that of a porter or stout, its all roast and malt. smells of coffee and little bit of cocoa bean. underneath the roast smell is a little hint of hops.
T - a very unique taste to this one. what comes to the front is the maltiness of a porter or stout, but as it progresses the flavors to fight with the hops for taste with a little vanilla underneath. the hops tend to take over slightly in the back of the tongue and a bitterness is left. very interesting.
M - like the taste, the mouthfeel is rather unique as well. there's a slight dryness to the finish. the aftertaste has a little vanilla, hops and maltiness.
O - this is a rather unique beer that has a few conflicting tastes to it. Its rather easy to drink at 3.4%. There is too much contrast in the flavors for me to want to have this again. It wasn't necessarily a bad beer, very creative and imaginitive, but there is too much going on for me to enjoy it. The different tastes draws too much of my attention for it to be enjoyable. I love the creativity and definitely gets points for uniqueness if nothing else.
1,290 characters

3.64
/5
rDev
+4%
look: 4 | smell: 3.75 | taste: 3.5 | feel: 3.5 | overall: 3.75
750ml bottle poured into 18oz Funky Buddha snifter. Batch #1, bottled 5/7/13 (two days ago), abv 3.5% hand written on bottle.
A- Pours a slightly hazy yellowish golden that has a bout a finger's worth of white bubbly head that recedes slightly faster then average pace. About average carbonation with nice consistency. Like the description this definitely looks more like a "pilsner" or lighter beer then an actual stout.
S- Coffee beans, some light vanilla beans, and a strong wheat grain-like background. Fairly aromatic.
T- Light watery coffee with some vanilla beans added and a strong wheat backbone, finishes more wheat and more of a coffee bean and presence that lingers on the palate for a little while. Interesting, definitely unique, I wasn't a huge fan of the original taste but the finish wasn't too bad- just a little bit unsual, which I don't mind.
M- Slightly watery as expected with the 3.5%, decent carbonation (maybe carbed just a little bit too much), very easy drinking.
O- This was definitely an unique brew that I enjoyed trying but I probably won't try again in the near future. It had interesting tastes, almost like an oatmeal stout without the chocolate mixed with lighter bodied beer. An interesting concept, but I'd probably take most stouts over this. Also I'd like to see them beef this up a little bit, as a 3.5% session beer it was a little bit on the watery side which I felt like didn't go with the coffee that well (who wants to session a coffee beer?).
1,493 characters
3.6
/5
rDev
+2.9%
look: 2.25 | smell: 3.5 | taste: 3.75 | feel: 3.25 | overall: 4
I'm not one to fruit the beer, but a twist of lemon goes a long way with this beer.
Classified by the brewery as a "white stout." Growler poured into a Sam Adams Perfect Pint Glass. Comes out a pale straw yellow color. It's very hazy, can't really see through it but you can kind of see shadows and shapes. Glows very a golden color when held up to the light. Pale white head with various sized bubbles, not much in the way of lacing.
Smell is pretty good, but I'd classify it more as a Belgian Style stout than American or English style. Smells like some black coffee, but a little thin and slightly under-brewed. After that there's fresh ground belgian style malt and yeast aromas. Not much in the way of roasted/toasted malts, but very wheaty.
Taste is on par with the smell. Coffee, wheat, slight oats and grain as well. At the end there is sort of a earthy pepper flavor.
Mouthfeel is good, but it belongs more along the lines of a wheat beer, belgian pale, or some type of sour. Light bodied and a little gritty. Pretty drinkable though.
Overall it's a pretty unique beer. I liked the sample enough to get a growler, but the growler was a bit much on it's own. A fun beer to play with and worth trying and talking about. Like I said above, a twist of lemon goes a long way with this one...Also a nice IPA blends quite nicely with this, sounds weird, but it works.
1,377 characters
3.3
/5
rDev
-5.7%
look: 2 | smell: 3.75 | taste: 3.25 | feel: 3.75 | overall: 3
Not quite sure what a white stout is, sounds like the oxymoron style name like black IPA. But I guess I'll find out. Batch #2, bottled on 5/20/13, abv on this batch was only 3.4%, that's crazy low.
Well it def pours out on the white side, a cloudy murky orange nectar wheat colored, looks just like a wheat beer, a pillowy fluffy 1 finger head that leaves soapy lacing all around.
Nose erupts with coffee, smells like a cold extracted coffee with a smooth more mild coffee roast but rich at the same time, as well as a very nutty slightly earthy coffee with a hint of a cocoa as well, I do get some of the wheat as well, a creamy wheat aroma, the coffee turns to fresh roasted espresso beans the more i go.
Taste brings more coffee and wheat, as well as a biscuity toasty malt flavor, and some flaked oats bring some of that toasty flavors as well as a light creamy feel, it gives a bit of a cream ale feel more than a stout feel or wheat even. Wheat is there, with a grassy hay like wheat character, cracked straw. Coffee is light than I expected from the nose, a cold extracted brew, with more nutty flavors, mild roast but a fresh ground coffee taste, mildly earthy. There are faint earthy floral hops on the back end bringing a hint of bitterness. Finish is very dry, a bit more coffee lingering, nutty, bit of wheat flavors as well.
Mouth is med to lighter bod, fairly creamy almost cream ale like, decent small bubbled carbonation.
Overall meh, not sure how they can even come close to calling this a stout... just because it has coffee in it? It's more like a hefe cream ale hybrid with coffee in it and very little bitterness. It's drinkable, not too bad and not many off flavors, but doesn't really do much for what I was expecting, and I think they completely missed what the definition of "stout" is, which means bold or strong version of something... so typically stout is referred to a strong or bold porter, and then traditionally gets a black color due to that. This has none of those, it's def not black, it doesn't really have any strong or bold characteristics, its more of a mild creamy low abv summer drinking beer with coffee. WTF guys, really?!
Side note, not sure how these guys got such a great reputation. Out of the 4 beers I've had, 3 of them pretty much sucked, and the only good one was the Berlinner Weisse, which actually was well done. I have one left, Viva Habanera, which I really hope isn't as bad as the rest. If you read this Night Shift, don't take it the wrong way, please accept it as criticism hoping you can improve the beers from feedback.
2,589 characters

2.93
/5
rDev
-16.3%
look: 3 | smell: 3 | taste: 2.75 | feel: 3.25 | overall: 3
Too odd to pass up. Pours a cloudy dark straw color with a smallish white head that dissipates rather quickly. Wicked roasty caramel coffee aroma drowns out anything else in the nose for me. The flavor is over the top coffee with bits of butterscotch, bready malt and little else. Hints of astringency and a solid coffee bitter bite. Medium body with a moderate level of carbonation and a slick bitter mouthfeel. Interesting to try, great outside the box thinking, but not that great a beer in my opinion.
505 characters
2.84
/5
rDev
-18.9%
look: 2.25 | smell: 3.75 | taste: 2.25 | feel: 3.5 | overall: 2.75
Batch #2, Bottled on 5-20-2013
Consumed on 8-06-2013. Poured into a Sam Adams perfect pint glass.
Pours a murky light brown in color kind of like old dishwater...not the most appealing beer visually. Small white head at the top with minimal lacing. A bit funky on the nose, aroma is mostly mild with a hint of coffee and overripe fruit. While its hard to pick up the coffee by smell, the first thing I taste are the beans they've added. Unfortunately it tastes like old coffee grounds and maybe even cigarette smoke. Maybe it would have been better fresher. Although the beer is quite creamy, it also feels thin in body if that is possible. Perhaps it's just the mental perception of drinking a light colored beer calling itself a stout. Overall it's an interesting and creative concoction but that's not always a recipe for success. I'd be willing to try this again, only because this is the first mediocre offering I've had from Night Shift. Everything else has been outstanding.
984 characters
Snow from Night Shift Brewing
3.5
out of
5
based on
81
ratings.