Fallen Apple
| Night Shift Brewing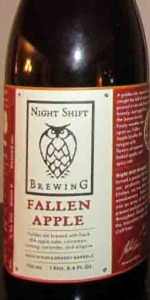 BEER INFO
Brewed by:
Night Shift Brewing
Massachusetts
,
United States
nightshiftbrewing.com
Style:
Fruit / Vegetable Beer
Alcohol by volume (ABV):
6.30%
Availability:
Winter
Notes / Commercial Description:
Golden ale brewed with fresh MA apple cider, cinnamon, nutmeg, coriander, and allspice; aged in rum and brandy barrels
A golden ale, warmed with holiday spices, caught the fall of autumn's last apples. We poured it into oak barrels of rum and brandy, and aged it as the leaves turned. Frosty weather now upon us, Fallen Apple kindles the tongue with flavors of caramel, baked apple, and spicy oak.
Added by Jason on 02-06-2013
This beer is retired; no longer brewed.
Reviews: 6 | Ratings: 66
4.61
/5
rDev
+40.1%
look: 4.25 | smell: 5 | taste: 4.5 | feel: 4.5 | overall: 4.5
Served in a bottle and poured into a tulip glass.
Heavier apple brew but it was the perfect beer for Thanksgiving.
You can smell the hints of apple and cinnamon and also taste it. If you are a fan of apple brews this is definitely worth trying the next time Night Shift has it available.
291 characters

3.79
/5
rDev
+15.2%
look: 3.5 | smell: 4.5 | taste: 3.5 | feel: 3.5 | overall: 3.75
The beer pours a dark, ruby orange color with a sudsy head of off-white bubbles that sit about a courter of a finger's width above the glass. The blending of cider gives the beer some hazy golden hues, but the body is quite cloudy and opaque, with just the slightest hint of the other side of the glass coming through. On the nose the beer brings a rich complexity of scents, marrying the spices, the rum and brandy barrels, and the cider into a fascinating smell. Rich oak scent mingles with a touch of boozy rum and the sweet and caramelly apples. Cinnamon, nutmeg, coriander, and allspice each add a gentle spice to the nose. The spices and the oak, in fact, blend perfectly together and give the beer a rich "holiday-feel." On the tongue, the beer tastes boozy with a nearly sickly-sweetness that just barely manages to be tasty. Strong bitter tannins cause a slight astringency on the finish. The spices also give a slight spiciness (surprise, surprise). Fruity apple notes are light with a dryer finish. In flavor, the beer begins as rich, boozy rum with a touch of brandy. The flavors move towards slightly oxidized cider with a mulled quality that turns spicy as the various spices assert themselves. Strong oak flavors add touches of vanilla and toast as the tannins give an herbal bitterness to the back of the sip. There is a hint of savory flavors just before the finish, which I am having trouble describing at the moment. In the mouth, the beer feels medium in body with a fuller finish. The carbonation is light in the mouth, but the beer carries a light astringency that helps in drying out the tongue. After the beer leaves the mouth, the tongue is sticky dry and the mouth continues to smack with a light astringency, especially with the tannins. Overall, I'm a little underwhelmed with this beer. I fear I was looking for a little more apple and spice character, but in the end I got a ton of barrel character and booze from this beer. There is also a bizarre flavor that develops in the mid-sip and is a little stale, almost like the malts trying to assert themselves. This was an interesting sipper, but not a beer I will be revisiting.
2,165 characters
3.68
/5
rDev
+11.9%
look: 4.5 | smell: 4 | taste: 3.5 | feel: 3.5 | overall: 3.5
750ml capped bottle into a Founders snifter.
Pours a rich, fluffy, 2 finger light cream colored head with great retention. Lacing is stringy and spotty with excellent stick. Beer is a clear, bright bronze. Really a good looking beer.
Nose is sugar cookie, cinnamon spice, apple pie with a slight touch of yeasty sweetness. Delicious! Almost like a pumpkin beer. Very aromatic.
Opens sweet and cinnamon-y. Notes of cinnamon spice, apple pie, sugar cookie, yeast and fresh baked goods. Apple skin and pulp really come through nicely. Lightly boozy at the finish with a touch of wood in the aftertaste along with some yeast and more cinnamon. Solid.
Medium bodied with low to moderate carbonation. Smooth and warm in the mouth and goes down spicy and semi-dry. Pretty clean finish with a lightly lingering aftertaste. Decent.
This is a very well done beer. Unfortunately, even though I think the intended flavors come through perfectly, the flavors themselves are not all that enticing or impressive. Worth trying because its pretty unique but not one I'd have again.
1,071 characters
3.52
/5
rDev
+7%
look: 3.75 | smell: 3.5 | taste: 3.5 | feel: 3.5 | overall: 3.5
A solid, above average fruit beer. Taste is nutmeg, clove, coriander, apple cider, and some alcohol. At first, I thought I was drinking a witbier before the apple cider taste took hold. This is a nice sipper. Not sure if I will get this again, but it is interesting.
270 characters

3.06
/5
rDev
-7%
look: 4 | smell: 3 | taste: 3 | feel: 3 | overall: 3
Didnt care for this much. I expected much more of everything considering the ingredients. Got a little apple but beyond that, didnt taste much else. Wanted some cinnamon and character from the rum barrels.
205 characters

2
/5
rDev
-39.2%
look: 2 | smell: 2 | taste: 2 | feel: 2 | overall: 2
Started off semi enjoyable but then changed into a flavor i cant quite put my finger on. The apple and cinnamon are definitely prevalent but its just not what i like in an apple ale.
182 characters
Fallen Apple from Night Shift Brewing
3.29
out of
5
based on
66
ratings.