The Celtic Fringe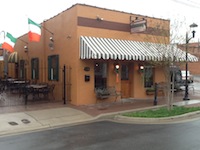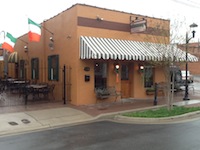 Bar, Eatery
234 SW Market St
Reidsville
,
North Carolina
, 27320-3822
United States
(336) 347-7707 |
map
thecelticfringe.com
Notes:
Reviews by donquixote:
donquixote from North Carolina
5
/5
rDev
+5.7%
vibe: 5 | quality: 5 | service: 5 | selection: 5 | food: 5
A breath of fresh air to this rural community of Reidsville. Gary, Kimberley and Shannon Forrester have an excellent staff. A great selection of food with plenty of vegitatrian dishes for the health conscious eater. Reasonable prices and great service. The tap selection changes daily and the bottle selection is the bees knees in this area. The staff is educated on styles of beer and if they don't know they will get the answer. WiFi is available for access to Beer Advocate. Should you visit just tell them the "Beer Guy" sent you if I'm there I'll buy you a beer.
Mar 09, 2012
More User Reviews:
robebo44 from Virginia
4.2
/5
rDev
-11.2%
vibe: 3.75 | quality: 4.25 | service: 4.25 | selection: 4.25 | food: 4.25
Mar 17, 2019

RevRaymer from North Carolina
4.98
/5
rDev
+5.3%
vibe: 4.75 | quality: 5 | service: 5 | selection: 5 | food: 5
I love this place. The food is great and the service has always been top notch. The owner even gave me her ipad so I can look at beer reviews for me to make a better selection. Speaking of the selection the food is delicious and the selection of beers is amazing (especially considering the small town you are in). And this just isn't a place where they happen to have a lot of beers but the servers know beer and the beer they serve. They are also always looking for new beers to have in stock.
The place has a great friendly atmosphere. When one thinks of the way a pub should be this is it. My only complaint is that it can be a bit small but when the weather is good one can go outside and enjoy the patio area. Honestly, I'm not sure if being inside or outside is better. Either way the beer is great.
Mar 21, 2013
Johanneswomann
5
/5
rDev
+5.7%
vibe: 5 | quality: 5 | service: 5 | selection: 5 | food: 5
A small place with a lot of heart. I really can't believe we lucked out and got such a great place to eat here in Reidsville. The food is phenomenal and well priced and they keep a great selection of craft beers and ciders on rotation. The wine list is top notch as well. The staff iis well trained and couteous. The Fringe is a great place to spend the evening or to take a nice lunch break. I could not recommend it more highly!
Incase you want specifics--My personal favorite dishes so far are:
Guiness Chicken
Veggie Panini (I think they call it a Scottish panini)
Ale cheese soup
And of course the shepard's pie is awsome.
Oh, and let's not forget every single dessert I have had but especially the cremé brûlée! Yum!
Jun 05, 2012
countycork
4.9
/5
rDev
+3.6%
vibe: 4 | quality: 5 | service: 5 | selection: 5 | food: 5
The Celtic Fringe is the best thing to happen to Reidsville. Finally, you can get Guinness on tap. Their beer selection is second to no one. They have beer from all over the world. The taps are always changing, allowing patrons to enjoy different beers. Of course, you can always get Guinness, and Smithwicks, my favorites. Try a blacksmith if you visit.
The food at the Celtic Fringe is very, very good, too. They have a nice variety of dishes, all expertly prepared for your enjoyment. Try the beer cheese soup, made with Smithwicks!
The staff is wonderful. They are always cheerful, and very knowledgeable of the many beers. Stop in and enjoy some great food, and tasty beer.
Jun 04, 2012

irishstoutlvr from North Carolina
3.2
/5
rDev
-32.3%
vibe: 1 | quality: 3 | service: 2.5 | selection: 4.5 | food: 4.5
Great food, and a great beer selection. Their taps are constantly rotating, which is nice, so you can try new beers. The staff is very, very friendly, and knowledgeable. I recommend this place to all my friends, and people I think would enjoy a good beer.
I only wish they would play more celtic music, seeing as it is a Irish restaurant. They do have the rare occasion of celtic song playing. , but would really benefit from a constant rotation. No Celtic music was played on St. Patty's Day. Blasphemy!!! So, if you are expecting to have a Irish restaurant experience, well, DON'T! Also, they gave me Killian's Red with Guinness when I ordered a Blacksmith. I was expecting Guinness and Smithwick's. That is pretty weak.
The Celtic Fringe offers the perfect pour for you Guinness lovers. As well, they offer many, many craft beers. Some of my favorites are the beers from Duck Rabbit Brewery.
Jun 04, 2012
SVK
5
/5
rDev
+5.7%
vibe: 5 | quality: 5 | service: 5 | selection: 5 | food: 5
My family enjoyed another dinner and tried a couple new beers last night at The Celtic Fringe. I'm ready to go back for more tonight. The Celtic Fringe has a wide variety of beer. The constantly rotate the draft beer so I'm always interested to see whats new on tap. I enjoy looking over and reading the beer list. It is loaded with interesting information about each beer. The servers are knowledgeable and helpful with the decision of which one to try next. The entire staff provides excellent service and the food is spectacular. I highly recommend you try this restaurant first chance you get.
Jun 01, 2012
packfan99
5
/5
rDev
+5.7%
vibe: 5 | quality: 5 | service: 5 | selection: 5 | food: 5
The Celtic Fringe is the best thing that has happened to Reidsville! The food is amazing. I have been several times and tried something different every time. Everything I've had has been thoughtfully prepared and tastes incredible. I would put the specials, beer selection and house made desserts up against the best any big city has to offer.
The beer selection is as incredible as the food. There is nothing like it anywhere around. They have tons of bottled choices and constantly change up what's on tap. I've tried beers that I have never heard of and found a couple new favorites.
May 28, 2012
jeffreyhsykes
5
/5
rDev
+5.7%
vibe: 5 | quality: 5 | service: 5 | selection: 5 | food: 5
The Celtic Fringe is a welcoming place to have a meal or meet a friend for drinks. I personally go there to get a few quality beers once in a while. They have a vast selection of beers and seem reasonably priced for this region. I tend to stick to what I know (Samuel Smiths, various IPAs) but when I want to try something new there is always something available.
The beer list takes up the front and back of a menu sheet and is very detailed. It lists the name of the beer, the area it is from, style of brew and the alcohol percentage.
I think that any beer lover in the area would find this place top notch.
May 27, 2012
The Celtic Fringe in Reidsville, NC
Place rating:
4.73
out of
5
with
11
ratings