Gator Tail Ale
| Miami Brewing Company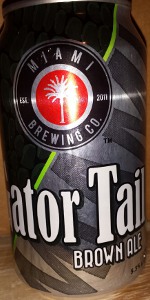 BEER INFO
Brewed by:
Miami Brewing Company
Florida
,
United States
schneblywinery.com
Style:
American Brown Ale
Alcohol by volume (ABV):
5.30%
Availability:
Year-round
Notes / Commercial Description:
No notes at this time.
Added by smcolw on 12-29-2012
Reviews: 9 | Ratings: 55

3.75
/5
rDev
+1.9%
look: 3.75 | smell: 3.75 | taste: 3.75 | feel: 3.75 | overall: 3.75
12 oz can purchased and consumed in south FL.
Aroma: lightly sweet; simple but pleasant medium and light roasted grains. hints of caramel.
Flavor: slightly sweet but well balanced for style. Lacks complexity but has a solid malty flavor with no defects.
Feel: medium body and carbonation.
O: good version of style.
323 characters
3.97
/5
rDev
+7.9%
look: 3.5 | smell: 4 | taste: 4 | feel: 4 | overall: 4
I asked the bartender at the brewery if this was a Porter. He replied, "it's an ale."
I said, "Porters are ales."
His response, "I guess you could call it a Porter."
20.6 srm; 29.6 IBUs
Brown color where light does pass through the center of the glass. Some ring lace to the otherwise minimal head.
Lots of milk chocolate aroma. Sweet and dark. Some caramel.
Taste mimics the nose, perhaps with a little more mocha. Above average body with a below average level of carbonation. Smooth. There's some sweetness and an element of liqueur to the taste.
567 characters
3.93
/5
rDev
+6.8%
look: 3.75 | smell: 3.75 | taste: 4 | feel: 4 | overall: 4
Recieved as an extra in a trade and poured into my Duvel tulip.
A - Poured a nice dark brown hue that is clear with a nice bright light, one finger light brown head fades slowly to leave very light lazing. Creamy.
S - Aromas of sweet roasted malts, light darkness, faint milk chocolate.
T - Taste is similar to the nose, light darker sweet roasted malts, mocha chocolate going on. Very nice chocolate note.
M - Mouthfeel is lightly carbonated, faintly smooth.
O - Overall, a solid brown ale. Alcohol nonexistent, very drinkable.
533 characters

3.78
/5
rDev
+2.7%
look: 4.25 | smell: 3.75 | taste: 3.75 | feel: 3.75 | overall: 3.75
12oz can poured into a snifter. This is a 5.3% brown ale that pours a dark brown color with a light tan head with great retention and lacing. The nose is sweet chocolate malts with just a hint of coffee. The taste like the aroma is a little on the sweet side with notes of bittersweet chocolate coming through and a nice malty finish. Overall, Gator Tail brown is an easy drinking brown that is light enough in alcohol and just enough flavor to enjoy a few of them in a single sitting. Cheers!
493 characters

3
/5
rDev
-18.5%
look: 3 | smell: 3 | taste: 3 | feel: 3 | overall: 3
Pours a dark brown color with tan colored head. Nuts, roasted malts and some hints of dark fruit on the nose; follows onto the palate. Medium bodied. Finishes with nuts and caramel.
181 characters
3.6
/5
rDev
-2.2%
look: 4.25 | smell: 3 | taste: 3.75 | feel: 3.75 | overall: 3.75
poured from a 12oz can into a pint glass. no dating could be found ,though there was a weird code on the side 3 11 13 A. doubt it was dating.
pours really nice. very dark brown almost black body with a full tan colored head. this diminishes somewhat, but a head of some form maintains throughout. lacing is minimal.
despite the can promising coffee and chocolate, i couldnt detect either on the nose.
neither of those flavors came through in the taste either, however, the overall taste was quite pleasant.
mouth was between medium and thin.
overall, a completely inoffensive beer and very smooth and drinkable. could see pounding away on a sixer of these.
664 characters
3.98
/5
rDev
+8.2%
look: 4 | smell: 3.5 | taste: 4.25 | feel: 4 | overall: 4
Very drinkable! if you like this style give it a try. It's smooth with overtones of coffee and light chocolate. Big head lasted 5 min. Not much aroma but a real smooth ale taste. I could drink a few of these as they go down real easy and don't leave an aftertaste.
265 characters
3.76
/5
rDev
+2.2%
look: 4.25 | smell: 3.75 | taste: 3.75 | feel: 3.5 | overall: 3.75
Pours a dark brown color with a tan creamy head. Smell is roasted malts, dark toast just the slightest dark chocolate bitterness... Taste is roasty and toasty nice carbonation on the back end with a pleasant finish. I tend to be a bigger fan of browns then most at least from the reading I've done and this is a nice one.
321 characters
3.77
/5
rDev
+2.4%
look: 4 | smell: 3.25 | taste: 4 | feel: 4 | overall: 3.75
Very surprised by this brew! Got it from a dive bar down the road, and certainly did not expect anything special. However, it was delightful! Super light and drinkable, (like I drank it so fast without knowing it), but still has a nice robust coffee/malt taste up front with a tart follow through making it delicious! I'll definitely be getting this more often!
365 characters
Gator Tail Ale from Miami Brewing Company
3.68
out of
5
based on
55
ratings.