Feminist
| Monkish Brewing Co.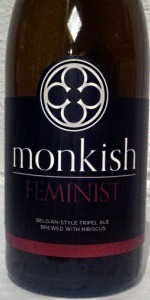 BEER INFO
Brewed by:
Monkish Brewing Co.
California
,
United States
monkishbrewing.com
Style:
Tripel
Alcohol by volume (ABV):
9.40%
Availability:
Rotating
Notes / Commercial Description:
Tripel with hibiscus.
Added by UCLABrewN84 on 07-31-2012
Reviews: 11 | Ratings: 108

3.75
/5
rDev 0%
look: 3.75 | smell: 3.75 | taste: 3.75 | feel: 3.75 | overall: 3.75
The most impressive aspect of the beer was the beautiful pinkish-red appearance with the lavender head. Aromas and flavors were a basic tripel: yeast, some white wine like qualities, floral, but didn't pick up the hibiscus flavors anywhere. Could have used more carbonation as well in my opinion, to make it more drinkable.
323 characters

3.72
/5
rDev
-0.8%
look: 4 | smell: 3.75 | taste: 3.5 | feel: 4.25 | overall: 3.75
Had this at the bar the other night. Served in a wide tulip... if there was any head it completely dissipated on the way to my table. No head docks some points off the 'look' but otherwise it was a beautiful ruby red, perfectly clear, pretty sexy beer. Mostly malty smell with some spiciness. Its got a deep malty taste. Kind of earthy with some herby spiciness. Nice moderate level of carbonation so it doesn't reinforce the spiciness.
Drinkability wise I agree with some other reviewers that this went down more easily than you'd think for a 9.4% that said, I didn't want to get another one. Its a big beer and while it handles itself pretty well, you still feel it.
I haven't had many belgian tripels so this was a decent experience on the whole. Not my favorite but not too shabby.
789 characters

4.09
/5
rDev
+9.1%
look: 3.75 | smell: 4 | taste: 4.25 | feel: 4 | overall: 4
Deep auburn draft pour with off white head. Spicy nose. Spicy start, followed by banana clove. Slightly tart finish. Crisp mouthfeel; floral/hibiscus younger coating. Surprisingly lite and refreshing for a 9.4% beer.
216 characters

3.79
/5
rDev
+1.1%
look: 4 | smell: 3.75 | taste: 3.75 | feel: 4 | overall: 3.75
Poured into a Gavroche tulip. Pours a slightly hazy orange amber with a fine one finger white head with good retention and lacing. Aroma of bready malt, overripe light stone fruit, hint of cherry and lighty floral. Flavor follows with lots of overripe stone fruit and citrus, light apple juice, bready malt, light coriander and clove; lightly floral. Finishes with a dry, almost astringent woody bitterness and citrus rind. Medium bodied with great active carbonation. An intresting domestic take on the tripel style, much maltier than traditional and more fruit oriented than Belgian spice forward. Initial flavor leans in the direction of a traditional tripel, but the quite dry, mildly tart and astringently bitter finish is a bit unbalanced. The floral notes from the hibiscus and light and well integrated. I liked this quite a bit except for the finish, which seemed to have too much unsupported bitterness and tartness. Well made, and different. My second ale from this brewery and intriguing enough to bring me back.
1,024 characters
3.77
/5
rDev
+0.5%
look: 4.25 | smell: 3.5 | taste: 3.75 | feel: 4.25 | overall: 3.75
Poured from the bottle into a tulip glass.
A real deep ruby red, hints at faint brown on the edges, but glows bright. Head is creamy picking up a bit of red body with some pink to it mostly off white. Three finger head and very nicely together and even. Gorgeous red color, and settles leaving a good creamy thin puck.
Slightly floral notes, but also some bile aromas that hit in the back. Mild tartness, and a faint cough drop sense of cherry as well on the nose. Interesting mix of cream and spicy fruit, but there's a little bit of off putting character just slightly.
Palate is a bit unexpected. Big creamy malt body, thick and almost vanilla. Large hot acid tartness, filling with floral and cherry like sour slightly in the mid palate. Malt gets thick with some vanilla sweetness. There is a bit of fighting clash between malt thick sweetness of classic tripel and some puckering fruit floral tartness. Bit of heavy carbonation with a spritzy and quinine feel and flavor too.
Overall a real interesting tripel.
1,020 characters
3.46
/5
rDev
-7.7%
look: 3.75 | smell: 3.25 | taste: 3.5 | feel: 3.5 | overall: 3.5
Appearance: A very hazy apricot and strawberry color. Minimal head retention. Very nice lacing all around the glass.
Nose: Sour farmhouse cherry and strawberry with kiwi. A tiny bit of banana and herbs at the end. Some fresh watermelon as well.
Taste: Tart with a sweet undertone. watermelon, strawberry, and slightly herbaceous, A fresh hibiscus finish.
Notes: very fresh and fruity. Very nice and unique for a triple.
424 characters

2.9
/5
rDev
-22.7%
look: 2.75 | smell: 3.25 | taste: 2.75 | feel: 2.5 | overall: 3
Quite dark red amber in the tulip, in fact it's the darkest Tripel I've ever seen. Very brief flirtation of foam, so fragile it's gone before you can take a sip. A little fruity aroma. Flat mouthfeel with a serious lack of carbonation.
Taste is warm, fruity, and a little woody. Starts off sugary but finishes dry and bitter from the Belgian yeast. Slightly tangy, like Hawaiian Punch with tonic water. Hot with alcohol. Winey, grapey, and a little tannic.
Not much yeasty flavor, just the drying sensation. Not much pleasure in this stuff. On tap at Local Habit in San Diego.
578 characters
4.08
/5
rDev
+8.8%
look: 4.25 | smell: 3.75 | taste: 4.25 | feel: 3.75 | overall: 4.25
Served in a footed glass at Ale Arsenal. From notes. Reviewed 15 November 2013.
Very dark orange. Light head. Pretty. Smells lightly fruity, but also complex, malty, almost even...meaty? Not quite. Must be malt and fruit. The flavor is excellent, hints of the Belgian yeast and spicy grain. Clean spicy finish. Probably my favorite Monkish.
341 characters

3.91
/5
rDev
+4.3%
look: 4.5 | smell: 3.5 | taste: 4 | feel: 4 | overall: 4
On tap at Brix in Sunset Beach, CA.
A: Pours a beautiful amber/orange with a hint of pink. Small half finger creamy off white head that quickly settles to a film.
S: Sweet smell of malt coupled with a nice floral juiciness from the hibiscus.
T: A nice balance of maltiness and citrus tart. The hibiscus works really well. There is a slight funk and peppery note from the yeast.
M: Medium carbonation and body.
O: A nice tart beer. The hibiscus and citrus slight sourness balance well with the maltiness of the beer.
523 characters

4
/5
rDev
+6.7%
look: 4 | smell: 4 | taste: 4 | feel: 4 | overall: 4
On-tap at Beachwood Brewing
A golden color with a tall white head, maybe a light haze to it. Sweet bread and caramel notes with quite a bit of floral aroma from the hibiscus. Light citrus peel and apple tartness. Maybe a little pepper and spice. Flavor is enjoyable with a light tartness to it which balances the sweetness nicely. Bread and light caramel with pronounced hibiscus character, citrus peel, lemon zest, and mild spice.
432 characters
3.5
/5
rDev
-6.7%
look: 3.5 | smell: 3.5 | taste: 3.5 | feel: 3.5 | overall: 3.5
On tap at Monkish Brewing Company in Torrance, CA.
Pours a clear dark orange with a foamy biege head that settles to an oily film on top of the beer. Small streaks and dots of lace form around the glass on the drink down. Smell is of malt, grain, fruits, and floral aromas but there is a slight funky aroma that I am also picking up. Taste is much the same with a slight tartness and a spice finish. This beer has a lower level of carbonation with a slightly crisp and medium bodied mouthfeel. Overall, this is a pretty good beer that is drinkable but it seems off somehow in the aroma and flavor.
601 characters
Feminist from Monkish Brewing Co.
3.75
out of
5
based on
108
ratings.