Bell's Batch 4000
| Bell's Brewery, Inc.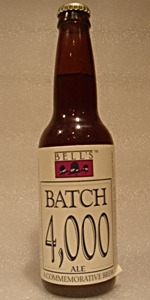 BEER INFO
Brewed by:
Bell's Brewery, Inc.
Michigan
,
United States
bellsbeer.com
Style:
American Strong Ale
Alcohol by volume (ABV):
7.50%
Availability:
Limited (brewed once)
Notes / Commercial Description:
No notes at this time.
Added by redmosquito on 03-31-2005
This beer is retired; no longer brewed.
Reviews: 12 | Ratings: 28

3.73
/5
rDev
-5.6%
look: 3.75 | smell: 3.75 | taste: 3.75 | feel: 3.5 | overall: 3.75
On tap at Bell's. Chestnut-ruby brown. Lots of toffee and some dark fruit flavor. Slightly sour. Raisin more than cherry. Some slight chocolate in there. Pretty good beer, but nothing crazy.
190 characters

4.1
/5
rDev
+3.8%
look: 4 | smell: 4 | taste: 4 | feel: 4 | overall: 4.5
Pours a Dark chestnut brown color with golden yellowish brown hues and a thin yellowish beige head that quickly dissipates into a thin lasting ring. Minimal lacing.
Leathery malt aroma with hints of caramel, toffee, alcohol and dark fruit.
Soft carbonation with slight oxizidation. With sligt alcohol sweetness/heat, toffee, caramel and dark fruit. This beer has aged nicely with the alcohol being well masked and overall has really mellowed out.
448 characters
3.8
/5
rDev
-3.8%
look: 4 | smell: 4 | taste: 3.5 | feel: 4 | overall: 4
12oz bottle acquired in trade with Styles (thanks!).
Poured a deeper copper color with a small sized off white head. Some floaters. Aromas of wood, dark cherries, caramel and it has a light earthiness to it. Tastes of wood, oranges, caramel, and lighter cherries. Tastes on the softer side (I attribute this to its age).
Notes from 12/2/05
342 characters
3.94
/5
rDev
-0.3%
look: 3 | smell: 4 | taste: 4 | feel: 4 | overall: 4
Amber colored with a quickly dissipating head, no lacing. Caramel and fruity notes in the aroma, and I also seem to get some apple notes, also some slight oxidation. Some oxidation also perceived in the taste, but not in a bad way. A little bit of caramel and some nutty flavors also show up. Less than medium body with light carbonation. This has held up surprisingly well considering it's almost 8 years old. Thanks to hey_kevin for the opportunity.
451 characters

4.3
/5
rDev
+8.9%
look: 4.5 | smell: 4.5 | taste: 4 | feel: 4.5 | overall: 4.5
Had this as part of a Batch 4000 - Batch 8000 tasting 9/22/07.
I received the bottle from tangfoot. Thanks alot Fred.
Appearance: Pours a darkish orange with a slight haze. The 1/2 inch off white head fads slowly to leave some nice lacing. This looks awesome and has alot more carbonation than I expected.
Aroma: Wow! Starts with some sweet orange and pineapple notes. There is a slight alcohol burn. As this warms, theres some raisons and dark fruit that creep in. Very nice.
Taste: Not quite as intense as the aroma, but this is pretty nice too. There is a slight tartness that I really enjoyed. Some of the pineapple and dark fruits leave a nice path to a dry finish. This is almost like a mild wild ale.
Mouthfeel: This is pretty spritzy and the flavors hang around for a little bit. Pretty nice mouthfeel.
Drinkability: Damn does this go down smooth. Its amazing how flavorful and balanced this is after all these years. It just goes down too easily. I could easily toss back a few of these, but I'm glad I'm just enjoying the little bit I had.
I'm not too sure how old this is (I wish I knew when it was bottled), but it has aged vey well. It definitely exceded my expectations. This was my favorite of the Batches from 4000 - 8000. Can't wait til I can have this when we have our 4000 - 9000 tasting in a few years. If you ever see this, have a chance to try it, or have a chance to trade for it, you won't be disappointed. Another awesome beer from Bell's. I just I would have tried this fresh, but I suspect it is even better now.
Thanks again Fred.
1,567 characters

3.58
/5
rDev
-9.4%
look: 4 | smell: 3.5 | taste: 3.5 | feel: 4 | overall: 3.5
Pours a dark copper to amber with a very thin layer of cream bubbles that fade back quickly. Although I retained much of it in the bottle, still some nice chunks from the bottle conditioning. Aroma starts with a sweet fruity and floral aroma, some sweet cherries and alcohol is evident in the aroma as well. Further in the aroma also shows sugary sweet maltiness and some caramel. Mouthfeel is still fairly thick and creamy although there is a little bit of a sparkling like effervesence in the carbonation from the age. Taste is mainly sugary toasted maltiness with some grape like sweetness. Some warming alcohol comes thru in the drying finish. Overall this beer is a nice malty treat although it has probably faded quite a bit from its original state. Unfortunately I have no recollection of its original taste just remember buying it up and drinking it up.
861 characters
3.88
/5
rDev
-1.8%
look: 4 | smell: 3.5 | taste: 4 | feel: 4 | overall: 4
pours a translucent, glowing dark amber. a one finger head, seemingly supple, is gone within a minute or two. a sticky froth lies dormant and all-encompassing on the surface. substantial in stature. lacing walls of microscopic bubbles tear apart after a few seconds of suspension and melt with viscosity evident.
quite aromatic, the wafts from my allagash tulip bring to mind brandy soaked cherries and strong essences of clove and ginger. i am in awe of the individuality here, although the senses are assaulted with an excess of force. could be a little more subdued, no doubt age has played into the evolution of the 4K.
tastes very mellow for how it smells. lactic sourness emerges quick, and carries a wave of fruit through the beer's travel across the tongue. orange peel and a still-present hop dusting emerge right before the physical aspects of sourness and a sharp bitters flavor strangle my tongue. the hold doesn't last long though, and i am left with nothing a couple seconds later. no hop stickiness, no lingering sweetness on the tongue. the beer finishes dry like a white wine, but with enough tartness to generate a refill of saliva which cleanses the palate. this beer is showing signs of age, but ones that work in its favor.
drinkability isn't even an issue. the flavors are big, but not oppressive. the beer has a nice fizz and a healthy medium body.
something different, something special. if you have any of these, i would advise immediate consumption. if this thing gets any riper, it might get muddy.
1,538 characters
4.15
/5
rDev
+5.1%
look: 4 | smell: 4 | taste: 4 | feel: 4.5 | overall: 4.5
Ruddy brownish amber with a decent sized tan head from a hard pour. Some speckling of lace was stuck to the glass. Aroma is rich with dark ripe sweet fruits and some caramel and molasses. Some alcohol warmth came through as well. Flavor had more dark ripe fruity sweetness with some light smokiness and molasses. Earthy notes round it out. Pretty mellow but still flavorful for its age. Nice, thick and a tad sticky sweet. Easy drinking at this point. I would have loved to try this fresh but its nice now.
506 characters

4
/5
rDev
+1.3%
look: 4 | smell: 4 | taste: 4 | feel: 4 | overall: 4
Sampled April 2006
This beer is brilliantly clear and pours with a deep amber, almost garnet red color. It barely musters a ring of a pale colored head, which is not too unexpected with a beer this age. As I pour it I get an interesting fruity aroma that reminds me quite strongly of grape juice. After going in to smell the actual aroma I get notes of aged malt and hops. Notes of sherry, a rich meaty malt note that seems to almost have a meaty quality to it, and a slight note that reminds me of rum. A solid fruit note is found in the aroma as well reminding me the most of those aforementioned grapes. Perhaps there is a hint of a wet cardboard note as well, but it is not all that prominent.
The taste is not nearly as flavorful as the aroma might suggest. Much of the flavors have obviously faded over time, but there is still lots of character here, especially for those who enjoyed aged beers. Notes of aged malt, like sherry, and a rich, what I can best describe as a, meaty note. The hop character has faded quite a bit, in fact the malt sweetness is really what is left in this beer. Interestingly enough the actual malt sweetness has faded quite a bit, and age and oxidation has certainly tempered the sweetness quite a bit. Quite an enjoyable tipple overall, there is quite a bit of fruitiness to this beer, which helps to temper (though it is partially indebted to) the aged character of this beer.
1,417 characters
4.15
/5
rDev
+5.1%
look: 4.5 | smell: 4.5 | taste: 4 | feel: 4 | overall: 4
had this a while ago I am glad I can now rate it. from the bottle poured a orangish copper with a off white head. aroma a nice combination of honey and brown sugar malts, sweet fruits, hops, caramel, raisins. flavor, a nice sweetness comes out wow, honey sugar, grapes apples all the sweet fruits do I taste a touch of mango? I am sure glad JTW did not buy all of them. thanks for leaving a couple for the rest of us.
417 characters
4.39
/5
rDev
+11.1%
look: 3.5 | smell: 4.5 | taste: 4.5 | feel: 5 | overall: 4
I am sampling a chilled bottle that I have been sitting on for a bit. I apologize but I forget who sent it to me.
I am pouring into a snifter.
The beer pours a sparkling amber color with a small beige head foaming up and receding to a thin edge layer quickly.
Aroma is caramel, chocolate and some sweet citrus notes. Not really hops but makes me think of an orange dipped in chocolate.
The first sip reveals a fairly thick beer with a almost chewy texture to it. Very mild almost non-existent carbonation.
Flavor is sweet up front with citrus candy and chocalate again. Imagine a jolly rancher in chocolate, that is the flavor I get. Not overwhelming, in fact pretty mild, but a smooth lingering sweetness lasts in my mouth. There is just a hint of alcohol on the swallow, not so much in warmth but in peppery bitterness. The bitterness is overtaken by sweetness though.
I have now had the 4000th batch and the 6000th batch. Anybody have a bottle of the 5000th they want to share?
If you see this grab it as I think it is holding up VERY well!
1,051 characters
3.8
/5
rDev
-3.8%
look: 4 | smell: 4 | taste: 3.5 | feel: 4 | overall: 4
A special thanks to Walleye Jim for giving me this one of a kind bottle of beer. This beer poured a dark amber with a brown hue and no reddish tint at all, there was a slight haze, as I dumped some of the chunky yeast in from the bottom. The head was thin and whitish, but quickly disappeared. The aroma was all nutty malt, like roasted pistachios, with a wine like oak aroma floating around in the background. As it warmed the aroma changed toasted grains and slight caramel. The flavor is indeed mild, again malt first with a little balancing hop bitterness. The flavor is of caramel and Munich malt, and a slight yeast finish. The beer is extremely smooth, not even seeming like a 7.5% beer. I am very impressed at how well this beer has aged considering it is only 7.5%. Still I would have liked to try it a few years back when it was a little less "mature."
862 characters
Bell's Batch 4000 from Bell's Brewery, Inc.
3.95
out of
5
based on
28
ratings.