Bell's Big Porch Ale
| Bell's Brewery, Inc.
BA SCORE
83
good
39
Reviews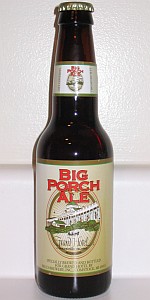 BEER INFO
Brewed by:
Bell's Brewery, Inc.
Michigan
,
United States
bellsbeer.com
Style:
American Amber / Red Ale
Alcohol by volume (ABV):
6.00%
Availability:
Year-round
Notes / Commercial Description:
No notes at this time.
Added by BeerAdvocate on 05-01-2007
Reviews: 39 | Ratings: 75
3.68
/5
rDev
+1.4%
look: 4 | smell: 3.5 | taste: 3.5 | feel: 4 | overall: 4
Found in a Michigan buddy's fridge while visiting, and he was gracious enough to donate it to my cause.
Big Porch pours a slightly hazy bright orangey-copper color, with a fine cap of creamy off-white color.
It's lightly peachy and caramel sweet with some lightly toasted biscuits, and floral and spicy hops. The medium body has a nice, soft, creaminess to it.
While it's nothing amazing, it is a pretty tasty, very sessionable, amber. Definitely glad I was able to try it.
476 characters
4.1
/5
rDev
+12.9%
look: 4 | smell: 4 | taste: 4 | feel: 4 | overall: 4.5
Poured from a 12oz bottle into a 20oz imperial pint. Thanks to HeatherAnn fo the assist!
2008 Batch # 8470
A: Pours a lovely & hazy looking tarnished copper color with a creamy, off-white, 1 1/2 finger head that recedes quickly to a swirly skim and thick & bubbly ring. Sticky sheets of lace.
S: Nice aromas of citrus and gradually a little pine bough. Toasted malt, biscuit-y yeast, and an earthy herbal hop finally emerges around mid-glass.
T: Dry, toasted malt and dry, peppery hops counter the citrus/pine flavors as well as the nutty yeastyness. Great toasted malt and roasted nut in the finish.
M: Opens pretty dry and astringent and quickly becomes juicy and oily in the middle. During the finish a peppery/herbal quality takes hold and keeps things interesting.
D: Excellent drinkability. I really liked the nutty flavors that came out as its' temperature rose. Another great summer beer!
902 characters

4.13
/5
rDev
+13.8%
look: 4.5 | smell: 4 | taste: 4 | feel: 4 | overall: 4.5
I bought this one at Meijer. Doesn't seem too exclusive if I can get it in Flint, anyways...
A - A hazy amber color.
S - Not a whole lot of aroma, slight hop smell.
T - Much more malty than hoppy. Has a slight english character to it but not fruity. More biscuit flavor than other American Ambers but very clean finish.
M - Good mouthfeel, not too slick, not to astringent.
D - I could do a couple of these on the "Big Porch" on Mackinaw.
Overall a very solid beer but nothing to write home about. This could be very good on a hot day at the lake.
549 characters
2.99
/5
rDev
-17.6%
look: 4 | smell: 2.5 | taste: 3 | feel: 3.5 | overall: 3
thanks to pimp? one of my traders for this bottle, 12 oz, code tells me that it was bottled on March 27, 2007. No worse for ware after one year.
Nice white head on top of a mild orange color, could not see through it, slight haze.
No nose to speak, the flavor is meh, as the kids say, ok but slight hops, slight malt, easy to drink but not much flavor, maybe it is a bit old, but seem fine.
Decent mouthfeel, fuzzy, nice and decent but not my favorite of this type, just solid.
480 characters

3.85
/5
rDev
+6.1%
look: 3.5 | smell: 3.5 | taste: 4 | feel: 4 | overall: 4
Mildly hazy, amber-gold body with some little sediments suspended. Small, tight-bubbled, creamy, beige-white head. Good lacing. Toffee-infused biscuit malt on the nose, with light cocoa, candied pears, yeast, and mildly floral hops. Caramelly biscuit malt with mildly sweet fruits. Yeasty, spicy hop finish with clean, balancing bitterness. Medium body, with a creamy feel. Nice.
379 characters
3.58
/5
rDev
-1.4%
look: 4 | smell: 3.5 | taste: 3.5 | feel: 4 | overall: 3.5
12oz bottle pours into my glass a hazy amber after I accidentally pour a good bit of yeast in. Creamy half inch of bone white head sticks to the top of the brew. Steady active carbonation. Aromas of sweet caramel and lightly toasted grain with floral hops.
First sip brings a sweet caramelly maltiness. Lightly toasted and a bit nutty with a nice floral hop bite to it as well. Flows down crisp and clean with a grainy touch. Finishes with a bit of bitterness.
Mouthfeel is medium bodied and easy to drink. Smooth and creamy I could have a few in an evening, but then I'd want to move on to a different flavor. A tasty amber ale through and through. As far as I know this is the Amber Ale repackaged and it's just as good as Bell's Amber has always been.
757 characters
3.52
/5
rDev
-3%
look: 3 | smell: 3.5 | taste: 3 | feel: 4 | overall: 4.5
nightcap.. of sorts.
hazy amber with inches of pillowy foam. buttery malt nose which oozes grapey scotch ale vibes... not sure why. first sip solidifies the malt handle on an overall flavor, and further sips bring out the sugar-stewed apple, overripe fig, grape jelly and grainy stuck-mash sweetness. this beer tastes very fresh, and extremely unbalanced. drinkable? hell yes. would i drink more than.. say.. two? no. why? because the beer itself reeks too strongly of raw ingredients.. serious fresh ingredient chops that don't long for quelling. reasonable beer, just nothing like what the idea advertises and nothing like what i wanted to drink. o well.
657 characters
3.53
/5
rDev
-2.8%
look: 4 | smell: 3.5 | taste: 3.5 | feel: 3.5 | overall: 3.5
Got these ones randomly on a back shelf at a MI Meijer (still doesn't make much sense to me, but little about that store does). Pours a crystal clear amber color with two inches of fluffy head on top that leaves solid lacing and takes its time dissolving. Nose is strong on malt, with a touch of grain in there too and some mild hops at the end. Taste is fairly similar; sweet caramel malt up front, with a good bit of grain in the middle and some mild hops in the short aftertaste. Feel is average, good carbonation and medium body. Although some people are arguing that Bell's seems to have just rebottled their Amber as the Big Porch, I definitely noticed a subtle, grainy difference between the two - and I come down on the Amber side of the fence. Nonetheless, this one's just fine for a drinkable beer on most occasions.
826 characters
3.44
/5
rDev
-5.2%
look: 3 | smell: 4 | taste: 3.5 | feel: 3 | overall: 3
A solo bottle brought across the country when my parents visited for graduation - I have great parents. Pours a nice clear light amber color with a nice tight whitish-tan head puffing over the top of the glass. Smells sweet and intensely floral-hoppy. The first sip is a little bit cloyingly sweet, followed by an American hop flavor that is somewhat more subdued than I had anticipated from the aroma. The prominent bitterness cuts well against the sweetness, however.
Towards the middle of the glass, some nice malty caramel overtones are starting to come through, maybe some Maerzen flavors even. Unfortunately, so is the "dirtiness" of the hop character, and somehow these flavors don't really balance each other out. Overall, it's a sight better than most amber ales out there, but not truly phenomenal. As to sessionability, I'd probably switch after just 1 or 2.
(Batch 7872... Bell's website has never heard of it. Ha!)
934 characters
4.13
/5
rDev
+13.8%
look: 4.5 | smell: 4 | taste: 4 | feel: 4 | overall: 4.5
Pours out a rich, hazy amber color with a nice finger of head. Some of disappears pretty quickly, but some lingers as well. Good lacing. The aroma is nothing fancy, but quality malt and hops, somewhat floral - what you'd expect from an amber, and done well. The flavor goes pretty quickly to the hoppy end of things, with some slightly toasted malty notes heading straight into pine and citrus. In the mouth it's fine, and it goes down really easy. I've been more than happy with this one from Bell's, although I must say that I'm biased some since I'm from Michigan.
567 characters

3.33
/5
rDev
-8.3%
look: 4 | smell: 3.5 | taste: 3 | feel: 4.5 | overall: 3
I'm a big fan of Bell's and must try any new available brew by them; as such I had to pick this one up. Poured from the bottle into a pint glass, beer is a hazy amber color, reminds me of apple cider in appearance with a thin creamy looking head on top. Smell is not overpowering, it is sweet... primarily amber malts with a tinge of grassy hops. I was pretty disappointed with the taste. It starts with a slightly sweet amber profile, followed noticeably by a slight alcohol bite and finishes grainy... this is definitely NOT their amber beer. This was my least favorite Bell's I've had and you can check my profile if you like... I've had most of them. The mouthfeel is pleasant, medium bodied with a viscous, creamy carbonation. Average drinkability. Overall, this beer is OK, but I have grown to expect more from Bell's than this... I will not be getting another sixer of Big Porch.
886 characters
3.8
/5
rDev
+4.7%
look: 3.5 | smell: 3.5 | taste: 4 | feel: 3.5 | overall: 4
As a Michigander with an interest towards tasty suds anytime a new Bell's brand hit's the shelves my local beer monger will find me getting out my wallet for a six or two. This season they introduced Big Porch Ale to the general public. It is named in tribute to the Grand Hotel on Mackinac Island who are selling it as their house brand.
What you get in this amber is a very inviting, very crisp and leafy summer (the season Mackinac is known for by most people) scent, bold upfront taste of a bold hops and a bit of caramel & cream and a slight bitter in the aftertaste that reminds ya that you are drinking a Bell's but not lingering long to wear out it's welcome. I just finished up some yardwork a bit ago, went and sat on my own porch and opened one of these. It's hearty enough to get ya with it's own little kick but clean enough to hit the spot. I used to think I wasn't much of an amber fan (thought's of Killian's still dancing though my head maybe...Never liked the stuff) but I've been finding myself enjoy certain one's here and there lately. I've heard that Big Porch is just Bell's regular Amber with a different label. Ya know what though. I don't feel duped though really. It cost me the same price as any of their other ones they make (well...save for their Hop Slam and Hell Hath No Fury of course) and it's nice to know, in a way, that after this seasonal run is gone I can still go pick it up in it's regular clothes (provided it is exactly the same. Out of all the Bell's I've tried I don't believe I have ever picked up their amber...but I think that goes back to what I was saying about bad Killian memories.)
1,635 characters
4
/5
rDev
+10.2%
look: 4 | smell: 4 | taste: 4 | feel: 4 | overall: 4
Bells Amber Ale aka Big Porch Ale
12 oz bottle
Packaged 03/07, rung 05/07
Moderate pour in an English pint.
Poured a clear amber with a large fizzy fairly lasting light yellowish brown head with tiny lacing.
Smelt of moderate caramel and leafy hops.
Taste was upfront strong bitter green hops and moderate sweet caramel followed by a strong bitter roasted malt mushroomy yeast black tea and dry leaves with moderate caramel sweetness on an average length bitter finish.
Palate was light to medium bodied, slightly creamy, softly carbonated, and light to moderately astringent.
Overall, this was a great amber. Some of that unique Bell's flavor is there (the yeast I think) Balanced on the malt with a good afront oh hops and yeast bitterness.
760 characters
3.81
/5
rDev
+5%
look: 4 | smell: 3 | taste: 4 | feel: 4.5 | overall: 4
I drank this out of a 12oz stein glass...pour is a darker than amber/lighter than copper hue with an off cream colored head that settles....nose is unremarkable...slightly perfumed with a touch of floral hop aroma but nothing of particular note. On the palate a pleasant, above average maltiness with a nice hop finish on the back of the tongue that lingers. Frankly, the malt really comes through in this beer, but in a good sort of way. A very smooth taste overall, I could drink 2 or 3 of these over an afternoon, a very pleasing session brew (ok, it is 6% ABV which means it is a bit alcoholic for a session beer, but I stand by my statement). This beer is above average for Bell's, not quite Pale Ale territory but definately on par with their Amber Ale. A solid effort worth checking out if you're up on Mackinaw Island or in a Meijer's in Kalamazoo.
856 characters
Bell's Big Porch Ale from Bell's Brewery, Inc.
3.63
out of
5
based on
75
ratings.