Kalamazoo Unfiltered American Wheat Ale
| Bell's Brewery, Inc.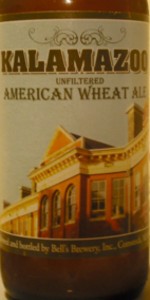 BEER INFO
Brewed by:
Bell's Brewery, Inc.
Michigan
,
United States
bellsbeer.com
Style:
American Pale Wheat Ale
Alcohol by volume (ABV):
not listed
Availability:
Limited (brewed once)
Notes / Commercial Description:
No notes at this time.
Added by Slynger on 06-13-2008
This beer is retired; no longer brewed.
Reviews: 13 | Ratings: 16
4.1
/5
rDev
+4.1%
look: 4 | smell: 4 | taste: 4 | feel: 4 | overall: 4.5
(Served in a weizen glass)
had to try some phoberon before it is gone.
A- This slightly hazy glowing orange body has some small particles swirling around like a beer snow globe with a yellowish creamy head that last for a good long while. There is a gentle carbonation of tiny bubbles that support the head.
S-The light taste of white bread dough blends into a soft piney citrus hop finish.
T- The taste of hops is the first thing I notice with a spicy dry orange quality to them. After a few sips the notes of white wheat bread and a slight musty note come through. There is sweet orange flavor that fades into soft green hops at the finish. The soft bitterness of hops and orange peel hints linger for a moment after each sip.
M- This beer has a medium-full mouthfeel
D- The citrusy flavor of the hops have some nice depth to them and the light flavor make this a nice summer sipper especially as the temperature rises.
929 characters
4.13
/5
rDev
+4.8%
look: 4 | smell: 3.5 | taste: 4 | feel: 4.5 | overall: 5
Pours a very hazey amber with a medium golden pilsner touch amidst a high sediment content. Very sluggish bubbling, but great two finger head with some almost even lacing. Has a dry banana bubble gum aroma with a very faint herbal hop note that finishes the nose nose of this beer. The taste starts a bit subpar fr a Bell's brew. A bit adjunty with a touch of wheat and cloves and and maybe some carob. Hints of yeasty must with a few banana grove notes. Earthy and fruity mixwith some very faint, dry toast notes. The palateis a little spongey and clumpy, but still insanely refreshing and satysfying.
602 characters
4.1
/5
rDev
+4.1%
look: 4 | smell: 4 | taste: 4 | feel: 4 | overall: 4.5
Poured from a 12oz bottle into a 20oz imperial pint.
Batch # 8515
A: Pours a hazy/cloudy, bright, pale-golden color that shows off whispy tendrils of yeast sediment floating inside. Off-white, one-finger head recedes quickly and leaves a bit of lace in the glass.
S: Interesting aroma of fresh baked bread, lemon-y citrus, yeast, herbal hops, and toasted grain.
T: Spicy yeast, lemon, toasted malt, freshly baked bread, spices, a touch of caramel, orange zest, and herbal/floral hops fill the bill here.
M: Prickly and bitter with some welcome washes of sweet juiciness. Finish is dry and long lasting.
D: Heather and I drank a lot of Oberon recently and I have to say, I actually prefer this. Lots of bready characteristics coupled with bitter hops and toasted malt. Very refreshing!
790 characters
3.87
/5
rDev
-1.8%
look: 3 | smell: 3.5 | taste: 4 | feel: 3.5 | overall: 4.5
A- golden yellow with a small off white head. nothing special here
S- slight clove and banana and a bit of yeast
T- spicy and slightly hoppy with a touch of mild citrus. very pleasant.
M- a little thing and slightly too much carbonation.
D- a very drinkable summer beer. similar to oberon, but not quite. oh well, i live in illinois and this is the closest i can come up with.
381 characters
3.88
/5
rDev
-1.5%
look: 4 | smell: 3.5 | taste: 4 | feel: 4 | overall: 4
Pours cloudy golden color with minimal head.
Scent is malty with wheat, yeast and a little citrus.
Wheat flavor is strong, with nicely balanced malts and yeast. Yeast lingers into a dry finish.
Mouthfeel is a little biting, but clean.
Doing a side by side comparison with this and Oberon, I definitely prefer this. It may have been the fact that it was fresher, but I thought this beer was more balanced.
I usually pass wheat beers up, but I think I will be picking some more of this up while it is still available and enjoy some more on a hot summer day.
560 characters
4
/5
rDev
+1.5%
look: 4 | smell: 4 | taste: 4 | feel: 4 | overall: 4
Pale hazy amber with a decent white head that lasts and laces well.
Very fresh scent of gentle wheat, fresh meadow grasses, orange and lighe spice.
Flavor is very wheaty and fresh, light citrus, flowers, hints of bubblegum, and grass. Hops have a green freshness that matches the fresh flavors of the beer.
Body is medium, creamy, wheaty-slick and very quaffable. My boy Steve brought back a sixer from a recent trip to Chicago. Glad to have sampled this. Everyone who tried it compared it to Oberon, I thought it wasd just a hair more complex.
548 characters
4.3
/5
rDev
+9.1%
look: 4.5 | smell: 4.5 | taste: 4 | feel: 4.5 | overall: 4.5
Pretty similar beer to Oberon, and therefore excellent. Hazy golden color. After a little bit of time there's no head. Very crisp flavor with some citrus kick and a good balance of hops. Overall, a magnificently balanced wheat ale. I assume Bells will stop making this now that they are distributing Oberon in Chicago again.
324 characters
4.23
/5
rDev
+7.4%
look: 4 | smell: 3.5 | taste: 4.5 | feel: 4.5 | overall: 4.5
Batch # 8515
Pours a hazy lemon-orange with a large lid of fine, fuzzy, eggshell color that slips slowly to leave a thick rim of lace.
Smells of light, citrusy, lemons and oranges with tangy wheat and yeast, and light grassy herbal hops.
Excellent feeling medium body with lots of creamy, smooth, massaging carbonation. Flavors of the softly sweet, citrusy lemon-orange variety with lightly toasted wheat, and lightly spicy-bitter, herbal hops.
I was fortunate enough to be in Michigan drinking fresh Oberon last weekend and I'm pretty sure that this is just about a dead ringer of that. Either way, it's damn good stuff and a must try for Illinois residents. Thank you Bell's. Thank you.
700 characters
4
/5
rDev
+1.5%
look: 4 | smell: 4 | taste: 4 | feel: 4 | overall: 4
As wheat ales go, this knockoff of Oberon is a fresh tasting wheat ale, mildly hopped, with a floral note. Hazy light brown with a decent head. Breadiness in the nose, with wheat accents. Very drinkable and soft, lush and smooth, a fine summer drinker and gateway beer to the Bells lineup. This brew was bottled on June 16, 2008 and consumed on July 2nd.
354 characters
4.3
/5
rDev
+9.1%
look: 4 | smell: 4 | taste: 4.5 | feel: 4 | overall: 4.5
Obtained this bier from a patient of mine who is really into Bell's Brewery products.
A: Looks good pouring out of the bottle and into the glass. Good-sized head with decent lacing. Almost a yellow-orange color and very hazy. Not as much as a typical hefeweizen, but close.
S: Citrusy, bready, and wheaty...
T: One of the best american made biers I have had in a long, long time. A little hoppy, refreshing, and very satisfying. The smells come out in the taste.
M: Pleasant, nothing exciting here.
D: This is definitely a bier I would have at my local watering hole as well as bringing it to a friends place for a BBQ.
Overall, find this bier and enjoy it. Many people prefer the Oberon from Bell's, but this is better...Prosit.
734 characters
3.11
/5
rDev
-21.1%
look: 4 | smell: 3 | taste: 3 | feel: 3.5 | overall: 3
A- A Hazy gold color when poured, has good head retention
S- Smells slightly fruity and a bit cheesy
T- Leaves a milky coating with a slight bitter but heavy feel.
M- Medium-light body with high carbonation.
D- Not really a beer I'd drink regularly.
253 characters
3.96
/5
rDev
+0.5%
look: 4.5 | smell: 3.5 | taste: 4 | feel: 4.5 | overall: 4
Appearance - Deep golden yellow with a heavy brown tint. Thick white head that remains protecting the flavor from oxygen
Smell - I know that some others said citrus, but I'm getting a heavy smell of green herbs and STRONG yeast/bread and citrus on the back end.
Taste - Strong wheat upfront... almost flour like with a bitterness not necessarily from hops... maybe the herbs I smelled? Again citrus on the back end... an after thought.
Mouthfeel - Dry... full bodied... zesty carbonation. Thicker than I expected.
Drinkability - It is a Bell's... err... Kalamazoo, do you really need to ask? Of course it is drinkable. I'm off to the fridge for another once I've finished this post.
EDIT:
I tell you what... I usually reserve my reviews until after I've had at least 2 visits to a beer. I poured my second and reserved the sediment. Now, I get the citrus that everyone is talking about in the smell... Not so much in the taste though. Still a great beer and one of the few times I recommend against sediment being added in. But please decide for yourself.
1,061 characters
4.48
/5
rDev
+13.7%
look: 4.5 | smell: 4 | taste: 4.5 | feel: 4.5 | overall: 5
A - deep golden colour, slightly hazy; moderate head that dissipates fairly quickly
S - citrus, strong orange, up front followed by slight wheaty scents
T - once again, citrus reigns with bits of hoppyness shining through
M - bubbly and light, very smooth
D - definite session beer; will be a great summer beer
Both my local beer bar and local liquor store picked this up the same weekend. Cannot wait to pop open a bottle to see how that is.
447 characters
Kalamazoo Unfiltered American Wheat Ale from Bell's Brewery, Inc.
3.94
out of
5
based on
16
ratings.