Smitten Golden Rye Ale
| Bell's Brewery, Inc.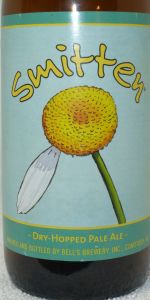 BEER INFO
Brewed by:
Bell's Brewery, Inc.
Michigan
,
United States
bellsbeer.com
Style:
Rye Beer
Alcohol by volume (ABV):
6.00%
Availability:
Spring
Notes / Commercial Description:
Drawn from one of our oldest recipes, Smitten Ale began as part of a series of rye beers at our Eccentric Café. The combination of sharp citrus & resinous flavors from the hops with the earthy, rustic overtones of the rye malt contribution yield an interesting take on the American Pale Ale.
Added by Biggness on 06-14-2008
Reviews: 310 | Ratings: 1,724

3.96
/5
rDev
+5.3%
look: 4 | smell: 3 | taste: 4 | feel: 4 | overall: 5
Split with the wife at the Eccentric Cafe in Kalamazoo, Michigan.
Almost no smell on this, as with several other EC brews tried this night. As the name indicates, a luscious golden aura surrounds the glass of Golden Rye.
We've been on a rye kick & this one doesn't disappoint. The rye is sweet & light, giving it an easy-drinking demeanor. Smooth. Not a lot of depth here, but who needs depth everyday?
Very good beer. Love to see this one in bottles, I can see this becoming a go-to summer beer in our fridge. Thumbs up.
527 characters

3.78
/5
rDev
+0.5%
look: 4 | smell: 3.5 | taste: 4 | feel: 4 | overall: 3.5
On tap at the Eccentric Cafe.
Appearance: Pours a cloudy golden straw color with a light head and not much carbonation.
Smell: Rye malt with a twist of citrus, although there is not much of a nose on this one.
Taste: Very light grainy malt presence up front, with obvious rye flavor. The hops have a citrus kick to them.
Mouthfeel: A crisp, but also grainy feel. The rye really makes its presence felt in the graininess, despite the lighter color and feel.
Drinkability: Definitely some nice hop relief here, although I generally enjoy bigger beers. I would like it better if it had a deeper flavor or was a little bit more balanced.
639 characters

3.76
/5
rDev 0%
look: 4 | smell: 3 | taste: 4 | feel: 4 | overall: 4
Had this on tap at the Bells 30 tap event in Indy -- a pretty decent offering in the mix.
Appearance: Coppery yellow in color and reminds me a bit of honey -- I think I'm used to seeing a bit more red in a rye beer, but this one does qualify itself as a "golden" rye, so I'm OK with that :) Body is a little cloudy and comes with a slight head that fades to a very firm ring around the surface; no lacing holds on at all, just an oily residue; fair carbonation sneaks up the sides of the glass.
Smell: A weak nose on this one, I didn't really pick up a whole lot, but on a deep inhale -- a slight big of a lemony citrus mingling with some toasty, grainy rye.
Taste: A nice bitter hoppy presence that holds a certain bit of citrus to it is combined nicely with a grainy/wheaty rye flavor -- reminds me a bit of a really flavorful Kolsch style, so if only Kolsch's were more like this... A nice and "earthy" flavor is the best way I can describe this beer.
Mouthfeel: Light, clean and refreshing... About what I would expect from something that has a body that looks like this one and holds that particular color; the light carbonation adds a lively feeling to the mouth and in my estimation brings out the rye a bit more as it is really present on the breath on the exhale.
Drinkability: Fine and dandy - a beer that doesn't pack too much of a punch in terms of ABV and it's got that really nice grassy, earthy flavor. I would probably pick this up in the bottle if I came across it as such.
1,496 characters
4.21
/5
rDev
+12%
look: 4.5 | smell: 3.5 | taste: 4.5 | feel: 4 | overall: 4.5
Being a big fan of rye beers, I was excited for the opportunity to try this on tap at the Bell's tasting at the Indy Beer Sellar last night.
Appearance: Pours a bright golden yellow, almost like chardonnay, slightly hazy with some carbonation running through and feeding a short white, foamy head.
Smell: Smells like lemon iced tea with a hint of earthy, cracked rye. Aroma is very full and tasty before even tasting it.
Taste/Mouthfeel: The rye comes through really pleasantly in the taste. It is very bright and literally jumps on the tongue. It's accompanied by a bit of skunky hops like simcoe and bitter citrus in the back of the mouth. Feel is slightly carbonated with moderate body.
Drinkability: Really high. I like the lightness of it that's different from a typical rye beer, but it still has the characteristic full and satisfying graininess that I really enjoy.
881 characters
3.88
/5
rDev
+3.2%
look: 4 | smell: 3.5 | taste: 4 | feel: 4 | overall: 4
Pours like liquid sunshine complete with a lopsided foamy head. Ever so slightly cloudy.
Smells nice and hoppy. Not out of control, just nicely hopped. Get some of the rye too, although thats a bit more subdued than I would have thought for a rye beer.
Some nice citrus hop flavor developing on the tongue. Kinda grapefruit. Rye comes kickin in after a minute of swishing, a bit sour adds some great depth to the hop oils. Sure is nice. Pretty smooth on the tongue. I rather like it.
Easy to drink for sure.
511 characters
4.07
/5
rDev
+8.2%
look: 3.5 | smell: 4 | taste: 4 | feel: 4 | overall: 4.5
Had on draft at the Cafe.
A: Poured into a pint glass. Nice golden copper color which was pretty clear (I for some reason expected some haziness to it). Nice tiny 1/8 inch off white head melted away pretty quickly leaving some good lacing around the cup edges.
S: First thing I noticed was the upfront wheaty/bready aroma which kind of threw me off (had a buddy drink one before me and said it was a pale) this opened up to a faint citrusy hop smell along with bigger notes of rye.
T: Upon first sip the wheat taste is there a little bit but is quickly covered up with a hop backbone leading to a kind of slight rye sourness to it. Upon futher sips I must say the hop charater comes through a little more at the forefront...never overpowering the entire sip but rye also comes through more in the middle and end more by the end of the beer.
M: This had a nice medium mouthfeel to it. The carbination to it was nice and nothing too over the top or minimal. Kind of dances along your palate while you sip. Leaves a nice soft rye aftertaste which was welcomed for sure.
D: This is a very drinkable beer. I have unloaded nothing but hopbombs on my palate as of lately and this was a nice standout beer that I have enjoyed a lot. Drinks crisp and refreshing...almost too much. So much I got another one after I was done with the firsdt one.
1,341 characters
3.95
/5
rDev
+5.1%
look: 4 | smell: 4 | taste: 4 | feel: 3.5 | overall: 4
Draft at Eccentric Cafe.
Poured clear copper color with an average frothy white head that mostly lasted with good lacing. Moderate citrus, rye and wheat aroma. Medium body with a smooth texture and flat carbonation. Medium bittersweet flavor with a medium bittersweet finish of moderate duration.
The beer is a good drinkable brew.
333 characters

3.62
/5
rDev
-3.7%
look: 3.5 | smell: 4 | taste: 3.5 | feel: 3.5 | overall: 3.5
On tap @ Bell's Eccentric Cafe on 4/23/09. Served in a pint glass.
Pours a crystal clear golden copper with a thin head of foamy brite-white. Retains mostly around the edges, leaving some light spotty lace back. The aroma is mostly smooth smelling rye that is promiment but doesn't dominate the profile, as I'm also getting strong backing notes of bread, citrus, and floral hops, as well as a touch of alcohol heft.
The taste is similar with drying rye notes up front that balances the sweetness that comes courtesy of bready malts and some citrus character. Firm dose of hops in the back ends things with light bitterness and dryness from the rye. The mouthfeel is medium bodied with a sharper feeling carbonation that punctuates the hops and rye. There is also a bit of beef to the body, that when mixed with the heavier rye notes, kept the drinkibility down somewhat for me.
Not bad. This definitely brought the crisp rye character but the alcohol was dialed up just just a tad to too much make this thirst quenching. This was worth a try though.
1,055 characters
3.41
/5
rDev
-9.3%
look: 4 | smell: 3 | taste: 3.5 | feel: 3.5 | overall: 3.5
On tap at Bell's brewpub on 11/28/08. Served in a 12-oz. glass.
A - Slightly hazy golden body with minimal carbonation and half a finger of off-white that receded into a thin ring of retention, some patchy film and spotty lacing.
S - Not much going on here except some graininess and some toasted malt. Hop presence is minimal with just a pinch of grassy hops.
T - Dull grassy hop bite with quite a bit of dryness from the addition of the rye. Hops are mild overall, with the grainy and toasted malt characteristics dominating the flavor.
M - Medium body with a dry, crisp texture and fizzy mouthfeel. Finish is dry and moderately bitter on the palate.
D - Not a lot happening with this brew, but it does have a dry rye presence and a decent hop bite in the finish. Pretty average for Bell's.
802 characters
3.75
/5
rDev
-0.3%
look: 3.5 | smell: 3.5 | taste: 4 | feel: 4 | overall: 3.5
I am surprised that a New Yorker is adding a beer to the site. This beer was suggested to me by one of the workers @ Bell's and I was not disappointed. This was my first Rye beer. This beer poured a cloudy golden... cloudy is always a good sign in my books. The smell was nice but no overpowering. The taste was similar to a wheat beer but nicer. I will keep my eyes open and hope to try some new rye beers. Well done
417 characters
Smitten Golden Rye Ale from Bell's Brewery, Inc.
3.76
out of
5
based on
1,724
ratings.