Batch 9,000
| Bell's Brewery - Eccentric Café & General Store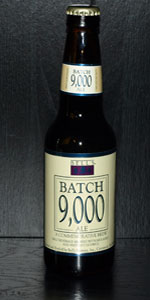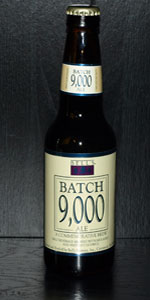 BEER INFO
Brewed by:
Bell's Brewery - Eccentric Café & General Store
Michigan
,
United States
bellsbeer.com
Style:
American Strong Ale
Alcohol by volume (ABV):
12.50%
Availability:
Limited (brewed once)
Notes / Commercial Description:
"Black, dense, and rich, this is a great ale for the cellar."
Added by alexgash on 01-29-2010
This beer is retired; no longer brewed.
HISTOGRAM
Ratings: 915 | Reviews: 540
4.74
/5
rDev
+17.6%
look: 4 | smell: 5 | taste: 5 | feel: 4 | overall: 4.5
A: Poured this into a pint glass and found that the brown head didn't last long but left a nice skim behind. The appearance is a very dark brown that allows a very faint amount of light through.
S: The nose is quite interesting. I smell the licorice and some dark fruit as well as some smoke and a bit of booze in the background. Wow. I could smell this one all day.
T: Taste makes for one of the most interesting beers I've had recently. At first you're hit with some sweetness that hits from the mollases, then all of a sudden you notice the licorice which then leads to some bitterness and the finish is a beautiful warming sensation that leaves my tongue tingling. Fantastic.
M: As brought up by another reviewer, I was hoping this would be a bit thicker but it isn't thin by my account just thinner than I believe should be appropriate for the style. The mouthfeel is medium carbonation and the palate is left a bit dry in the finish
D: For how high the ABV is of this the alcohol is very well masked. I'm looking forward to finding out what some aging will do for this beer. Fresh is fantastic, I'm thinking some aging will make this simply amazing. Wonderful offering from Bell's!
1,192 characters
4.47
/5
rDev
+10.9%
look: 4 | smell: 4.5 | taste: 4.5 | feel: 3.5 | overall: 5
12 ounce bottle poured into a large snifter.
The obvious dark black color, this is a little thinner and fizzier than I was expecting.
Smell is intensely sweet: loads of raisins, molasses, maple syrup, licorice are noticeable.
The taste is sugary sweet: brown sugar, more molasses, cherries, and raisins. This is not the typical coffee/chocolate heavy stout that this style has been tending towards.
I think the mouthfeel is a little bit on the thin side.
Drinkability is tremendous for something with double-digit ABVs.
This is something pretty unique, not really what I was expecting. This could end being a prototype dessert beer. Nevertheless, this is very good and worth the wait.
690 characters

4.25
/5
rDev
+5.5%
look: 4.5 | smell: 4.5 | taste: 4 | feel: 5 | overall: 4
So happy to get my hands on one of these! Poured from a bottle into my Duvel tulip.
A: Thinner than I expected in the pour, but still enough for a stout. Minimal head forms around the glass. A very very dark brown. A little light tries to make its way through the glass when held up to a light.
S: Molasses first off. A couple of spices pull through - maybe nutmeg and definitely some licorice (almost like a Twizzler). Sweet malts. A very sweet smelling stout.
T: Sweet molasses again. Almost a little soy sauce in the taste - not really in a bad way but just a hint in the finish. Sweet licorice too. A strong, warming, hot finish.
M: Very thick - more so than I expected on the look. Resinous from the molasses. Sits on the tongue and the mouth.
D: A thick, warming beer. The alcohol presence limits my want to drink more of these. Enjoyed every bit of it. Will cellar one to check on in a year or two.
910 characters

4.43
/5
rDev
+9.9%
look: 4.5 | smell: 4 | taste: 4.5 | feel: 5 | overall: 4.5
.
Understated label, right to the point. Batch 9000. I like the simplicity of whole "batch" concept for Bell's.
Pour is deep, dark red/brown. Nice light brown head, looks like the carbonation is up to snuff. Actually pours a bit thinner than I was expecting.
Smells are immediate sweet, dark fruits. Some piney hops, but mostly sweet dark fruit. No coffee or chocolate or roasted feel to my nose.
Taste is surprisingly rewarding, given the muted nose. Dominated by molasses and dark fruit. Immediately reminded me of Darkness, with the sweet dark fruits, some citrus hops too.
Another reviewer likened it to beer mixed with port, and I agree. This is portbeer. Some boozy intensity, but it's appropriately mixed with the dark fruit and not overpowering. Pine/citrus hop notes complement everything. Some bitterness on the finish tries to balance the sweetness.
Mouthfeel is great. I was expecting a "my stout is thicker than your stout" motor oil viscosity, but it's thick enough for the flavors and nothing more.
For a 12% ABV offering it's pretty drinkable.
Bell's has crafted a unique big beer here. It's a strongale/barleywine/stout hybrid, quite vinous, and worth checking out. I think it would be off the charts aged in some bourbon barrels given the flavors. And with the sweetness and lack of overpowering booze, It doesn't scream "I'll be better with age" to me either. I have had several bottles, and each one has been better. If I keep drinking, I might end up scoring all fives.
1,501 characters
3.85
/5
rDev
-4.5%
look: 3.5 | smell: 3.5 | taste: 4 | feel: 4 | overall: 4
poured from a bottle into a tall snifter style Ommegang glass
This beer pours a dark brown with about a 2 finger tan head...a lot lighter than I thought it would be.
I smell a lot of the licorice and raisons but not much malt or roast.
The taste again has a lot of licorice and raisons with a little malt roast lingering on the tounge.
The mouth feel is thick and smooth with a little bitter after taste.
Over all this beer is pretty good and really drinkable for 12%. I cant wait to see what it does over the next few years.
526 characters
4.27
/5
rDev
+6%
look: 4 | smell: 4.5 | taste: 4.5 | feel: 4.5 | overall: 3.5
Thanks to HopHobo for this delicious brew.
Pours very dark brown with almost an inch of light tan head. Smells of deep, dark roasted malt, molasses, and underneath those, lots of chocolate. Taste is surprisingly sweet. Not too sweet, but more than I was expecting, as I seem to recall Batch 7000 being a little drier and more bitter (maybe my tolerance for big bitter stouts has just gone up. I'll have to do a side-by-side comparison between this, Batch 7000 and Expedition). Again with the molasses... always with the molasses....and chocolate, brown sugar, a hint of raisins. As I drink more of this, I am starting to notice more of the bitterness. Body is fairly thick, but not a viscous syrup-bomb. Carbonation is ample. Overall, a pretty tasty brew. I don't find this to be hot or in need of age, but it will be interesting to see how this changes over time.
866 characters
3.6
/5
rDev
-10.7%
look: 4 | smell: 4 | taste: 3.5 | feel: 4 | overall: 3
Deep mahogany--almost black--with a thin head that diminished fairly quick. Not a dark as I expected.
Smell is sweet molasses, licorice (I shouldn't have read the bottle--I'm not sure how much the power of suggestion is in effect here). Booze.
Taste is a little sweet, molasses, bourbon (don't think this is bourbon barrel aged though), licorice (?), and a little hops presence. Boozey, but not as much so as I expected.
Little bitterness up front, little bit of carbonation. A mild crispness I found appealing.
Because of the sweetness, I'd probably only want one bottle of this per sitting. Interesting beer, but I'm moving on to some red wine after this one.
Did pair well with veggie sausage patties.
A little too sweet and unbalanced, but I think this one has great potential with some aging. I've got a few more bottles of this one and I'm looking forward to trying them in a few years.
896 characters

4.32
/5
rDev
+7.2%
look: 4 | smell: 4.5 | taste: 4.5 | feel: 4 | overall: 4
Got a cold one of these from the barkeep at Butch's Dry Dock
A: near darkness. What is intriguing about the color is the deep red, crimson, and burnt orange hues that meld into a near blackness when viewed from a distance. The head formed and left quickly as expected. Some remnants remain on the walls of my glass, colored mocha and slowly fading
S: loads of molasses and dark chocolates. A hint of dark fruits wiggles in the nasal cavity as well. Overall the nose is pungent and filthy sweet well-heeled in scent
T: monstrous portions of roasted maltiness, globs of molasses, and boatloads of bitter chocolate. This is large and in charge to say the least. Heavy rich dark fruits have a hold as well. These fruits are hinting raisins and plums with a coating of black licorice. Things also start to get a bit boozy as it slowly warms. I find the booze mellows out as the sips continue...ha! Pretty heavy and pretty tasty. A soft smokiness permeates
M: light carbonation and a solid creamy body. The feel is right for the palate and made for sipping. Not very thick for such a potent brew...nor is it as dark in appearance as one would think
D: a pretty big hitter in flavor and alcohol. I find that things work well overall and this was a good experience. A must try for any Bell's aficionado
1,300 characters
4.43
/5
rDev
+9.9%
look: 4.5 | smell: 4 | taste: 4.5 | feel: 5 | overall: 4.5
I will have to finish this revew after I put down a couple more but so far I am impressed. First impressions on the smell are Soy?? Seriously, compare the smell of this to a bottle of Soy Sauce. Almost identical. Not a bad thing, just an observation. Overall its a very tasty and drinkable Imperial Stout.
305 characters
4.24
/5
rDev
+5.2%
look: 4 | smell: 5 | taste: 4 | feel: 4 | overall: 4
Color: sits black with a significant, dark brown rim. not the darkest ive seen. a little disappointed there
Smell: makes me smile. reminds me of the Dogfish Head 120: powerful malts and alcohol combine to offer a poignant, slightly fruity, floral aroma. make no mistake about it, this is well layered with plenty of roast and chocolate, though not as dominant. very odd but well received
Taste: similar to aroma. malt and alcohol are powerful and offer a slightly sweet, fruity and floral aroma. roast and chocolate are weak in comparison. some dark fruit. flavor seems to just quit towards the finish. a slightly sweet and fruity flavor lingers. back of the throat also feels like there was some smoke that missed detection.
Mouthfeel: smooth, low-full body. low carbonation
Notes: definitely a good brew but a little disappointed. its supposedly an amped up version of the 7000? glad i missed that one. more like a barleywine with just a little more malt. because there were a lot of things i liked about this beer im not judging it on style but on personal taste, otherwise it wouldnt be very high
1,105 characters

4.18
/5
rDev
+3.7%
look: 4.5 | smell: 4 | taste: 4.5 | feel: 4.5 | overall: 3.5
On tap at Bells Eccentric Cafe.
16oz snifter, looks great - black as night with a tan fluffy head that sticks and doesn't go anywhere without leaving insane lace behind. Wow is this a nice looking beer!
Smells of molasses, licorice, a sweet sugar like caramelized lactose, a noticible bitterness from the hops, and a touch of anise.
Tatse is very unique. Wow! Huge sugary molasses sweetness. A good deal of roast, but not really a coffee roast, more of a classic burnt malt. Black licorice adds a unique layer. The sweetness is the star of the show today, though - that and the alcohol. This beer is HOT. A 12.5 that drinks like a 15. But, here's the deal, there's so many great and unique flavors built on the sweetness that I can tell without a doubt this will be a 5 in a year or two. This beer is going to age so well!
Mouthfeel is almost perfect. Thick, not milkshake-y, but perfect, creamy carbonation. If it wasn't for the alcohol burn at the end that confuses the finish, this would be a 5.
Drinkability has to suffer a touch because this is just too hot. I think the last 4 ounces were a real challenge to put down, even with salty food. But this will be a monster in a few years. A unique and well crafted beer - revisit down the line and don't drink on an empty stommach!
1,287 characters
4.6
/5
rDev
+14.1%
look: 5 | smell: 5 | taste: 4.5 | feel: 5 | overall: 4
Massively full-bodied, heavy, sweet. Alcohol flavor and aroma present. Blackstrap molasses and black treacle aroma and flavor. Figs, burnt plum, burnt prune, burnt figs, burnt currents. Lingering molasses and brown sugar or burnt sugar aftertaste.
Drinkability? Smaller servings are required of these strong, heavy, sweet beers. Kudos to Larry Bell for continuing to release his special beers in affordable, reasonable 12 ounce bottles rather than following the bomber hype-and-greed trend.
Goes perfectly with a La Gloria Cubana Wavell maduro cigar.
553 characters
4.82
/5
rDev
+19.6%
look: 4.5 | smell: 5 | taste: 5 | feel: 4.5 | overall: 4.5
I had this on tap at Bells Eccentric Cafe, $5.50 for a 12oz goblet. The chalkboard described it as "sweet caramel and molasses, heavy body". The beer is dark brown/black and opaque, with about 1 finger of tan foam that quickly dissipated into a thin ring. I tried holding it to a light like the previous reviewers but couldn't see anything but inky darkness.
The aroma is powerfully rich, you can tell that tons of malt were in the bill. Molasses and sweet malts (lots of sweetness), licorice, and remote whiffs of ethanol. This actually smells not far off from Dark Lord, it'll be interesting to try a blind test sometime.
Batch 9000 also tastes quite a bit like Dark Lord, at least based on memory. Sweet and chocolaty with an enormous portion of molasses, a good bit of anise too. No real alcohol burn despite the high ABV.
The body is thick enough to match all this massiveness, but this is where the comparisons to Dark Lord end for me. It's not THAT thick, but then nothing I've tried has been as thick as Dark Lord. Nevertheless, this is excellent, at least as good as Batch 7000, maybe even a little more drinkable.
1,128 characters
3.88
/5
rDev
-3.7%
look: 4.5 | smell: 4 | taste: 4 | feel: 4.5 | overall: 3
Sampled on 2-2-10
Batch 9000
Bottled on 1-27-10
Pours a very deep, dark brown, with light filtering through the top. Not as a black as I expected, with a filmy tan head and epic lacing.
Smell is brutally strong, tons of licorice and burnt sugar. Very young, lots of booze in the background, but still very intriguing. Not overly complex, just heavy-duty.
Taste is just what I expected. Super sweet, super boozy, but there's definitely something in there. A little smoke, a little chocolate, this will be a fitting rival for 7000 after a year or two in the cellar.
Mouthfeel is thick and slick, just right for the badass flavors and alcohol.
Drinkability is not very good, but I look forward to it mellowing.
Overall, the biggest beer Bell's has made since Batch 7000, and I can't wait to try it again in 2011.
815 characters

4.57
/5
rDev
+13.4%
look: 4 | smell: 4.5 | taste: 4.5 | feel: 4.5 | overall: 5
Out of the bottle I question how dark this will be. A much lighter shade of brown liquid pours from the bottle than what I expected. Batch 9000 will appear black in all normal lighting environments. When held directly to a unreasonable bright light reveals a deep mahogany color. One finger frothy caramel colored sits atop. This recedes back in to a slim cap and ultimately a creamy ring around the top. Spotty lacing clings through out though much of the original lacing has long faded by the time you reach the lower third of the glass.
Sweet chocolaty booze. Definitely a big one and the alcohol is there to prove it. At cooler temperature a creamy milk chocolate aroma in noticed. As 9000 warms much the molasses, licorice and roasted malt become much more dominate. The chocolaty booze aroma seems to have stifled these smells that now appear at a cooler temperature.
At first sip, the booze is prominent, though does not have the heat accompanying which I expected. Sweet chocolate flavors are strong on the cold side and tend to fade more as the beer warms. Molasses flavor which is most notable on the after taste to start begins to pop more with warmth. Licorice is interwoven throughout but again does come out more as it warms. Flavors mesh very well for such a young beer. Many big stouts need time to develop, while age would benefit 9000, this one drinks very well fresh.
Full bodied beer but certainly lacks the viscosity I expected. I imagine this is only improve with age. While slightly thinner than I prefer the texture is incredibly smooth and ridiculously creamy. Finish is long as the flavors dig deep into the tongue. Carbonation is low but could not be any better of this particular brew.
I really like Batch 9000. that may not be a good thing. For a stout with a 12.5% ABV tag this goes down much too easy. The booze is noticeable but surprisingly unoffensive. I have had much smaller beers deliver more of a burn. The alcohol will eventually force one to stop drinking. I imagine I would want to continue drinking this after I have reached my limit. There has been a long wait for 9000 and it did not disappoint.
2,146 characters
Batch 9,000 from Bell's Brewery - Eccentric Café & General Store
Beer rating:
4.03
out of
5
with
915
ratings