Bell's Eccentric Ale 2010 (Released 2011)
| Bell's Brewery, Inc.
BA SCORE
80
good
11
Reviews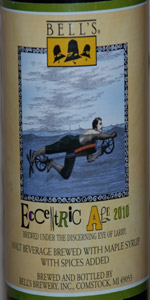 BEER INFO
Brewed by:
Bell's Brewery, Inc.
Michigan
,
United States
bellsbeer.com
Style:
American Strong Ale
Alcohol by volume (ABV):
10.10%
Availability:
Limited (brewed once)
Notes / Commercial Description:
No notes at this time.
Added by ColdPoncho on 12-12-2011
This beer is retired; no longer brewed.
Reviews: 11 | Ratings: 47
3.76
/5
rDev
+12.2%
look: 3.5 | smell: 3.75 | taste: 3.75 | feel: 4 | overall: 3.75
Thanks to AndresR for sharing this one at jmgrub's tasting.
Bottled 11/23/11.
Pours a hazy dark reddish-brown with a foamy khaki head that settles to wisps of film on top of the beer. Foamy streaks of lace form around the glass on the drink down. Smell is of malt, brown sugar, spices, and an earthy hop aroma. Taste is much the same with a mild amount of roasty and hop bitterness on the palate with each sip. This beer has a good level of carbonation with a crisp mouthfeel. Overall, this is a pretty good beer with some interesting aromas and flavors.
556 characters
4.04
/5
rDev
+20.6%
look: 4 | smell: 4.25 | taste: 4 | feel: 3.75 | overall: 4
Eccentric to its core, no lesser ale would dare to apply persimmon and maple and be considered anything other. Rest that cobbler-like earthiness onto the rummy warmth that exceeds ten percent and we don't only have a unique beer, but we have a stubborn, brazen and unrefined taste to enjoy.
Its dark root beer color surpasses that of cola but isn't quite stout either- its a dark garnet-black color with ominous crimson slithers at a glance. Even the most turbulent pour amounts to only a dense blanket of foam that simply stares back throughout the duration of the session. Trailing with broken lace, the ale is as sturdy as could be expected.
Its boisterous aromas are squarely focused around maple, molasses and brown sugar- those scents are as succulent as could possibly be, even as the dark, dried fruits layer upon. Figs, dates, raisins, prunes and plumbs all make their way into the "fruitcake" culmination. Some of that is presumed to be persimmon, equipped with a backdrop of spiced rum, freshly shaven tree bark, chicory, cinnamon and aniseed.
Its bitter-sweet taste is a tale of two beers in the same glass. It starts off with the savory sweetness of maple, toffee, brown sugar and molasses. Glimpses of dark nuts, coffee, chocolate and rum cake follow and delve into a familiar taste of cola and root beer. But finishing bitter, biting and robust, its closure of coffee grounds and spiced rum is complex and spicy. Still, the thread that weaves the two tastes together are the fruits. Persimmon is of grilled taste as the more earthen figs, dates, raisins and prunes stem into light vinous port and savory sherry.
Its full body is a testament to its creamy sweetness. The ale is slow to fade and holds onto its weight deep into its taste. Its growing bitterness extends from pleasant coffee-like character and into a deeply astringent wood-like tannin sensation that grips the jowls and throat with a stranglehold. Its spicy warmth is lightly of solvent as a cinnamon-like character highlights the alcohol to balance the late sweetness.
Eccentric Ale is just that- eccentric! As its loud confidence grows, the ale seems to brag about itself more and more with each and every sip. Even as its warts and flaws are recognized, the ale makes no apologies and is intent to brag about them. I can't wait until I'm old enough to be "eccentric".
2,355 characters

2.69
/5
rDev
-19.7%
look: 4.5 | smell: 3 | taste: 2.5 | feel: 2 | overall: 2.5
Thanks to Jakers90 for this bottle. Served in a tulip.
Pours dark brown with a slight mahogany hue. Two-finger light tan head with great retention and quite a bit of lace on the way down. The nose brings a fruity, herbal spice with some notes of pine. There's a floral citrus character in the background. The flavor pushes the pine and herbal elements pretty far to the extreme, resulting in a muddled mix of flavors. Body is medium with a very dry, somewhat off-putting finish. Not a big fan.
494 characters
3
/5
rDev
-10.4%
look: 4 | smell: 4 | taste: 2 | feel: 4 | overall: 3
an extra beer from rjm217. Thanks!
Bottled on 11-23-11. Batch number 10111.
poured into tulip.
Appearance: dark brown to a light black bodied beer with 1 finger of white head that drops to a moderate cap. Spotty lacing on side of the glass.
Smell: black licorice and spiciness. Malty and medicinal, fruity, and herbal. Very different but its nose is pleasant enough.
Taste: Okay this beer tastes weird. I tried to keep an open mind about it, but I just don't like it. Intense spicies and black pepper, some malty sweetness, and bitter hops. This beer is a mess and its hard to pick apart. I do distinctely taste green peppers, black licorice, leather and cough syrup. Bitter finish that lingers for quite a while.
Mouthfeel: medium bodied beer with low to moderate carbonation. Creamy,smooth and drinkable for a big beer. Not boozey or hot at all.
Overall: The taste of this beer was ultimately its downfall. It was not my kind of beer, I could not even drink the whole beer. Avoid trying it.
1,002 characters

3.06
/5
rDev
-8.7%
look: 4.5 | smell: 3.5 | taste: 3 | feel: 2.5 | overall: 2.5
This is a dark auburn in color. The aroma of cloves (?) overpowers. It's funky, harsh tasting, and rough. The spicing comes off as out of balance and unpleasant, and it has a dry tacking finish. Almost like taking a DIPA to a chewy, bitter extreme, and mixing it with a Cascadian IPA. Then dripping it over raisins. Or something. (I thought of a hoppy spiced porter as well.) I felt this beer wanting to go in a number of different directions, not just stylistically (I'm all for crossing borders) but with flavors that worked. And for me, this didn't come together. Not sure what previous versions are like, or if I'd enjoy this one more with some age, but it doesn't work for me. It's killing me to rate it so low! Although I have a feeling if it was barrel aged I'd rave about it. Go figure.
806 characters
3.12
/5
rDev
-6.9%
look: 3.5 | smell: 4 | taste: 2.5 | feel: 3.5 | overall: 3
Sampled on 1-28-12
Batch 10111
Bottled on 11-23-11
Pours a deep red/brown color, with very little carbonation and a slight, filmy head. A few fine tan colored bubbles stick to the sides. Very slick looking.
Smell is all sweet maple syrup at first, followed by the distinct and hard to place Eccentric Ale aroma that I expected. Very deep and complex, and unlike any other beer.
Taste is very strong and spicy, with flavors that are all over the place. The maple syrup is there at the very beginning, but by the end a strange peppery kick dominates. The finish is bitter and spicy, with an almost hot-pepper like aftertaste. Very odd and not particularly enjoyable.
Mouthfeel is thinner than you'd expect, but the low carbonation keeps things creamy and adds to the intensity.
Drinkability is poor, due to the flavor. It's pretty tough to choke down.
Overall, interesting and different does not necessarily mean good.
922 characters

4.13
/5
rDev
+23.3%
look: 4.5 | smell: 4 | taste: 4 | feel: 4 | overall: 4.5
Packaged 11/23/11
A - A deep mahogany body that is quite opaque except for the brilliant ruby corners. A nice tan head sits on top
S - Toffee, caramel, spiced cherry pie, and a certain sweetness that I know but can't quite name.
T - Coffee and toffee, bitter rawhide and tanned leather. Very strong and dark.
M - Intense carbonation and a thick body. Moderately smooth
O - a big and bitter beer. Pretty interesting, quite complex. Looking forward to some time on it
480 characters

3.9
/5
rDev
+16.4%
look: 3.5 | smell: 3.5 | taste: 4 | feel: 4.5 | overall: 4
Pours a dark root beer color with a small quickly dissipating head. Smalls of booze, age, and malts and not much else. First sip is chocolate, spice - pine, licorice and then deep bitterness. A nice earthiness comes through thanks to the maple syrup. Quite a unique taste that to me works nicely. Carbonation is spot on making for a great creamy mouthfeel. A very nice brew indeed.
381 characters
2.62
/5
rDev
-21.8%
look: 3 | smell: 3.5 | taste: 2 | feel: 3 | overall: 2.5
12 oz bottle into snifter
A - Pours a dark ruby-brown with a wispy tan head.
S - Bit of booze, maple, toasted grains, pretty sweet. Spices are present: nutmeg and anise most likely.
T - Ugh. So messy. Anise, burnt maple sugar, booze, sourness, a bit chocolatey.
M - Medium to full bodied with average carbonation. Bland. Very wet.
O - Not a good beer. Such a mess, I can barely stomach it. That said, it brings some interesting flavors to the table and smells pretty ok. Big loser from a great brewery.
507 characters

3.28
/5
rDev
-2.1%
look: 4 | smell: 3.5 | taste: 3 | feel: 3 | overall: 3.5
My first time experiencing one of the Eccentric Ales. Thanks, BeRanger.
12 oz. bottle poured into a snifter. Batch 10111, bottled on 11/23/11.
A: Pours a deep mahogany with a finger of off-white head. Medium carbonation and a decent amount of lacing. I really like the way this looks.
S: Definitely smell the spices. The spices dominate the nose. I might get a little maple, but I may be prejudiced from the label. This smells like a spicey brown ale.
T: Whoa. This is interesting. A lot of spices. I actually can't pick them all out. I get a hint of sweetness, but not much. Did they dry-hop this beer, too? Once the beer warms closer to room temperature, the sweetness is gone, and the spices and hops are dominating my mouth. This reminds me of something you would rub red meat down with. I kind of like it, but I wish I was drinking this with a nice food pairing. Maybe a steak, some pork, or some other kind of beef dish.
M: The spices and hops are destroying my taste buds like a great imperial IPA mixed with a winter warmer. I'm at a total loss at how else to describe this, and I still can't figure out how much I like it.
O: Well, this is one of the more interesting beers that I have had in quite some time. I have never had anything like it. I don't know how much I enjoy this on its own, but I do wish I had a really nice piece of meat to go along with this. I should have had this with dinner tonight. I would be really curious to see what some age does to this beer. With the expectation of a unique flavor experience, I will definitely seek out future Eccentric Ales.
1,589 characters
3.15
/5
rDev
-6%
look: 3.5 | smell: 3.5 | taste: 3 | feel: 3 | overall: 3
Appearance is a brownish red with a wispy sticky film of head.
Smell is, strange. Spicy, pumpernickel bread, herbal, medicinal, and finally fresh cracked black pepper.
Taste at first is overwhelming, lots of herbs, followed by a little alcohol, black and green peppercorns and a burning final bitterness.
Mouthfeel is viscous, with a wave of unrelenting flavors.
Overall, its a mess of a beer. But considering my 6 pack will last me as many years at one bottle a year, we'll see if it tames any over time.
509 characters
Bell's Eccentric Ale 2010 (Released 2011) from Bell's Brewery, Inc.
3.35
out of
5
based on
47
ratings.