Honey Blonde
| Port Huron Brewing Company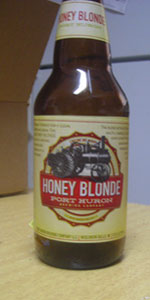 BEER INFO
Brewed by:
Port Huron Brewing Company
Wisconsin
,
United States
porthuronbeer.com
Style:
American Blonde Ale
Alcohol by volume (ABV):
5.00%
Availability:
Year-round
Notes / Commercial Description:
No notes at this time.
Added by TCMike on 10-23-2012
Reviews: 8 | Ratings: 24
2.11
/5
rDev
-37.4%
look: 3 | smell: 2 | taste: 2 | feel: 2.5 | overall: 2
Pours out a clear straw yellow color with two fingers of fizzly head that dies back to nothing in about 90 seconds with only minimal lacing left behind on the glass. Light body and medium-light carbonation levels...somewhat thin and watery for my taste.
Smells and tastes somewhat like a corn-fed malt liquor with a medium hit of cloying sweetness and skunky sulfur over honey and light breaded malts, but it does gain a touch of herbal and grassy garnish as it warms up. Unfortunately, the corn adjunct also amplifies as it warms up as well. I'd recommend passing on this one, there are many many many better offerings that fit the style of a honey blonde better than this does.
680 characters

2.73
/5
rDev
-19%
look: 3.5 | smell: 3 | taste: 2.5 | feel: 3 | overall: 2.5
Pours a white, soapy head that has nice persistence. Grassy, yeasty aroma. Hazy gold, straw color. Starts with a slightly metallic, somewhat bitter flavor, and caramel popping through in the background. Finish has a little bit of malt on top of that.
This isn't very good. It's got an off flavor; slightly bitter, slightly caramel, with a little bit of yeasty malt.
368 characters
3.24
/5
rDev
-3.9%
look: 3 | smell: 3.25 | taste: 3.25 | feel: 3.25 | overall: 3.25
Nice yellow color, white head was persistent, smells like honey and crackers. Sweet flavor, honey like. Smooth bodied, light mouthfeel. An average honey blonde.
163 characters
3.6
/5
rDev
+6.8%
look: 3 | smell: 3 | taste: 4 | feel: 4 | overall: 3.5
Produced a 1 finger white head. Dissipated quickly, and no lacing.
Aroma was of bread, and a light honey, and citrus smell.
Taste was similar, but the honey came through more. Not noticeable hop bitterness. Light-med mouth-feel, and medium carbonation.
Nice beer, easy drinking.
281 characters
3.74
/5
rDev
+11%
look: 3.5 | smell: 3.75 | taste: 3.75 | feel: 3.75 | overall: 3.75
The resort in the Dells where we are staying has the Honey Blonde on tap and it is a good beer. The beer poured a golden clear with thin white head that did not lace much. The scent carried faint citrus and some honey. The taste was a nicely balance beer with sweet honey zeal. The mouthfeel was lighter in body with smooth carbonaton. Overall this was a good beer and will have it again if possible.
400 characters
3.8
/5
rDev
+12.8%
look: 4 | smell: 4 | taste: 3.5 | feel: 4 | overall: 4
Draft pint at the brewery. Reviewed to style.
Brassy gold, displaying high clarity with trails of carbonation visible. Lasting surface foam, ample coverage with drippy lace down the glass.
Distinct honey aroma, dry and not sweet, crackery malt, a trace of clover. They source the honey from Mt. Horeb apparently.
Crisp simple flavor, dry and crackery malt middle, honey traces in the periphery, though not sweet. Clean, fresh, and quenching. For a simple utilitarian style, this beer showcases honey, simple 2 row malt, and a clean yeast. Very refreshing and drinkable session beer, no one is reinventing the wheel here obviously. Simplicity is underrated.
660 characters
3.88
/5
rDev
+15.1%
look: 4 | smell: 3.5 | taste: 4 | feel: 4 | overall: 4
Hazy peach-apricot color with a fingernail of stark white head. A bit darker than I thought.
Some aromas of sour vinegar soaked white bread, slight honey, pale malts, and some basic adjunct lager-type aromas. Like a Budweiser with some class.
Flavor brings the A game. It's much better on the palate, with a complex fruity-floral profile, complete with cantaloupe, white bread, white wine, and honey. It's actually very delicious while still staying restrained enough to easily drink and savor the flavors without concentrating too much.
Feel is actually pretty creamy to start, waving in with some mild carbonation that tightens up towards the finish.
This Honey Blonde ale may be the best of its kind. It's very tasty, easy drinking, not overly complex with adjuncts, nor is it fakey, it's just a solid little drinker. Pick up some if you get it in your area.
869 characters
4.32
/5
rDev
+28.2%
look: 3.75 | smell: 4.25 | taste: 4.5 | feel: 3.75 | overall: 4.5
A: Pours a golden amber. Thin creamy head that lasts a respectable amount of time. Moderate carbonation, characteristic of your typical blonde.
S: Lots of honey. A respectable amount of malt. Hazelnut.
T: The honey really does add a lot. This honestly tastes closer to a Scotch ale than a blonde. Good dose of malt. Nutty. Goes down with a subtle lemony/clove-ish spiciness. Quite delicious.
F: Light, unoffensive.
O: I bought this not expecting much, mainly because it's a hot sunny summer day and I wanted something refreshing. But I actually think this is quite excellent. Probably an acquired taste, because it's certainly unique.
638 characters
Honey Blonde from Port Huron Brewing Company
3.37
out of
5
based on
24
ratings.